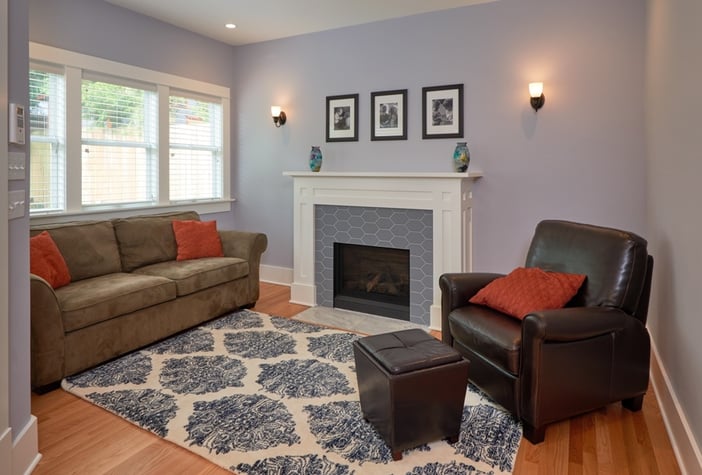 You're Invited to the Remodeled Homes Tour
When: Saturday, October 21, 10am - 5pm
Where: Please RSVP for the address of our project
What: Tour 17 fabulously remodeled homes and help support our neighbors in need
CRD Design Build has a long history of participation in the Remodeled Homes Tour. As membership programs manager at the Master Builders Association, I helped organize the tour last year, and our president Denny Conner has served as chair of the event in the past. I love this tour because it gives our staff a chance to answer questions about remodeling, proudly share our work, and support a great cause. This year, you can tour a fabulous Green Lake remodel and addition project we completed, plus 16 other homes throughout the area.
Helping Our Vulnerable Neighbors
The tour is free, but I invite you to make a donation to our charity partner, Rebuilding Together Seattle, when you reserve your tickets or at the door. CRD will be matching all donations collected at the door, up to $500, on the day our project is on the tour.
Rebuilding Together Seattle is a 501(c)(3) nonprofit organization that ensures housing stability for low-income homeowners by providing home safety and accessibility improvements free of charge. They serve homeowners who are elderly, disabled, families with children, and veterans in need, as well as nonprofit facilities in need of repairs.
I like that Rebuilding Together Seattle serves an often overlooked population: low-income folks who are housed but who are struggling to keep up with repairs. They help make it possible for our most vulnerable neighbors to stay in their homes by organizing teams of volunteers and professionals to fix everything in sight. I've participated on one of the team events myself, and it is truly awe-inspiring what a dedicated group of a dozen or so people can do to fix up someone's home in a day. The homeowner we worked with, an elderly widow with serious health and mobility issues, was almost in tears seeing the transformation.
Last year, the Remodeled Homes Tour raised over $1,500 for the organization, and we are hoping to raise even more this year.
About the Tour
Presented by the Remodelers Council of the Master Builders Association of King and Snohomish Counties, the Remodeled Homes Tour invites you to experience firsthand the finest craftsmanship and most innovative ideas in home remodeling. See and feel what it's like to live in a gorgeous remodeled home and meet the building professionals who make it all possible. Perfect for those dreaming of remodeling their own home, the tour is an exclusive opportunity to visit some of the finest custom-remodeled private residences throughout our region.
About CRD's Project on the Tour
For anyone considering a remodel of the their Seattle home, this project has it all! Like many of our clients, this family loved their neighborhood but, with two growing kids, they were rapidly outgrowing their home. Having worked with CRD to remodel their basement seven years prior, our clients came back to us to design a second-story addition and a whole-house remodel. Their new top floor has space galore, with three new bedrooms, two bathrooms, plenty of closet space, and a laundry room. On the main floor is an expanded kitchen, a new pantry, a new family room, and a better connection to a beautiful covered back deck. A new staircase ties it all together with easy access to the second floor and the finished basement from the gleaming white-tile kitchen.
Not only does the family now have plenty of room to grow, but their new addition beautifully complements the historic character of their home. With its generous space, ample storage, and a harmonious design, this Green Lake classic is a place our clients are pleased to call home.
See more photos of this project >>
Reserve Your Tickets Now
The tour is free, but tickets are required. Please visit our ticketing page to reserve yours now. Feel free to forward the link to friends and neighbors. I hope we will see you on Saturday, October 21.
Guide to Hiring a Remodeler
This comprehensive guide walks you through all the steps of choosing who will design and build your project, vetting remodeling companies, and ensuring that you have the best experience.