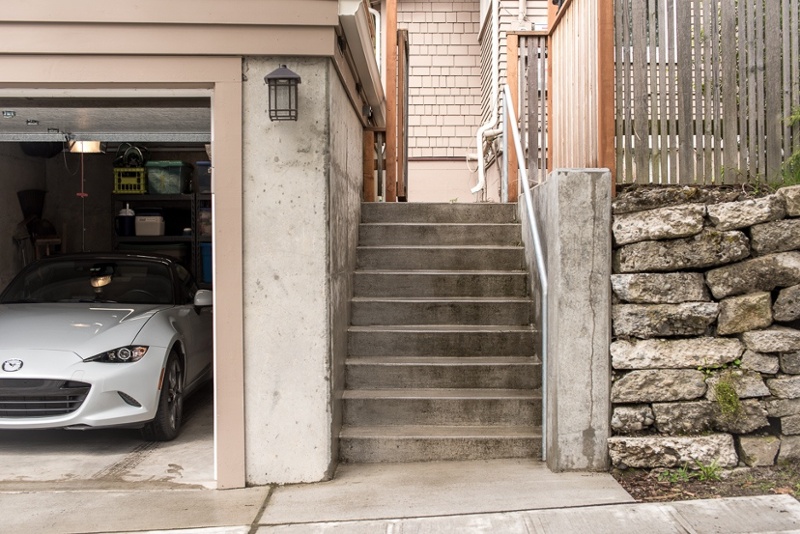 The Seattle area is a hot spot for people who want to enjoy living in the city but have a lot of outdoor hobbies like hiking, camping, or biking. The city has great public transportation however, the light rail and electric trollies can't get you to the mountain. So, if you are like many others in the city and you own a car for these very reasons you are probably aware of the risks that come with parking your car on the street.
Street parking is fine in some areas but if you live close to Ballard, Wallingford, Alki, or Capitol hill then your car probably has a ding or two. Many homes in Seattle have an off street parking spot which is great but sometimes depending on when your home was built, that parking spot is difficult or sometimes impossible to get a car into.
Let's be honest, the most ideal parking situation would be a private garage. That's no secret. If your property has an old garage that is too small for your car or no garage at all then maybe you're curious to know your options. Let's dive into some garage restrictions, codes, costs, and designs so that you can feel like an expert when you start your garage remodeling project.
Do I Need a Garage?
Great question! In the city of Seattle, each single-family zoned home needs one off-street parking spot. This parking spot cannot be in any of the setbacks either- meaning it has to be past your 20-foot front yard setback and 5 feet from both sides and the rear. So it's likely that the driveway leaving to your basement garage does not count. So, do you need a garage? The short answer is no but the long answer is yes (if that is your current parking option).
Which is Better: Attached or Detached Garage?
Ahhh yes. A question as old as time. Attached or detached garage? Let's first consider the benefits and downsides to each.
Pros and Cons of a Detached Garage
Let's start with the benefits. A detached garage is a great option for a property that is backed by an alley. This way you can drive down the alley and pull directly into your garage. If you have a project car or other hobbies that involve needing a workshop then a detached garage might be the best option as far as noise insulation goes when using power tools. One of the potential downsides to a detached garage is that if you live in a wet or cold climate you'll have to endure the bad weather while walking to and from the house and garage door.
Why You Might Want a Detached Garage
Another reason to consider a detached garage is that a DADU could be put on top. If you can fund a new DADU as part of your new garage project then what you can do is build the garage in a way that will support the weight of a future second story. This may save you some time and money when you are ready to expand. If you live on a steep slope and your detached garage is built into that slope then the top may be the perfect place for a terrace.
Pros and Cons of an Attached Garage
Earlier I mentioned that with detached parking you will have to experience cold or wet weather when you go to get in your car. With an attached garage that won't be the case. You can hop right from inside your home to inside your car all while staying warm and dry. If you live in a two-story house there is potential for a terraced garage and that terrace could potentially be accessed through a pair of French doors from your new primary suite.
One of the potential downsides is that a garage door on the front façade of your house is not the most appealing thing to see. One solution is to install doors that don't scream, "My big car belongs here" like double doors.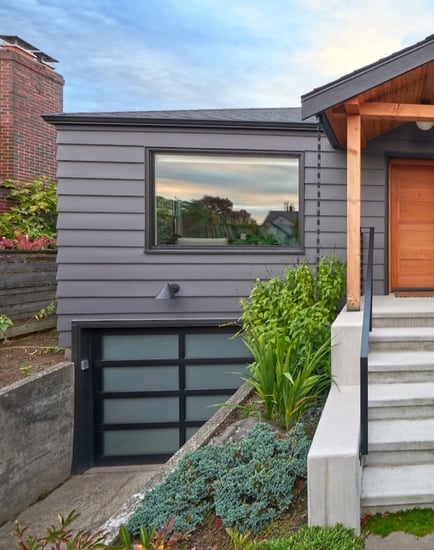 How Much Does It Cost To Build A Garage?
Whether you're curious about a detached or attached garage cost- as far as location goes, the price will not vary much. What does affect the cost is the size and materials. Attached and detached garage costs based on size will increase by the thousands but won't necessarily double. A single-car garage costs about the same detached or attached but there are stipulations that we'll touch on later in this blog.
Not all garages are built equally, therefore the cost to build will vary. Unfortunately, we cannot offer a cost per square foot but what we can do is give you average numbers of recently built garages that we have done in the Seattle area. The guide below will show you our most up-to-date garage costs.
How to Save Money on the Cost to Build a Garage
Now I'm not going to tell you to cut corners. A garage costs what it costs in its simplest form. You can save money by opting out of fancy storage solutions or installing a car charger but you can't skimp on the necessities like framing and exterior.
A detached garage costs about the same or slightly less than attached. You'll need to cover the slab, framing, electrical, siding, and roofing. These are all non-negotiables. If you have a limited budget, the smaller the better. If you have more than one car, but can't afford a two-car garage then opt for a single-car stall with a parking pad.
Attached vs. Detached Garage: Which Is Cheaper?
Situation depending- A single-car attached garage may cost slightly more than a single-car detached garage cost. With an attached garage you need to do work to the existing home to make a transitional space (add entry/exit as well as remove interior siding and blend adjoining exterior siding). The attached garages also need to be fireproofed.
Factors That Affect the Cost of Building a Garage
These days you won't find companies who offer a garage cost per square foot. This is because there are so many unique factors that have an effect on the price. For example, the amount your new driveway costs for a detached garage may be more than what it would cost for an attached garage if the detached structure sits in the rear yard. Additional costs and considerations may include the materials you chose for your driveway. The cost of a gravel driveway will differ from asphalt driveway costs. As well as the cost of vinyl siding versus concrete.
You'll also need to think about the integration of exterior styles to be sure your garage matches the style of your home. Ask yourself if it's important to you to have your garage interior insulated and finished. If not, then you can save a bit on avoiding the cost of drywall and insulation. The next big thing to consider will be your garage door.
Garage Door Costs and Options
There are many different options you can choose from when it comes to your garage door. If you take any piece of advice from this blog let it be this: be sure to get an automatic door with a garage door opener you can keep with you.
Any garage built before the 2000's will likely have a sectional or tilt-up door that needs to be opened and closed manually. A more modern choice would be an automatic tilt up and the stylish choice would be side-hinged doors. Any option will be compatible with an automatic garage door opener.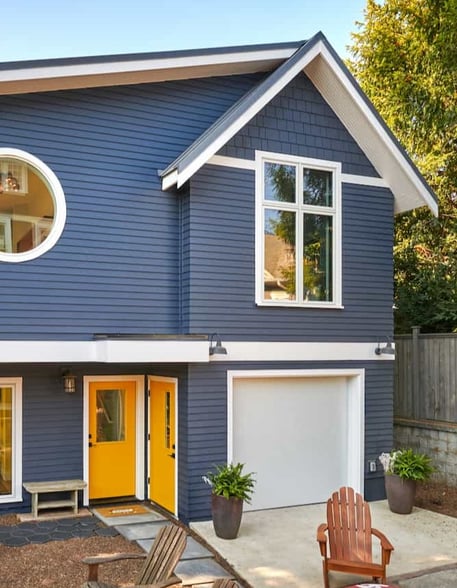 Garage Building Codes for the City of Seattle
Earlier we talked about where you can place a garage as far as setbacks go. Now that we've covered that, let's get into the two most important codes to consider: FAR allowance and lot coverage. The city of Seattle allows 240 sf to be exempt from your lot coverage allowance to go towards a garage. Which is typically the perfect amount of space for a single car. Since a garage is not "livable" square footage it does not count towards your FAR allowance. You can read more about these building codes in the link below.
See also: Sheds, Garages & Backyard Cottages: Seattle's Accessory Buildings Rules
What Garage Type and Style Will Fit Your Needs?
Exterior
Most garages you see today will have lap siding. Lap siding is made of cedar or fiber cement board. It's the same siding you see on most houses today. If you live on a steep slope, your garage will need to be built in grade with cement.
OTHER SIDING OPTIONS
If Lap siding isn't what's currently on your house you'll want to go with the same or at the very least a similar siding style. If your house is a brick Tudor-style home then ideal your garage exterior would be brick or if that's not an option you could do lap siding in a light green shade or cream to compliment the deep color of the bricks.
Doors
Insulated garage doors will help retain heat if you plan on having a small workshop inside or need to keep your garage warm for any other reason.
Interior
Aside from your usual power tool plug-ins, you may consider an electric car charger. Not just for your future but also for potential buyers when you go to sell. Your garage is also a great space to store outdoor equipment, Christmas décor, and family memorabilia.
Increased Storage Space
There are a plethora of garage storage solutions out there. Storage space for outdoorsy people is an absolute necessity. Here are a few options to choose from:
Built-in cabinetry

open shelving

bike racks or hooks

attic storage above the parking pad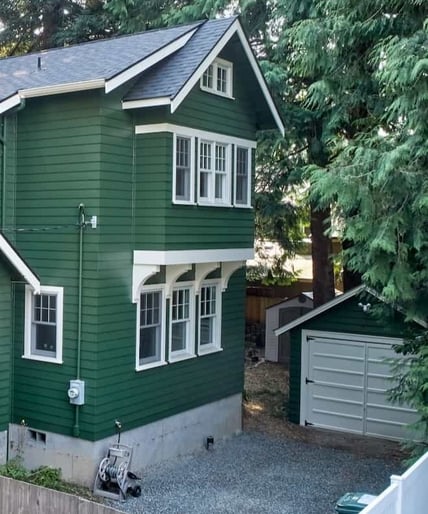 Benefits of Building a Garage
Aside from keeping your car clean, dry, and safe, a garage could possibly increase the value of your home and offer more storage space.
Increased Home Value
Everyone needs a place to park and a garage is the most desirable parking spot above a carport, driveway, or... and we hate to say it... the street.
SOMETHING TO KEEP IN MIND…
A lot goes into creating a garage that perfectly fits your needs today and can adapt to new uses in the future. My architectural designer colleagues and I can help make your vision a reality, and our team of professional lead carpenters can keep the building process smooth and on schedule. Our construction cue is filling up. Please feel free to reach out today to discuss your goals and the feasibility of construction. We would be happy to answer your questions and share our ideas.

Note: We make no claims or warranties as to the completeness or accuracy of the information on this page. We encourage you to confirm all information you read here and consult a design professional. Any action you take based on the information on this website is strictly at your own risk.
Guide to Hiring a Remodeler
This comprehensive guide walks you through all the steps of choosing who will design and build your project, vetting remodeling companies, and ensuring that you have the best experience.