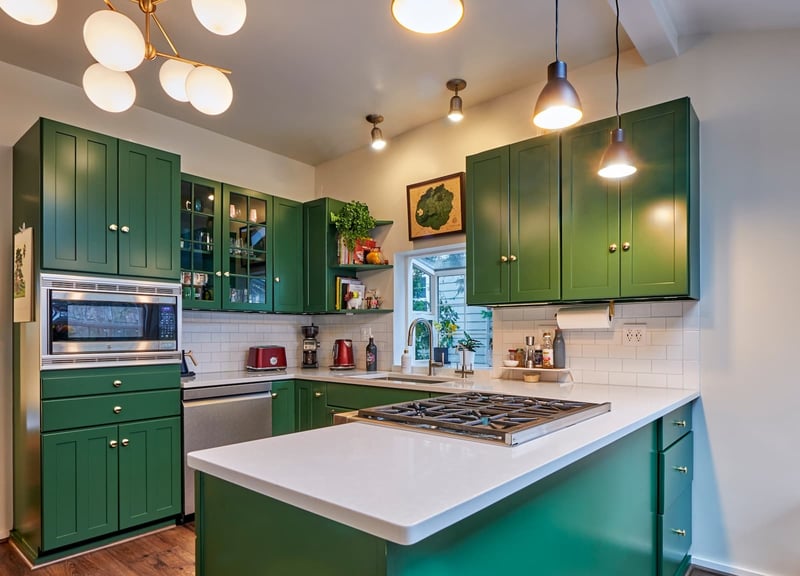 Kitchens are one of the most important areas of a home and where a majority of people spend their time. Tackling a complete kitchen remodel isn't always the best option for homeowners with a conservative budget and time constraints. The good news is that a budget kitchen remodel is possible. It might surprise you but there are ways to do a simple refresh in your kitchen that can make a big impact without needing to break the bank.
Today I am going to share some budget kitchen remodel ideas that will inspire you to refresh your kitchen design to be more functional while also being aesthetically pleasing. Let's start by going over some affordable, quick refreshes that can all be completed by our Home Services division -
1. Open Up the Space (no structural work required!)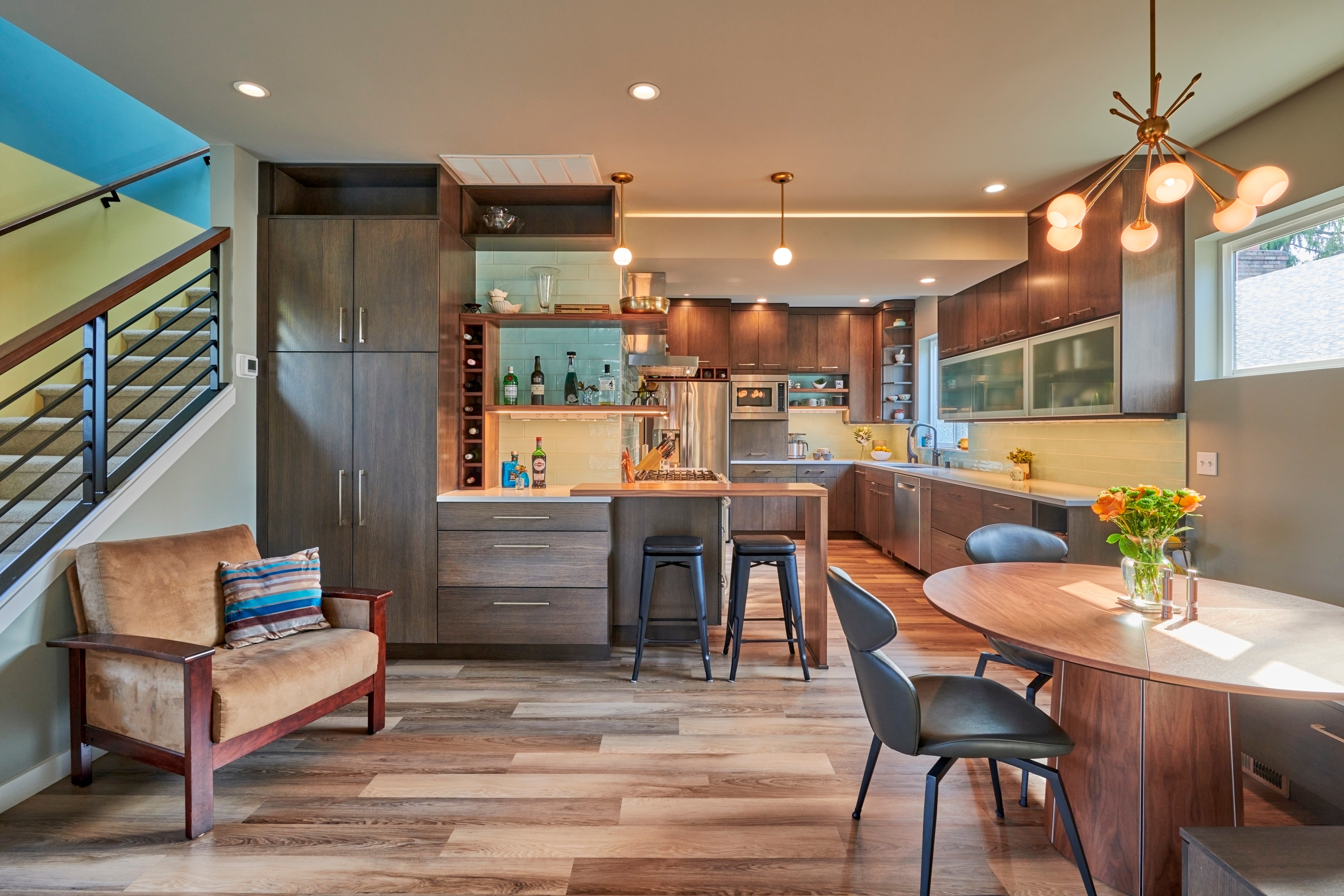 Opening up your kitchen to your dining room or another area of your house can help your space feel bigger and more connected. For kitchens with upper cabinets and a non-structural pass-through area, consider opening the kitchen space to an adjacent room by eliminating upper cabinets and turning that section into a peninsula.

This will allow you more counter space and create the illusion of a larger room, without any structural work. This can be a cost-effective way to help your kitchen feel more connected to the rest of your home. Plus it enhances the spaces for entertainment purposes! You can add barstools to your new peninsula so your family and friends can hang out while food is being prepared, or they can join in on the fun.
2. Refresh your Kitchen Cabinets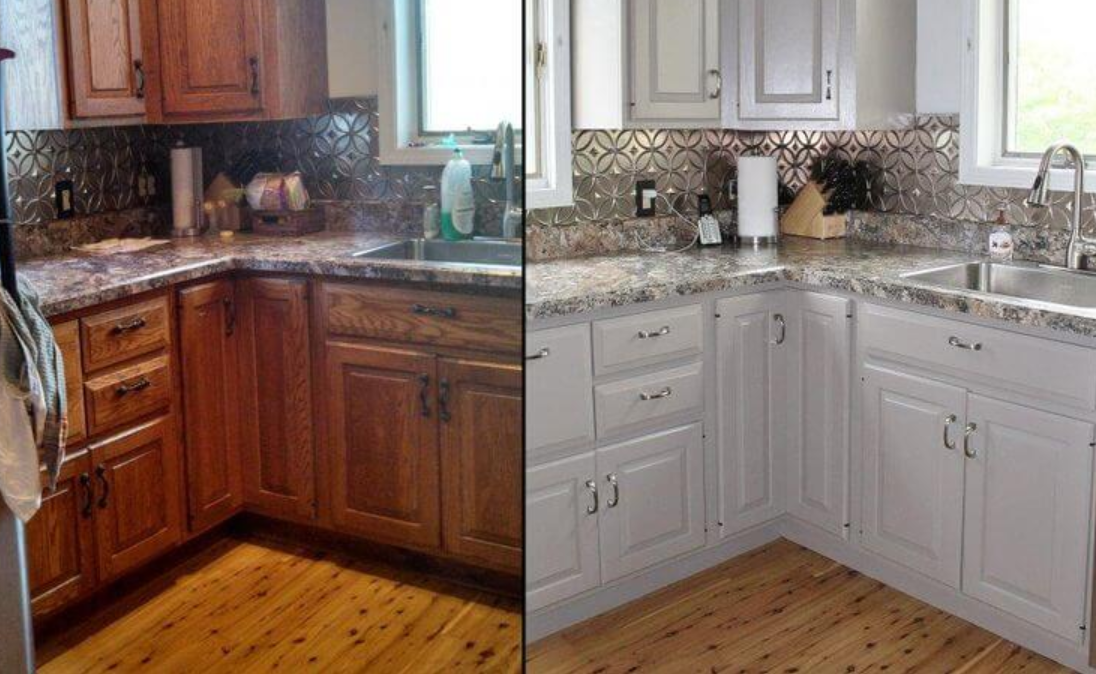 Photo from https://www.360painting.com/blog/2018/june/should-you-paint-the-wood-in-your-home-/
Refreshing your kitchen cabinets is one way to make an eye-catching difference during your budget kitchen remodel. If your existing cabinets are in good shape, you can refresh them simply by painting them, and/or adding new cabinetry hardware.
If you choose to paint your cabinets, you can decide if you want to add a pop of color to your kitchen by painting the lower cabinets a more vibrant color like a bright blue or sage green, and then painting your upper cabinets a neutral color. If you do not want to feel tied to a certain color in your kitchen and want to keep the cabinets simple you could have them all painted white. Painting cabinets is a great way to save money vs getting new custom cabinetry in a particular color.
Another way to refresh your cabinets is to add new hardware. Kitchen cabinet hardware is available in a variety of finishes and styles nowadays which makes the options endless. Some people like to match their appliances, for example, if they have black appliances they will match them with black hardware while others may opt for a mix of metals in their kitchen's style.
Something as simple as replacing cabinetry knobs, pulls, and handles can make a big difference to the aesthetic of your kitchen. This is a great minimal-cost option if you are looking for small kitchen remodel ideas that do not take much time.
3. Pull-and-Replace Kitchen Cabinets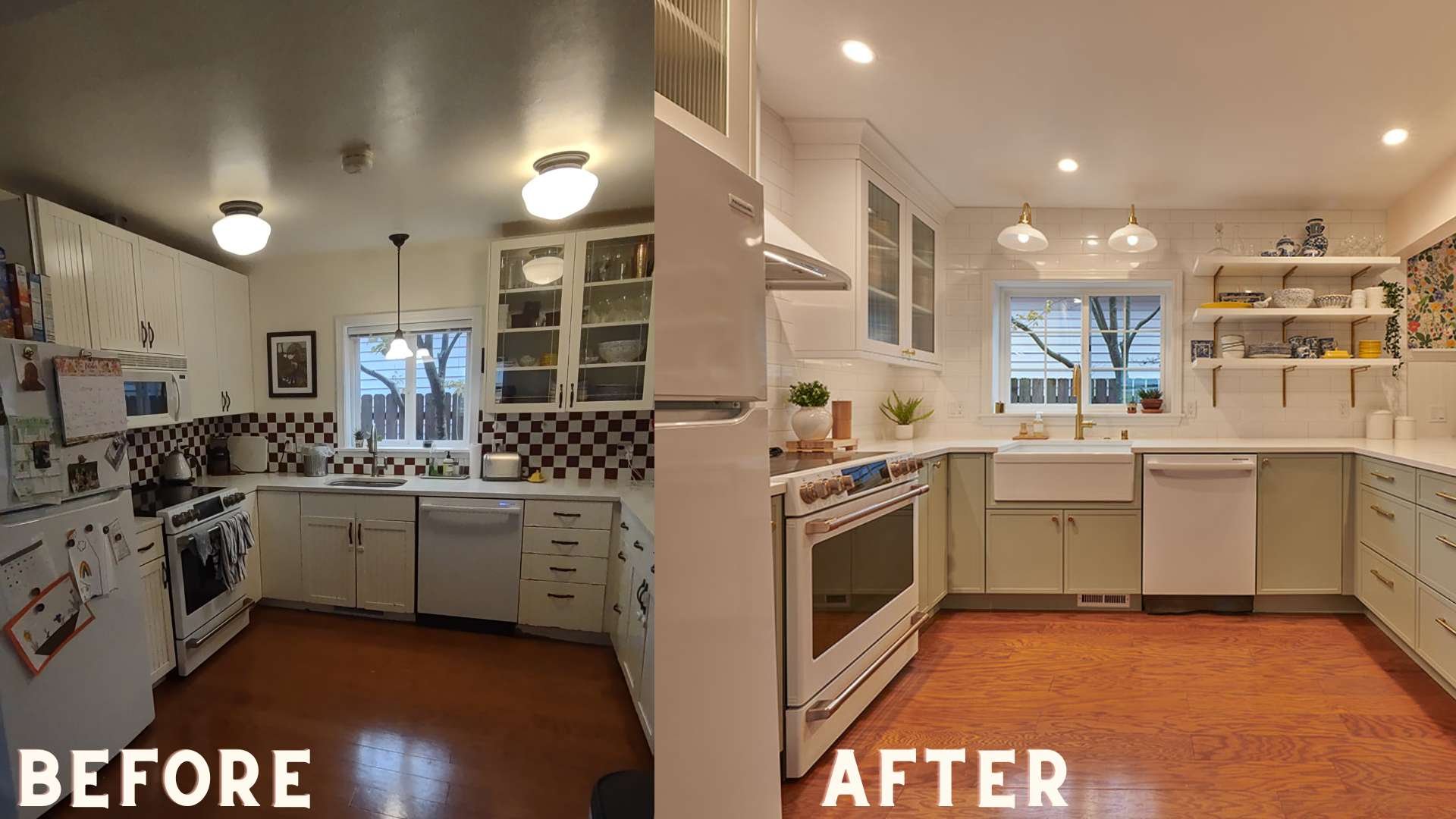 If you love the majority of your kitchen layout but not the current cabinets installed, then an affordable kitchen remodel idea is to pull and replace the old cabinets with new ones. As I mentioned, this is a great option if you already love your layout but want new cabinets with more storage space, a better layout, soft close doors, and all the other features new cabinets can offer you.
This option is less expensive than having your entire kitchen redesigned which saves you money in design fees. Also, it allows you to keep any kitchen appliances you like and your old flooring since the new kitchen cabinets will be going in essentially the same place as your original cabinets.
Selecting new cabinets for your kitchen remodel is a fun experience because you get to decide what type of cabinets you want and you're able to upgrade to custom cabinetry if you'd like. Alternatively, you can go with a more budget-friendly line of cabinets. No matter which option you go with, you can choose if you want a cabinet with pull-out shelves or static shelving, or even add some open shelving.
Open shelving is a great option for those who want to show off their matching dishes, specialty china, or other items they want on display. Although open shelving is becoming more common, keep in mind that open shelving can make your kitchen look cluttered or disorganized if there is either too much or not enough on the shelves, or if the shelves are used for random items. Also, since the open shelving is exposed, the shelves themselves and the items on the shelves get dusty easier than if they are in a closed cabinet.
4. New Paint on Walls & Trim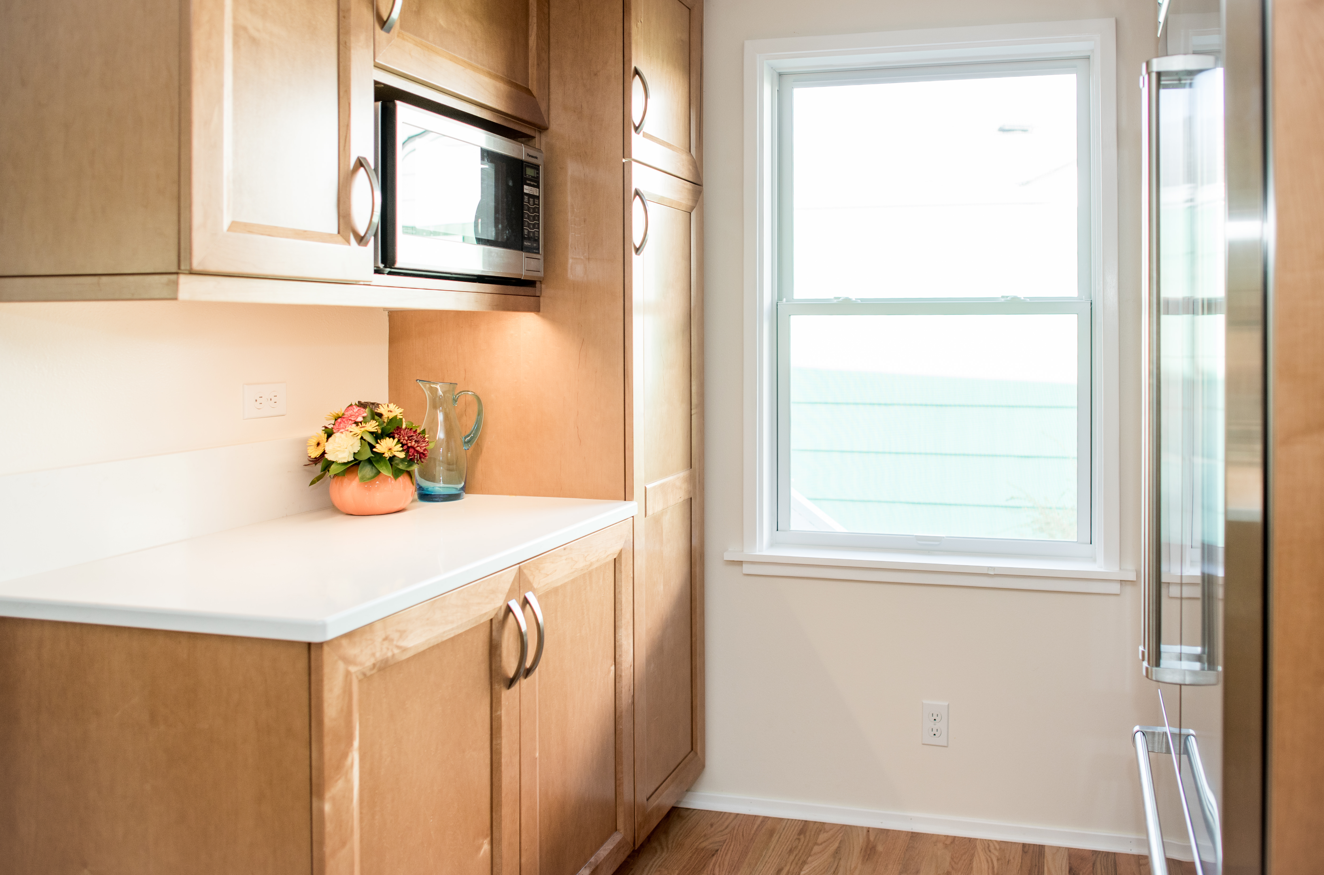 One of my favorite ways to spruce up your kitchen is to paint the walls and trim! A fresh coat of paint doesn't seem like it would make a big difference but it truly can change the appearance of your space.
Paint is fun because it is available in every color from white to black to any color you can imagine. If you are someone who wants to start with a blank canvas then using white paint might be a good idea so you can choose different colors for your cabinets and kitchen décor without worrying about the colors clashing. If white isn't your personal style, you could opt for a light gray or an accent color that ties in with your house style.
Painting walls and trim is easier than repainting or refinishing your cabinets. Even if you love the color of your walls, a fresh coat can still make a difference. For those who have a small kitchen, painting the walls could be done within a day or two making it a quick way to refresh your space's style on a budget.
5. Update the Backsplash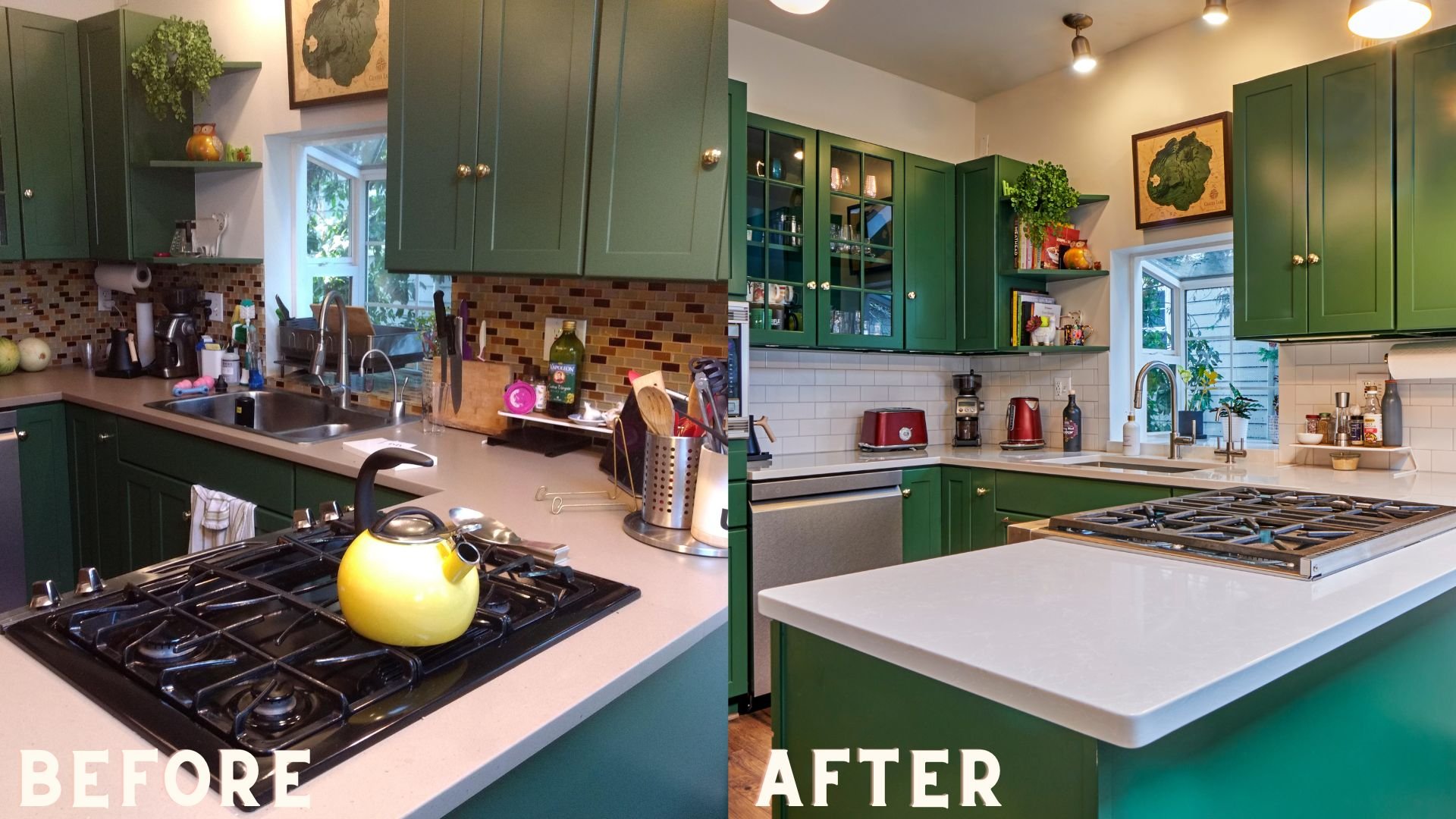 There is no denying that updating your backsplash is an easy way to add freshness to your kitchen renovation. While it is important to pick a backsplash option that is aesthetically pleasing to your whole kitchen, it is equally if not more important that you choose the right material that also fits into your budget.
A backsplash protects your walls from food splatters and grease when behind the stove. Also, it saves your walls from water when it's located behind the sink. If you only have paint on your backsplash then you will need to repaint at least once a year to keep it looking clean as it is hard to clean food splatters or watermarks from paint, especially if it is painted white.
Most of the time people will choose a tile backsplash during their kitchen remodeling process since tiles are a great protective barrier that is easy to clean. The options for a tile backsplash are endless because of all the different kinds of tile shapes, sizes, and colors. For example, if your kitchen has neutral kitchen cabinets, you could choose a patterned tile that brings an eye-catching flair to your kitchen.
One way to keep your kitchen on a budget is to use a combination of backsplash tile and paint above your lower cabinets. You could do 6 - 8 inches of a backsplash tile and then paint the rest of the remaining wall space. Another way to stick to your budget is to choose a ceramic or porcelain tile instead of using a natural stone on your backsplash. Natural stone is more difficult to clean and maintain over time.
6. Install New Light Fixtures and Appliances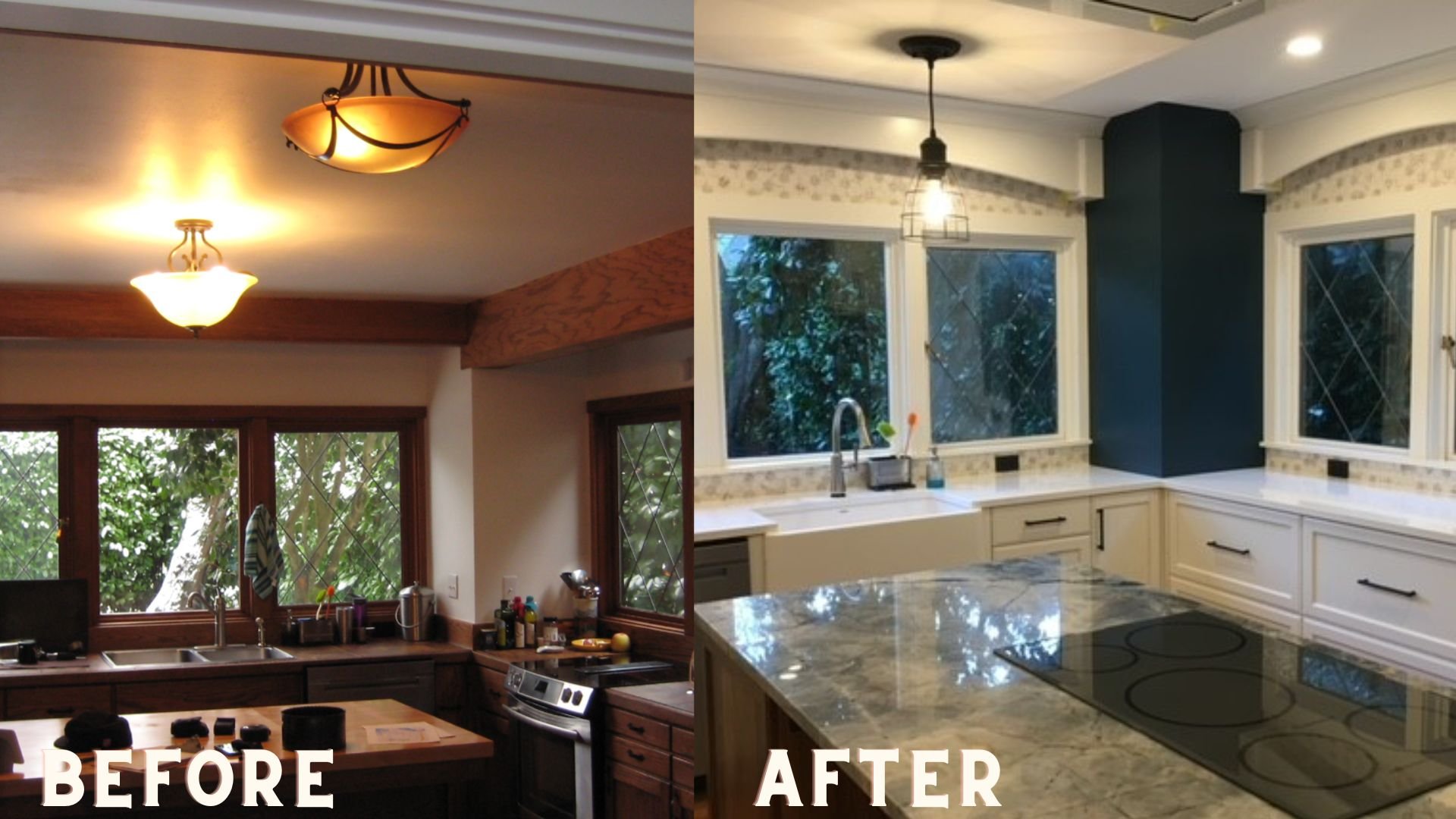 Finding simple budget kitchen remodel ideas can be tricky when you have a tight budget. One kitchen project that isn't too hard on your budget is to replace your light fixtures and appliances. Upgrading from basic fixtures and to stainless steel appliances can make your kitchen feel updated without doing much else to your space. This is also relatively quick compared to doing any major work since it is just removing the old items and replacing them with the new items, at most you might need to add new pipes to your appliance hookups.
Purchasing new fixtures and appliances can be pricey, but if you look for gently used appliances you can score some great deals. There are lots of people who upgrade their appliances every few years and sell their gently used ones. Connect with them through local marketplaces. That way, you can have the best deal at low prices.
These can also be found online on sites such as OfferUp, Facebook Market Place, or Craigslist. Sometimes you can even find gently used/like new appliances that were returned or might have small imperfections at stores like Lowes or Home Depot for less than the typical retail price.
In addition to swapping out appliances, a small update to your kitchen lighting can change the overall feel and look. Most of the time, light fixtures tend to get dated, especially if what is currently installed was part of a trend. Hence, it is wise to change the whole light fixture instead of only changing the light bulbs when you are trying to really make the space feel refreshed.
If adding new cabinets or backsplash tile is way out of budget then using new fixtures to add freshness to your kitchen remodel budget should be a priority. A unique fixture could be a good focal point and add value to your house. For example, changing or installing new pendant lights can upgrade the interior design instantly.
7. Upgrade the Countertops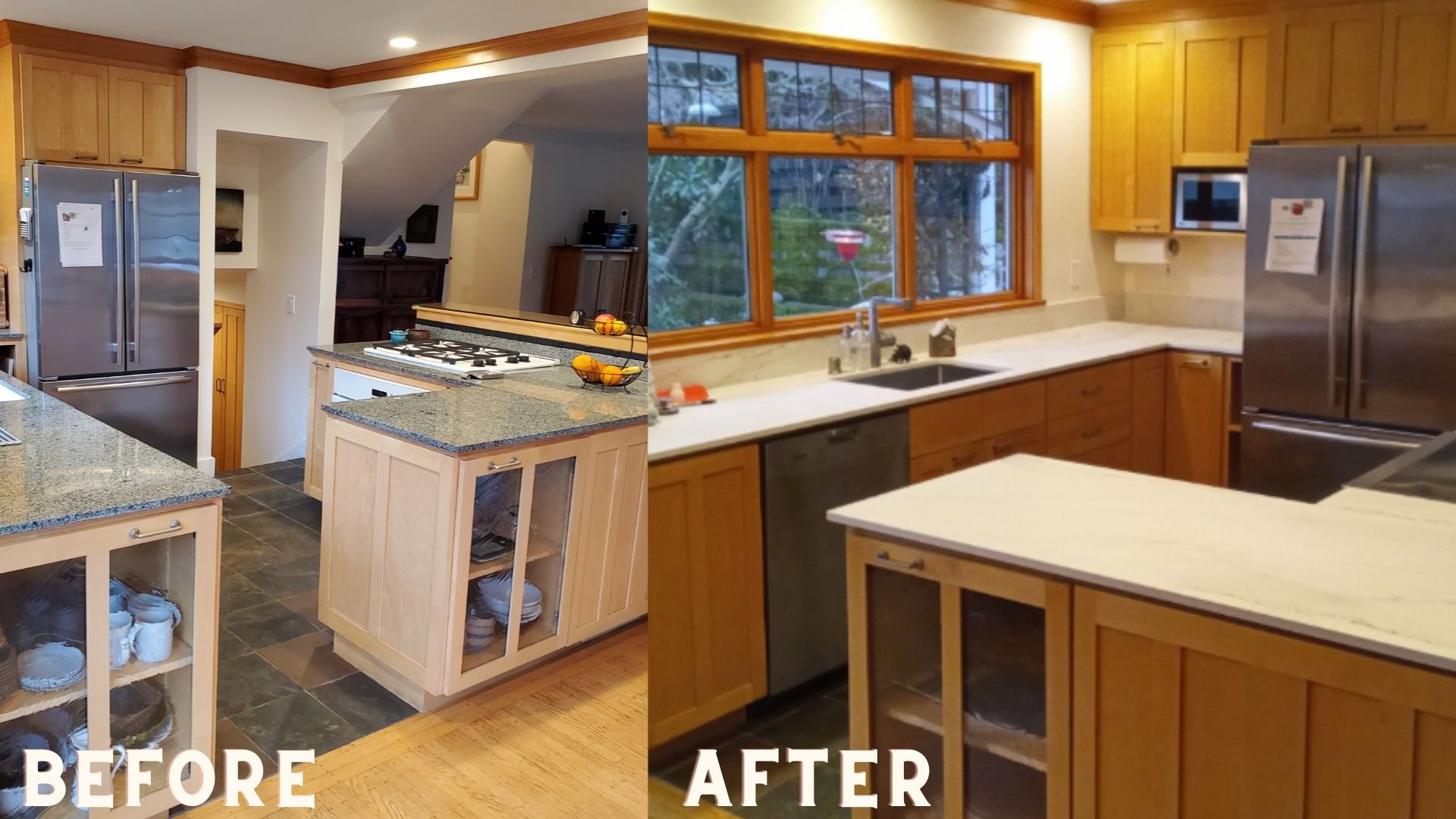 When putting together your list of kitchen remodel ideas, consider installing a new countertop. Installing a new countertop is a must if you are installing new cabinets, but if you like your existing cabinets and are looking to update your space then you could simply replace the countertop.
When selecting a new countertop, keep in mind it can get expensive, especially if you choose high-end materials such as marble, or another natural stone. These expensive countertops also require more maintenance which is something to consider. We generally recommend a quartz or granite countertop instead of true marble.
If you are looking for the least expensive option for your budget kitchen remodel you might want to go with laminate countertops. They are not quite as durable, however, they can still look nice and be a good option if you are upgrading from outdated tile countertops.
Another budget-friendly option can be butcher block countertops. You could do your kitchen island in a butcher block countertop and the outside edges with quartz as a way to save money and get the best of both worlds. Although butcher block countertops will show usage marks such as knife cuts, scratches, etc., they are easy to fix and have restored. Also, a bonus is they are softer compared to a stone countertop which means if you drop a plate or glass on them it is less likely to break.
8. Replace the Faucet and Sink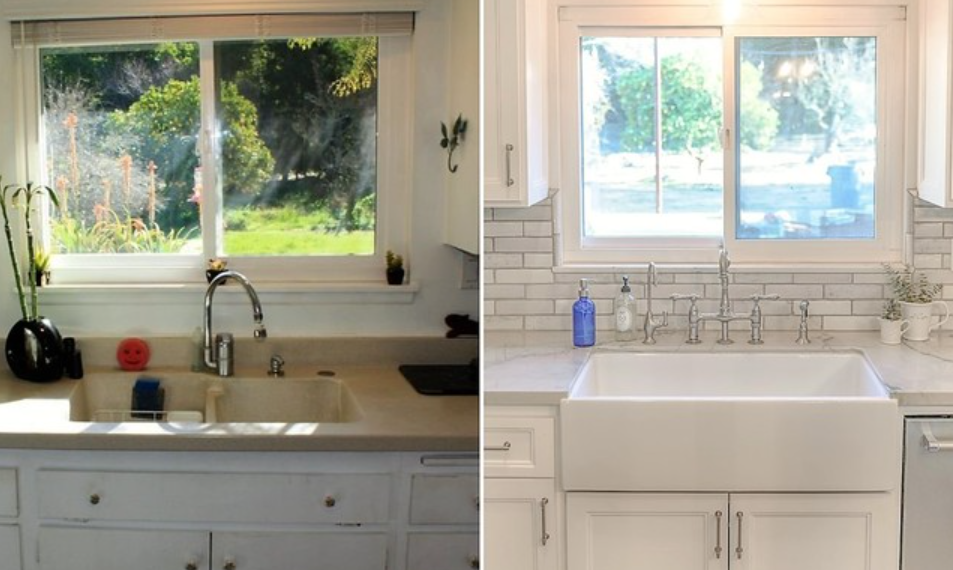 Photo from Dovetail Projects https://dovetailsb.com/
Whether you are considering a complete makeover for your countertops or just looking for small ways to update your kitchen, it is a good idea to replace the faucet and sink. A faucet and sink are the most used components in your kitchen. Therefore, in your budget kitchen remodel you should plan to replace them with new ones.
Since your kitchen sink is arguably the most used area in your house you should take careful consideration when replacing it. I recommend you go to a kitchen showroom to see the different types of sinks to see which fits your needs best. Whether you have been dreaming of having an apron front sink or a more traditional sink, we find it is best to be able to go in person to see how they look and feel since it is an item that is used multiple times a day.
There is no shortage of gorgeous sinks and faucets these days at a variety of different price points and with an array of functions, which means you are bound to find one in your budget. Moreover, make sure that they match the overall design and color tone of the kitchen and your house.
Conclusion
Kitchen remodels can seem daunting and overwhelming but CRD Home Services makes it easy! Our small project division can complete any or all of the above-mentioned updates for you to make your dream kitchen on a budget come to life. Contact us today to chat with our client development specialist about how we can work together to make your budget kitchen remodel ideas come to life!


Guide to Hiring a Remodeler
This comprehensive guide walks you through all the steps of choosing who will design and build your project, vetting remodeling companies, and ensuring that you have the best experience.