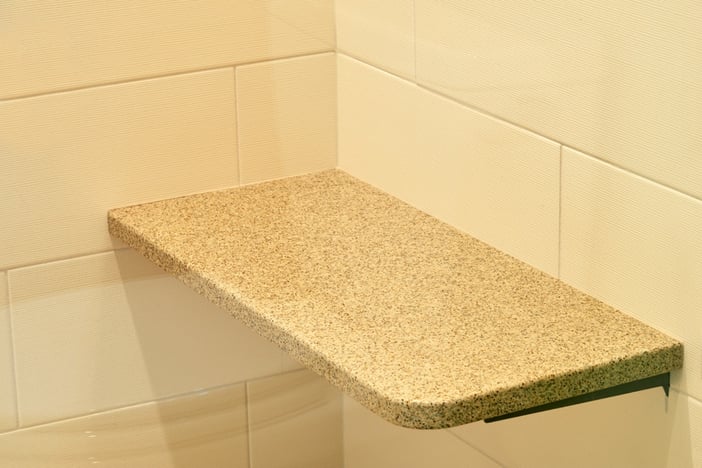 Most adults would prefer to age in place-that is, remain in their home of choice as long as possible. Purposeful Aging In Place (AIP) has grown in popularity and promotes the positive outcomes of older adults having a choice in their care and living arrangements. Livability can be optimized through the incorporation of Universal Design (UD) principles. Designer Mary Jo Peterson describes the top ten client requests.

By Mary Jo Peterson, CKD, CBD, CAPS


Top Client Requests
First off, although the link to the kitchen and bath is more global than specific, it seems worth mentioning that people are looking at ways to create a level entry and generally more open plans with more clear floor space for easier maneuvering. The newest international residential code allows for the change in level from garage to home to occur without a step, so in many cases this can be the level entry. In a current project, my office is working on a renovation that includes installation of a ramp from garage to kitchen to make transport of groceries easier, as requested by the client. It's worth noting that while current access standards allow 1:12 for a slope on a ramp, there is a movement to decrease that slope, and if you wonder why, try propelling yourself up or down that pitch safely on wheels.
The ability to live on one floor is frequently cited as a reason to move from an existing home or to remodel. While many regional vernaculars include two-story designs, people are asking for plans that include a master suite on the main floor, so "upstairs" becomes guest or other flex space. This does impact the space available for and the orientation of the kitchen and the master bath, when all of this is being fitted onto one floor.
Easy maintenance is cited as a top priority, which is no surprise as we all know easy is good. However, it becomes a stronger trend when cited as a main reason for moving from an existing home (57%, according to an ASID Aging in Place Survey). After outdoor upkeep, the kitchen and the bath are the two areas most mentioned when looking for improvements. As designers of these spaces, we need to take this into account. Antibacterial materials and finishes, cleaner lines, appliances that report trouble back to the manufacturer, self-regulating ventilation or lighting – all the ways we can streamline the care of our spaces – become tipping points for our clients.
In the kitchen, fewer wall cabinets are key. Fortunately, design trends toward more open spaces and generous daylight have forced us to use fewer wall cabinets and the response is tremendous. At 5′ 5″, I can reach no further than the front of the second shelf on a typical-height wall cabinet. With today's accessories for drawer storage of those items traditionally stored in wall cabinets, plus the use of furniture pieces in the kitchen, people are beginning to let go of wall cabinets in exchange for storage within easy reach.
We are placing appliances at comfortable heights. I used to be a lonely voice encouraging splitting double ovens so each might be placed at a more accessible height, but today, clients are asking for them. It's interesting to note that while the original reasoning behind a raised dishwasher or right-height oven was for use by a person in a wheelchair, today it is more often a benefit to a standing person who would choose not to bend. Another caution: This is one of those Universal Design concepts that only works when it fits into the design. A raised dishwasher at the end of a generous counter stretch separating the kitchen views from the adjoining space might be great, but that same raised unit in the middle of a U-shaped kitchen would be all wrong.
6. Drawers could be called the great equalizer. All of us benefit from bringing things closer to us without straining. Even most moderately priced cabinetry offers drawers. Today's drawer appliances, dishwashers, microwave ovens, refrigerators, to name a few – are in demand from people, and particularly those in the Boomer segment.
In both the kitchen and the bath, not only drawers, but doors that go away are a strong trend. Whether they fold to the side, swing up, recess in or otherwise open, getting them out of the way while one is accessing what's behind them is good. Hardware has been created and improved so that there have never been more options.
In the bath, let's start with the vanity area and talk knee spaces. People are requesting designs that include the option of sitting for at least some of the tasks at hand. Today's lavatory designs invite an open knee space and they are, at last, a strong trend.
Have you ever seen more choices in toilets? The trend is definitely to comfort- or right-height seats and, given the choice, I plan more than one height, to accommodate changing needs and varied user heights, when doing a whole house. Although this trend is still designer-instigated, clients are responding strongly to the many additional options becoming available, including heated and self-closing seats, personal hygiene, dual-flush, etc.
No-threshold showers have begun to take hold with not just designers, but with builders and consumers, as well. When containment of water is planned carefully based on the size, position, direction and amount of water flowing, the extent of waterproof layer, the slope of floor, type and location of drains, and the plan for doors, curtains or open entries, this is a wonderful choice.
Guide to Hiring a Remodeler
This comprehensive guide walks you through all the steps of choosing who will design and build your project, vetting remodeling companies, and ensuring that you have the best experience.