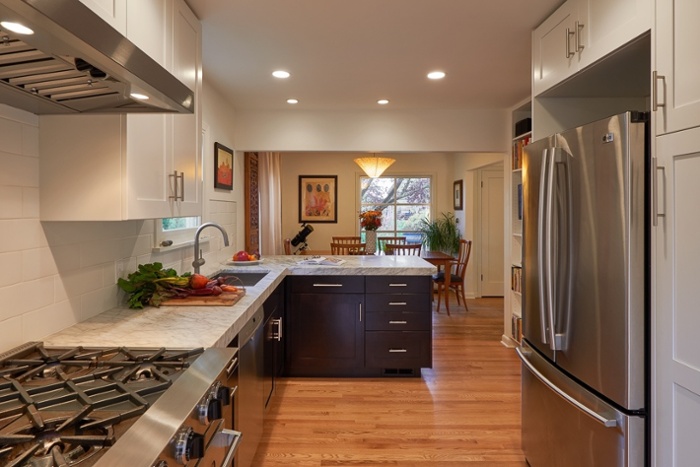 Building or remodeling a home in Seattle can take far longer than in other locales, but that doesn't mean you must just sit back and wait. While some factors are out of your control, here are some steps you can take to ensure your remodel is completed as quickly as possible.
1. Consider design build
You have several choices when it comes to contracting for remodeling services. A design-build remodeling company has designers and builders under one roof, meaning the hand-off from design to construction should be smoother, and any problems that come up during construction can be addressed more directly than if you had an architect and a builder arguing over who is responsible. With the design-build approach, you can also avoid spending time selecting both a designer and a general contractor. Another bonus of design-build is that you can often get on a company's construction calendar soon after you start design, something you would have to wait to do if you hired a standalone designer and general contractor.
See also: Should I Hire an Architect or Choose Design Build?
2. Apply for your permit early in the design process
If you choose a design-build company, they can apply for your project number as soon as you have a general idea of the scope of your project. If you hire a separate general contractor, you most likely won't be able to start the process until your design is finished.
See also: Are Permits Required for a Kitchen Remodel in Seattle?
3. DIY with caution
We often work with clients who choose to do some of the painting or finish carpentry work themselves. For some people, this can be a good way to save money, but be wary of taking on more work than you realistically have time to complete. If you do want to DIY, choose tasks at the end of the project that you can do after your contractor is completely finished so you don't risk throwing off the construction schedule. Also keep in mind that your contractor will not warranty labor or materials that you provide yourself. For a faster remodel, leave the construction to your contractor.
4. Stick with your decisions
For the most efficient remodel, try to make all your decisions during the design phase, not during construction. Talk over every fixture, finish, and layout decision with your project designer before construction begins. Get specific and resist the temptation to leave allowances for items that you will pick later. Even more important, try not to make any major design changes after construction begins.
5. Consider a more limited project
Be wary of remodelers who try to sell you on a bigger scope of work than you need. It's tempting to take your entire house down to the studs, but you may be just as satisfied with your home if you focus your remodeling efforts on just the problem areas. Projects that are more limited in scope are quicker to design, permit, and build. And they cost less, too.
See also: How to Cut Your Second Story Addition Budget in Half
6. Plan for your comfort during construction
Talk to your builder about living conditions in your home during construction. What will the dust management plan be? How will you cook your meals? Consider moving out for some or all of the construction phase, or plan a vacation so you are gone for the worst of it. While this won't make your project go any faster, construction will certainly seem quicker if you enjoy the process.
See also: How to Survive a Kitchen Remodel
7. Work within the existing footprint of your home
Adding on to your home is a great way to create additional space, but it also increases cost and usually requires professional engineering and sometimes a longer permitting process. An experienced designer can often work within the existing walls of your home to create more functional space than you imagined was possible. Finishing a basement rather than adding up or out is another technique that can speed the remodeling process and save you money.
8. Work with a company that has a reliable network of local subcontractors
During the construction phase, the factor that can slow down a project the most is subcontractors not showing up when scheduled. When it comes to subs, and remodeling contractors in general, you usually get what you pay for. Choose a remodeler that has established long-term relationships with reliable subcontractors who will be on site and do the work when they say they will.
See also: CRD Design Build Subcontractor Partnerships
9. Avoid contractors who are juggling too many projects
We've all heard friends tell horror stories about the remodeling project that dragged on forever. When choosing a remodeling company, ask pointed questions about how many jobs they take on at once and whether they will have a lead carpenter at your home to oversee progress every day.
10. Start exploring your options early
Many Seattle homeowners are surprised by how long a remodel can take. Not only are there long backlogs at the city's permitting office, but many designers and remodeling contractors are booked out months in advance. Here at CRD, our design cue is often three months, and our construction cue can be five months or more. If you want to complete your remodel within a certain time frame, I would advise you to start reaching out to remodelers as soon as possible to get a realistic sense of lead times.
See also: 5 Questions to Ask Before Hiring a Remodeler
Ready to take the first step?
If you are thinking about remodeling your Seattle home, a great place to start is with our Guide to Hiring a Remodeler, which outlines the various approaches to getting your project designed and built and includes helpful worksheets and checklists. We would be happy to discuss your remodeling vision with you. Feel free to contact us to start the conversation.
Guide to Hiring a Remodeler
This comprehensive guide walks you through all the steps of choosing who will design and build your project, vetting remodeling companies, and ensuring that you have the best experience.