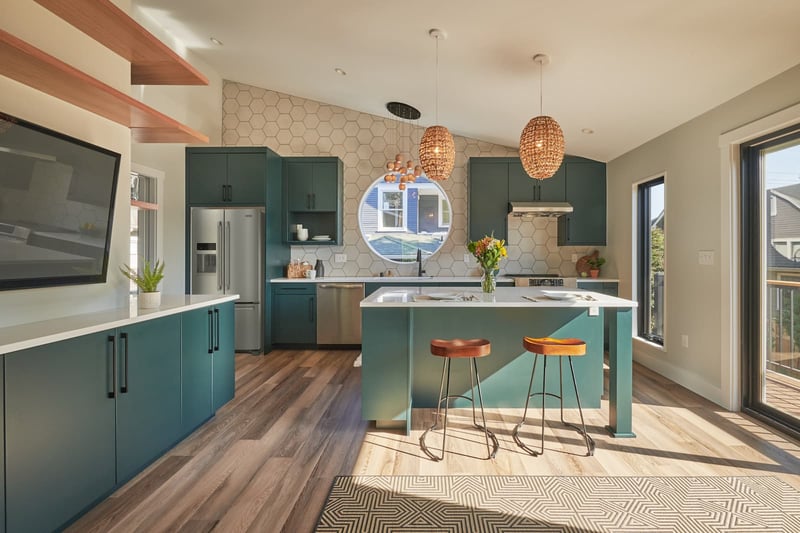 If you're about to remodel your home, you no doubt want the new spaces to feel fresh and up to date. After all, updating your home's style is one of the major motivations for remodeling. But before you rush to incorporate all the latest interior design trends, take a moment to consider how they will look a few years from now. Follow these tips on choosing timeless versus trendy interior design.
These days we see so many fun and different interior design trends cycle in and out of popularity. If you don't participate in any new trend then you might experience a little bit of FOMO. If you did participate, then your home might still have tiled kitchen countertops (we can help with that). Take a listen to hear from our award-winning interior designer Amy Moore and Design manager Leslie Eiler tell us how we can safely partake in current and future trends in a way that is easy to fix when needed. We also talk about how to tell when a trend is here to stay.

Why to avoid trendy design
At CRD, we've been remodeling in Seattle for more than 35 years, and we've seen a lot of interior design trends come and go. Here are a few reasons why we usually try to steer our clients toward timeless design whenever it matches their project goals:
Saving money: Remodeling is expensive, and ultra-trendy designs can become stale very quickly. Unless you have the means to redo your interior and replace your furniture every five years or so, it's difficult to keep your space completely on trend.
Conserving resources: The more timeless we can make our designs, the longer our clients will enjoy and keep them, and the less waste will be produced.
Style: Designs that have withstood the test of time have usually earned their staying power for a reason. It's hard to go wrong with enduring style.
SEE ALSO: Do I Need an Interior Designer for My Remodel?

How to future-proof your home
As you attempt to strike the right balance between trendy and timeless design, it's important to recognize that your home will evolve over the years. No matter how timeless the design you choose, you will likely want to make changes and update a few things over time. The trick is to choose where to follow the trends and where to remain neutral and timeless in your design choices. Here's the approach we like to take.
Longevity
We know the cabinets and counters for your remodel are big ticket items that you are not likely to want to change again for many, many years. These elements should be carefully edited and selected as much for the future as for the now. Paint is really easy to change and is low cost, so pick out cabinets and counter tops that are gorgeous but neutral enough to work with most paint colors.
Style Cycle
We know that colors trend in and out almost yearly. Bright white is hot right now, but eventually we will tire of it and go back to off-white. Wallpaper was dead for years but now is fashion-forward and chic. Elements like natural light will always be important to our well-being so investing in large, quality windows is a sure bet.
Natural or Recyclable Materials
One consideration that may not be on your mind during the design phase is what will happen to the materials when you eventually change them out. Will they be going to the landfill, or can they be recycled or refurbished, donated or reused elsewhere? Rather than focus just on trends, consider basing your choice on whether a product has recycled content to begin with and if it can be recycled in the future. Better yet, consider investing in a higher-quality product that can be refinished after five or ten years to give it a second or third life.
Trends in Furnishings
The same theory applies to soft goods, such as window coverings, fabrics, and furniture. The investment in a quality, made-in-America, designer product can oftentimes be more than homeowners expect. But knowing you can reupholster a high-quality sofa two or three times will be money well spent. Go for a transitional neutral color on larger pieces and add layers of accents that can be changed as your style evolves.
Simplicity
When it comes to design that is built to last, clean, simple lines tend to age much more gracefully than ornate designs. This goes for cabinetry, fixtures, trim, and other design elements.
SEE ALSO: Timeless Designs by CRD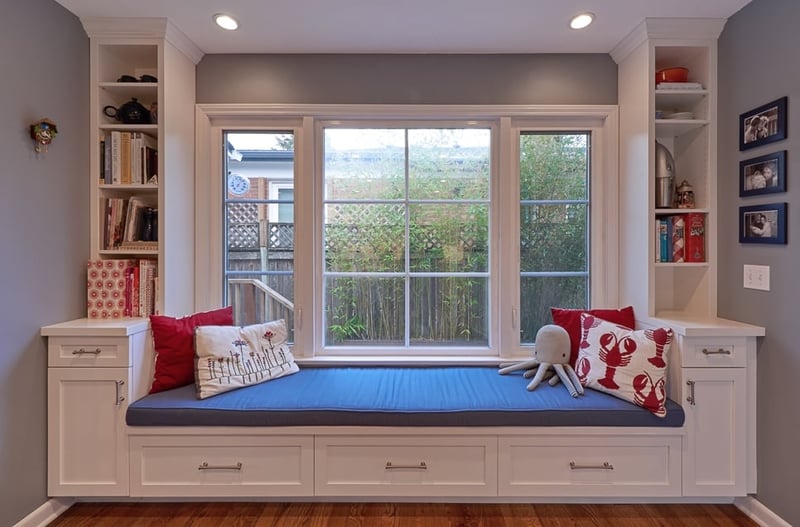 The best places to incorporate the latest trends in your home
Even if you're dedicated to timeless design, you will probably still want to incorporate some of the latest trends in your interior design. Here are a few of the most practical places to introduce some trendy style.
Lighting: Trendy lighting fixtures can do a lot to make a room feel stylish and new. Luckily, they are usually very simple to replace when styles change. Table and floor lamps are the easiest to swap out, but even hard-wired fixtures can be fairly easily replaced.
Rugs: When freshening up flooring, it's much cheaper and simpler to change out a formerly trendy rug than it is to replace the built-in flooring material underneath.
Walls: Here is a great place to update your interior to the latest color palette with a relatively inexpensive paint job. If you opt for expensive wallpaper, choose a more neutral pattern or save it for a very small space, such as one wall of your powder room.
Accents: In general, choose the smallest, least expensive items to reflect today's trends. Think small furniture pieces, like accent chairs or ottomans, statuary, containers, plant pots, throw pillows, and such.
Next steps
CRD design staff are experts at guiding clients through the design process and are here to help you find the perfect design for you to enjoy for many, many years. To learn more about our interior design and architectural services, tell us about your project by filling out our contact form.
Guide to Hiring a Remodeler
This comprehensive guide walks you through all the steps of choosing who will design and build your project, vetting remodeling companies, and ensuring that you have the best experience.