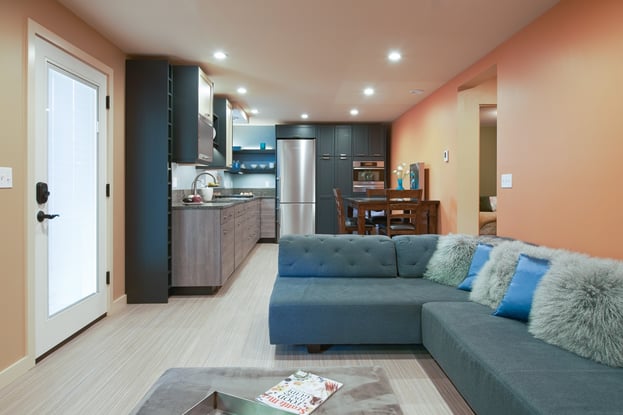 A version of this article was first published in the Seattle Times, November 2, 2017.
Average home prices in Seattle have jumped more than 12 percent in the past year, making our city the fastest growing housing market in the nation, according to an industry report published in April. This can make buying and owning a home in Seattle expensive. But there are ways your home can make you money, if you are willing to get creative and invest some time and resources into the idea.
Let's look at a few different options you have to monetize your home, beginning with the lowest investment cost.
Share a Room
People have been taking in roomers and sharing spaces with roommates forever, and this is still an excellent way to reduce your housing costs. This can work for just about anyone, but it's especially good for single people and those whose grown children have moved out and who find themselves with more bedrooms than they need. Check craigslist.org, roomster.com, roommatelocator.com, and other sites to find a compatible roommate.
Rent to Vacationers
The online vacation rental platforms Airbnb and VRBO have exploded in popularity, and with good reason. Travelers who want a homier experience can stay in a comfortable private residence, while homeowners can earn thousands of dollars per year. As a homeowner, you have many options, from renting your whole home while you are away on vacation to renting a single room while you are in town. We work with many clients who incorporate a vacation rental space into their remodel project. You can earn from $50 per night for a room to more than $1,000 per night for a luxury home. Seattle startup Loftium will even help you with your down payment on a home in exchange for renting out one of your rooms on Airbnb.
Former Seattle City Councilmember Tim Burgess proposed new regulations that would limit the number of nightly vacation rental units people can rent on Airbnb and other sites, but homeowners would still be able to rent their main residence and one other unit.
Add an Accessory Dwelling Unit
Sometimes called "in-law apartments," these are self-contained living spaces that are built into your home. To create these apartments, homeowners often convert their basement by adding an outside entrance, egress windows, and a small kitchen, or they add on to the back or side of their home. When my wife and I remodeled our own home in Fremont, we created an ADU in the basement and have used it for a variety of purposes, from a nightly Airbnb rental to a longer-term rental to a temporary home for clients while we remodel their home. It's a remarkably versatile space that has brought us a steady stream of income over the years.
In Seattle, in-law apartments can be up to 1,000 square feet, the owner must live on the premises, and one off-street parking space is required.
See also: The Ultimate Guide to Backyard Cottages
Build a Detached Accessory Dwelling Unit
DADUs or "backyard cottages" are small, standalone houses built behind your main home. They allow you to maintain your privacy and all the square footage in your main house while creating a significant income stream. They are renting right now for between about $1,200 and $2,000 per month, or up to $24,000 per year. As a vacation rental, a backyard cottage could earn you even more.
Backyard cottages have been legal in Seattle since 2010 on lots 4,000 square feet and over. The cottage must be 800 square feet or less. One off-street parking space is required, except in designated urban villages. A proposed ordinance in Seattle that would allow DADUs to be built on smaller lots and ease some of the other requirements is currently under review. They are not allowed in Bellevue.
See also: The Ultimate Guide to Backyard Cottages
Getting Started
Renting your space can make a nice remodel or a more expensive home more affordable, but it also requires some extra planning, an initial investment, and ongoing management. If you are interested in monetizing your home, start by checking out Airbnb, Craigslist, Zillow, and other sites to get a feel for the rental market. Get some ADU and DADU design ideas from sites like Houzz and Pinterest. Talk to your banker or mortgage broker to create a realistic budget. Finally, talk to a builder or designer if your idea requires adding on to or modifying your home.
Listen to my interview on The Money Hour for even more tips.
Guide to Hiring a Remodeler
This comprehensive guide walks you through all the steps of choosing who will design and build your project, vetting remodeling companies, and ensuring that you have the best experience.