So you want to build a backyard cottage or ADU? Great! The first step is to make sure you know all the rules. There are some major changes to the regulations in the works, but let's take a look at the current regs.
In-Law Apartments
Attached ADUs (in-law apartments) have been allowed in all single-family homes in Seattle since 1994. As of 2016, there are just over 1,000 units. Here is a rundown of the current ADU regulations:
Backyard Cottages
Backyard cottage regulations are more hotly contested and a bit more complicated than those for in-law apartments. The city started a pilot program in 2006, allowing DADUs to be built in Southeast Seattle. It was considered a success, and the city expanded the program to include all of Seattle in 2009. However, as of 2016, only 221 backyard cottages have been built out of the roughly 75,000 single-family lots that are eligible.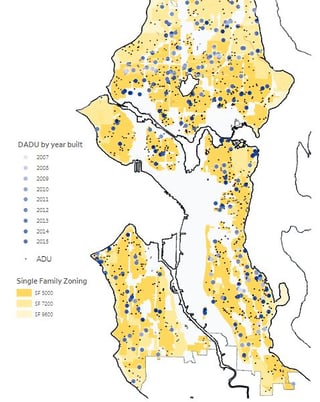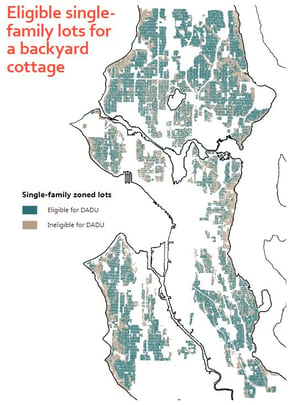 Images: www.seattle.gov/Documents/.../DADUCommunityMeetingboardsFeb2016.pdf
Current Backyard Cottage Requirements
If you're thinking about investing in a backyard cottage, you may want to check with a knowledgeable builder or architect about your eligibility or refer directly to Seattle Municipal Code 23.44.016.D.8. Here is a summary of the current regulations:
Lot size: Your lot must be 4,000 square feet in a single-family zone. The city is not currently accepting variances for this requirement.
Cottage size: Only 800 square feet is allowed for DADUs in single-family zones and 650 square feet for units in a lowrise zone. If your DADU incorporates a garage or storage area, that square footage counts toward your total.
Codes: As with any construction project, your backyard cottage must meet current land use and building standards. No surprise here.
Parking: Just like for an ADU, you must be able to create one off-street parking space for your new backyard cottage.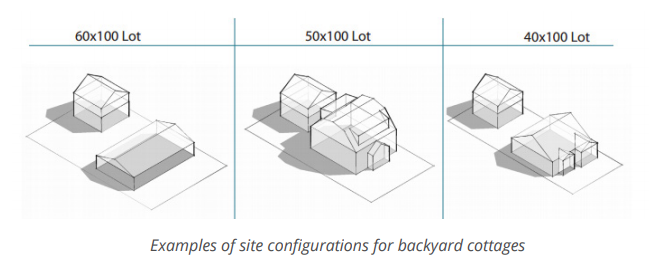 Seattle City Council
Proposed Changes in Seattle Backyard Cottage Regulations
Back in May of 2016, Councilmember Mike O'Brien proposed new regulations that would make it easier to build backyard cottages and in-law units in Seattle. Here is a rundown of the proposed changes:
Doubling up: Both an ADU and a DADU would be allowed on the same property. Currently, you can only have one or the other.
Height limit: You could build a cottage up to 2 feet taller than current regs, depending on your lot width. Basically, this would make it more feasible for you to build a DADU with a second bedroom.
Parking: The requirement for an off-street parking space would be removed for houses in many areas.
Lot coverage: If your backyard cottage is only one story, it could cover 60% of the rear yard (up from 40%).
Owner occupancy: You would no longer be required to live on site in perpetuity, just for a year after the unit is created.
Lot size: The required minimum lot size would drop from 4,000 square feet to 3,200 square feet.
Floor area: The max square footage of your cottage would increase from 800 to 1,000 square feet.
Garages exempt: If you build your DADU above a garage, the garage square footage would no longer count toward your total.

Seattle City Council
Current Status and Environmental Impact Statement Process
[From Seattle City Councilmember Mike O'Brien]
The Office of Planning and Community Development issued a State Environmental Policy Act (SEPA) Determination of Non-Significance (DNS) in May of 2016 on my proposal. Following the release, the Queen Anne Community Council appealed the DNS to the hearing examiner. This past December we received the response from the Hearing Examiner that reversed the DNS. After thorough examination of the Hearing Examiner's response, we have decided to pursue a full environmental impact statement (EIS). This process will likely take a year to complete. The full EIS will enable us to look deeply into the potential environmental impacts of the proposed code changes and inform our proposal before we bring it to the Planning, Land Use and Zoning Committee.

There will be multiple opportunities for input during the EIS process. We will keep you informed of these opportunities for public comment and encourage you to engage. When the EIS is complete, we hope to bring legislation to committee by mid-2018.

I believe lowering the barriers to creating backyard cottages and in-law apartments is an important part of addressing affordability across the city, and am looking forward to continuing to pursue this legislation.

If you have further questions, please reach out to Susie Levy – susie.levy@seattle.gov or call our office at 206-684-8800.
Resources