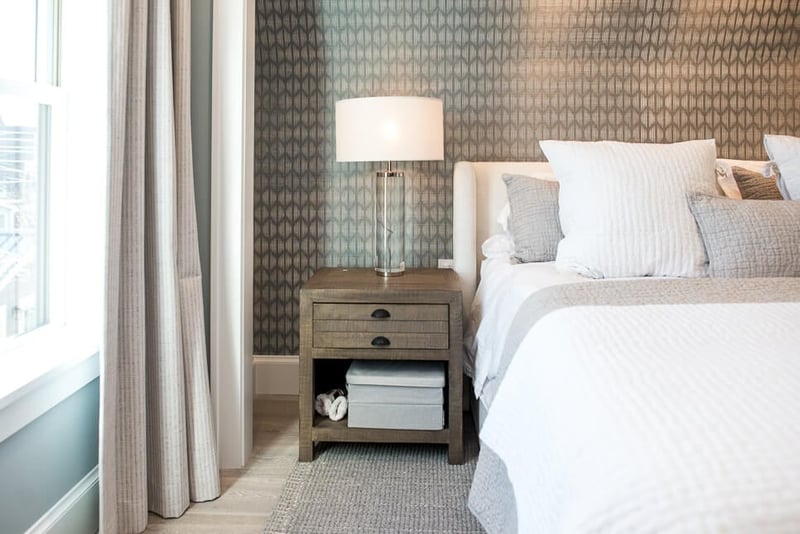 The terms "primary suite" and "primary bedroom" are used frequently in the design world. Most people don't realize there is a difference between the two terms. Let's get into the details.
What is a primary bedroom?

Most interior designers (and real estate agents) would agree that the primary bedroom is simply the largest or most desirable bedroom in the house. It often has the best views or the most favorable location of all the bedrooms in the home. This is typically where the head of the household sleeps.
What is included in a primary bedroom?
When you are told a home has a primary bedroom you will expect to find:
A larger room with ample closet space.
A larger closet or two closets.
A doorknob that locks from the inside.
Not all primary bedrooms are created equal. Sometimes, a listing will claim that a home has a primary bedroom, meaning it just has a larger room but does not come with an attached bathroom. Larger rooms for the head of the household became more and more popular in the mid- to late-1900s. This was a result of two trends: Working hours were becoming more regulated at 40 hours a week, giving people more time to relax at home, and central heating (as opposed to having a fireplace in each room) became almost ubiquitous. After the gas crisis of the 1970s subsided, energy costs went down, and by the 1980s, more people could afford to heat a bigger home with a large primary bedroom.
What is a primary suite?
A primary suite will have everything a primary bedroom has and more. The accepted definition of a primary suite is a large bedroom with a private en suite bathroom (one that is accessed directly from the bedroom) and perhaps other amenities. Typically, older homes built in the Seattle area don't offer enough space for anything more than a private bathroom to be included. Architects occasionally refer to these spaces as "owner's suites" as well.
Primary suite perks
In addition to an en suite bathroom, which is sometimes designed for two, a primary suite might include the following additional features:
Foyer
Walk-in closet
Linen closet
Sitting space
Attached office
Private balcony
Fireplace
Wet bar
As with a primary bedroom, the expectations for a primary suite vary depending on the lifestyle and desires of the homeowners. If they are loaded with amenities, these spaces are sometimes referred to as "luxury" or "executive" primary suites and range from 300 to 600 square feet. The primary suite is built in a way that affords much privacy to the owners. Cavernous primary suites became a common feature of so-called McMansions in the 1980s, but today, owners of homes of all sizes are specifying primary suites.
Where to locate the primary suite
If you are designing a home from scratch or planning a major remodel and want to include a primary suite, you may be wondering where the best place is to locate it. Should it go on the first floor or the second floor. Traditionally, primary bedrooms and primary suites have been located upstairs, since that part of the house is usually the most private and is far from the kitchen and main living area. That is beginning to change, however. More and more homeowners are looking toward the future, when they might be less mobile, and are starting to build primary suites and primary bedrooms on the first floor. In fact, a first-floor bedroom is an essential principle of universal design. Some homeowners are even building houses with two primary suites, expecting to use the upstairs one when their children are small and then moving to the downstairs one if climbing stairs ever becomes difficult.
Primary suite examples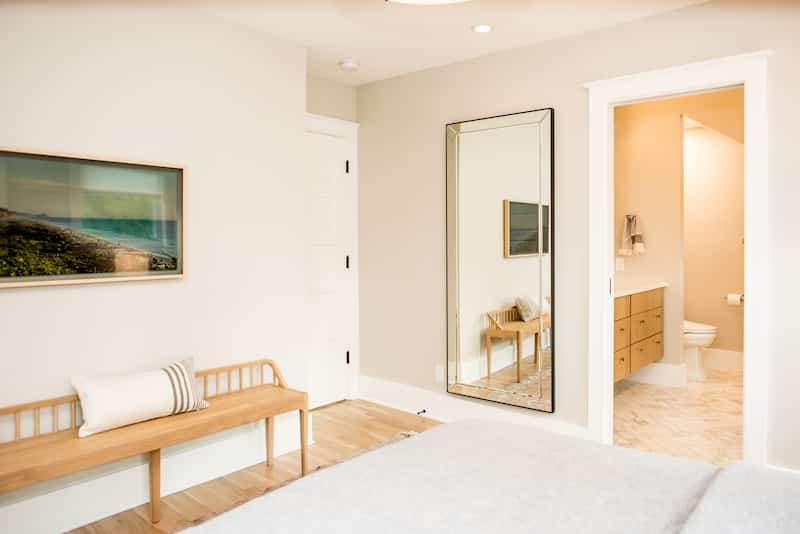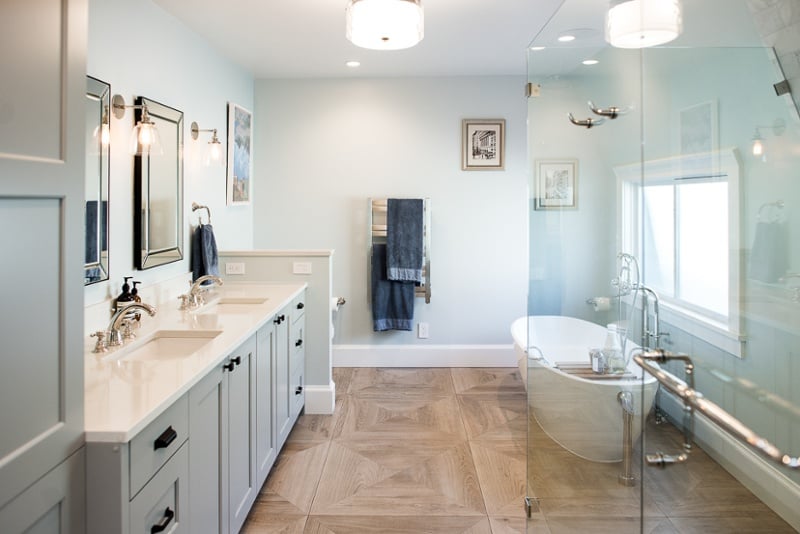 Convert your primary bedroom to a primary suite
A primary suite conversion is an excellent way to add a touch of luxury to your home and increase its resale value. We have worked with many Seattle homeowners to design private primary suites, either by adding onto the home or working within the existing footprint to carve out space for a private en suite bath. A ground-floor bump-out addition, a second-story addition, or even just a dormer addition can provide the space you need to add a luxurious primary suite. Contact us today to talk about the best approach for your home and lifestyle.
Guide to Hiring a Remodeler
This comprehensive guide walks you through all the steps of choosing who will design and build your project, vetting remodeling companies, and ensuring that you have the best experience.