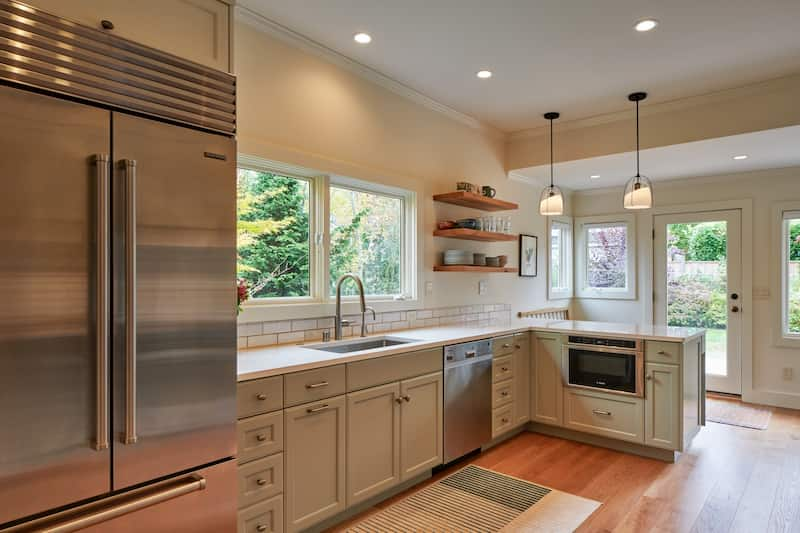 Kitchen remodeling can transform your home by giving it a vibrant fresh new look. That's why it's one of the most sought-after home improvement projects. The main drawback is that it comes at a high price.
Kitchen remodel prices vary around the country. Here in Seattle, where the cost of construction is high, homeowners typically spend around $150,000 for a full custom kitchen remodel by a reputable firm. If you want a dream kitchen that offers the ultimate in luxury and functionality, expect to invest closer to $275,000.
See also: Seattle Kitchen Remodel Pricing Guide
While you can expect a quality kitchen remodel to add significantly to the value of your home, the upfront costs can induce some major sticker shock.
What if you don't have this kind of money? Do you postpone the project or forge ahead with the remodel budget you have? If you really need the remodeling, it's possible to do the project for less. It's also more cost-effective to do the project today than wait until later because of inflation. Prices tend to rise with time.
In this article I will go over 10 tips that can help reduce the overall cost of a full kitchen remodel and make your project more affordable. Make sure to bookmark this article for later reference when planning or budgeting for your next kitchen renovation.
1. Repair poorly functioning appliances
It can be tempting to buy a new refrigerator, range, or dishwasher because you want everything to be new and different. But there's an alternative way of doing things that can save you money. You can fix the appliance if it's not functioning properly rather than throwing it away. Since most repairs are not technical, you can use online video tutorials from verified technical sources to guide you. If your appliances simply look too dated, then see points #2 and #3 below.
2. Save money by buying discounted items
Be creative and open-minded as you plan your remodel. Go to garage sales or overstock stores to look at appliances, countertops, and sinks. You may find a well-maintained rustic sink for free or at a fraction of the price of what you'd normally pay for a new one. Try adding both new and old elements to refresh your home. You never know; you may find a new look that appeals to you. Also, look out for deals on popular consumer-to-consumer eCommerce sites.
3. Incorporate lightly used items
You may not need to buy all new appliances. Instead of spending money on a brand-new refrigerator, consider buying lightly used models online. You can also look for refurbished or gently used items at garage sales, thrift stores, or home appliance centers that offer discounted floor models and returned items.
You could even consider something creative, like a repurposed antique cabinet, for an island. Not only do you save money but you add visual interest to your space. It's a win win!
4. Refurbish your cabinets
Any cook knows that functional cabinets and good storage are as essential to meal prep as the cooktop. But after a while, your kitchen cabinets may start to wear and fade, and the knobs may even start to fall off from constant use. As a result, you may be tempted to completely replace your cabinets. If you consider the labor costs, time, and expenses for the new cabinet package, a large percentage of your budget may be spent here.
To save on costs, you can repaint your cabinets and replace the knobs with new ones.
5. Remove the kitchen cabinets
One smart way to work with what you have and lower your kitchen renovation costs is to remove a few of your upper cabinets and replace them with open shelves. These cost significantly less than cabinets and can make your kitchen feel more open and roomier. Professional kitchen designers use this approach to provide a showcase for decorative items and lend a kitchen a sense of style.
Be aware, however, that this approach works best for those who are able to keep their items in order. If you're prone to having messy cabinets (or like to collect mismatched mugs), then open shelving may not be the best option.
6. Stick with the same layout
Instead of moving the kitchen sink to the other side of the room or changing the orientation of the kitchen island, stick with the same layout to save on costs. Structural changes, such as moving walls and fixtures, are more expensive due to the labor charges. While you may be tempted to tear down a wall to connect your kitchen to your dining area, just know that it will add significantly to the cost of your remodel.
With almost any layout changes to your home, you will have to hire specialized contractors to do the plumbing and electrical work. A good rule of thumb is that changing almost anything behind the walls requires building permits and a plumbing or electrical specialist. Therefore, it's less expensive to remain with the same layout but change minor elements, such as the colors and fixtures to give your space a new look.
7. Compare prices on appliances, countertop material, cabinets, flooring, and sinks
Check prices at appliance stores, home improvement centers, discount retailers, or online; they won't be the same everywhere so find what works best for you and saves you the most amount of money. Make sure when comparing different countertop providers, for instance, that you factor in the cost of installation.
8. Choose wisely when hiring a contractor
It's critical to hire the right person for your kitchen remodel. One of the most important things you should consider is whether they're licensed and insured. If their license is expired or if they don't have insurance, then you could be personally liable for any injuries that happen on your property. To avoid this, make sure to check the license and insurance of your contractor before you hire them. Make sure they're licensed in your state. Here in Seattle, you can check a contractor's licensing status at the Washington State Department of Labor and Industries website.
9. Create a budget and stick to it
When planning your kitchen remodel, it's important to create a detailed scope of work, usually provided by your kitchen designer if you are working with one. This will be a document that details all the design choices and work to be performed to build your new space. It's what you will use to get accurate budget estimates from a general contractor. The scope of work should include the layout, fixtures, material choices and finishes.
Some general contractors will create a detailed budget for you and present you with a fixed-price contract to complete your project. Others will only offer you an estimate, which means you will absorb any cost overages. I recommend you go the fixed-price route to avoid any surprises. Resist the temptation to change your scope of work during construction.
See also: Home Remodel Checklist
10. Be realistic about what you can and cannot do yourself
One of the most popular ways to save money on a kitchen remodel is to do some of the work yourself. This is a great approach if you have the skills and tools, but for many people it is not realistic. If you are going to do some of the work yourself, make sure your DIY skills match your ambitions. After all, doing a substandard job may cost you more in the long run if you have to hire professionals to correct your newbie mistakes.
What is the most expensive part of remodeling kitchens?
You might expect flooring and countertops to be most expensive. However, labor is actually at the top of the list. The cost of specialized construction labor has grown exponentially in recent years, and during a kitchen remodel this expensive labor must be hired to create the new space.
Now, let's get going on your budget-friendly remodel!
In summary, it is possible to create a kitchen that is both beautiful and functional but that doesn't break the bank. Just keep an open mind, make your decisions carefully, and stick to your budget. Your dream kitchen may be more affordable than you think!
See also: The Ultimate Guide to Kitchen Remodeling
Kitchen Remodel Inspiration
Fresh Design
Adding custom touches to your kitchen design doesn't have to add a lot of cost. These unique backsplash tiles provide an unexpected geometric twist on the classic white subway tile motif.
Open Shelving
By replacing expensive cabinets with open shelves, you can save money and lend your kitchen an airy look. Open shelves are also a great way to showcase items that give your space a custom, high-end feel.
Static Layout
This remodeled kitchen looks completely new, but the owners were able to keep costs under control by leaving the major appliances and fixtures in the same locations.
Sourcing Appliances
When searching for high-ticket items like appliances and plumbing fixtures, don't hesitate to shop around for the best price. Floor models and returned items can also be a viable choice for savvy homeowners.
Guide to Hiring a Remodeler
This comprehensive guide walks you through all the steps of choosing who will design and build your project, vetting remodeling companies, and ensuring that you have the best experience.