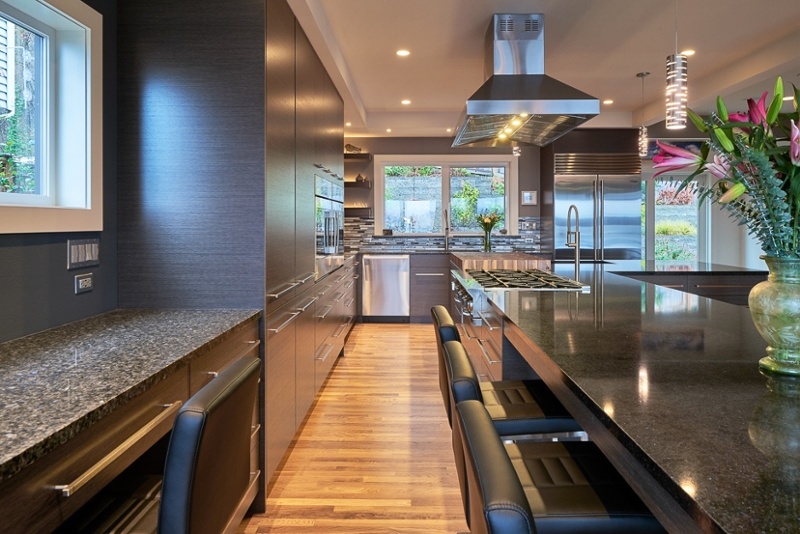 If you're reading this, you probably know you want to remodel your house but you may not be sure where to start. Maybe you're stuck between choosing to remodel or moving to a new home. Choosing to remodel your house is a big choice. It requires planning, scheduling, and making big and small decisions. To help you get a sense of the steps required, I've created a home remodeling checklist to help guide you through what might be one of the biggest projects you'll ever take on.
Before you download the checklist, let me walk you through some of the most important steps to get started on your remodel and make it a success.
Where to start when planning a remodeling project
1. Create a project outline
Creating a project outline is the first step in your remodeling process. Plan a night, or several, where you and your partner or co-owner sit down and talk about what you want to add and what you want to take out of your home. Here are a couple of things to touch on;
Will this be a simple facelift or a full gut remodel?
Which rooms and which items in your home would you like to change?
What do you dislike about your home, and what do you love about it?
Would this be a good time to make some structural updates, such as electrical, HVAC, or roofing?
When would you like to start the construction portion of your remodel?
See also: Remodel Planning: Where to Start and the Order to Follow
2. Write out a realistic timeline
Now that you've created a project scope, you need to figure out the when.
By the time many people decide to start taking the steps to remodel a home they don't love, they have lived in it for so long that they have little patience left. So they look for a company that can start demolition right away. Here's why this can be a risky idea: The highly recommended and highly rated builders often have a lead time of six months to over a year. There's a reason for that. These companies are well established, retain top designers, do everything by the book, and have highly skilled carpenters.
Resist the temptation to sign a contract with the first company that walks through your door offering a "bargain" price and big promises of a quick timeline. Sadly, contractors who promise to do the job quickest often take longest because they take on too many jobs, don't set a rigid schedule, and often get paid by the hour, which gives them no incentive to work efficiently.
Instead, plan your renovation in advance so that you can let yourself have the patience to wait 6 to 12 months for construction to begin.
See also: How Long Does a Whole House Remodel Take in Seattle?
3. Explore your financial options
Your budget is important. This is why this home renovation checklist should include funding. It's no secret that home renovations are a major investment. Some contractors and estimators will be able to tell you about possible funding options, including savings, cashing out on equity, or other loans. It's best to figure out where your funding will come from before you go any further.
See also: 11 Ways to Finance Home Remodeling
4. Create a remodeling budget
If this is your first remodel, you'll quickly learn how difficult it can be to pin down what the actual cost of the project will be. A remodel is a uniquely personal process. Everything the designer sketches and the contractor builds is customized to your home's unique quirks and your own preferences and desires.
A further complication is that there is a lot of misinformation about remodeling costs out there. (HGTV, I'm looking at you!) Many of the remodeling costs you see on TV and online are most often outdated at best and complete fabrications at worst. It's time to disillusion yourself of these numbers and pick up the phone. Call a few of the most reputable and established remodeling firms and ask for ballpark pricing. Most will be happy to give you a very rough estimate of what you're trying to do might cost. A few firms publish pricing guides with up-to-date estimates.
Prepare to see realistic prices. These prices are going to include materials, skilled labor, taxes, and design fees. Chances are, they will be higher than you expected and higher than what your sister paid three years ago when she remodeled her kitchen.
Don't let wishful thinking creep into your budget. Be real. It's far better to kick off a major remodeling project armed with accurate information and a realistic budget. It will save you so much stress later on. After all you don't want to design your dream house renovation only to find that you can't build it because construction costs are significantly more than you'd expected.
See also: Why Are Remodeling Costs Rising?
5. Research local design firms
Spend an evening at the computer and look at your local design-build companies and architects. Find three to five of your favorites. (You can also ask friends for recommendations.) These should be firms that have created designs that resonate with your style. Look for good reviews and try to get a sense of the company culture. Are you looking for a celebrated architect whose bold designs frequently make it into the pages of magazines. Or do you seek a designer that specializes in a more laid-back, price-conscious and practical style.
At this stage, you'll also have to make a decision about what type of designer to work with. (And, yes, you do need a designer for all but the most basic cosmetic face-lifts!) Decide if you prefer to hire a standalone designer or architect and later take your plans to a general contractor for bidding and building. Or, on the other hand, do you prefer to hire a design-build firm, which handles both design and construction under one roof? There are merits to each approach. I encourage you to read our Guide to Hiring a Remodeler to get a sense of which option is right for you.
See also: Should I Hire an Architect or Choose Design Build?
6. Schedule initial calls
So you've done your research and narrowed it down to a handful of designers and remodeling companies. It's time to schedule an initial meeting, which could be a phone call or a Zoom meeting. You'll have the chance to talk about your project, and they will tell you about their firm's process and give you a ballpark estimate. This initial meeting is a great way for you to decide if you click with the company.
I recommend you talk to at least three firms, preferably more. You will probably come away with some strong initial impressions. Take notes because the details will start to blur together.
Did you enjoy talking with their designers? Did your personalities mesh? Can you picture yourself meeting with them on a regular basis? If you attended the meeting with a partner, did they treat each of you with equal respect? Were there any red flags? And perhaps, most important of all, did they listen to you?
See also: Red Flags to Look Out for When Choosing a Remodeler
7. Choose your remodeler
The moment has arrived to take the leap and choose a remodeler!
You've now had an initial meeting with a handful of firms. You've narrowed it down to the ones with whom you felt a connection. You've told them about your ideas and goals.
At this point, you will likely have a consultation in your home so the remodelers who made the cut can see the existing layout firsthand and offer a more accurate estimate.
It's time to choose the perfect company for your project. Great communication, honesty, and transparency should all be givens. Often, the choice must come down to a company that has a similar timeline as you and can give you a price that is within your budget.
See also: The No Regrets Guide to Choosing a Remodeler
8. Find inspiration
After you've signed with a company you'll likely have between three and six months before they can start actively designing your project. Use this time to find your renovation inspiration. Think of colors and textures you like. Visit showrooms to see fixtures, hardware, and cabinetry in person. Create a look book that you can share with your designer. Tag images on Pinterest, Houzz, or Instagram. The important thing is to have fun exploring design possibilities and communicate some of your tastes to your designer.
See also: Design Inspiration for Your Bathroom Remodel
9. Use your queue time wisely
There will probably be two points in the process where you must wait: before your designer can start actively working on your project and the period after your design is finished but before construction can begin. At CRD, we refer to this as queue time.
Consider your queue time an important step in the process. While you wait your turn, try to imagine your dream designs coming to life. If your remodel requires you to temporarily move out of your home or into a small section of your home, start making arrangements. Take time to gather inspiration (if you're waiting for design to begin) or go over your completed plans (if you're waiting for construction to start).
Some designers offer rendering services, so you can see what the design will look like before it's built. Other firms can even set you up with an immersive virtual reality (VR) walkthrough of your design. It's a great opportunity for those of us who can't easily visualize a space by looking at two-dimensional line drawings.
At this point in the process, it's not too late to change your mind on any details. You're about to jump into a big remodeling project, and it's far better (and cheaper) to make any last-minute changes now rather than during the construction phase.
10. Ready, set, remodel!
The time has finally arrived for demolition to begin. Before the hammers start swinging, you will meet once again with your entire team. If you've opted for a design-build firm, your designer will introduce you to your lead carpenter and other members of the production team. You'll talk about access to your home, dust protection, quiet times, regularly scheduled meetings, your construction timeline, and any other questions or concerns you might have. This is your time to seek clarity, set boundaries, and get to know the people who will be sharing your space for the next month or two. Your remodeling team recognizes how disruptive the remodeling process can be, and they will do everything they can to make it as comfortable as possible with a minimum of inconvenience.
When work is complete, your remodeling team will schedule a final walk-through. During this meeting, you'll note any small imperfections or any items that need to be finished. You'll have had the opportunity to point out any areas of concern throughout the construction phase, so there will likely be very few items left for your "punch list," but it's important to point them out so you can be completely satisfied with your freshly remodeled home. When all the items on the list are addressed, the remodeling journey is complete. You're now ready to start living in your dream home!
See also: Can I Stay in My Home During a Remodel?
Wrapping it all up
Professional photos
Okay, this isn't part of most remodeling checklists, but I wanted to include getting your project professionally photographed as a fun last step. Many remodelers are happy to pay for a professional photographer to come to your home to document your beautiful remodel. You get to share some lovely photos of your new space with friends and relatives, and your remodeler will be very appreciative to be able to include your project in his or her portfolio.
Write a review
One final note, don't forget to write a review for your remodeling team online. They will love the feedback, and it helps others searching for a remodeler to know what to expect.
It's a Long Journey but Worth It
It's All about the Details
Guide to Hiring a Remodeler
This comprehensive guide walks you through all the steps of choosing who will design and build your project, vetting remodeling companies, and ensuring that you have the best experience.