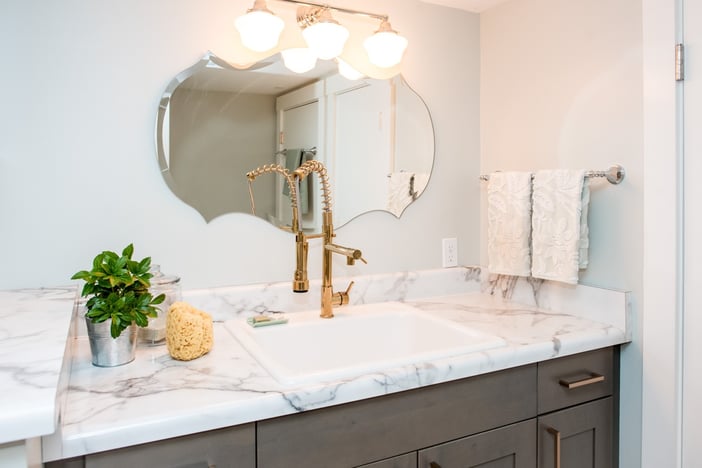 From furniture design to jewelry, mixed metals are everywhere. No doubt you've seen antique brass right alongside chrome, rose gold next to satin nickel. Like the look but not sure how to do it right?
CRD design staff can help. We love mixing metals, too.
Both modern and traditional trends in home design are mixing metal finishes for a more eclectic and "collected over time" look. Gone are the days of having to match your cabinet hardware to your faucet. No longer must you match your door hardware to your light fixtures. We want your space to look and feel so "you" that it appears to have been there the whole time. Be bold: mix it up!
Here's the inside scoop on how we do it successfully:
Hierarchy
Pick a dominate metal finish. This is likely to be the cabinet hardware since there are so many pieces, but there is no hard and fast rule. This finish is the star of the show. Now start adding one or two different finishes as a supporting accent.
Blend Warm & Cool Tones
Consider your project palette. If your space is cool overall, add warm metal tones for interest and character. If you have a warm palette overall, add cool tones for sparkle and shine. Some combos we like: chrome and black, satin nickel and brass, rose gold and bronze, and antique silver and chrome.
Utilize Texture
This is where the fun really starts! Explore hammered or antiqued finishes next to sleek modern pieces. Contrast is an excellent way to emphasize an element in your design. Patina silver leaf looks extra special next to matte black. Remember, you want the space to be well-rounded and cohesive, not plucked from a matchy-matchy catalog page.
Keep It Subtle
Mixing metals and finishes is like getting dressed for a night out on the town. You start with the dress or suit and add accents and embellishments from there. Before you leave, it's always best to go back and remove a few of those accents. There, perfect! You look great! The same holds true in design. Like famed architect Le Corbusier said, "Less is more."
Still feel a little so-so about mixing metals in the right way? Let CRD help you mix it up!
CRD design staff are experts at guiding clients through the design process and are here to help you find the perfect mix of materials that is perfectly you. To learn more about our interior design and architectural services, give us a call at 206-782-6959 or contact us online.
See Our Favorite Ways to Mix Metals on our Pinterest page.
Guide to Hiring a Remodeler
This comprehensive guide walks you through all the steps of choosing who will design and build your project, vetting remodeling companies, and ensuring that you have the best experience.