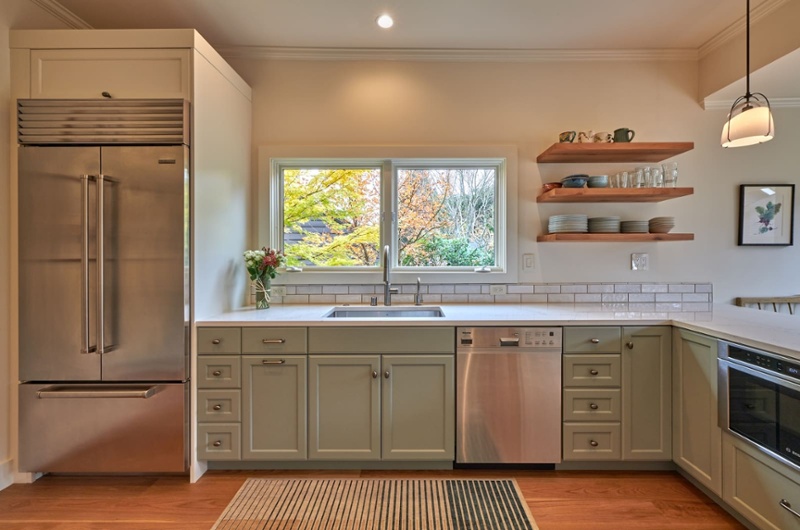 Even if you've planned your home remodeling project carefully, remodeling delays can happen. I've compiled a list of ten of the most common ones so you can try to avoid them, or at least plan for them. Sitting around while progress on your remodel grinds to a halt can be extremely frustrating. (Believe me, they're painful for we remodelers as well!) So let's crush those delays before they begin!
See also: Remodel Planning: Where to Start and the Order to Follow
1. Lack of Scheduling
When you have many people working on your project, coherence is critical. Materials, contractors, and other factors must be working in tandem. If one thing gets delayed, the whole process is slowed down. For instance, if the delivery of bricks gets delayed, your bricklayer will have to move on to another job, and who knows when you'll be able to schedule her again? An organized work schedule can help a lot, especially if the remodeling project is large and involves a lot of people and materials. All services, contractors, and materials need to be ready at the exact right moment to ensure that your home remodeling schedule stays on track.
My advice: Choose a remodeler who is organized and can show you examples of formal project schedules they use to keep jobs on track. At CRD, for instance, we use extremely detailed gantt charts to plan out every stage and ensure the right people and materials show up at the jobsite at the right times.
A word about DIY work
You may want to do some of the work, like interior painting, yourself to save money. That's great! However, you need to be realistic about the time you have available. Look at your remodeler's schedule and make sure you can do the work in the allotted timeframe. If you can't keep up the pace, you may delay your project days or weeks, which could ultimately cost you more than you can save by doing it yourself.
2. Pre-Existing Home Conditions
For any home improvement project, there is a risk that unexpected pre-existing conditions can be uncovered, usually during demolition. You might receive a phone call from your contractor informing you that you have water damage, dangerous mold, foundation failure, asbestos, termites, or pests. These may add some cost to your project, as well as causing delays. An excellent way to minimize these surprises is to choose an experienced remodeling company and let them carefully inspect your home before planning the renovation. They will recommend any necessary testing and anticipate potential pre-existing conditions that need fixing so you can include them in your schedule and budget. Despite careful forethought, I still recommend you have a contingency budget for these kinds of issues.
3. Weather Delays
The weather can be a big factor when it comes to staying on schedule, especially in a rainy place like Seattle. One of the best ways to avoid weather delays is to plan your remodel for the warmer, dryer months. If your project includes outdoor work, your construction team can do it faster in nice weather. For indoor remodeling, the weather is less of a factor.
4. DIY Errors
If you watch remodeling shows on HGTV like I do, you might start to believe that remodeling is easy. After all, they do it so quickly on TV! Like many Americans, you might even be tempted to tackle a remodel yourself. That's great if you have the time to properly learn the techniques and do the labor. However, the reality is that many DIY projects end either partially or poorly completed due to lack of time and experience. Often, the homeowner ends up having to call in a professional to correct his mistakes or just finish the job. My advice, again, is to be realistic about how much free time you have. Trying to go it alone may stretch your project out to an unacceptable amount of time and lead to frustration. Correcting mistakes may even cost you more in the end than if you had just hired professionals in the beginning.
See also: 10 Ways to Make a Remodel Go Faster in Seattle
5. Long Lead Times
Most of us are used to instant gratification when making purchases. Amazon Prime and miles of big box stores make it seem that anything we could possibly imagine can be had in an hour or two, or at most a couple of days. But when it comes to custom remodeling, this isn't always the case. If you are incorporating custom tile, special-order flooring, custom cabinets, or countertops, you're going to need to be prepared to wait. In remodeling, things usually need to be installed in a certain order, and if you (or your remodeler) haven't allowed for sufficient lead time, it can grind progress on your project to a halt.
My advice is to make design and materials decisions early and choose a remodeling company that has an organized method for ordering materials early enough so that they arrive at the jobsite on time.
6. Permits and Inspections
All but the smallest remodeling projects will require permits from the city. Likely, you will need to get several permits. The permitting process is not just an arbitrary way for the city to generate revenue. Rather, it helps ensure that homes meet safety and other requirements. When you go to sell your home, the new buyers will expect to see signed-off permits for all the remodeling work completed. If you don't have them, it could lower the value of your home. That said, permitting can take a long time and be a major source of delays. A building permit application may take several weeks to months, depending on what types of changes you are making to your home. Larger, more complicated projects require a full design review, and, in Seattle at least, there is a long wait to get these completed. If you are only planning minor changes, you can usually get what's sometimes called an over-the-counter permit, which bypasses the long review process and wait times.
Inspections
In Seattle, and in most cities, your permit fees (which can be substantial) include inspections. Your contractor will call the city to send an inspector at certain milestones during the building process, such as before the drywall goes on. Even in a busy place like Seattle, inspections can be scheduled without much of a wait.
Some Contractors Can Get You Through Permitting & Inspections Faster
Choosing an experienced contractor can help you shorten permitting delays. The city will actually fast-track design-review applications that are presented by designers or contractors with a long track record of submitting compliant designs. Likewise, an experienced production team will be much more likely to be familiar with all the codes and build it right the first time, so that inspectors don't have to revisit your home again and again as the contractor tries to get it right.
See also: What happens if you get caught remodeling without a permit?
7. Slow Decision-Making
If you've never tackled a major remodel, you'll be shocked by how many decisions you'll have to make. Some people tend to make decisions quickly and be decisive. Others like to take their time and weigh every option. Neither way is better than the other. The important thing is that you feel comfortable with the design decisions you make. That said, if your goal is to complete your project quickly, then be conscious of the significant amount of time decision-making can add to the remodeling process.
The right remodeling team can help you avoid decision fatigue
Whether you are super-decisive or you like to take your sweet time picking out paint colors and the like, you will likely benefit from working with an experienced interior designer. For small projects, vendors can sometimes provide design help. For more major remodels, you will benefit from hiring a dedicated designer or team. An experienced designer can help you narrow down your options and even accompany you to showrooms and help you pick out what works. An outside perspective and a trained design eye can be invaluable.
Bottom line: Go at your own pace and let a professional help you manage the myriad decisions.
8. Allowances
Allowances are an inevitable part of the design and estimating process, but use them with caution. As a homeowner with a limited budget, you need to know up front how much the project is going to cost. Your remodeling team will design the project but just estimate some of the specific materials selections. For instance, if you're doing a bathroom remodel, you might see a $2,000 allowance for plumbing fixtures that will be part of your overall budget. It's a great tool to quickly estimate project cost, but be careful to make all your design decisions as early on in the process as you can. The last thing you want is for your contractor to call you up at work and ask which faucet you want. You'll have to delay your project as you search frantically for the right fixture, and you may be surprised to find that the one you like costs way more than the allowance you had in your budget.
9. Change Orders
If you have negotiated a fixed-price contract for your remodel, which I highly recommend for larger projects, you will know exactly how much your project will cost. That is, unless you make changes during construction. When this happens, your builder writes up a change order, stating the price difference, and you sign it. Simple enough. However, in the interest of keeping on schedule, I recommend avoiding change orders as much as possible. Design decisions are better made during the design phase, before construction begins. Changing course during construction almost always leads to delays. New materials usually need to be ordered, and the entire schedule can be thrown off.
10. Waiting Too Long to Choose a Contractor
One of the most common mistakes I see homeowners make is waiting too long to choose their contractor. In markets like Seattle, where there is a lot of remodeling and construction going on, you will likely need to get on a contractor's schedule months (even a year or more) ahead of the date you hope to begin construction. Start looking for a building contractor as soon as you start developing your design. Better yet, consider working with a design-build firm so that you don't have to go through the extra step of finalizing your design with an architect or designer and then shopping it around to general contractors. It can add unnecessary delays.
See also: Can I Stay in My Home During a Remodel?
11. Inaccurate Estimating
Accurately estimating the cost of a remodeling project takes time and expertise. Unfortunately, the process doesn't always go well, which can be source of major delays and financial pain. This happens often when homeowners work with a standalone architect or designer who is not a builder and may underestimate real-world building costs. When you, the homeowner, take your beautiful plans to general contractors for bids, you're shocked to find the addition you carefully planned will cost you 40 percent more than you expected. It's back to the drawing board for "value engineering," which costs you money and wastes time.
Another scenario is when you work with a time-and-materials contractor who comes to your house, looks at your plans, and gives you what seems to be a reasonable estimate. You hire him, and all goes well, until the bills start coming in. He may be honestly charging you for his hours worked and the materials, but it's clear that you're on track to spend way more than the initial "estimate," which was just that, a ballpark figure the contractor threw out with no incentive to be accurate. At this stage, you'll either have to find the extra money to complete the project on schedule, or you will have to put it on hold.
How to Avoid Remodeling Delays
The best way to avoid remodeling delays is to have everything prepared before construction. This means having your design complete, having your samples picked out, and, if possible, having all of your materials ordered well in advance.
Work with a reputable remodeling firm
Never work with a contractor or company that wants to do work without permits to avoid delays or waiting. Most remodeling projects will need to be permitted and going into a remodel without a permit is never a good idea.
Consider design-build
With a design-build company, you have the best chance at avoiding any possible project delays. This is because every person needed for the remodel is on the same team. This way they will have the best communication, unlike a project that involves several different independent contractors. Make sure to take your time researching your local design-build companies to find the best one for your project. Also, make sure you start your research early to not delay your project any longer since most reputable design-build companies have a long wait time for new client projects.
See also: Who Do I Hire for My Remodeling Design?
How Long Should a Remodel Take?
Your house and your requirements are unique, but here are my estimates for how long typical remodel projects take.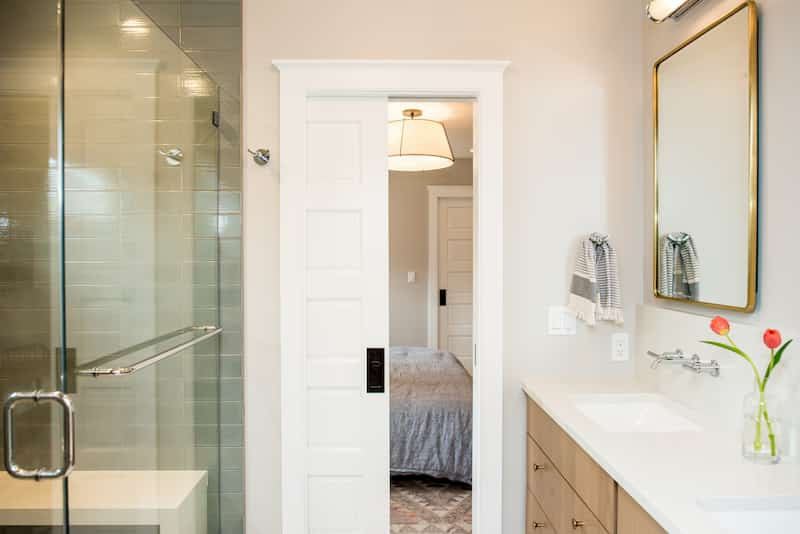 Bathroom Remodel
Construction for a full gut bathroom remodel generally takes between 8 and 20 weeks. This can fluctuate depending on the size of the bathroom, permitting time, and the delivery of materials.
See Also: Are Permits Required for a Bathroom Remodel in Seattle?

Kitchen Remodel
Construction for a full-gut remodel can last anywhere between 12 and 16 weeks. Remodeling delays can happen with kitchen projects when cabinetry deliveries take a long time or if you make design changes during construction. You may also have to wait for your permit to be accepted for several days to weeks.
See Also: Are Permits Required for a Kitchen Remodel in Seattle?

Whole-House Remodel
The construction portion of a whole-house remodel project can take 3 to 5 months, which doesn't sound like a long time. The biggest delay for a project like this is the permitting, which can take months in the city of Seattle.
See Also: How Long Does a Whole-House Remodel Take in Seattle?
Guide to Hiring a Remodeler
This comprehensive guide walks you through all the steps of choosing who will design and build your project, vetting remodeling companies, and ensuring that you have the best experience.