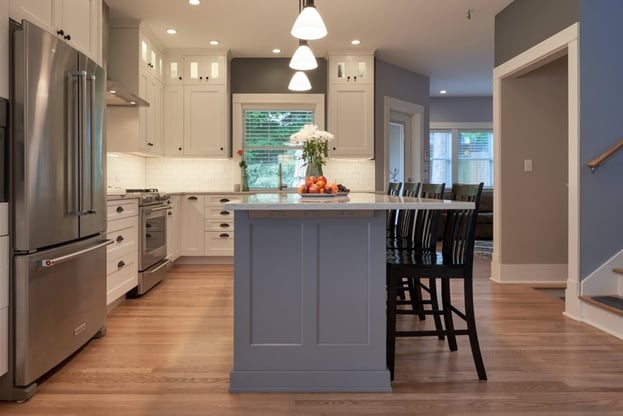 If you are thinking about remodeling your kitchen, bathroom, basement, or your entire home, you may be wondering if you have to leave while the work is being done. The answer is usually, yes, you can stay, but there are times you may want to leave even when you don't have to.
Should I stay or should I go?
In most cases, staying or leaving is a personal choice, but some remodels will almost certainly have you looking for temporary housing:
Whole-house remodels: Staying in your home requires you have a bit of untouched space to stake out as your temporary living area. If you are renovating more than 75% your home, you will almost certainly want to leave.
Second-story additions: If you are building up, that means the roof is coming off, and extensive work will be done to your load-bearing walls. For a couple of months, you will barely recognize your home, and it certainly won't be a place you want to sleep. If you are doing a partial second-story addition or adding a simple two-level addition attached to the back of your existing one-story home, you can likely stay.
Lift-ups: Some major renovations call for your home to be lifted and a new foundation built underneath. With your home up on blocks, you won't want to be inside.
Additional considerations
If your remodeling plans are less extensive than the above scenarios, you have some choices to make. Keep these considerations in mind as you make your decision:
Pets: Even if you are comfortable living with the noise and disruption of a remodel, it may cause your pets undue distress.
Kids: In general, young kids love the excitement of new sights and sounds, as well as workers to meet and ask questions to. However, you have to remember that work will continue, even during designated nap times, and a major remodel may prove too far from the routine your kids are accustomed to.
Kitchen: If your remodel includes a renovated kitchen, you may wonder where you'll cook. There are workarounds. At CRD, for instance, we provide temporary kitchens to our clients who need them. These include hot plates, wash basins, storage, and other items.
Utilities: In many cases, your remodeler will have to turn off gas and electricity, possibly for extended periods. If you are not sure whether you want to completely move out, you could ask your remodeler when your utilities will be off and find a temporary place just for that time.
Dust: One measure of an excellent remodeling company is the care they take to keep your home clean. For instance, we erect plastic "walls" to contain dust and use active filtration systems to clear the air. Despite the measures, a small amount of dust still finds its way to other areas of the home. If you suffer from asthma or have other respiratory sensitivities, you should strongly consider making alternate living plans during your remodel.
Security: If you do decide to move out, be sure to take precautions to keep your home secure while it is vacant. For instance, at CRD, we install internet-connected Nest Cams to monitor our clients' homes while they are away.
Questions: In some cases, staying in your home makes it easier to answer any questions that come up during the build and makes it convenient to attend regular meetings with your building team.
Timing: If you decide to move out, why not try to time your remodel to occur at the same time as a family trip?
See also: CRD Helps Guide Home Remodeling Clients Through the "Remodeling Curve"
What about cost?
Cost is usually the primary factor in the stay-or-go decision. Finding temporary housing is a significant cost that should certainly be factored into your remodeling budget. However, you should discuss with your remodeler the implications of staying. Will doing so slow down building progress or require additional dust-mitigation measures that could actually add cost to your project? If you decide to look for temporary housing, explore your options by asking friends, neighbors, and even your remodeler. (For instance, the owners of CRD have made the daylight basement apartment in their home available to clients completing a whole-house remodel.) Airbnb is also a great place to find furnished space for just about any time period.
At CRD, we have been helping people through the remodeling process for more than 35 years. If you have questions about what to expect during a remodel, please drop us a line. We'd love to help in any way we can.
Guide to Hiring a Remodeler
This comprehensive guide walks you through all the steps of choosing who will design and build your project, vetting remodeling companies, and ensuring that you have the best experience.