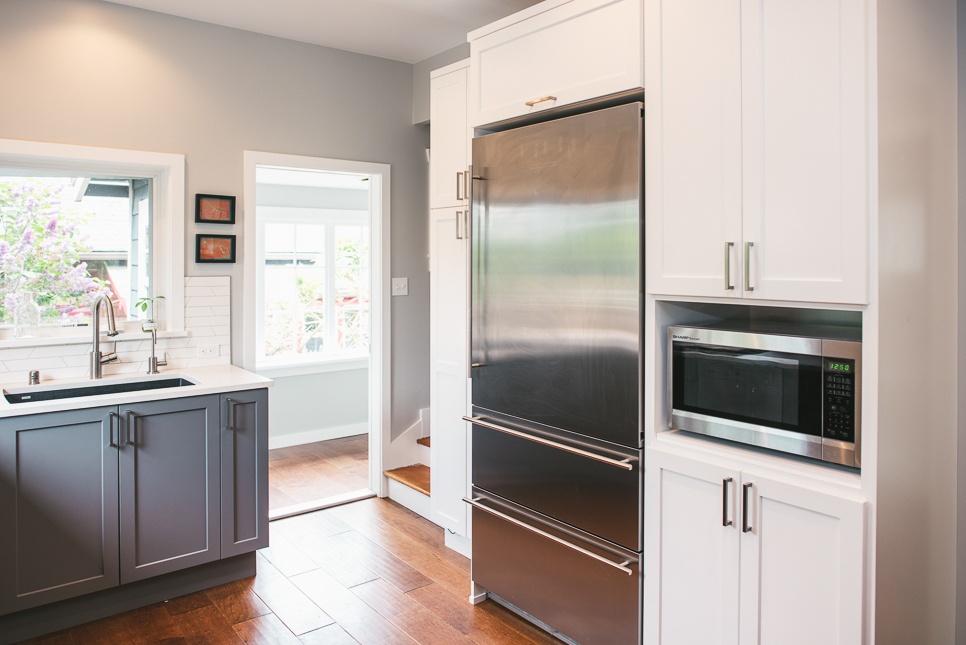 Are you one of the many Seattleites who owns a fixer-upper? Or, maybe you just have a home that hasn't been updated in many years.
As you look around, do you see tons of potential projects that need doing, but you don't have an unlimited budget?
If remodeling the whole house at once isn't going to happen, then how do you prioritize projects?
If you're like most people, you tackle one project, save up some money, start another project, and so on.
This is all well and good, but please make sure you don't go at your to-do list randomly.
Instead, go armed with an organized plan of attack. When things are done out of order, it creates unnecessary work, which can be expensive.
Consider this: You wouldn't want to repaint the exterior of your house only to find that you need new siding!
Put your remodeling projects in the proper order
Sequencing remodeling projects is more difficult than it seems. I often see homeowners trip up and tackle projects in a less-than-ideal order, wasting money and creating headaches in the process.
That's why I put together this list of common project areas many homeowners need to tackle. The key is that it's in the general order of completion.
Think of this list as a road map to your remodeling projects. Follow it, and you will avoid wasting money and effort.
Master planning
Before you jump into the list of project categories below, I want to mention a powerful tool you can use: master planning. Quite simply, it is working with an interior designer or architect to draw up plans for all the rooms in your home that you eventually plan to renovate.
You're not going to do everything in your master plan at once. You will still tackle projects one at a time, as the need comes up and your budget allows.
The main benefit of master planning is that your home will have a cohesive look that it might not have if you approached each project haphazardly. It will also help you make smart space-planning decisions if your remodeling dreams involve changing the layout of your home.
At CRD, we frequently create master plans. A client will come to us with big dreams for almost every room of their home but a budget that can only accommodate a kitchen and bathroom remodel. Our designers will draw up a master plan for the entire home that the homeowners can reference later, when they are ready to move onto Phase 2.
Okay, now that I have put in a plug for commissioning a master plan, let's jump into the general order in which you should tackle home-improvement projects.
1. Take the home inspector's lead
If there's one underlying theme in renovation plans, it's this: focus on the shell of your home first. To start, review what the inspector had to say about the entirety of your home. If possible, look at the inspection report from when you purchased your home.
Otherwise, bring someone new in for a fresh scan. You're going to want to begin your renovation to-do list by addressing the inspector's recommendations. Safety and structural recommendations get top priority, long before a beautiful screened-in porch or amped-up curb appeal.
Here are a few items you probably want to address first, before you contemplate anything cosmetic:
Water intrusion
Pest intrusion
Missing or failed siding
Peeling paint
Missing shingles or failed roofing (but hold off if you are about to do a dormer addition)
Missing or loose flashing around roof penetrations and chimneys
Foundation issues
Electrical problems, with an emphasis on safety issues
2. Look at your HVAC system
After structural items have been assessed, it's time to look at something that provides a (necessary) element of comfort: your HVAC unit.
HVAC systems are, as you know, big-ticket items. So, it's wise to give your furnace and air conditioning units a good, hard look at this juncture. Now's the time to fix and update these systems for efficiency, comfort, and safety.
Sometimes, heating and cooling problems aren't the result of your furnace or air conditioner but rather have to do with insufficient or poorly designed ducting. There should be at least one centrally located cold air return duct on each floor.
The ducting in many older homes will need to be reworked, and these are definitely projects you will want to tackle before you put the finishing cosmetic touches on your home.
3. Bring in a plumber
After fixing structural and HVAC deficiencies, it's time to turn to your plumbing.
Hire a local plumber to do a whole-home inspection. He'll go deeper than the general inspector went. But fear not: You don't have to say yes to any sort of "up-sell" or unnecessary recommendations.
Your plumbing inspector is simply here at this stage to make sure your home will continue to function like a well-oiled machine. After that, save his or her business card for the day when you need to unclog a drain or repair a frozen pipe.
4. Consider your home's energy efficiency
Do you remember when people started saying things like, "We're going green." There were plenty of folks who thought they were silly and should go hug a tree. But, boy, were those naysayers wrong.
Energy efficiency turns into major cost-savings month after month, and it also improves your comfort level.
Homeowners with solar panels save month after month on their electric bills. (Side note: Did you know that, as of 2020, California is requiring every new home to be built with solar panels? It's possible that this is the future for everyone. And, if nothing else, solar will increase the resale value of your home.)
Energy efficiency goes beyond installing solar. Here are just a few of the projects you can tackle to save money on your energy bills and reduce your carbon footprint:
Pay attention to your home's air sealing. This is one of the most cost-effective steps you can take.
Change out your incandescent and halogen light bulbs for LEDs. I like the new ones that turn a warmer hue when dimmed, like a traditional bulb.
Consider replacing your windows. If you have old double-pane windows that have lost their seal or, gasp, single-pane windows that let in the cold, it might be cost-effective to upgrade to new weather-tight double- or even triple-pane windows.
Better insulation may be your best course of action. It can be blown into walls, layered in your attic, and added to rooms that had almost no insulation when they were built. There are also methods to wrap your entire home in rigid foam and new sheathing, a process that does not require disturbing interior drywall.
Proper shading can help lower your bills and keep your home comfortable during the warmer months. Make sure sunlight streams into your home in the winter but is shaded in the summer.
I recommend you invest in a full-home energy audit. Like your plumber's inspection, you can take it or leave it, but you'll see how the dollar signs add up if you don't nip these energy efficiency items in the bud. The City of Seattle's Energy Advisers program is a good place to start.
5. Examine your doors
Here comes an item that sounds like it's cosmetic, but it ties right into our conversation on energy efficiency. In Seattle, we have many spectacular historic homes. Structurally, they're straight out of a painting. But, when you put them under a magnifying glass, they're often full of tiny cracks and quiet air leaks.
Taking time to add new doors to your remodel plans not only adds curb appeal, but also creates air-tight seals. It's the equivalent of high-fiving your new HVAC unit. Keep all that clean, conditioned air that you just invested in within the confines of your home, instead of heating the entire block. Best of all, that robin's egg blue or scarlet red door will boost your curb appeal in a major way.
6. Prioritize what gives you joy
Now that you have taken care of some of the basics, it's time to think about updating individual rooms or groups of rooms. Most homeowners who have remodeled before know that it's more cost-effective to tackle multiple rooms at once, but that may not fit your budget right now.
My advice is to start with the rooms that would give you and your family the most joy if they were remodeled. If your home life centers around the kitchen, and your existing kitchen is badly outdated and poorly designed, then that might be the best place to start.
On the other hand, if you're not a big cook but love a relaxing evening dip in the bathtub, then a new master suite remodel with a standalone soaking tub might be just the place to start.
Remodeling is deeply personal. Think how you can get the most joy out of your home. Sit down with your family and ask yourselves what you really love about your home and what really bothers you.
You'll start to see some patterns emerge. Are there simple fixes and face-lifts that could take several rooms from intolerable to fine with very little effort and investment? Or perhaps you prefer to pour your entire budget into one project, like finishing your basement, so your family has more room to breathe.
When putting rooms into order of remodeling priority, just keep these few considerations in mind:
Never put yourself in the situation where you will have to tear out new work during a later stage of your remodel. If your ultimate goal is to relocate the stairs at the back of your kitchen for your dream basement remodel, don't remodel around the area of the existing stairs if you're updating your kitchen.
If your goal is to add on to your home, consult with an architect or interior designer first before you invest in smaller remodeling projects. Chances are, adding a second story, or even just a dormer, may require structural changes to the area below.
If you plan to sell your home within five years, favor remodeling projects with the highest resale value. Don't expect to recoup 100 percent of your remodeling investment when you go to sell, but be mindful that some projects, like partial kitchen remodels, recoup more of your investment than others. Check the Remodeling Cost Vs. Value Report for our region.
7. Consider a little face paint
Okay, we've gotten a lot of the major to-do items out of the way, let's get pretty.
Paint the living room, kitchen, bedroom, and other important spaces.
Refinish or replace the existing floors with some gorgeous hardwood flooring. Shop for spectacular area rugs that'll sit pretty atop your wood flooring.
See if you can find a new garage door that will twinkle in the sunlight alongside your front door.
Finally, consider giving your home's exterior as much attention as the interior. All these projects will take your wonderful, structurally-sound home and elevate it to new heights.
Another path: Consider a whole-house renovation
I realize it's not feasible for everyone, but if you can pull it off, tackling all your remodeling projects at once has many advantages.
If you hire a remodeler to do all the work in one fell swoop, including everything listed above, it will be disruptive, but for a shorter span of time. Best of all, you're going to save a lot of money by bundling the projects.
There is also an advantage working with a single interior designer or architect for all your projects. It can help give your home a cohesive look and can help ensure the overall layout has good flow.
Remodel planning for the wise
And there you have it. Remodel planning demonstrates a high level of intelligence, organization, and (in the end) forward movement. Without a plan, you run the risk of fumbling about in the dark.
Here at CRD Design Build, we have over 40 years' experience transforming Seattle homes. My interior design colleagues and I can help you with every step of the remodeling process, from planning and building a single powder room to a whole-home renovation.
When you're ready, reach out to begin the conversation.
Guide to Hiring a Remodeler
This comprehensive guide walks you through all the steps of choosing who will design and build your project, vetting remodeling companies, and ensuring that you have the best experience.