Your television might be your gateway to the world, but it can also be a major eyesore.
Even if yours is a sleek new model, it's still a far cry from fine art. Yet, so many homeowners continue to place it front and center in their room, on display like an original Rembrandt.
Looking for unique and practical ways to hide your TV set and its cords, cables, and other accessories? We've got you covered. Read on to discover 15 ingenious hacks that can redirect the focus of your room and redefine your interior style.
1. On an Electric Lift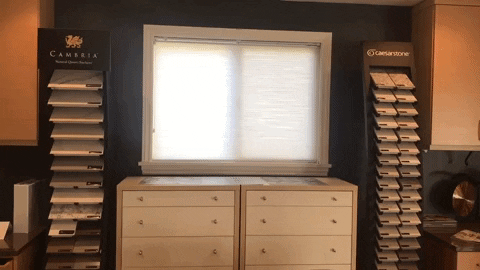 Photo by CRD Design Build
You want to watch the evening news, and the kids need their Daniel Tiger. Still, you don't want to stare at a solid black box when you aren't getting your pop culture fill.
Consider installing an electric lift that can store your television when it's out of use. Place a piece of furniture in front of yours during the off-hours and when you're ready to watch, simply press a button and watch your guests' jaws drop.
We installed one of these systems in one of our conference rooms here at our Seattle offices, and it really helped make the room feel less cluttered.
2. Behind Curtains
Chances are, you've already installed window treatments that complement your decor. Why not buy an extra set and install them over your television? Mount your monitor on the wall and hang the curtain rod right above it.
Then, you can close the curtains when you're not using the TV! Longer, floor-length curtains create a formal look, while shorter cafe versions are more casual.
3. In a Gallery Wall

It's no secret that gallery walls are having a major design moment. From quirky wooden signs to beloved family portraits, there's no limit to the frames you can cluster on your wall.
Want to keep onlookers guessing? Incorporate your television into the collection! To establish scale and balance, hang your TV first and strategically place the rest of your items around it.
4. Inside an Armoire
Love the function of a TV but abhor the look? You can always store yours inside of an armoire or cabinet and keep it closed when you're not watching.
This is a more traditional look that's as stately as it is sensible. Place yours as the centerpiece of your living room and enjoy both form and function.
5. Behind Artwork

It's a common practice to hang your television above your mantle. While there's nothing wrong with this design (as long as you keep it recessed or flush-mounted), it's not exactly high-fashion.
What is? Hanging a great piece of art in that spot instead! Luckily, you can find plenty of lightweight, canvas prints that look stunning but remove in seconds. Hang one in front of your TV and simply slip it off when you're ready for movie night.
6. Behind Sliding Barn Doors

There's no denying that the modern farmhouse aesthetic is all the rage. One of our favorite parts of this trend? Barn doors!
Adding rustic charm to almost any space, these work especially well for concealing televisions. Install a set in your living room, bedroom or kids' rooms and be on-trend in seconds.
7. Behind a Vintage Map
Another decor trend that's made a major comeback? Vintage glam.
These days, it's not uncommon to see antique or retro pieces sitting right beside ultra-modern ones. The eclectic look is both laid back and interesting, filled with conversation starters.
Take a vintage map, for instance. Find one of the world, or of a country that holds significance to your family. Then, hang it in a central place in your living room and slip your television behind it to conceal it in style.
8. Flush Against the Wall

If you do decide to install a television directly above your mantle, it's best to make sure it's as inconspicuous as possible. Use a flush mount to keep it from protruding too far, or cut a recessed section out of the wall and tuck it inside.
This way, you have all of the convenience of a front-and-center TV, but it doesn't overwhelm the space or take center stage.
9. Behind Fiber Art
Textile art is more popular than ever before, and handmade, woven macrame wall coverings or other heavy cloth pieces make a great boho statement in a living room or bedroom. Their thickness makes them ideal for concealing a television.
Use a wooden rod or a large branch to hang the covering above your mantle or on a statement wall, then mount your television behind it.
10. In Antique Furniture
Do you have a piece of heirloom furniture that you're unsure how to use? Old cabinets and hutches can look great but feel impractical when they're just filled with knickknacks. It's time to put yours to good use!
Take out some interior shelves, cut a small hole in the back for cables, and make room for your television. You can leave the cabinet doors closed when you're out of the room to keep it hidden.
11. Behind a Sliding Panel

Another unique idea is to place your TV behind a sliding panel. You can adorn the panel with framed pictures, decorative accents, or simply paint it and keep it rustic chic.
Accordion-style panels work best, as you can simply push them out of the way when it's time to press "play."
12. Integrated into a Mirror

Want your home to look as sleek and modern as possible? Invest in a custom LED TV mirror!
While you'll spend a little more on this piece up-front, it will quickly become one of the most practical pieces in your home. A piece of art that's simultaneously cool yet classic, this is a great way to help your television pull double duty.
13. Behind Oversized Art

In addition to gallery walls, another art trend that's sweeping the design world is oversized art. Think gigantic botanical prints and floor-to-ceiling cityscapes.
Not only are these installations eye-catching and dramatic, but they offer plenty of space for you to conceal a television behind them. Install your artwork on a slider and move it to the side when you have company over.
14. Behind an Antique Screen
If you look hard enough, you can often find antique Asian-inspired screens at secondhand stores and antique malls. These look great mounted above a mantle and give you a great spot to hide your TV.
The intricate designs add a gorgeous touch of flair to your living room, but they fold back easily when you need them to.
15. Just Clean It Up
If none of the above ideas works for you, and you have to hang your TV on the wall in plain view, at least pay some attention to cable control. The best approach is to call an electrician to wire in a special box on your wall, with power and cable outlets. Shop for a TV that accepts a wall-mount and is designed to connect flush to your wall with all cords concealed. If this just isn't practical, or if you're mounting your TV on a brick surface, like a fireplace surround, use cord concealers that
Ready to Remodel?
Thinking about remodeling your Seattle home? We're a team of experienced designers and builders ready to tackle your next major remodeling project. We'll listen to your needs and help you create a custom design that will transform your space and elevate your home. We love incorporating details that really elevate the design and your enjoyment of your home. Contact us today to learn more. Let's get started!
Guide to Hiring a Remodeler
This comprehensive guide walks you through all the steps of choosing who will design and build your project, vetting remodeling companies, and ensuring that you have the best experience.