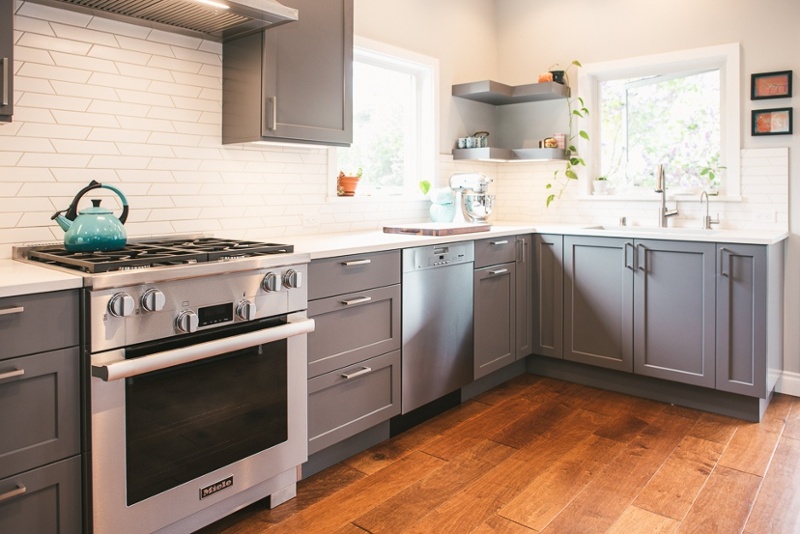 I have to admit, I have a love-hate relationship with interior design trends. I can literally spend hours browsing online photo galleries and design blogs showcasing the latest interior trends, and I love incorporating fresh approaches into my own design work. But—and this is a big but—I know that in the real world of limited remodeling budgets, it's not always the smartest idea to go totally trendy with a design. This couldn't be more true than in the kitchen.
The kitchen is the most expensive place in your home to make updates. If you lock yourself into a trendy look today, be aware that it may cost a lot to update later. After all, the hotter the design, the greater the risk that it will look stale, dated, or overdone in just a few years.
That's why I advise our clients to think carefully before adding too many of the latest trends to their kitchen design. Over the long term, your safest bet is to keep your focus on durable and high-quality materials that last. Pay attention to function over form. Choose clean, minimalist lines instead of busy looks.
All that said, don't be afraid of incorporating just a bit of trendiness into your design. But do it in a smart, budget-friendly way.
Read on for some tips that will help you craft a timeless look for your kitchen while layering in a few contemporary, on-trend design elements to keep things fresh.
See also: 2020 Kitchen Design Trends That Will Last
Put the Spotlight on Durable, High-Quality Materials
Some trends might look stunning, but they're not necessarily going to stand up to hard use in your kitchen, year after year. For a kitchen remodel, it makes sense to opt for materials that are durable, even if they cost slightly more.
Quartz countertops are exceptionally durable, require little maintenance, and will add a clean, seamless look to your kitchen. When it comes to kitchen cabinetry, you ususally get what you pay for. Avoid low-quality particleboard and cheap hinges and hardware, or you will find yourself needing to replace your cabinets much sooner than expected.
For faucets and fixtures, be sure you select pieces constructed with a sturdy brass body. Even if something looks on-trend, it might not be made as well as you think. Brass fixtures are available in a variety of finishes to suit your style and can handle years of use without breaking.
See also: 5 of the Most Durable Kitchen Materials
Great Kitchen Lighting Never Goes Out of Style
The lighting you choose can have a big impact on the way your kitchen looks and feels. Look for task lighting such as pendant lights you can hand over the island to give you focused light.
Lighting trends come and go quickly, but a simple pendant light or chandelier made with clear glass bulbs is bound to stay in style for many years to come. If, however, you want to get trendy, lighting fixtures are a relatively inexpensive item to replace in the future, so don't be too afraid to pick something of the moment.
Don't forget to include natural lighting in your kitchen when you can. Add a window or two if possible to bring more natural light into this space. Not only will it make your kitchen look beautiful, but it's also a great way to save on energy costs.
See also: The One Thing You Need to Know About Great Kitchen Design
Focus on Function Over Form
One of the most timeless kitchen design elements is a functional layout.
You want your kitchen to be aesthetically pleasing, but you also want to make sure that it fits your family's cooking and eating needs. While sleek new appliances and fixtures can add visual appeal to your space, it's the underlying design of your kitchen that counts.
Are you a gourmet cook, or do you order takeout three times a week and lean on the frozen foods aisle when you shop? Do you prefer drawers over cabinets? Do you like open shelves? What countertop height works best for you? Do you need specialized storage for spices, baking items, or specialty vinegars and oils? These are all questions we interior designers ask our clients at the start of the kitchen design process.
Do your best to resist the temptation to spend the bulk of your budget on cosmetic upgrades alone, such as cabinet and countertop refacing or replacement. If you don't solve the underlying problems that make your kitchen less functional, these cosmetic changes will do little for your enjoyment of the space.
Set up your new kitchen in a way that gives you plenty of storage space that's easy to access. You can remodel a kitchen to look trendy, but it can still end up being completely disorganized and unpleasant to use.
Slide-out pot racks, lid holders, and a hidden trash can are just some examples of how to maximize space and function. A pot filler over the stove is an excellent option if you cook a lot, while a convection oven can work wonderfully to cook meals faster. Put your money into choosing a customized design and durable materials that will stand the test of time.
See also: Kitchen Layout 101: The Work Triangle & Zones
Go for Clean Lines Whenever You Can
There are plenty of ways to remodel your kitchen by incorporating some time-tested, classic design elements that will endure for decades. Quality, Shaker-style cabinets, easy-maintenance floors, and quartz or stone countertops are all great examples of upgrades that look gorgeous now and will continue to look great for as long as you own your home.
Always choose a clean, minimalist design over something that's too busy when you remodel. Accents and unique features are wonderful, but they can end up being too overbearing if you don't choose them carefully. There's no harm in adding some trendiness to your kitchen design as long as it will last and blend well with any changes you make in the future.
See also: Create a Home That's Timeless, Not Trendy
Add a Touch of Trendiness In the Right Places
So you've followed my advice and incorporated timeless design elements into your new kitchen style. But you still want to add a bit of personality and, yes, some trendy details. There's nothing wrong with that! Just focus your contemporary touches on those items that can easily and inexpensively be swapped out later.
Paint colors, pieces of wall art, a tile backsplash, and plumbing and lighting fixtures are examples of items you can easily replace in the future. Other items you can always change include window treatments and small accessories, like utensil crocks and kitchen towels.
If you need some help with your remodel or you're looking for inspiration, a professional interior designer can guide you. They'll offer suggestions for how to make your kitchen trend-proof while making it beautiful and functional so you can enjoy it for many years to come.
See also: 2020 Colors of the Year Roundup
Enjoy a Gorgeous, Trend-Proof Kitchen
There's no harm in enjoying some of the latest interior design trends for your kitchen remodel, but remember to always keep timeless style and reliable functionality in mind. As you select the materials for your kitchen, make sure they're high quality and built to last.
Don't fall victim to passing fads. Instead, think about how you can build a solid foundation for your new kitchen and then work around it with playful paint colors, accessories, and light fixtures. In other words, give your kitchen good, timeless bones, and then dress it up however you like.
Planning a Kitchen Remodel?
A renovated kitchen can feel like a breath of fresh air for your home. Thoughtful design plays a huge role in your long-term satisfaction. If you are contemplating a Seattle kitchen remodel, please feel free to reach out. My interior designer colleagues and I would love to answer your questions and share our ideas.
Guide to Hiring a Remodeler
This comprehensive guide walks you through all the steps of choosing who will design and build your project, vetting remodeling companies, and ensuring that you have the best experience.