Backyard cottages are all the rage right now. And it's no surprise. Who wouldn't love to have some extra space for guests, tenants, or family members right in the backyard? Here in Seattle, backyard cottages are officially called detached accessory dwelling units (DADUs), and the requirements for building them have recently been relaxed with the goal of increasing the city's stock of available housing without having to tear down existing homes. The permits and utility connection fees associated with building a backyard cottage in Seattle are not cheap, and land values are high, so most homeowners are hesitant tackle construction themselves and instead choose to hire professionals to design and build their dream cottage.
Let's face it, even the handiest among us would never attempt to build an entire house ourselves, even if it is a small one. That said, I thought it would be fun and instructive to round up some interesting backyard cottage designs to inspire you to think about what you could do with your own backyard space. Many of these designs are light on details or lack the basic requirements needed to permit them as legal dwelling units. If you really wanted to build one of these inside of a city, you would be wise to simply use them as a starting point and enlist the help of a professional designer to bring them up to code and walk you through the permitting process.
I hope these plans do succeed at helping you visualize different backyard cottage layouts and floorplans. Use them as a jumping off point, a way to get your gears turning and your imagination going.
Budget Friendly 12 x 20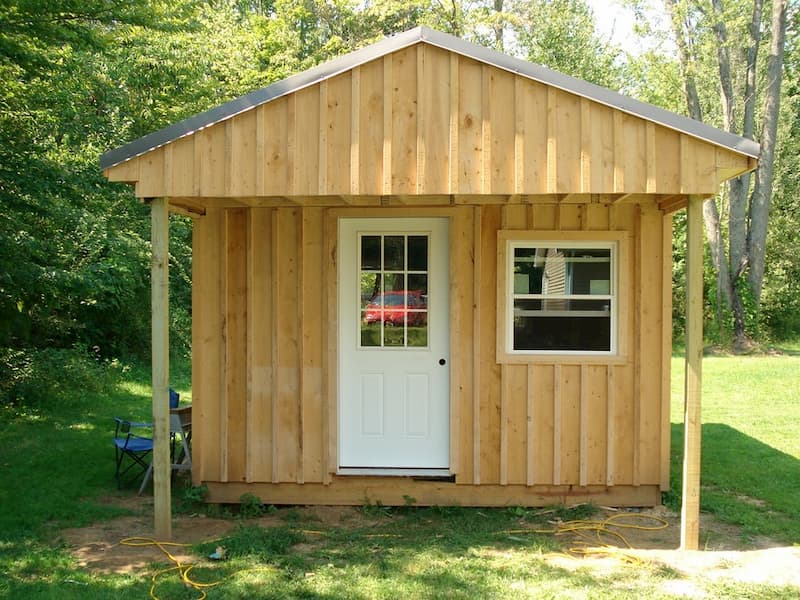 I love the simplicity of this design and the clear step-by-step instructions from Instructables. The whole process looks straightforward enough, but the finished building is more like a storage shed than a living space. A pitched roof and covered porch work would well with the damp weather we have in the pacific northwest.
The full footprint is 12 feet by 20 feet, with the interior of the cabin being 12 feet by 16 feet. The free plans take you through every step of the process with detailed descriptions and photos. They even walk you through installing utilities if that is what you want, although I never recommend doing electrical work yourself. The best part is that this tiny building requires a fairly short materials list. The author says he paid only $2,200 for the materials, a figure that would certainly be much higher if it were to be adapted and built to residential standards. But, hey, if you have some rural land somewhere, this might be a fun project to attempt!
Solar Powered Tiny House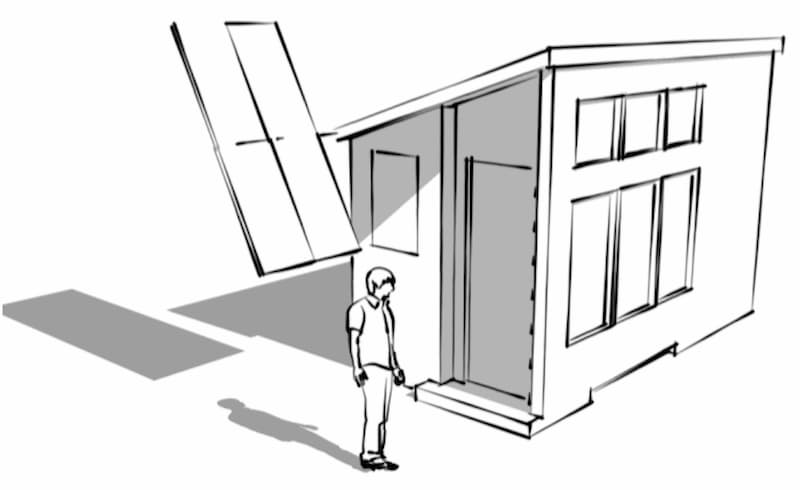 This off-grid tiny house comes with the comforts of a shoebox-size studio apartment. The home contains a bathroom, a small kitchen, a living space, and a loft. The shed roof design is simple to build and gives great access to the wall of south-facing windows. It's compact, sturdy, and environmentally conscious.
Classic Cottage Built for a Couple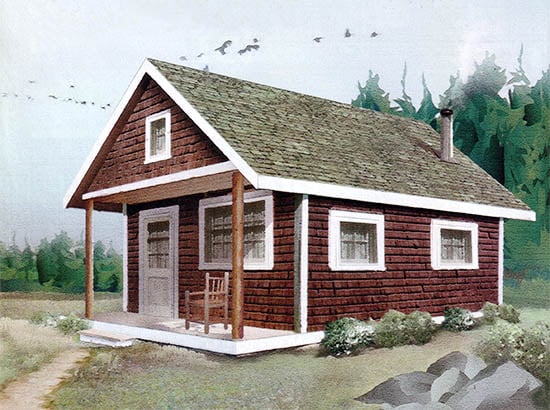 This design is another affordable option. It's not trying to be modern. It's not trying to show off. It's a handsome design with a solid foundation. The open floor plan leaves room to keep the space versatile. When the cabin is 14 by 20 feet, there isn't a huge need to cram it with features. This rustic option would pair excellently with more classically styled homes. The author claims the materials come to only $6,000, but, again, this figure would likely be significantly higher if it were built to city code.
One-Bedroom Backyard Palace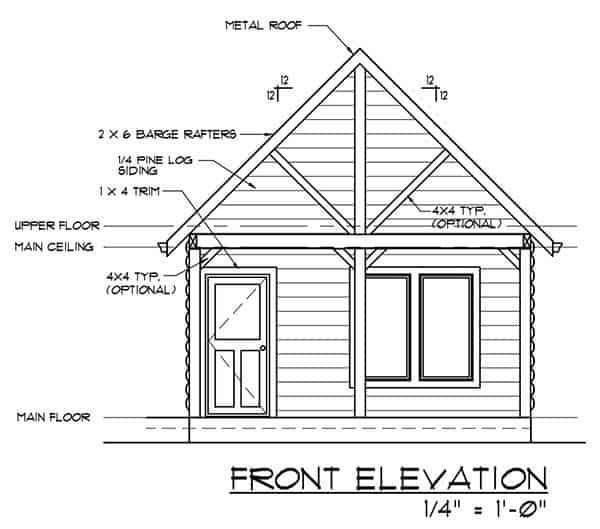 If you have a larger yard, then a tiny cottage may not be enough. With 400 square feet, this one-bedroom space gives you a little more room to stretch out. These plans from cabinplans123.com include a living room, one bedroom, an upstairs loft, a kitchen, and a bathroom. Each of the rooms is big enough to be comfortable while maintaining a compact space. The styling is classic and works with most existing houses. The best part about this design is that it comes with a true building plan set that a contractor would be able to use.
Vintage A-Frame Cabin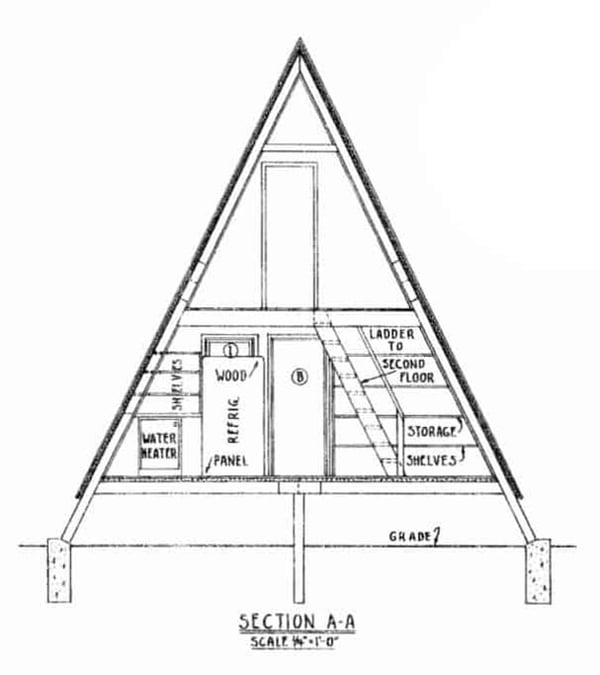 If you are looking for something a little more eclectic, the classic A-frame could be the project for you. The sharp angles can dress up to modern tastes or down to suit a more rustic style. A simple structure makes it strong and easy to build, with weatherproofing already in mind.
One-Bedroom Bungalow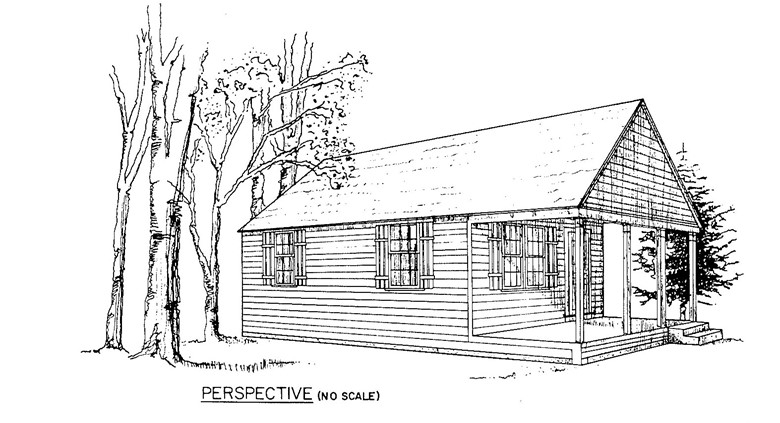 This single-bedroom home could be a simple but effective addition to your backyard. It has a small footprint and a simple design that gives it a classic look while keeping it easy to construct. It comes with a separate bedroom, living room, kitchen area, and bathroom. There is enough space to sprawl out a little without building something massive. The pitched roof and covered porch would weather the damp Pacific Northwest environment. Plans are free to download from North Dakota State University, where they host a list of plans they have collected over the years.
Affordable Quixote Cottage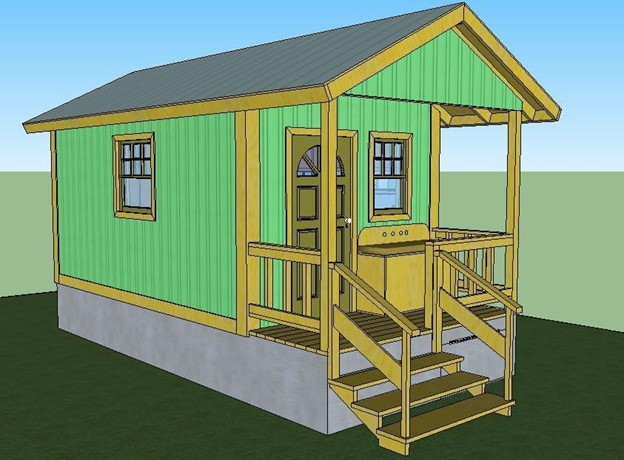 This little cabin was designed with low costs and portability in mind. The cottage is designed so that it can be built on a solid foundation, concrete blocks, or permanent pillars. This flexibility gives you the option to move the whole cabin later, giving you a trendy backyard asset that moves with you. The original designs of the home were from Olympia, WA, so they knew what kind of weather this design needed to withstand. Do-it-yourselfers will have the option to build this entire cottage for under $5,000. The Instructibles page has step-by-step instructions, although the author warns that the plans are not designed to be permitted and are better suited for rural areas.
An Elegant Two-Story Lookout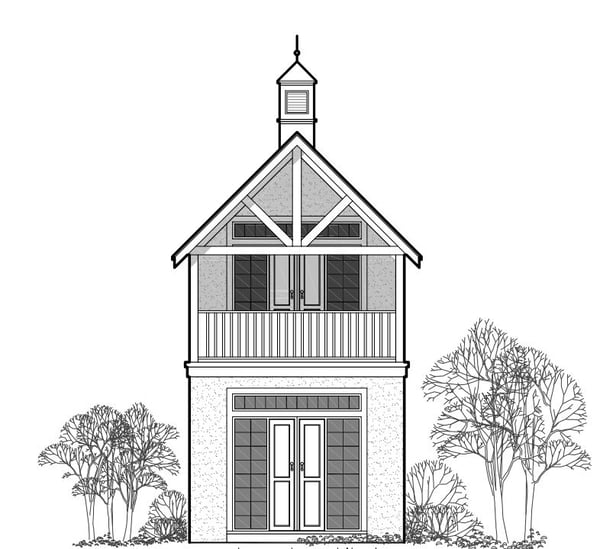 The exposed beams and full two stories give this cottage a unique appeal. The more modern look would fit in better with Seattle's trendier neighborhoods than some of the more rustic designs found in this list. The beautiful exposed beams and well-appointed accents give this little cabin more curb appeal than you would expect from a backyard project.
Seattle's pre-approved DADU designs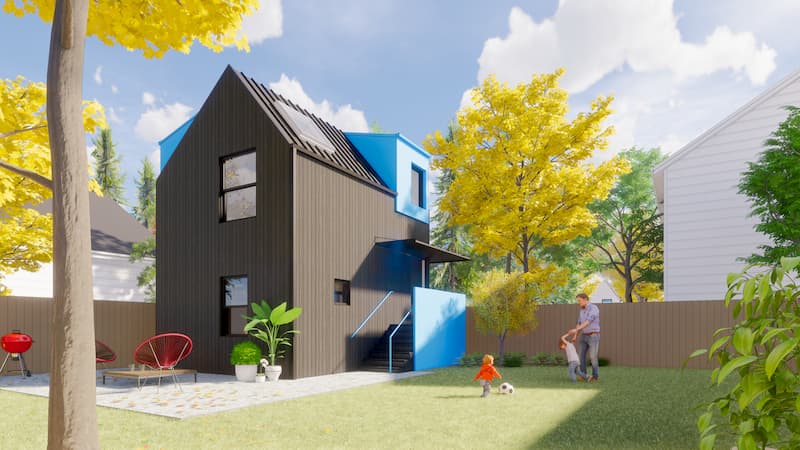 Image: Yes Architecture
If you are considering building a backyard cottage in Seattle and would like to save time on the permitting process, you can consider any of the ten plans the city has preapproved. The cost to license these plans runs from $750 to $1,000. All the plans can be viewed on Seattle's ADUniverse site.
Custom designed and built backyard cottages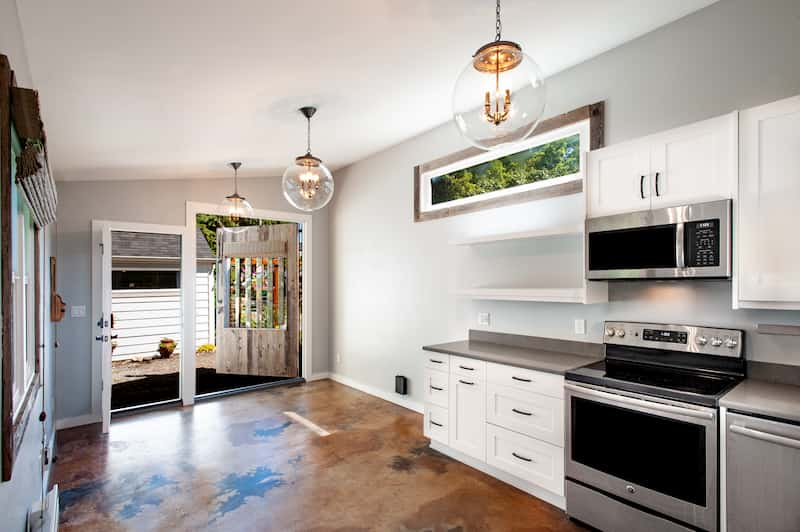 If you are considering adapting an existing backyard structure, such as a garage or shed, to become a legal backyard cottage, or if your lot or needs are unique, you may need a custom design. Here at CRD, we design and build custom backyard cottages and cottage conversions. The process may take a bit longer than using premade plans, but the resulting cottage will be carefully designed to meet your particular needs and can be highly customized. I encourage you to check out our Backyard Cottage and ADU Pricing Guide and our Ultimate Guide to Seattle Backyard Cottages. If you would like to explore your backyard cottage options, feel free to contact us. We are always happy to help.
Guide to Hiring a Remodeler
This comprehensive guide walks you through all the steps of choosing who will design and build your project, vetting remodeling companies, and ensuring that you have the best experience.