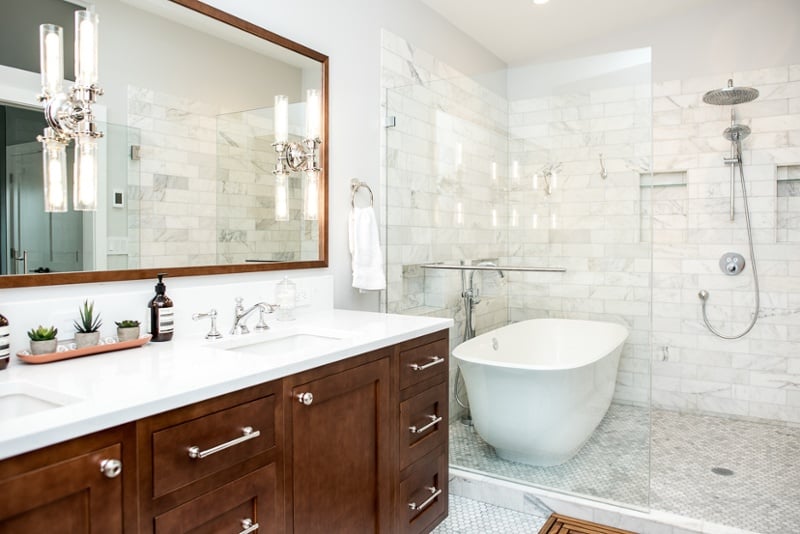 Marble. An upscale, luxurious option for interiors. Famous for its elegance, beauty, and style, it has graced the palaces of kings and queens for centuries.
Symbolizing elegance and prosperity, marble is a classic material that will never go out of style. It will give a sense of timeless grace and richness to your design.
But.
It does come with its own set of challenges.
Are you wondering if it is right for your bathroom design?
I want to share the pros and cons of going with natural marble tile.
The Basics
Marble is a metamorphic rock that's been used for thousands of years. It's made of calcite and is formed when limestone encounters intense heat and pressure.
No two slabs are alike. The diversity in veining and coloring is considered its best trait.
The variety of colors is a result of impurities, such as the amount of iron oxide, and graphite. The vein's visibility determines material quality. Higher-grade material will have fewer impurities and therefore fewer veins.
The Natural Stone Institute suggests you lay out the tiles over the entire surface before installing. In this way, you can first inspect and approve the result.
Remember: There's a finite amount of marble in the world. Before you start your quest to select your own, have a look at the pros and cons.
Marble Tiles Pros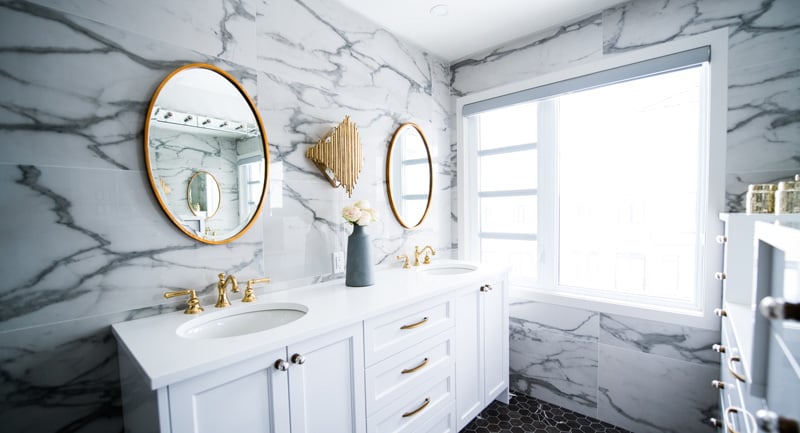 Source: unsplash.com
Thinking of taking the marble tile route in your bathroom? Here are the pros and cons.
Let's start with the advantages of installing this beautiful natural stone.
Appearance
Marble walls, or marble floors, will elevate any space's decor. You can even mix colors and come up with a unique color scheme for your floor or wall's design.
Veins also add a visually striking appearance to tiles, especially when they contrast the stone color itself. An example is as above: white tiles with black veins.
The veins make each tile an individual work of art.
Some famous marble colors in floor tiles are:
Carrara Venatino
Crema Marfil
Brescia Sinai
Makrana
Calcatta Borghini
Botticino
As it has been used for millennia, it will give a refined look to your bathroom. The constant popularity of it means your bathroom will be trend-proof for years.
Here are some other types of marble you can check out.
Shiny and Translucent
Where other stone tiles get ruined, marble is hard and can take a lot of polish. You can polish it to your heart's content, and the floor will still sparkle with elegance.
This shimmering effect will make these tiles stand out in your bathroom.
It is a naturally translucent stone. There is no other material that matches its radiance.
Healthy
As this is a natural stone, it doesn't require chemical processing. In this respect, it's more environmentally friendly than synthetic floor materials, which may off-gas toxic substances.
Marble floors also bring nature's beauty into your home. They channel Mother's Nature's energy and have a calming effect on the human mind — especially those that are rich blue.
Marble Tile Density
Marble is a hard rock, therefore very high-density. This makes it a great choice for areas with a lot of traffic or continuous use — such as the bathroom.
With proper maintenance and care, marble flooring can often last a lifetime. This saves the owner from having to spend money on replacement flooring.
Colors
One thing you don't have to worry about is a lack of colors.
There is an infinite range of marble colors to choose from, so you can be sure you'll find some for your interior taste.
While white marble is the most commonly available, options to choose from include gray, yellow, red, pink, green, black, and others.
Increased Value
Installing marble tile will increase the value of your property. This is because of its durability and its high-end elegance.
Homebuyers know that marble flooring will last for a long time and will never go out of style.
Real estate agents claim that homeowners who invest in natural stone can get a 200% return on investment when a house is sold. Check out more here.
Marble Tile Cons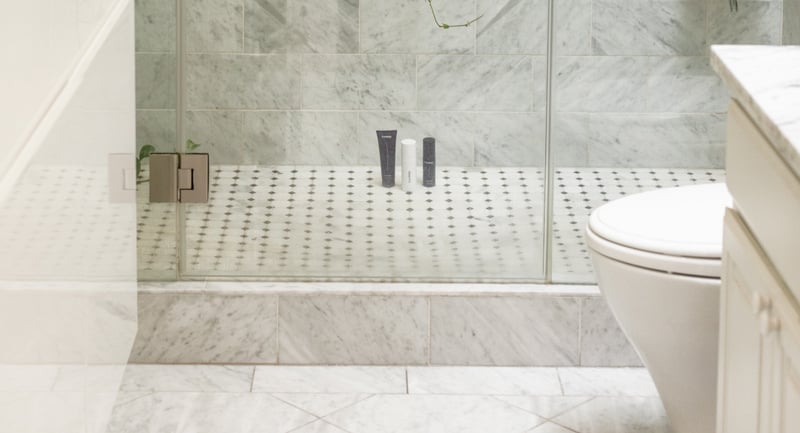 Source: flickr.com
You know all the pros, so here are the most important disadvantages.
Expensive
Marble is a very desirable natural stone material, which is reflected in its cost.
Many kinds of marble have limited availability and as a result, it can be quite expensive.
Marble has very high:
Per tile cost — $5-$40 per square foot.
Installation charges — $9-$20, while specialized jobs go up to $50 per square foot.
Maintenance costs — $5-$8 per square foot.
However, marble tiles will last longer than other materials. This can make up for the price difference.
Easily Scratched
This material scores around a three on the Mohs hardness scale — a scale that measures the hardness of minerals and their ability to be scratched.
In short, if not properly maintained, it's easily scratched.
Scraping and chipping can badly ruin the marble surface and, in this case, the only remedy is the replacement of the faulty tile.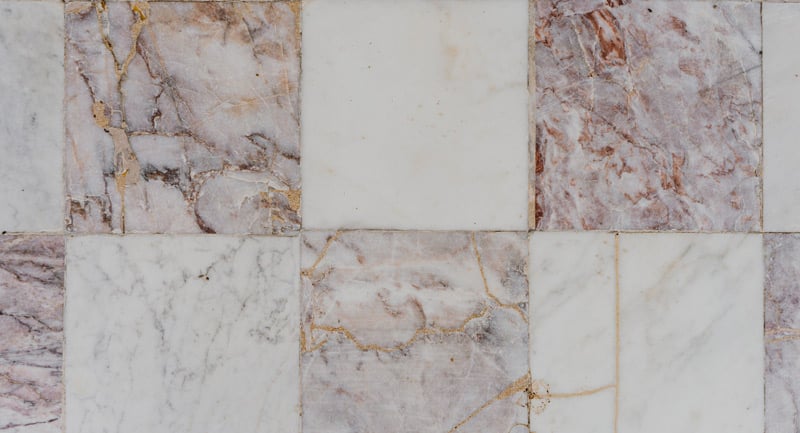 Source: unsplash.com
Softness
Even though it has a solid crystalline structure, a marble tile can get dented or smashed. This is why you have to get it sealed immediately after installation.
Sealing the marble helps with minimizing the foot traffic effects. It also keeps the marble's polish and shiny appearance.
Here is how marble is sealed.
Slippery
We talked about marble being great because it's waterproof. But, because of its lustrous surface, it can also be slippery, especially marble floors that are polished.
While marble tiles will make your bathroom look showroom-ready, we recommend installing slip-proof rugs to prevent any injuries.
Porous
This tile is porous. While marble won't let large amounts of water pass through to your subfloor, it can absorb common spills, such as hair dye, makeup remover, and even some soaps. This will result in discoloration of the tile. It can even give your tiles a completely different look.
This can be avoided with darker shades, but not with lighter ones.
Therefore, a marble tile will require maintenance.
As mentioned above, by applying an annual sealant, the spills won't leave a lasting stain.
Marble Flooring Installation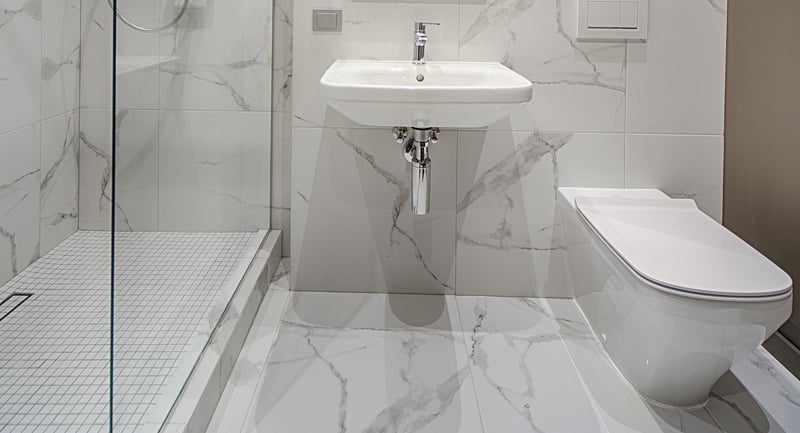 Source: flickr.com
Marble flooring is installed in the same way as porcelain or other stone tiles.
A layer of cement is laid over the subfloor. Then the tiles are glued with a thin-set adhesive. After the adhesive dries, the joints between the tiles are filled with cementitious grout.
Unlike other stone tiles, marble tile is sealed immediately after the installation. It's recommended to seal it periodically to keep it in top condition.
Check out when, how, and why you should seal your tiles.
Proper installation is crucial for floor longevity. Marble tile is very heavy, hard, and brittle. It needs specialty tools to cut and drill. We recommended hiring professionals to do it.
Marble vs. Porcelain Tile Flooring
A lot of the same qualities marble tile has can be achieved with porcelain tile as well.
Porcelain tiles can be manufactured to mimic other materials, such as natural stone and wood. The veining which makes marble unique can be achieved with porcelain tiles, too.
A porcelain tile floor can be made to look nearly identical to marble flooring. You need a professional installer who will pay attention to laying out the porcelain tiles. The effect you're going for is random veining patterns, such as found in marble flooring.
What makes porcelain floors so tempting? The price. National cost averages from $4 to $14 per porcelain square foot, plus labor. Lower-grade natural marble can actually be less expensive per square foot than porcelain, but higher-grade natural marble can costs many times more. You may be able to get the look you want at a much lower cost with porcelain.
Here is a detailed marble porcelain comparison.
Is Marble Tile Right for Your Bathroom?
I hope this pros and cons list helped you decide if this classic, beautiful material is right for your space.
Guide to Hiring a Remodeler
This comprehensive guide walks you through all the steps of choosing who will design and build your project, vetting remodeling companies, and ensuring that you have the best experience.