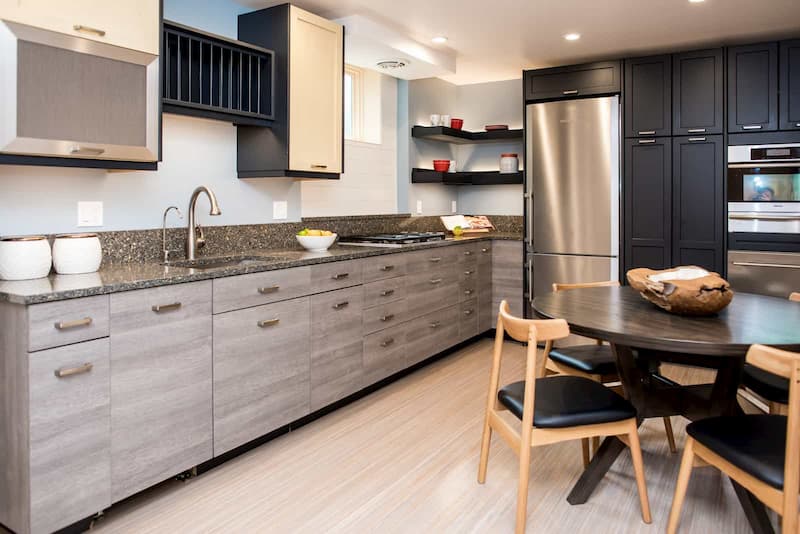 For millennia, people gathered around the hearth to share food and stories at the end of each day. The hearth formed the center of the home.
In the modern world, people still congregate at the end of each day, but we've swapped out the hearth for the kitchen.
The kitchen is the home's beating heart. Like the hearth, it plays a far more significant role than as merely a place where we prepare our food.
But if your kitchen is on the smaller side, it can feel a bit cramped as a gathering place.
So what do you do? Do you give up on your tiny kitchen? Do you say goodbye to the age-old tradition of sharing meals and memories?
No need.
You can still enjoy your smaller kitchen. All it takes is a little imagination and smart design.
So how do you improve your small kitchen?
Here are our top 10 small kitchen remodel ideas to get you started:
#1: Make a Splash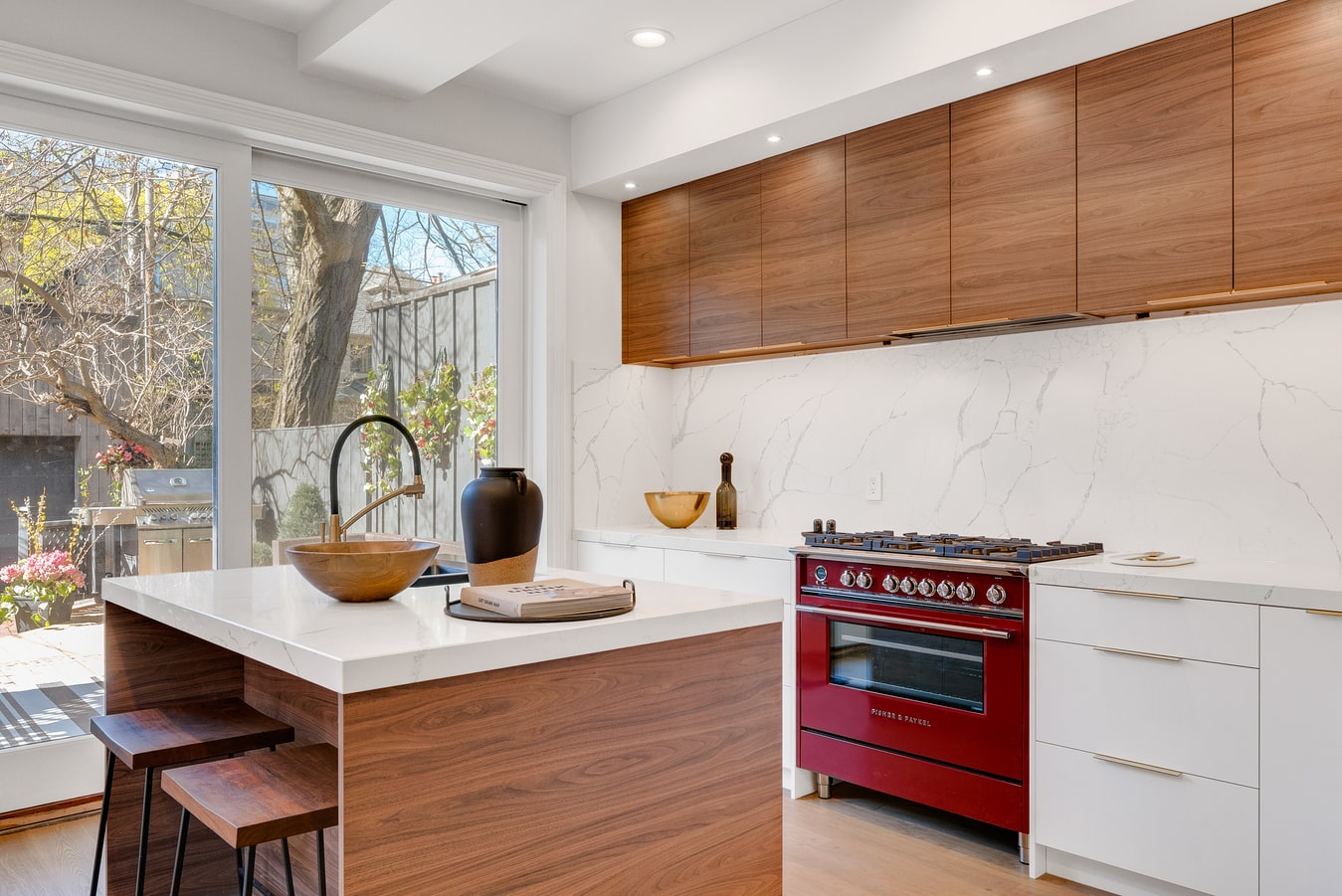 10 Advantages of Quartz Countertops Over Granite
Colors are a brilliant way to brighten up your small kitchen and create an illusion of space.
To inject a bit of color and personality into your small kitchen remodel, you can:
Introduce an accent color or wall
Paint your cabinetry in your favorite color
Include a few brightly colored appliances
Update your countertops and island with a bit of color
Paint a wall in your accent color
You can also experiment with color using your kitchen accessories. For instance, include some brightly colored pots, pans, and enamel cookware. These create stunning visuals when contrasted with white countertops or gray cabinets.
Just be sure to use complementary colors.
"If you are going with multiple colors, try to follow the color wheel with complementary colors (orange, yellows, and deep red) or direct opposites (orange and blue). Or stick with different hues of the same color. Take a color you love in its purest form and mute it a bit to make it more palatable."

Lizzie Armstrong, Project Designer, CRD Design Build
See Also: How to Incorporate Color Into Your Kitchen
#2: Organize Your Kitchen by Zones
Organization is critical in small kitchens. You can incorporate some organizing hacks from the internet to help you along, but don't lose sight of the bigger picture.
Above all, your small kitchen design must be functional.
This is where zones come in. Zones help you separate items by use, creating a neat interior design while maintaining functionality. These zones include:
Food storage
Food prep
Pot and pan storage
Cleaning and waste management
Plate and cutlery storage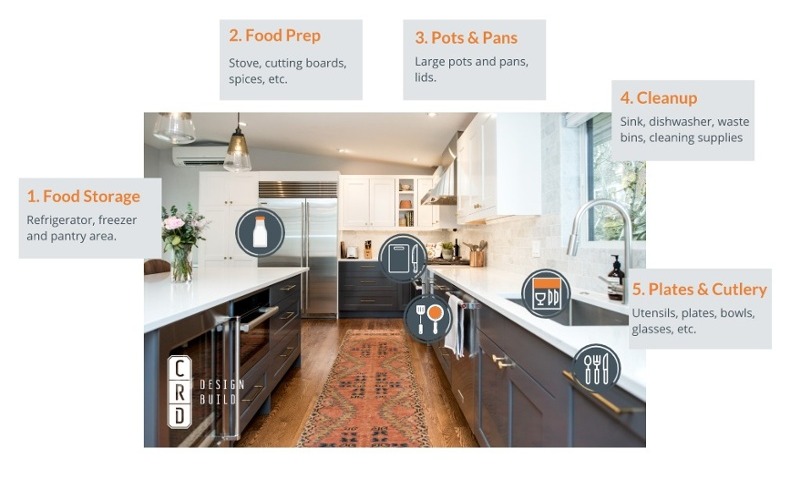 See Also: Kitchen Layout 101: The Work Triangle & Zones
#3: Build an Island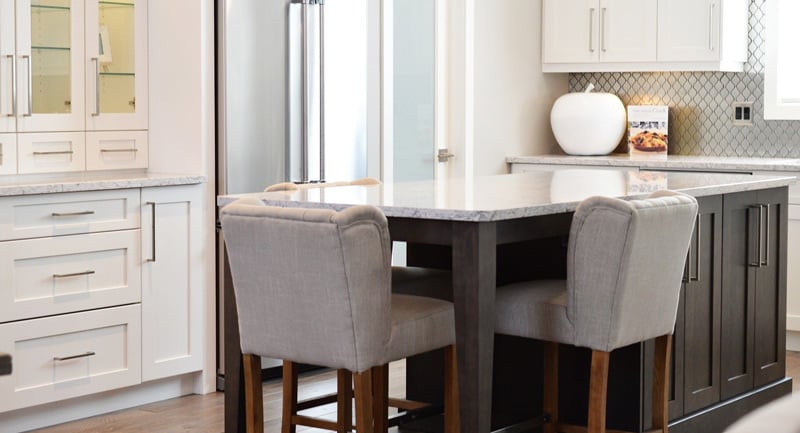 White kitchen with a matching standalone island | Source: Pixabay
A kitchen island is an ingenious way to create additional work surfaces and storage. It can also double as a breakfast table, perfect for casual dining.
You might struggle to fit a standard 'mega-island' in your small kitchen. But you likely have enough space for a standalone island or peninsula.
Have one custom-built to match your cabinets, or look for a premade island. These are compact, modular, and easy to find. You can even pick one up from a flat-pack store. Just be sure to go for one with ample storage, sturdy shelves, and high-quality hardware. The last thing you want to do is to detract from the quality and design of the rest of your kitchen.
See also: The 5 Main Types of Kitchen Island Lighting
#4: Waste Not, Want Not
Many kitchens suffer from under-utilized spaces. When remodeling a small kitchen, you can't afford to squander any real estate.
For instance, the corner cabinet is often neglected because of its inaccessibility. But an innovative storage solution like a lazy Susan will unlock this extra space.
Think also about installing a cabinet to take advantage of any dead walls, and use filler cabinets with sliders to maximize narrow spaces.
See also: What To Do with the #%$@ Corner Cabinet? Kitchen Corner Cabinet Design
#5: Splurge a Little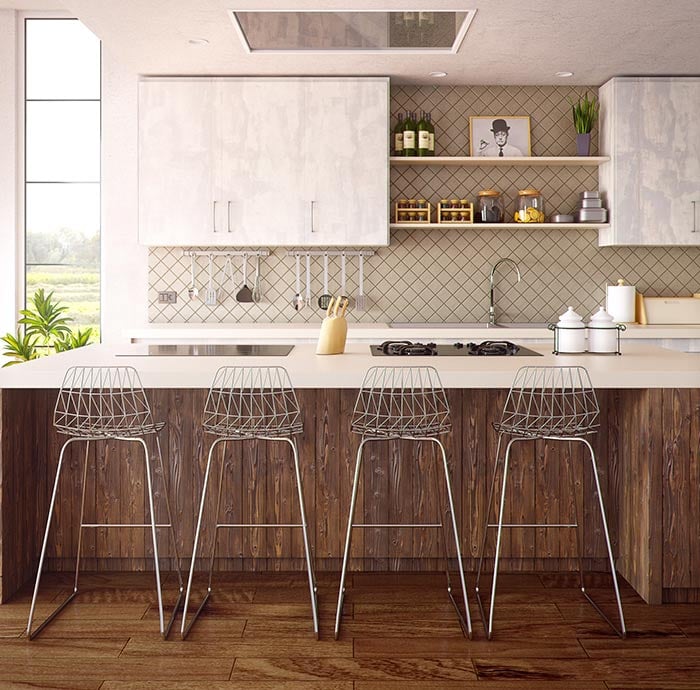 Lavish square tile backsplash with white cabinets | Source: Pexels
One perk of a smaller kitchen is that it costs a lot less to deck out.
The smaller square footage means you don't have a lot of spaces to adorn. This may give you a little more room in your budget to go all out.
For instance, the backsplash is a perfect candidate for a luxe treatment.
A touch of opulence here will liven up the entire kitchen. And thanks to the smaller size, you can splurge on some lavish limestone. Or opt for an antique tile backsplash without breaking your budget.
See also: Five of the Most Durable Kitchen Materials
#6: Brighten up the Floor
Large white or brightly colored floor tiles help create an illusion of a larger kitchen. In contrast, smaller floor tiles make the kitchen feel cramped and busy.
This is, in part, because of the reduced number of grout lines.
Stick to nothing smaller than the standard 12 x 12-inch tiles, but if possible, go bigger.
Note that this doesn't apply to galley kitchens. The narrow floors are ill-suited for large tiles. The grout lines look odd, especially when they run parallel to the cabinetry.
#7: Upgrade Your Appliances
Remodeling a small kitchen requires that you get creative with your appliances, especially the bulkier ones.
Thankfully, in recent years we've seen the development of smaller energy-efficient options.
For instance, slim-line refrigerators are becoming a key segment for appliance manufacturers. The smaller appliances take up less floor space and make remodeling a small kitchen easier.
Built-in appliances are also a brilliant option to free up your shelving and counter spaces. You can even customize them to match your interior aesthetic.
See Also: How to Pick Kitchen Appliances for Your Remodel
#8: Combine Function and Form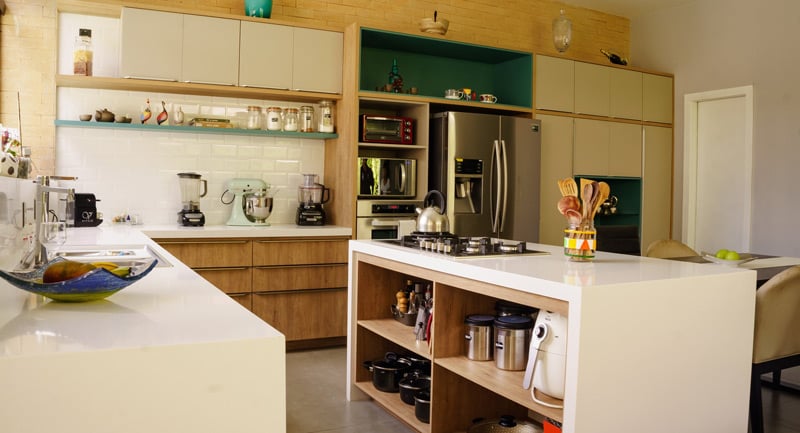 Source: Pexels
While function is the top concern with a small kitchen remodel, aesthetics are a close second.
Therefore, strive to make your kitchen's hardest-working elements also the most beautiful.
For example, you can use a sleek white quartz countertop as your kitchen's focal point. It's stunning but still durable enough to handle almost anything you throw at it.
Remember to maintain a healthy balance between cosmetic and functional upgrades. A beautiful kitchen is only as good as it is useful.
See also: 10 Advantages of Quartz Countertops Over Granite
#9: Adopt an Open Kitchen Design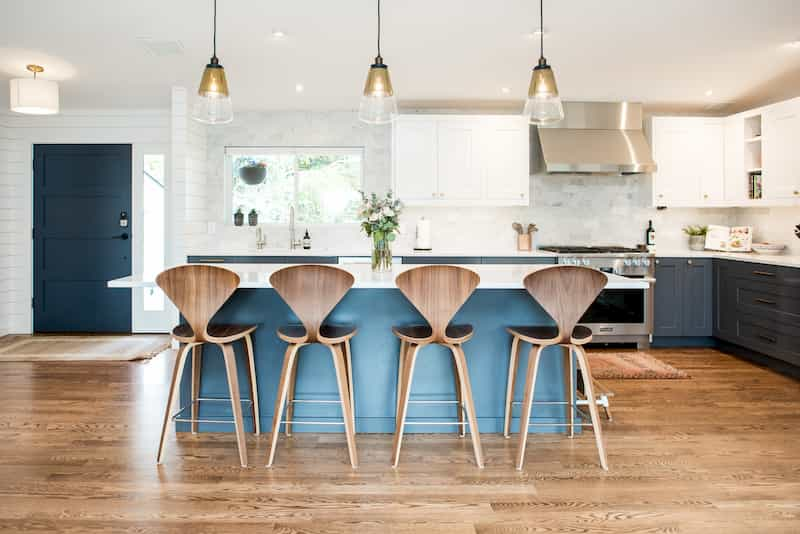 Wedgwood Whole-House Remodel
The biggest constraint when remodeling a small kitchen is limited space.
One way you can overcome this limitation is through an open kitchen design. This involves taking down any non-essential walls to open up your kitchen to the rest of your home.
Non-essential walls are non-load-bearing with no essential pipes running through them.
Even "essential" walls can be removed by rerouting utilities and some expert reengineering. (Be aware that this is a project that absolutely requires professional assistance.)
Removing walls can create a sense of space and make your kitchen feel much more expansive. Additionally, the open space creates room to take full advantage of every square inch.
You could even install a small dining table or breakfast nook.
See Also: How to Open Up Your Kitchen by Removing a Wall
#10: Open up Your Storage Spaces
Open shelving is perhaps the most controversial of the design ideas on this list. But as with most things in life, it's all about balance.
Too many cabinets in your small kitchen might feel cramped and claustrophobic. On the other hand, too many open shelves will feel cluttered.
However, with the right balance, open shelves can work wonders for your tiny space.
For example, you can replace your upper cabinets with open shelves to create an illusion of open space.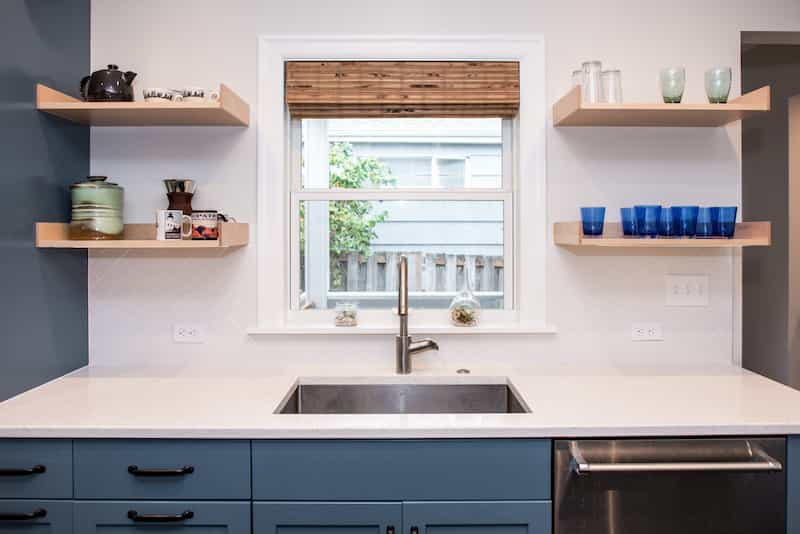 25 Genius Ways to Organize Your Small Kitchen
But if you're not ready to rip out your cabinetry, you can still achieve the look by simply removing your cabinet doors.
Remember to pare down to a few dishes and glassware you can easily keep tidy. Also, for open shelves to work, you need to keep your countertops clutter-free.
#11: Let in Some Natural Light
When remodeling, aim to increase the amount of natural light in your kitchen.
You can do this by taking advantage of every available inch of glazing. If your window is small, replace it with a wider one.
You should also consider adding in a skylight. These are a brilliant way to bring in loads of natural light if a window expansion is not feasible.
If you don't have an attic above your kitchen, then a flat skylight would be a great addition. But if you do, then a tubular skylight will deliver natural light through a mirrored tube.
See also: A Practical Guide to Window Placement
Planning a Small Kitchen Remodel?
When working on a small kitchen remodel, thoughtful design is equally important to your long-term satisfaction as aesthetics. The key is to strike a balance between the two.
However, with limited space, this can be easier said than done. Function and form constantly seem at odds in a small kitchen. To truly make the most of the available space, you need an inspired design. I encourage you to find an interior designer who is experienced working with small kitchens and who "gets" your needs and aesthetic preferences.
Guide to Hiring a Remodeler
This comprehensive guide walks you through all the steps of choosing who will design and build your project, vetting remodeling companies, and ensuring that you have the best experience.