Remodeling one's home can be a taxing experience, and for some, there is a point in the process when elation over the new project turns to impatience—particularly when the disruption gets to be too much and signs of progress are not as noticeable. The emotional ups and downs of the construction process is called "The Remodeling Curve" and it is something that we at CRD Design Build like to address with clients up front.
The Home Remodeling Curve
Even with CRD Design Build's meticulous remodeling planning process and our efforts to go above and beyond to keep jobsites neat and tidy, remodeling projects can cause some interruption to daily life. We like to provide this friendly "Remodeling Curve" infographic to clients prior to the beginning of construction to help remind them that ups and downs are normal, and it is all part of the process.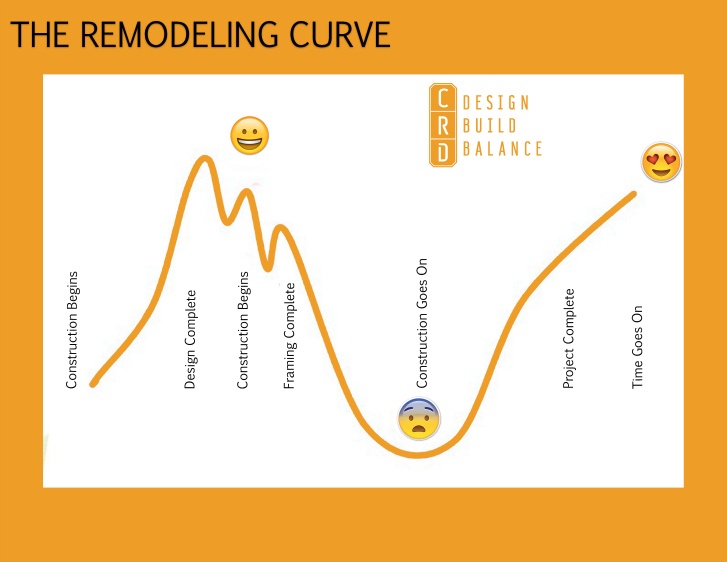 A Recent Client Experience
Recently, a client in Wallingford was in the midst of what we like to call the "trough" of the Remodeling Curve and, because we encourage open and honest communication with our clients throughout all phases of the project, she let us know her concerns. We quickly addressed her apprehensions and were empathetic and responsive to her needs. In her own words:
"Hi CRD team, I want to thank you all for addressing my concerns over the past few weeks. The kitchen cabinets and hallway are looking great and we are seeing the end in sight. Elliott and I are very pleased at your responsiveness to my questions and issues. I so appreciate your willingness to come up with solutions and taking the time to understand our concerns. Thank you in advance for your continued patience with any new concerns that might come up. I know we have a firm partnership."