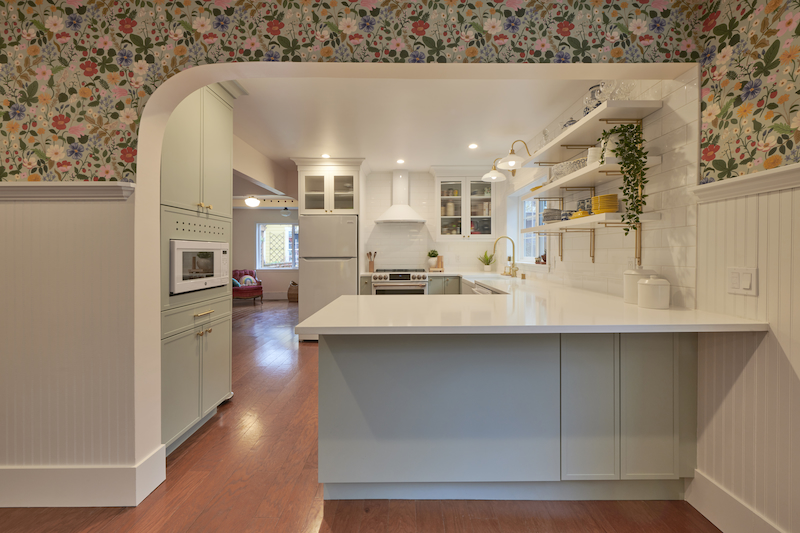 Image: Maple Leaf Kitchen Update - Home Services
If you're a Seattle area resident then chances are you live in a home that is nearly 100 years old. If so, then you're also probably in need of a facelift. No this isn't a targeted ad, we've just been in the neighborhood for 40+ years and we're here to tell you that you're not alone! Whether you need a simple facelift or a major remodel we are here to help. In this blog, we will cover how to remodel your old home while maintaining its character with both our home services and design-build divisions. This will help you avoid spaces that contrast with modernity and old-world charm.
Start With The Details
Before we can talk about how we infuse classic design features into older homes, we need a quick history lesson! The Colonial architectural period covers a large period of time that begins in Colonial America (the 1680s) and ends in the early 1800s. As you can imagine, the nation was very young and times were tough: building materials and methods were simple and very austere. As the nation advanced into the Victorian period, major cities were thriving with advancements in technology fueled by the Industrial Revolution, and the railway system allowed easier access to building materials. The Arts and Crafts period gave birth to one of Seattle's most common architectural styles: American Craftsman. Architects and designers of the late 1890s and early 1900's rejected the fussy, ornate details of their Victorian-era peers.
Each style reflects a specific period of time and each is known for its own classic features and details that are always on trend! If you live in a Colonial, Victorian, or Craftsman home, you're familiar with the unique characteristics I am talking about. So, let's dive into the details and talk about how a remodel can breathe new life into your classic home!
Walls
Many historic homes have lath and plaster walls if they have not been updated. Whether your walls are damaged, or just not your style- we have a few solutions to updating your walls to have a modern feel but maintain the historical vibe.
Wallpaper
Wallpaper can play a huge role in maintaining the vintage aesthetic of your home. You don't need to add decorative wallpaper to every room. Often wallpaper acts best as an accent. This can be applied in a dining room or a powder room. Think of spaces that you don't spend most of your time in to create a jewel box in your home!
Colonial, Victorian, and Craftsman homes regularly featured wallpaper. Colonial wallpaper designs tended to be muted with small patterns in everyday homes, whereas expensive homes featured large exotic scenes of flora and fauna in Africa, India, and Asia. Victorian-era wallpaper designs primarily featured orderly, repeating patterns of stylized flowers and foliage called Damask. Craftsman wallpapers are some of the most recognizable and classic motifs: playful animals and whimsical flowers, all in a rich color palette.
Wainscoting
It would not be a Colonial, Victorian, or Craftsman home without trim, so let's start with wainscot. Wainscot, which is wood wall paneling, can add tons of dimension and style to any space without major demolition. Wainscot typically starts at the baseboard and runs up the wall to either chair-rail height or picture-rail height, or somewhere in between. You can add a lot of detail to your Victorian wainscot, or keep it simple in your Craftsman home. Do you know what the perfect pairing is for wainscot? It's wallpaper! Adding wallpaper to the space above the wainscot is an easy and quick way to add style and personality to your home.
Paint
Many older homes were built with character and use colorful paints to create a different mood for each room. As you could have guessed, this was a very different approach as opposed to today's popular white palettes that are more modern and "safe."
The most common paint color now is probably bright white, but you may be surprised to learn that historic homes rarely featured white paint. Titanium dioxide, the pigment that creates bright white paint, wasn't widely available until the 1920s during the Craftsman period. One common misconception is that Colonial and Victorian homes had muted, grayed-out paint colors. The truth is actually the complete opposite! Bright, bold, colorful rooms abound throughout the Colonial and Victorian periods.
These homes did not have electric light and bright colors reflect candlelight better than muted colors. The only reason these homes look muted to us now is that the paint has aged 200 years! So, it wasn't until the Craftsman movement did we see more muted, jewel-toned colors take over in design.
What's our advice? Forget about white and go for color!
Texture
When we talk about wall texture these days, we are usually talking about how smooth drywall will be in a remodel. Most homeowners want a nice smooth surface especially if their current home has the dreaded orange peel of the 1980s! Original lath and plaster show the age and character of a house, is soft and velvety, but can also be a nightmare when it comes to cracks and repairs.
For Tudor-Revival homes, a style we haven't talked much about yet, a heavily textured wall finish is key. Tudor-Revival homes have a whimsical, Hansel and Gretel storybook style and were popularized for a short time in the 1920-1930s.
If you want the look and feel of lath and plaster without the headaches, consider a finish technique like Venetian plaster or Tadelkat, my personal favorite!
Wall texture was huge in the latter half of the 1900s but now there are even more ways to add texture to your walls. One of our favorite materials to incorporate in our designs is textured wallpaper. If colored paint scares you then I'm sure textured wallpaper may seem really overwhelming. Luckily your interior designer will help you with putting together some palette themes to show you how texture can be incorporated.
Moulding and Trim
Interior trim
All historic home styles can be categorized by their trim profiles and the rules for how to use that trim. How tightly you want to adhere to those rules is up to you. Most of the homes we see in Seattle either have very old trim that is in need of replacement, or bland, basic 1970s ranch trim.
Most modern, new-construction homes have simple flat baseboards with matching flat door and window trim. We blame the modern farmhouse trend for that!
There are almost too many things to discuss when we get into trim for historic homes, but the important things to assess and consider first are proportion, depth of detail, and finish.
Ceilings
Many Colonial-style homes had what is called a tray ceiling. This was often times found in great rooms and dining rooms. Tray ceilings work best in spaces with a lot of ceiling height. They can add a vaulted look to any room since the "tray" is inset. A tray ceiling goes perfectly with a centerpiece chandelier or pendant light which makes it perfect for a dining space. Another popular style of residential architecture in the early 1900s was Tudor. Tudor homes often had a crème colored ceiling with natural wood exposed beams. Both of which are still very popular today. When done right they can make a space feel very modern while still keeping the same design aspect of that era.
More is more
West Coast Colonial homes have rather subdued trim packages compared to the Victorians. A Colonial room may have a delicate sweeping crown and simple chair rail trim, whereas the Victorian may have a three-piece crown with dentil molding and multiple layers of the built-up window and door trim. Most Colonial and Victorian trim is painted.
Craftsman and Tudor-Revival homes feature the stained wood of my dreams! I love the texture and warmth that stained trim adds to the interior, and while it can be a more expensive element, it's worth it if you plan to enjoy your remodeled home for many years to come!
With all of the unique details of historic homes, it's hard to have too much trim!
Flooring
Style
Hardwood all day long baby! This one might be a bit too obvious. There weren't many other flooring options available back then. If you really want to mix modern with a classic you can sub for wood patterned tile and install heated flooring below the tile. This way you'll get the style of hardwood floors with the luxury of modern materials.
Hardwood flooring in America had a very humble beginning. Wide, rough-sawn hardwood planks were milled, by hand, from old-growth forests. These floors were not meant to be a feature of the home and were left unfinished after installation. Years of wear eventually created a patina that is very popular now for homeowners looking for that farmhouse look.
Later into the 19th century, the wood used for floors in "common" Victorian homes was of lower quality and we started to see the rise of decorative flourish applied to floors. Painting or staining checkerboard or diamond patterns over humble pine boards created a more elegant look for the average person. Wealthy Victorians had intricate and expensive wood inlay and parquetry in their homes.
Craftsman and Tudor-Revival homes are all about those heavy, moody wood finishes so it's no surprise that stained oak or fir hardwoods are the best choices for these homes.
One of the most common reasons homeowners chose to renovate their historic home is to address original, top-nail hardwoods. If you catch your sock on exposed nails, then you know what I am talking about! As much as we'd love to save all of the original floors, it's simply too costly to refinish top-nail floors. In some cases, it's not even possible. But don't worry! We work with hardwood artisans that can create the hardwood floor of your dreams!
Functionality
One of the biggest benefits of real wood flooring is that it's highly durable and when there are signs of wear you can refinish them rather than having to completely replace them as you would with carpet or laminate. This could be especially convenient for families with kids or big dogs.
Windows
Style
Yes, even windows back then had style. Have you ever noticed how Victorian homes seem to have so many more windows than other houses? And why are those windows so tall?! Well, let's go back to 1860: Abraham Lincoln is President, dynamite and the typewriter were invented, but we still don't have indoor electric light! All of those windows were needed to maximize daylight in the interior. If your project includes replacing windows, choosing the right size is very important. Don't forget to add a few half-round windows, too. Victorian homes are all about drama!
Colonial homes tend to have simple, well-proportioned windows organized in tidy rows and accessorized with functional shutters. Most windows of this era are double-hung and feature either a nine- or twelve-pane divided-lite pattern.
For Craftsman homes in Seattle, the most common design details are found in the divided-lite pattern. Depending on the decade, you might choose a prairie, diamond, or picket pattern, or any number of grid patterns.
The Tudor-Revival style, one of my favorites, draws inspiration from Medieval European architecture. Here you'll find thick, leaded glass windows, most commonly in diamond and square patterns. As you can imagine, it's hard to replace or replicate true leaded glass windows in a remodel project. In some cases, original windows can be preserved by installing new glass on either side. However, in most cases, new window units are required, but the good news is that we have lots of design options to install new, double-pane efficient windows that add character to any home.
Currently, floor-to-ceiling windows or picture windows, in general, are very popular. This was also the case for many midcentury homes but those houses aren't as common in Seattle (unless you live on the edge of lake Washington).
For garage doors, we suggest you install carriage doors that open outwards since metal garage doors are not very stylish or charming. However, If you own a Seattle home, you may live on a steep slope and swinging garage doors are definitely not feasible for you. In that case, we recommend wooden single-panel doors.
Functionality
Casement-style windows, the kind that you push or crank open work perfectly for getting some fresh air which makes them great as a kitchen window where you are introducing strong smells and sometimes smoke if cooking isn't a strength of yours or your kids are learning.
As you plan your remodel, keep in mind that we can design a window to appear one way but function in another. For example, if your Colonial home features double-hung windows, but you really love the crank-out function of a casement, we can accomplish both by adding a checkrail to the sash in remodeled areas to match the look of original windows.
Bay windows let in a lot of natural light since they point in different directions. If you live in a Victorian home then bay windows may be original windows which means you won't have to replace them. This style can give you the perfect space for either a reading nook or a large dining table.
Integrating Tech
It's no secret that technology wasn't huge in the early 1900s. Heck, it wasn't even around then. Meaning it's important to integrate your tech in a way that doesn't directly put it on display. Hiding the tv with a mechanical lift that will tuck it down behind a console table is a perfect way to keep style and maximize functionality. This way you can turn a family room into a sitting room if you are in need of a multi-use space.
An old house looks great with tons of wall art. If your budget allows, you can opt for a slim TV that, when turned off, looks like a piece of art.
Something we've been preaching for a while now is the importance of hiding the microwave. This can be done by adding a dedicated microwave cabinet into your kitchen design.
Layouts
At this point, each older Seattle home has been renovated at least once. Whether that was to open up the first floor or maintain quality. An open floor plan can make entertaining a lot easier. Especially if you like hosting dinner parties. When it comes to square feet, many Victorian and Colonial homes are not lacking in this department. Unfortunately, enclosed spaces were the standard interior layout back then.
Since Colonial homes tend to be shaped like a big boxes with a symmetrical layout around a central hallway and staircase, they tend to be only two-rooms-wide. This boxy layout can make spaces feel really cut off from each other. A great solution is to remove a wall to create a larger, great room that connects the spaces.
In direct contrast, Victorian homes usually have an asymmetrical layout with the stairs off to one side or the other. These houses also tend to be taller and only one room wide. In this layout, you have to walk through one room, like the living room, to get to the next room. This can be really challenging for modern homeowners and often the solution is an addition to create more functional space.
Tudor-Revival layouts are really unique, do not rely on symmetry, and have amazing features like curved staircases, but small rooms. With their heavy textured walls and timber ceilings, changing layouts in a Tudor home can be very difficult.
If you live in a smaller Craftsman home that doesn't have a second story, consider a renovation that will give you an upstairs primary suite in the attic. If you need your attic space for storage, then the basement could work as long as you have a ceiling height of 7'. Moving a bedroom in a small home will give you more room on the main floor for more open living spaces.
Moving walls around may require a structural engineer so this definitely isn't a project you should take on your own. You'll need a team of professionals to help, which includes contractors and architects. All of which we have here at CRD.
Color palettes
For many years now, homeowners have chosen not to incorporate color and old-world charm into the renovation of their old homes. Most people chose to add color and texture through their wall décor and furniture. From a safety standpoint, it makes sense. When you are preserving a historic home though, maintaining that vintage aesthetic is what matters the most.
Below we have put together a color palette for each of the following architectural styles; Craftsman, Victorian, Tudor, and Colonial.
Maintaining over modernizing
Looking for a contractor to partner with on your restoration project is a bit trickier. It's best to find a company like CRD with a full design team who is experienced in working with older homes. Our team will guide you down the path of maintaining your homes character while refreshing spaces and also adding a bit of modernization. Making the process so much less intimidating. Contact us today to chat with our client development specialist about which of these projects can be done quickly with home-services and which project require the help of our design build division.
Guide to Hiring a Remodeler
This comprehensive guide walks you through all the steps of choosing who will design and build your project, vetting remodeling companies, and ensuring that you have the best experience.