According to the 2017 U.S. Houzz Bathroom Trends Study, upgrading the master shower is number one on the remodeling to-do lists of American homeowners. Even more interesting is that 11% report that they will be sacrificing a bathtub (gasp!) to create the master shower of their dreams. If you're planning a master bathroom remodel that includes a new shower, learn where you should splurge . . . and where you can save. Here are my tips for choosing upgrades wisely to create the master bath of your dreams.
See also: Why Is Bathroom Remodeling So Expensive?
Plumbing Fixtures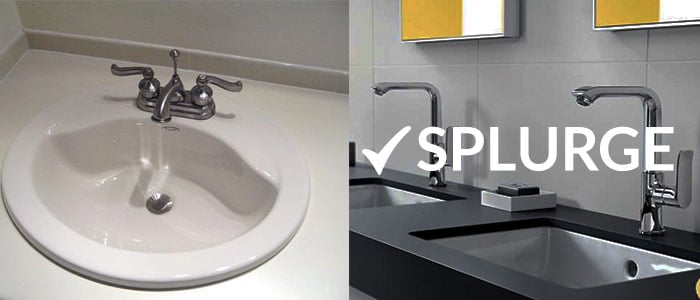 Splurge! Bathroom facuets and other fixtures are a focal point. Go for high-quality fixtures that are not only beautiful but will last a lifetime.
Showerheads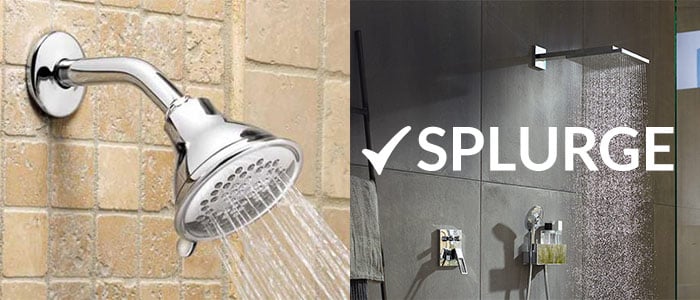 Splurge! But keep in mind, the more outlets—such as rain showers, body sprays, dual showerheads—the more water you will use and the larger your hot water heater will need to be to keep up. Personally, I'd skip the rainhead and go for dual showerheads or a showerhead with a separate hand shower.
Shower Controls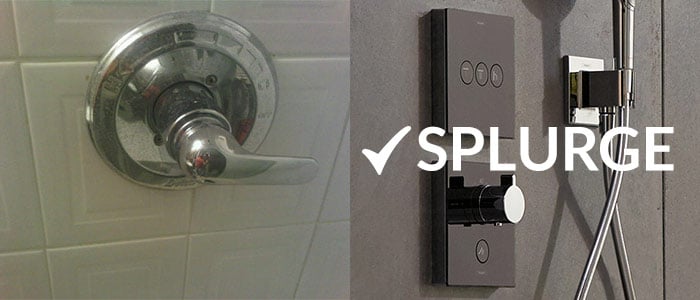 Splurge! These are the design details that make you say, "Whoa, cool!" when you stay in a 5-star hotel suite. Look for a thermostatic control and seperate volume (on/off) control. The thermostatic control can be set to your prefered temperature and the water comes out warm immediately.
Shower Tile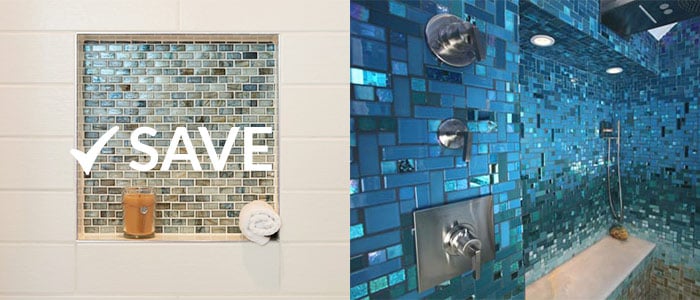 Save! Some extremely unique designer tile cannot be replicated or found at a lower price, but most floor and wall tiles can be found to meet every budget. Consider using a low-cost economical tile throughout the shower and accent small areas with a designer tile to create the exact feel you're going for. Smaller tiles like molding, liners, mosaics, and inlay pieces can be used sparingly for major impact.
See also: 5 Secrets to Choosing Tile
Shower Floor: Curbless or Curbed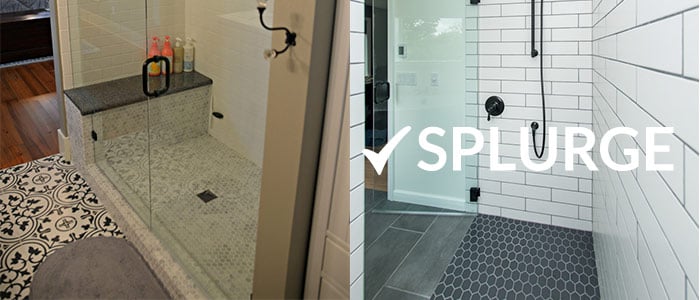 Splurge! Actually, the cost for a curbless shower pan is comparable to the tradition "step-up" curbed shower floor these days. The cost of converting to a curbless shower depends greatly on how your floor joists are constructed; consult your contractor and tile pro. A curbless shower scores major points for universal design and is always a higher-end look.
See also: What Is a Wet Bathroom?
Bathroom Technology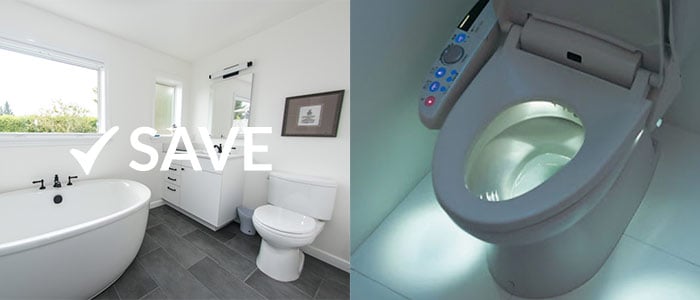 Save! The one thing we know for sure about technology is that it changes fast. Toilets have become self-cleaning machines with bluetooth and heated seats. Vanity mirrors connect to home assistants and order toothpaste for you. Aroma and light therapy help manage stress. I suggest reflecting on how you already use your bathroom. If you often think, "I wish I could charge my phone in here," then you may want to invest in some bathroom technology. Otherwise, spend your bathroom remodeling budget elsewhere.
See also: Latest Bathroom Tech Innovations You Won't Want to Live Without [The Spruce]
In many cases, creating a tranquil, private retreat is less about the products you choose than it is about thoughtful design. If you are contemplating a Seattle bathroom remodel, please feel free to reach out. My interior designer colleagues and I would be happy to answer your questions and share our ideas.
Guide to Hiring a Remodeler
This comprehensive guide walks you through all the steps of choosing who will design and build your project, vetting remodeling companies, and ensuring that you have the best experience.