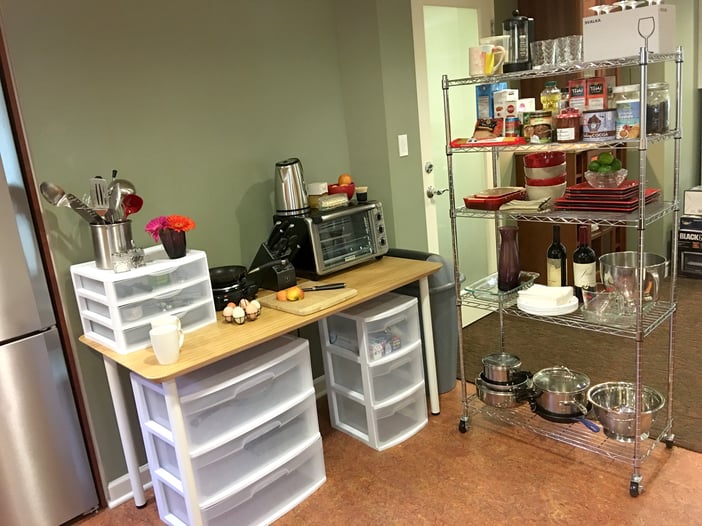 So you've just finished working with an interior designer to plan a big renovation for the kitchen of your dreams. You've pored over tile samples, picked fixtures, and selected all your new appliances. Whew, that was a lot of work! While you probably would prefer to take a break, the most difficult part of your kitchen remodel is about about begin. I'm talking, of course, about the construction phase. Here are five tips to not only survive a kitchen remodel but to make it enjoyable as possible (if you can consider any part of washing your dishes in the bathtub enjoyable). All kidding aside, it's going to be fine if you just plan ahead a little.
1. Set up a temporary kitchen
Many people go into a kitchen remodel thinking they'll just eat out. That might be fun at first, but believe me, it gets old quickly, and it may put a strain on your remodeling budget. I highly recommend that you take the time to set up a small temporary kitchen space somewhere else in your home while you're working on your beautiful new kitchen. The dining room, basement, utility room, or even the garage could work. Here are the basics of what you'll need:
Cooking station: In a dedicated area far from the dust of your under-renovation kitchen, set aside some of your cutlery, just enough dishes or compostable paper plates, utensils, pots, pans, cutting board, knives, mixing bowls, napkins, and other kitchen things. Decide which small appliances best fit your family: toaster oven, electric kettle, electric skillet, portable microwave, coffee maker, crock pot, hot plate, rice cooker, blender, counter-top grill, and toaster.
Washing station: Set this up in a laundry room or wherever else you have a spare sink. You'll need a large plastic wash tub, a drying rack, another plastic tub for transporting dishes, and dish drying trays. Gather supplies such as dishcloths, dish soap, paper towels, and tea towels.
Pantry station: Find a set of temporary shelving. (Wire racks work great.) Stock them with non-perishables, like soups, cereals, and snacks.
Prep station: This should be near your cooking station. Make sure you have a good work surface and a water cooler or bottled water. Stock it with a garbage can, a recycling can, garbage bags, and clear plastic storage containers.
Once you've gathered all these items and your temporary kitchen is set up, start boxing up everything that's left in your regular kitchen. Move your refrigerator to your temporary kitchen, and if you don't have space, buy an inexpensive mini fridge.
2. Cook less often
Despite your fabulous temporary kitchen, you're still not going to be as motivated to cook. Here are some ideas to cut down on cooking time:
Cook meals ahead and freeze them to rewarm later.
Accept dinner invites from friends. You can return the favor when your beautiful new kitchen is complete.
Clip restaurant and takeout coupons to enjoy a meal out.
Plan a picnic--indoor or out. Kids and adults love them.
Trader Joe's and PCC have fabulous frozen and fresh prepared meal offerings. Pair them with a salad, and you are good to go.
3. Take a trip
If you are considering taking a vacation or need to schedule a business trip, now might be a good time. You'll be amazed by how much progress will have been made on your new kitchen while you're away.
4. Get grilling
If the weather cooperates, there's almost no limit to what you can cook on the grill.
See also: 22 Unexpected Recipes You Can Make on the Grill [Greatist]
5. Look forward to your end goal
Don't forget that you're going out of your way to reach your goal: a fabulous new kitchen. This short period of inconvenience will be followed by years of future kitchen bliss. It could even be an adventure.
See also: 13 Geometric Tile Patterns for Your Kitchen Backsplash
At CRD, we have remodeled hundreds of kitchens in our 30 years of servicing the Seattle community. A kitchen remodel can be one of the most satisfying transformations in the home and can add the most value. We take pride in making the whole process as easy as possible for our clients. We set up a temporary kitchen in our clients' homes for the duration of work, providing all the basics, including small appliances homeowners may not have. If you are thinking about remodeling your Seattle kitchen, please don't hesitate to get in touch. We would love to learn more about your goals.
Guide to Hiring a Remodeler
This comprehensive guide walks you through all the steps of choosing who will design and build your project, vetting remodeling companies, and ensuring that you have the best experience.