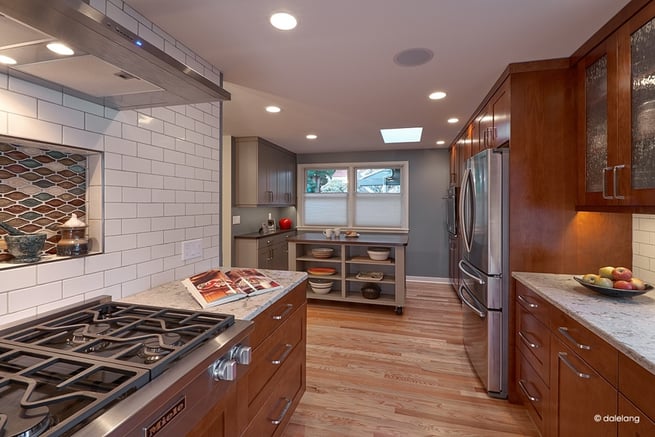 If you're thinking about remodeling your home, the first step is to hire an architect, right? That's been the traditional approach, but these days, more and more homeowners are discovering design build—and saving time, money, and hassle by doing it.
Seemingly a new approach for many, design build (DB) has been quietly transforming the residential remodeling industry for the past few decades, and it's really starting to gain momentum in recent years. That's because homeowners are starting to see the real benefits.
What Is Design Build?
Quite simply, choosing design build for a home remodel means hiring a single company to design and complete the construction of your project rather than signing multiple contracts with an architect and a general contractor. It's a simple distinction, but it's important to take a close look at the pros and cons of design build versus the traditional architect plus general contractor approach. DB is not for everyone, but for those who appreciate the simplicity, the straightforward pricing, and the convenience of design build, it can make the difference between a major hassle and an enjoyable remodeling experience.
Who Should Choose Design Build?
The key difference between the design-build approach and the traditional architect-contractor approach comes down to trust. Here's how Building Advisor describes it:
The classic triangle of Architect-Owner-Contractor is based on an adversarial model where the architect is hired by the owner to design the project, and also to make sure the contractor builds what he is supposed to and doesn't cut any corners. But who protects the owner from the architect, who often knows a lot less about the costs and practicality of construction than the contractor?
DB, on the other hand, is a collaborative approach, in which the designer and builder are not adversaries but work together with the client as a team. Building Advisor continues:
If the adversarial approach always worked perfectly, there would be no need for design-build, but of course it often doesn't. In design-build, you give up the checks and balances (sometimes illusory) of the adversarial process, but gain the benefits of everyone working together to a common goal.
So, for homeowners seeking the smoothest, most efficient way to remodel their home, DB may be the right choice.
Who Should Avoid Design Build?
DB is a great choice for many homeowners but not all. If working with a renowned architect is a top priority and if construction budget is a secondary consideration, then taking the traditional approach might be better fit. For those who feel comfortable with the more adversarial relationship of hiring an architect to check the work of the contractor and who don't mind deciding disputes between the builder and the architect, then design build may not be the right choice.
Are Design Build Firms More Expensive?
Many factors influence the overall cost of a remodeling project, including scope, materials chosen, existing conditions, and the number of changes made during construction. One of the main benefits of hiring an experienced DB firm is convenience and budget accountability. An architect often designs to an ideal vision, and the homeowner may not find out what it will cost to build until the design is complete. Often, building costs come as a shock, and the homeowner can find that the building plans he or she paid for and pored over are a design that is too expensive to build. Most DB firms provide construction cost estimates all along the way, which leads to a design that is within budget. Some DB firms even provide the additional assurance of a guaranteed fixed-bid building contract. In short, the DB process can help minimize surprises and keep projects on budget.
Why More Homeowners Are Choosing Design Build
With more than 25 years of DB experience, we at CRD believe strongly in this approach. In fact, our founder, Denny Conner, helped pioneer the DB concept because he was tired of seeing homeowners coming to him with fabulous architectural plans they couldn't afford to build. While we recognize that the decision to go design build or the traditional architect-contractor approach is a very personal decision, we wanted to share a few of the top reasons why our clients tell us they chose to go DB (or were happy they did).
Accountability: What do you think happens when something goes wrong during construction? Sadly, the tendency is for the builder and architect to blame each other, and they may each want to charge extra to fix it. With design build, one company is accountable for the quality of your project, and the designer and carpenters work as a team.
Efficiency: There's no doubt about it, there are a lot of moving parts in a home remodel. The collaborative DB approach means hiring a team that works efficiently together and has established processes. The crew that builds your project will be familiar with the design long before they begin work, getting the kinks worked out in advance.
Speed: In high-demand markets like Seattle, the time it takes to get on a builder's schedule can be quite long. If you work with an architect, you have to wait until the plans are finalized before you can take them to contractors for bids. At many design-build firms, clients have minimal wait times for construction to begin because they put the project on their construction schedule when design begins.
Quality: When a single firm is responsible for the quality of the project, attention and resources are focused on cost-effective solutions that reflect the best value, quality, and design.
Communication: The design professionals, construction experts, and homeowner remain in constant and open communication throughout the entire process. This helps ensure that potential problems are discovered before the project starts.
If you have questions about the design-build process, we would be happy to try to help. Please feel free to drop us a line.
Guide to Hiring a Remodeler
This comprehensive guide walks you through all the steps of choosing who will design and build your project, vetting remodeling companies, and ensuring that you have the best experience.