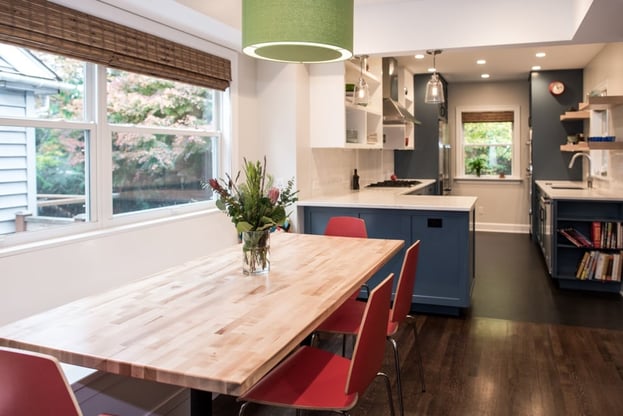 I'm often asked, "What will my remodel cost?" Or sometimes the question is, "What is the cost per square foot to remodel my kitchen/bath/whole house?"
The truth is that there are too many factors at play to give an accurate price without more information. The cost of a remodel is affected by so many things, from the current condition of your house to the finishes you choose.
Does that mean it's impossible to get an accurate estimate and that you have to start your remodel "blind" to what the final cost will be? Absolutely not!
Narrowing in on a fixed price
While some contractors work on a time-and-materials basis, others are willing to give a fixed bid. CRD does the latter. Remodeling companies follow many different processes to provide a pricing estimate or bid, but I will share ours as an example. Each step of the way, the dollar amount we give you will get more and more refined, until it is fixed at an exact amount.
Stage 1: Rough estimate
With just basic information, I am usually able to tell you ballpark ranges for your project over the phone. I base this on your scope (all the rooms and small projects you choose to include in your remodel) and what you tell me about your home's current layout and condition. You can email me photos, or we can search for photos on Redfin or Zillow. You are welcome to contact us to set up a call.
We are also in the process of publishing a series of pricing guides for each room of the house. These guides include ranges for various levels of finish and list some of the factors that affect cost. You can read our Bathroom Remodeling Pricing Guide now. Other guides will be coming soon.
Stage 2: Home visit
If what you learn about our process and ballpark pricing on the phone sounds like a good fit, we will set up a meeting in the office and, eventually, in your home to gather additional information and perhaps make some initial design suggestions. We are able to hone our numbers a bit at this time, but they will still be a range. This is the point where you can choose to engage us in creating a design for you.
Stage 3: Design
Because we are a design-build firm, all of our clients begin by working with our in-house designers. They will gather still more information. (See a theme here?) Your designer will share several different layout options. Our production manager, Michael, will begin the detailed task of estimating what these different options will cost. At this stage, you will choose a general layout and will start selecting materials and finishes. Your cost estimate at this point will go from a range to a more precise number.
Stage 4: Your fixed price
This is the stage where you will receive a fixed-price contract for your entire project. It will include all the labor, materials, and permits for plumbing, electrical, and mechanical. This is a fixed bid, meaning that we guarantee that we will complete the agreed-upon items in your scope of work. A fixed price is very different from an estimate, even a detailed estimate, because it guarantees that you won't pay more for your project.
Stage 5: Your final investment
Once construction begins, we follow a detailed schedule and invoice you each week for the portion of the job that is completed. People sometimes ask if unexpected costs ever come up during construction. That is a possibility, and these extra costs take the form of change orders. There are two types:
Change orders resulting from unforseen conditions. These are rare, but occasionally we discover something after we open up the walls, like dry rot or mold. Sometimes, we will discover old electrcial or plumbing work done by previous builders or homeowners that doesn't meet code. In many such cases, we are required by law to fix these. Again, these conditions are rare, and we make every effort to discover any hidden issues before we start construction.
Change orders resulting from new choices. These types of change order are more common. If you change your mind about anything during construction, like switching the type of tile installed or choosing two paint colors instead of one, it may add cost. These change orders will never be a surprise, and you will know the price before you agree to move forward.
How to get a remodel estimate
I hope this explanation of our process helps you understand the timeline along which a rough estimate becomes a fixed price. If you would like to talk about pricing, or just find out if the remodel you're dreaming of is within your budget, please feel free to get in touch. I would be happy to help you in any way I can, and if CRD is not the right fit, I am glad to recommend other resources. For more information about choosing a remodeler, including worksheets, checklists, and a great explanation of the different types of contruction contracts you might encounter, please check out our new Guide to Hiring a Remodeler.
Guide to Hiring a Remodeler
This comprehensive guide walks you through all the steps of choosing who will design and build your project, vetting remodeling companies, and ensuring that you have the best experience.