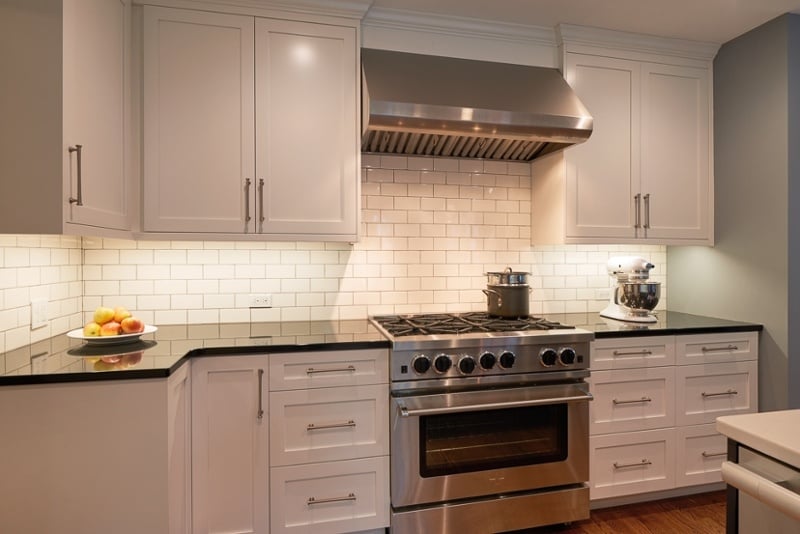 What's the first thing you see when you enter a kitchen? The cabinets. They encompass over 50% of the design space and are the most dominant feature in a kitchen.
Cabinets are the focal point in your kitchen space, and their choice will:
Set the mood of the kitchen
Add décor
Affect the layout
Affect workflow efficiency
Determine storage capacity
Determine kitchen lifespan
Shaker-style kitchen cabinet doors have a center indent. The center panel is flat, and the edges are square with no other ornamentation.
There are many reasons a shaker-style cabinet is a popular choice for kitchen cabinets. Shaker cabinets have a timeless style, boost your home's resale value, and work well with designs such as:
Traditional
Transitional
Contemporary
Here is your practical guide to shaker-style cabinets.
Shaker Style Cabinet Materials
Hardwoods have been traditionally used for shaker cabinets due to their durability and wood grain pattern.
However, nowadays, there are several options you can go for when choosing materials for your shaker cabinets.
Traditional Hardwood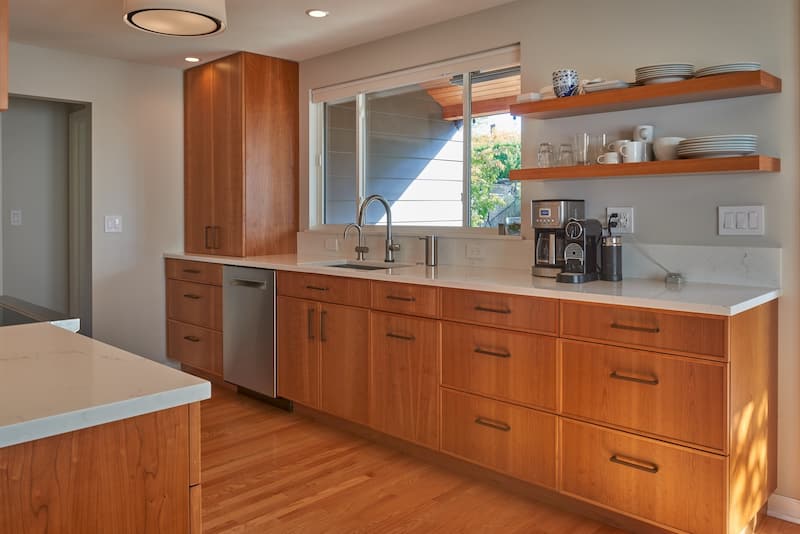 Traditional hardwood is a common option for shaker style kitchens. It can last a long time and it can have any kind of finish.
Different wood types have different wood grains. This will add warmth to your kitchen.
Medium-Density Fiberboard (MDF)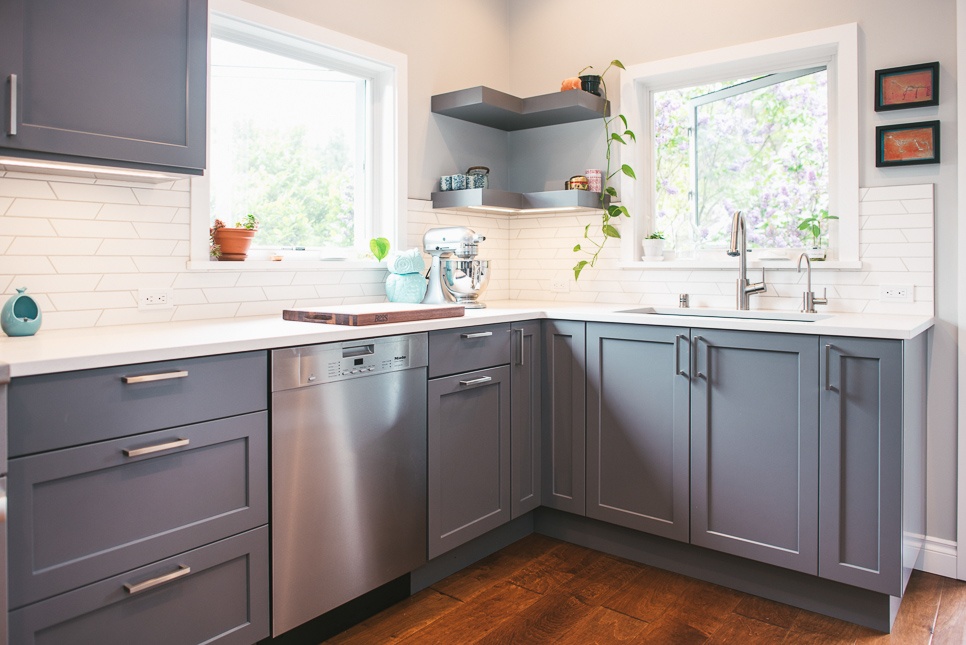 What makes MDF cabinets stand out is their ability to take paint better than other materials.
Nowadays, paint is a popular option, and most painted cabinets have MDF doors. High-quality MDF, characterized by a dense construction and durable adhesive, is among our most popular cabinet door materials. MDF has the added benefit of resisting warping and checking, something to which solid wood is prone.
Plywood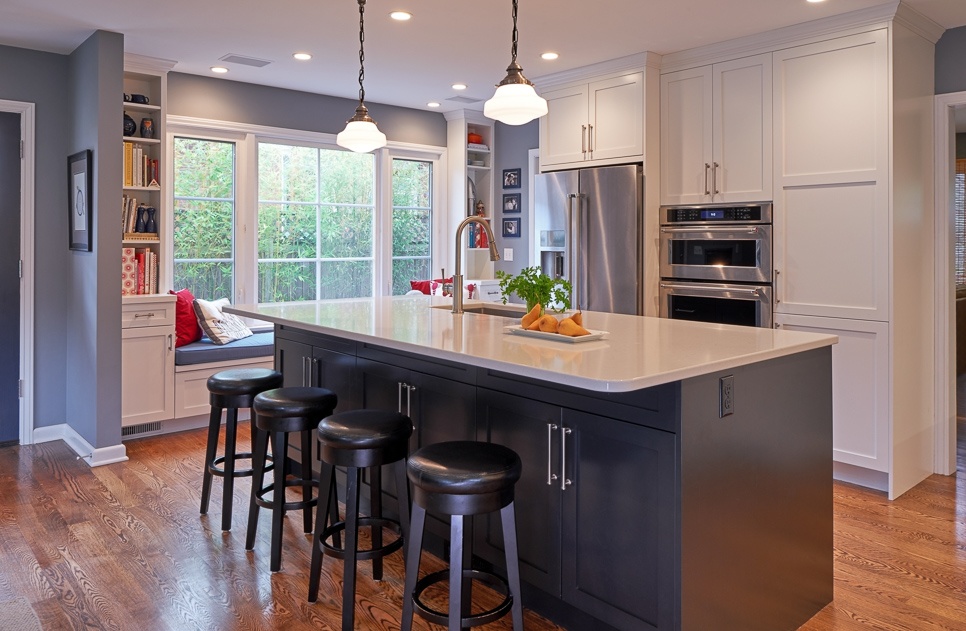 Another option is plywood.
Wood veneers are important for plywood.
Wood veneer is a thin slice of wood or bark. Typically, it's thinner than ⅛ inch, and it's glued onto core panels. Core panels can be wood, medium-density fiberboard, or particle board. Once glued, it produces flat panels for cabinets.
Plywood has three or more layers of veneers. Each layer is glued with grain at right angles to adjacent layers for strength.
Hardware for Shaker Cabinets
There are several hardware options you can go for to enhance your shaker cabinet style:
Ceramic knobs — Classic. They will give your shaker kitchen the feel of an old-world farmhouse or a cozy cottage.
Flat bar pulls — Sleek. These are sharp and smooth and will go well with square edges in your kitchen. Install them to emphasize light and dark cabinets, quartz countertops, and geometric tiles.
Latches — Retro. Choose latches for a nostalgic trip back in time. Be aware that they are not the most functional in a hurry. However, if you have pets or kids, they are a perfect choice, as they provide additional safety.
Tubular Bar Pulls — Modern. They are paired best with darker finishes and bigger tiles. You can choose a shorter or longer version, and you can position them horizontally or vertically.
Shaker Cabinets Finishing Styles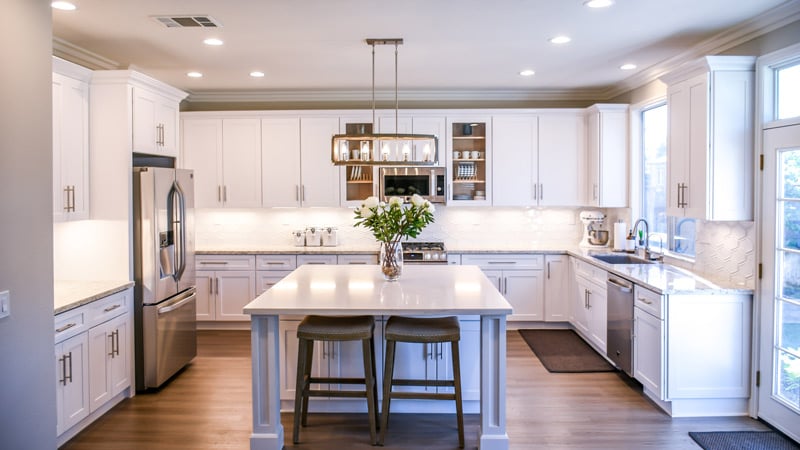 Soucre: pexels.com
When it comes to shaker style, repetition is king. All the drawers and cabinets must look the same to get a clean and orderly look.
There are different finishing methods to shaker kitchen cabinets:
Painted Finishing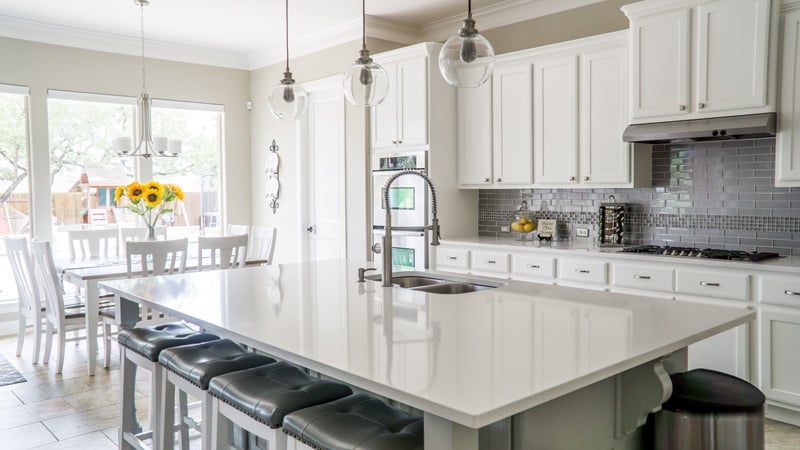 Soucre: pexels.com
Painting the shaker cabinets is the perfect choice for a contemporary look. It allows you to maintain the sharp, recessed, squared-off edges.
Thermofoil Finishing
Thermofoil finishing, vinyl wrap, is not often used. Usually, it's found in secondary use areas, like laundry rooms.
Here, you have to be careful about the areas where the panel meets the rail and where the stile is located on the cabinet.
The thermofoil doesn't produce as sharp an edge as painting. Also, the machine used for laminating can't reach the corners, and it will angle on the edges of the rail and stile.
Polyurethane Finishing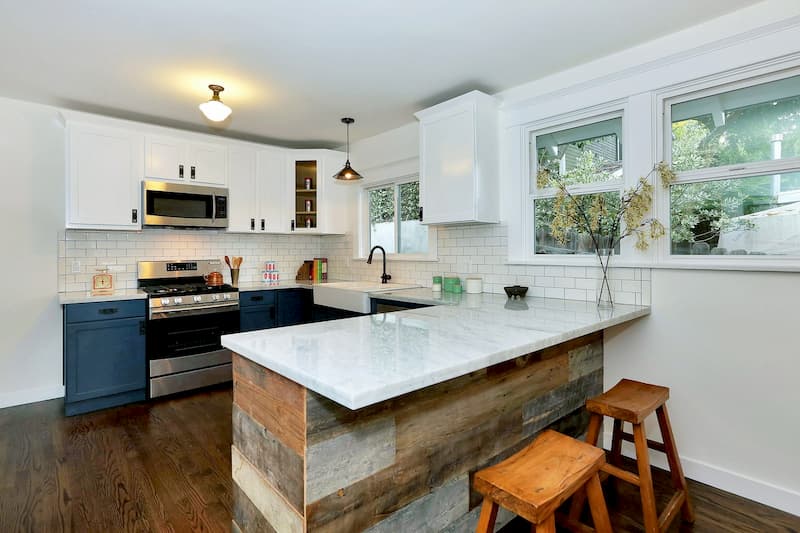 If you are going for a natural look, choose polyurethane.
You can choose the level of sheen, including a matte finish, which enhances the grain and streaks.
Want more? Here are more kitchens to get you inspired.
See also: The Ultimate Guide to Kitchen Remodeling
How Are Shaker Kitchen Cabinet Doors Made?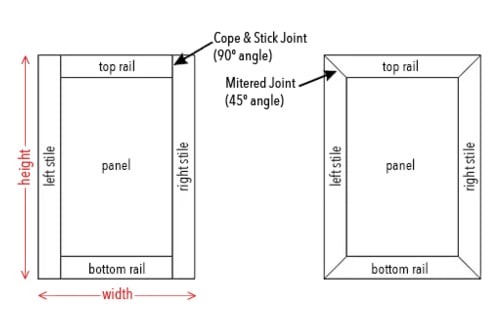 Screenshot from: fcustomcabinetsupply.com
Shaker doors are a five-piece construct:
2 stiles
2 rails
A flat panel
A stile is a piece of wood vertically positioned in the cabinet frame.
There are two cabinetry kitchen designs to get acquainted with before you embark on your kitchen remodel: face frame and frameless. These two styles have more to do with the cabinet box than the doors, but they do affect the look of your shaker cabinets, and they are an important consideration when making your design choices.
Face Frame Shaker Kitchen Cabinets
In the face frame method, the cabinet door is fitted in an outer wooden frame.
This method is characterized by longevity and durability, achieved by excellent craftsmanship.
Pros of these shaker cabinets include:
Long-lasting — Face Frame cabinet construction is more labor-intensive. However, compared to the lay-on method, the finish is a higher quality.
Finishing touches — These cabinets are fitted with butt hinges. Each hinge is chopped in manually to make sure the fit is perfect. Hinges made this way, have a strong bond that doesn't weaken with time.
Finishing options — It comes down to your preference. You can go for solid wood or MDF. The appearance is more traditional compared to lay-on cabinets.
Frameless Shaker Kitchen Cabinets
Frameless shaker kitchen doors are also known as overlays. The doors lay on top of the cabinet box.
Advantages of this option include:
Affordability — This style is less labor-intensive. This means for less money you still get the shaker look you want
Modern finish — Your new kitchen will have those clean shaker lines and a singular appearance.
Additional storage space — Because of the way these cabinets are constructed, the cabinet openings are slightly larger. This means more storage to play with.
See also: Face Frame Cabinets Are Back
Guide to Hiring a Remodeler
This comprehensive guide walks you through all the steps of choosing who will design and build your project, vetting remodeling companies, and ensuring that you have the best experience.