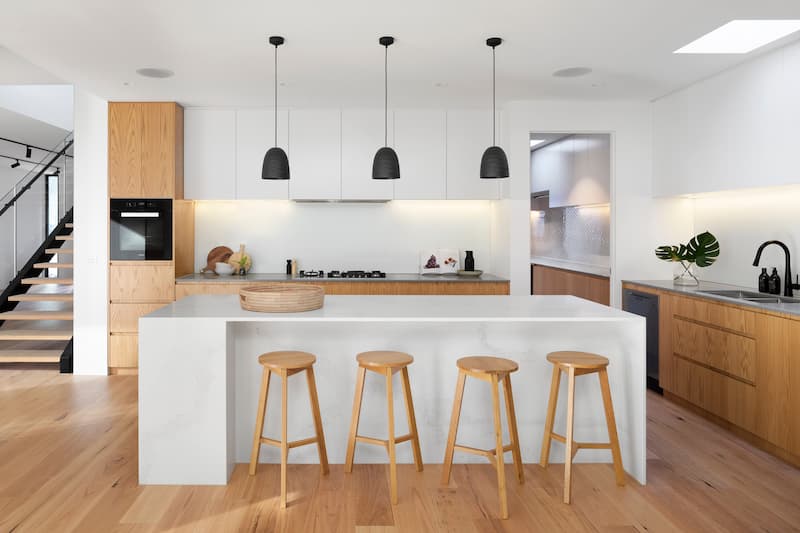 Living in luxury has meant surrounding yourself with expensive things, but that understanding of luxury is changing. A deeper sense of luxury can be found through a functional and beautiful interior design. These days, a luxurious home is less about showy finishes and furniture and more about creating a peaceful and tranquil living environment imbued with happiness and health.
Don't get me wrong, items like a hand-loomed silk rug or a designer sofa will never be passé. But I believe the concept of luxury in the home has taken on a more holistic meaning. With this in mind, here are some ideas for rejuvenating your home into a space that is functional, healthy, and beautiful.
From a beautiful U-shaped kitchen to the seamless transition between your indoor and outdoor living spaces, all the way to open floorplans, there are many ways you can evoke a deeper feeling of luxury in your life. Here are some of the most essential concepts to embrace during your remodel.
Create multifunctional spaces
Starting with one of the most important and currently relevant interior concepts, multifunctionality is something you should consider including in your remodeling project. Creating more versatile spaces that serve a variety of purposes is a great way to redefine your living environment while making every room more functional and beautiful to boot.
This is especially important now that many of us are working from home. Oftentimes, you can feel out of place working in your living room or any other room you've made into an impromptu home office. Instead of feeling constantly out of place, consider how you can rearrange the furniture, the lighting, and the rugs to create zones but preserve a unified ambiance.
Don't be afraid to rethink the architecture of the space as well if you're up for a real renovation project. This is your opportunity to optimize the space to your liking and perhaps even create a beautiful open floorplan. This leads us to the next point.
Embrace the open floor plan
Open-space living has been on the rise for years now all over the globe. There are many reasons why open floor plans are so popular right now. Given the fact that many people are now downsizing and choosing smaller homes, it simply makes more sense. An open floor plan makes any living environment look and feel more spacious.
That said, when you're decorating an open floor plan, you have to have a clear goal in mind and know the exact layout of the space. This is because you are breaking the barriers between spaces and creating one big holistic design with different "zones," so you have to make sure that all zones complement each other.
You can evoke a rich sense of luxury by designing every zone with distinct décor and colors, but making sure that each one ties in with the overarching design of the room. For example, a living room that has a home office zone deserves separate décor lines, but the wood elements should be the same, following the same hue and type of wood. This is a simple example of how you can create a cohesive space by minding the little details, but also give a unique luxe feel to every zone in an open floor plan.
Bridge indoor and outdoor spaces
In our pursuit of luxury, we can often surround ourselves with expensive trinkets, when in reality what we need is a deeper connection with nature. Natural elements can bring a luxurious living environment to life, and you should extend that feeling into your outdoor living space. One of the simplest and most effective ways to do that is to lay some beautiful area rugs that can be used outdoors, and in the interior as well, to bridge the gap between these spaces and extend a room into your back patio.
This is the perfect way to create a seamless transition and a luxurious al fresco dining area that you can enter from the kitchen or the interior dining room. It's a very popular trend in warm climates, like Australia and New Zealand, which is why natural fiber rugs from New Zealand are nowadays found in so many interior designs around the world. With that in mind, make sure that the outdoor space follows the design theme of the interior, but give it a unique flair with contrasting accents and a rug that creates a beautiful pathway.
Rugs should complement each other in style and design, but you can use quality patio furniture pieces that have a different shape than the interior furniture but boast the same color. Make sure that the lighting is complimentary as well, but include accent outdoor lighting for a more intimate ambiance at night. It's these small details that will make all the difference and create a more luxurious look and feel.
Bring mindfulness to your interior design
Understand that you can bring luxury to life by building a more conscious living space with the right materials, accents, and natural elements. A big part of modern luxury is having a deeper connection to nature, which we are all lacking in this hectic modern world. Simply introducing potted plants in every room will immediately create that warm and comfortable feeling and make the space feel more serene and peaceful.
You can also promote mindfulness by choosing neutral hues and tones, sticking to a minimalist mindset, and using vibrant accents. Splurge on your throws and linens to truly feel the luxury and introduce a focal point in every room to give it a more upscale look. The focal point can be something as simple as a single ornate vase, or it can be a grand focal wall in a unique color.
Wrapping up
Luxury will always be associated with a high price tag, but that doesn't mean that your luxury is the same as everyone else's. Use these design tips to create your own luxurious living environment imbued with lifelong peace and positivity.
---
About the Author
Lilly Miller is a freelance writer, who focuses on interior design, well-being, and sustainable living. She loves to experiment with daring new home décor trends and write about it as a regular contributor to Smooth Decorator. Settled in Sydney for the time being, Lilly shares a home with two loving dogs and a gecko named Rodney.
Guide to Hiring a Remodeler
This comprehensive guide walks you through all the steps of choosing who will design and build your project, vetting remodeling companies, and ensuring that you have the best experience.