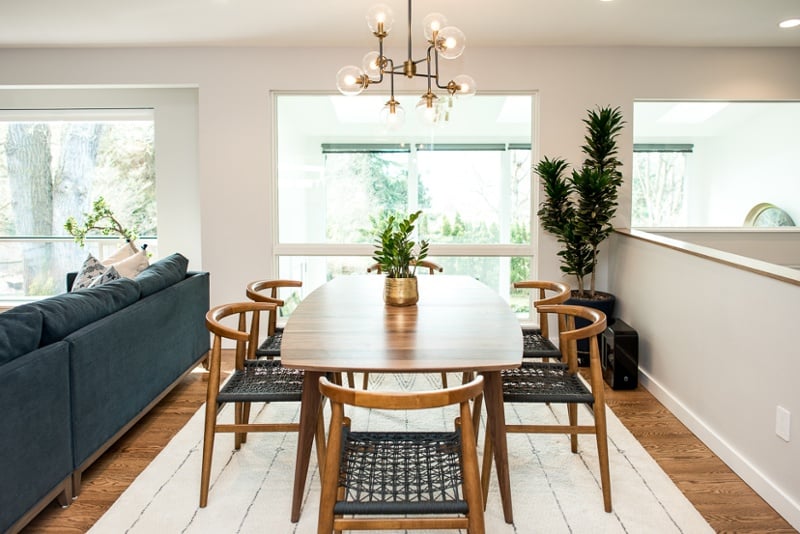 There's nothing nicer than a big, bright window to the world.
Well, that's true except when you have old, inefficient windows. Old windows let the elements in and allow the heated and cooled air out of your home. They're a drain on your pocketbook and a drain on the environment.
Plus, new windows can be really beautiful. Most people who embark on a remodel end up replacing at least a few windows, and some opt to replace all the windows in their home.
In this article, I'll tell you all you need to know about the different types of replacement windows.
A Material World
When choosing your new windows, you have three main material options: vinyl, fiberglass, and wood. All three of these will give you a finished look with the energy-efficiency you need.
Vinyl
While I usually don't recommend vinyl windows, they are the most affordable option. They offer great moisture resistance, and they require almost no maintenance. But they don't come in many colors, and you can't easily paint them.
Fiberglass
Fiberglass windows will cost you a little more. But they can be more efficient, and they expand and contract less than vinyl windows. They're also stronger and won't crack or fade.
Like wood, fiberglass can be painted to match your trim and siding. But if you choose to paint your fiberglass windows, they will need to be repainted in the future.
Wood
Wood windows are the spendiest, but they are also the most beautiful and stylish option of the three. You can paint or stain them, and they're a great insulator. But they do require regular maintenance to keep them in good shape. Some manufacturers offer hybrid windows that are wood on the interior and some other material on the exterior.
The Art of Installation
Replacement windows can be installed in two ways: pocket and full-frame installation. The method of installation you choose will affect how much you pay.
Full-Frame
In a full-frame window replacement, the contractor removes the entire window and frame. It's a great way to replace windows on older homes because it ensures none of the old, possibly deteriorating wood frame remains.
It's a good idea to do a full-frame replacement if you're doing a larger remodeling project that involves replacing your siding as well. You may also want to do a full-frame replacement if you plan to replace all the windows in the home at the same time. If there is any rotting wood surrounding the window, a full-frame replacement is really the only option.
One pro of a full-frame window replacement is that you'll add more glass area to the window by taking out the old window frame. More glass area means more light and better views.
Another pro to a full-frame window replacement is that it allows for proper insulation. By removing the entire frame, you'll get the advantage of new, more efficient insulation around the window.
One con of doing a full-frame replacement is that it may require more labor, which will cost you more. You'll also have to pay to replace the siding around the window and the interior trim with this method.
Pocket
Pocket window replacements leave the old window frames intact. The new windows are slid into place as a retrofit by the window installer. Think of pocket window replacements as a box inside of a box. The old wooden window frames are the outer box, and the new windows are boxes that fit inside.
This method is often the best choice if your home has a stucco or brick exterior. These materials make it difficult to do a full window replacement. It can also a fine option if your window frames are in good shape and properly insulated.
The pro to the pocket install is that it may save you some money on materials and installation costs. You don't have to replace siding or interior trim with a pocket installation.
One con of a pocket replacement is that you'll lose glass space by keeping the old window frame intact. This means less viewing area and light form the window. Another con is that you won't be able to replace insulation around the window or remove any rotten material that currently surrounds your existing windows.
Timeless Style
There's never been a better time to replace your windows because there are so many different styles to choose from. Single-hung and double-hung windows are the most common style. Single-hung windows have one pane that moves up and down, while double-hung windows have two moving panes.
For windows that are wider than they are tall, you might choose sliding windows where one pane slides over the other, side to side. Awning and casement windows use a handle to turn them in and out and are great for narrow windows on the main floor or basement. And bay windows add beauty and timeless style to your home.
Glazing
When it comes to glass, you have several choices. You can opt for standard double-pane windows, which have just two layers of glass, or you can upgrade to triple-pane or even quad-pane for better insulation. Often, the space between the layers of glass is filled with an inert gas that also helps insulate.
Finally, a low-emittance coating, or Low-E coating, on the glass reduces the amount of heat that radiates out of the window. Other coatings are slightly reflective and can prevent direct sunlight from overheating a room. Work with your designer to choose the best option for your home.
Starting a remodel
If you are planning to replace windows as part of a larger remodeling project, a good place to start is with a licensed contractor or designer. Our team here at CRD has decades of experience renovating Seattle homes and will handle all the details to ensure a smooth remodeling experience. If you are interested in discussing your plans, please don't hesitate to get in touch.
Guide to Hiring a Remodeler
This comprehensive guide walks you through all the steps of choosing who will design and build your project, vetting remodeling companies, and ensuring that you have the best experience.