Have you ever walked into your kitchen, looked around, and thought, "I'm bored with this. I need something new"? Or is the layout of your kitchen so old and dysfunctional that it makes cooking unpleasant? If that sounds familiar, a kitchen update may be in order.
I usually caution against choosing a kitchen design that is too trendy because it is such a costly room to remodel. You'll want the updates you make today to look great and function well for many years to come. That said, I wanted to share a few 2020 kitchen design trends that I believe will have staying power.
1. Face Frame Cabinetry

You've probably seen face frame cabinets without realizing it. With these types of cabinets, there is a frame attached to the front of the cabinet's structure. This is a switch from the simpler frame-less, or European-style, cabinets that have been popular in the past.
Face-frame cabinets have a more traditional, luxurious look. If you are looking to add value to your home with higher-end kitchen cabinetry, the face-frame style may be a choice worth considering.
See also: Face-frame Cabinetry Is Back
2. Quartz Countertops

Speaking of luxury finishes, quartz countertops are one of the most popular choices for high-end homes today.
To start, quartz has a beautiful style that is versatile enough to complement any kitchen.
On top of its look, quartz is a practical choice, too. It's naturally non-porous. That means it resists stains and, unlike granite, you don't need to seal it every year to avoid problems.
See also: Pros & Cons: 11 Countertop Materials Compared
3. Hardware Hiatus

Cabinet hardware has as many shifting trends as fashion. The latest style is not to have any hardware at all.
Without hardware, your cabinets have a cleaner, more modern look. Instead of using a traditional pull, you can get cabinets with a built-in lip that makes it easy to grasp and open.
4. Open Concept Storage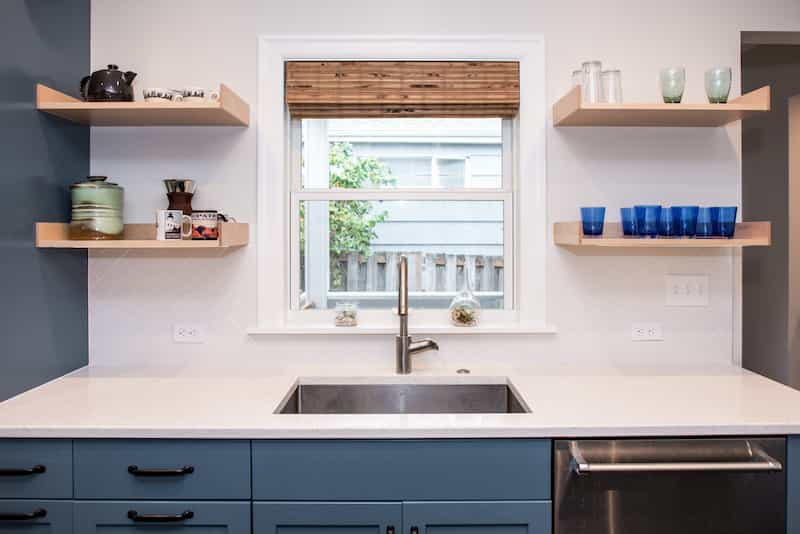 Most people love the idea of an open concept living space because it makes the area feel so much bigger and brighter. Why not apply that same theory to your kitchen storage? Instead of traditional upper cabinets, pair your lower cabinets with open shelving on your kitchen walls. This makes the kitchen look larger because you can still see the wall behind the shelves. As a bonus, you can work this trend into any style you choose. Those who want a modern kitchen can use glossy finishes while those with rustic tastes can opt for reclaimed wood for their shelving.
While I love the look of this trend, it's important to note that it may not be for everybody. You have to ask yourself if your open shelves will always be neat and tidy, or will they get cluttered up?
5. Colorful Ranges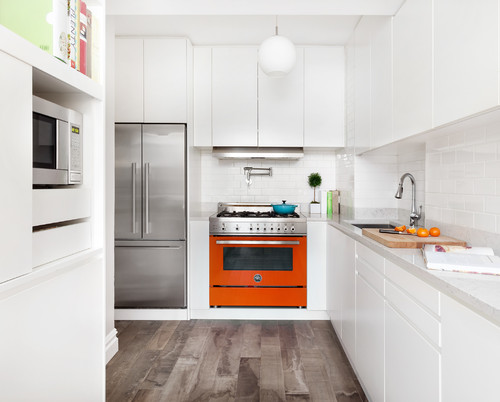 The idea of a "pop of color" in the kitchen is nothing new. People used to do it with small accessories like stand mixers or with their kitchen towels. Today, the trend is to take a bolder approach: colorful ranges.
Gone are the days when black, stainless steel, and white were your only choices for your range. Today you can play with colors like bright reds or turquoise blues.
See also: Customized Kitchen Appliances
Planning a kitchen remodel?
A renovated kitchen can feel like a breath of fresh air for your home. Thoughtful design plays a huge role in your long-term satisfaction. If you are contemplating a Seattle kitchen remodel, please feel free to reach out. My interior designer colleagues and I would love to answer your questions and share our ideas.
Guide to Hiring a Remodeler
This comprehensive guide walks you through all the steps of choosing who will design and build your project, vetting remodeling companies, and ensuring that you have the best experience.