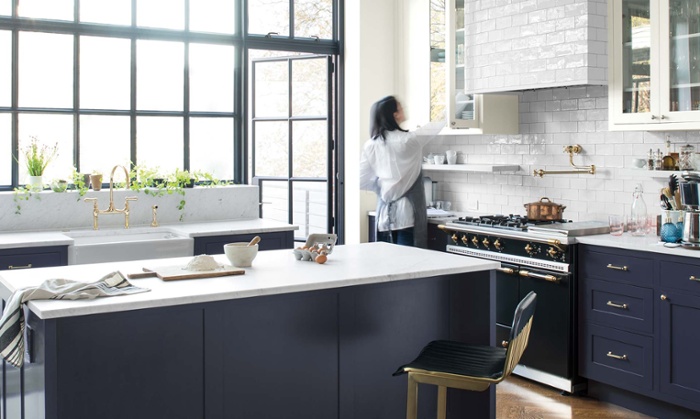 Image: Benjamin Moore.

Over the years, the kitchen has become the center of the home. Rather than being tucked away at the back of the house, modern kitchens have become the main gathering space, where friends, family, and food preparation come together. As such, kitchens are also becoming a place for creative expression. The 2019 kitchen design trends I've highlighted here reflect the growing desire many homeowners have to add drama and eye-catching design to the hub of their home. There is still a desire for clean lines and a crisp appearance, but many of our clients are choosing to step out of the all-white box that dominated kitchen design for so long.

I tend to caution clients away from chasing all the latest trends. The life cycle of many of the hottest fads, as seen on Instagram, Pinterest, and the home remodeling shows, can be quite short. A major kitchen renovation is a significant investment, and most of our clients plan to enjoy their redesigned space for many years to come. I chose the design ideas below because they are on trend but have staying power.
1. Hidden or recessed cabinet handles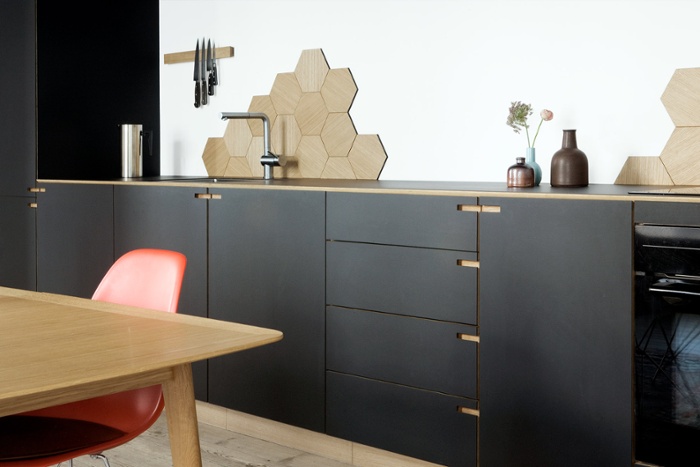 I'm no fan of oversize cabinet pulls. They can be distracting from the overall look of the kitchen. That's why I'm glad to see a new trend toward hidden cabinet pulls emerging. The sleek, streamlined look isn't for everyone or every home, but when done well, it's a good way to eliminate visual clutter from the kitchen.
2. Advanced appliances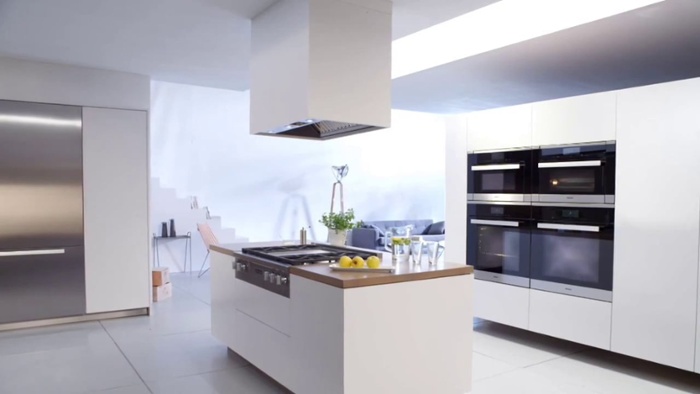 I'm not talking about high-tech gadgetry here, like jumbo touch screens incorporated into the fridge. Rather, I'm looking at practical innovations making their way into the kitchen that help the home cook. Steam ovens, for instance, are gaining in popularity. The technology has been available to professional chefs and bakers for decades, but is only now starting to gain mainstream adoption. I believe 2019 will also be a big year for induction cooking, which can be safer and more effective than cooking with gas. Refrigerators are getting smarter, with more even cooling and more precise controls.
See also: How to Pick Kitchen Appliances for Your Remodel
3. More choices in appliance finishes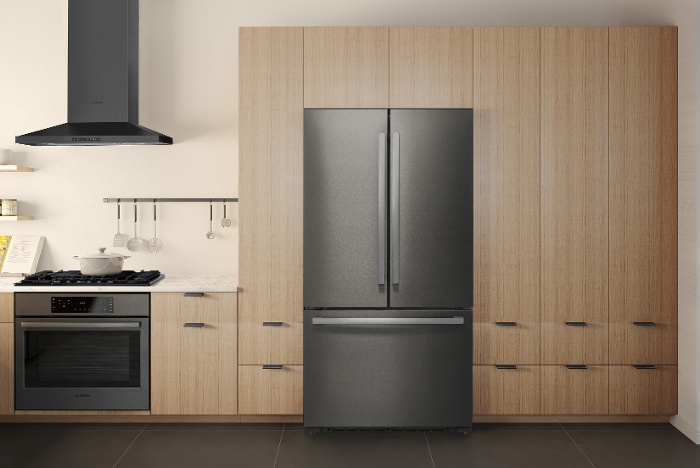 The trend toward darker, matte finishes for kitchen appliances has been gaining speed recently, but 2019 is the year it's going to really take off. Gone will be the sterile uniformity of all-stainless-steel appliances. Taking its place will be a whole slew of colors and finishes to choose from, including matte black, bright blue, and other dramatic colors. Even white appliances, in an icy gloss finish, are making an appearance. But be careful with this trend. Today's cutting-edge graphite range may be tomorrow's "harvest gold."
See also: Customized Kitchen Appliances
4. Painted cabinetry in dark colors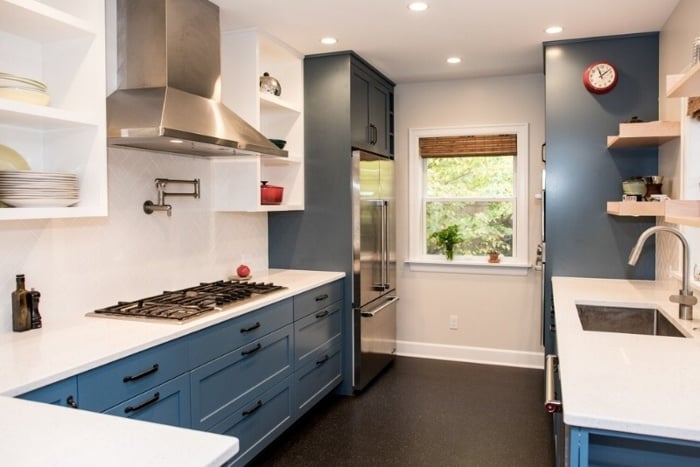 Here's another trend away from uniformity. It's safe to say that the all-white kitchen, which was practically ubiquitous for a while there, is officially out in 2019. The painted cabinet look, however, remains. Replacing the all-white look is a stormy sea of brooding grays, inky blacks, and moody blues. Even deep greens are making an appearance. To keep things from getting too heavy, designers are mixing colors, pairing the dark with light, sometimes white, cabinets. Overall, I welcome this turn to more dramatic palettes.
See also: Face-Frame Cabinetry Is Back
5. Quartz counter tops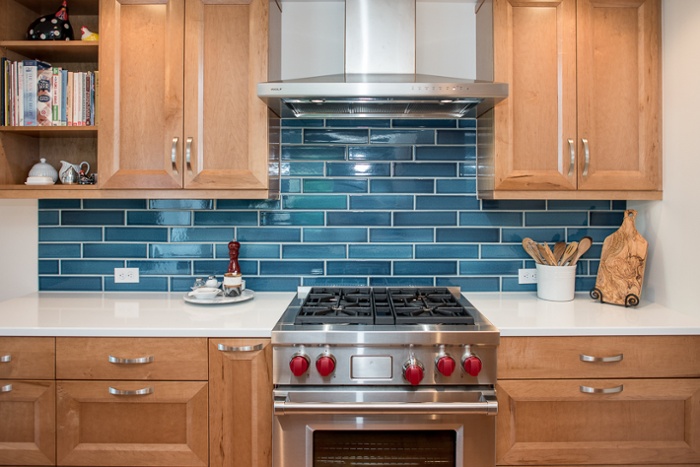 Some trends hang on longer than others, and usually it's because they have a timeless appeal and just work. Quartz counter tops have been popular for years, and their popularity shows no signs of waning. They are durable, come in just about any shade you can imagine, and can be made to mimic nearly any natural stone surface (without the high-maintenance requirements for sealing and protection). Natural granite counters in speckled patterns or brown shades are definitely losing popularity, and white and faux marble quartz is gaining ground.
See also: Pros and Cons: 11 Countertop Materials Compared
6. Single-level islands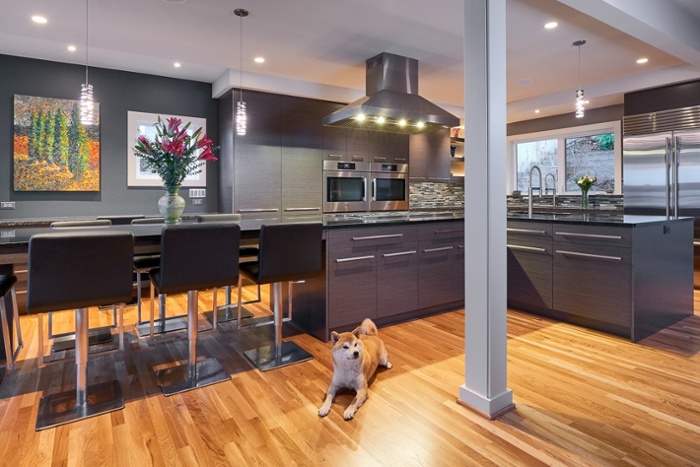 Kitchen islands became all the rage in the early '90s, sporting multiple levels and faux-Tuscan spiral columns. Island design will continue to take a step back and become more streamlined. In 2019, we'll be saying goodbye to the multi-level stair-step-style island in favor of a more streamlined single-level island that does not obstruct the view of the kitchen, adds usable food prep space, and invites closer conversation with the cook.
7. Banquette seats and benches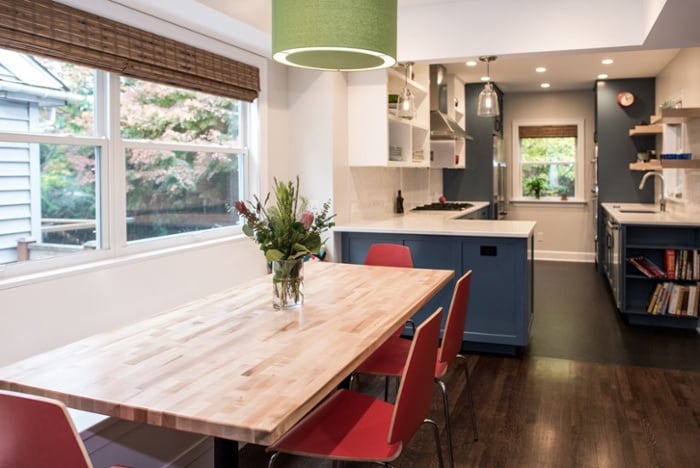 Here's an idea that just makes so much sense, especially in smaller homes, like many of us have in Seattle. Built-in bench seating hugs the wall in a way that chairs can't, and it provides extra storage to boot. When a window is installed over the bench, it can provide those seated with a cozy connection to the outdoors. The only drawback is that those seated on the ends will have to get up to let those in the middle get in and out.
8. Under-counter appliances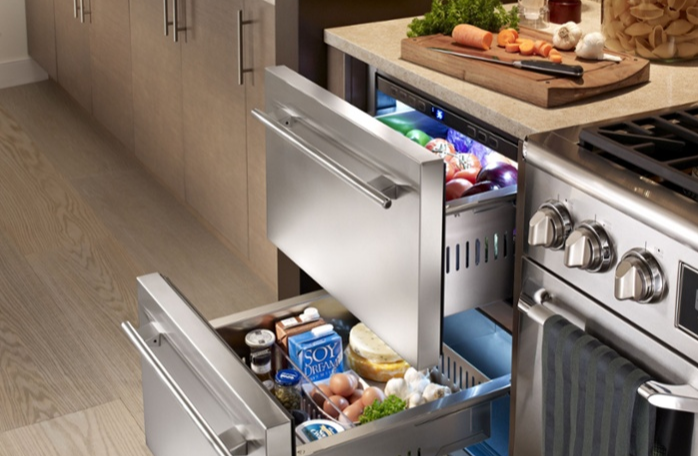 The trend toward minimalism in the home marches on, and homeowners are clearing valuable counter space of bulky appliances. Under-counter refrigerators, microwaves, and other appliances make room for food prep and lend a pared-down look.
9. Column refrigerators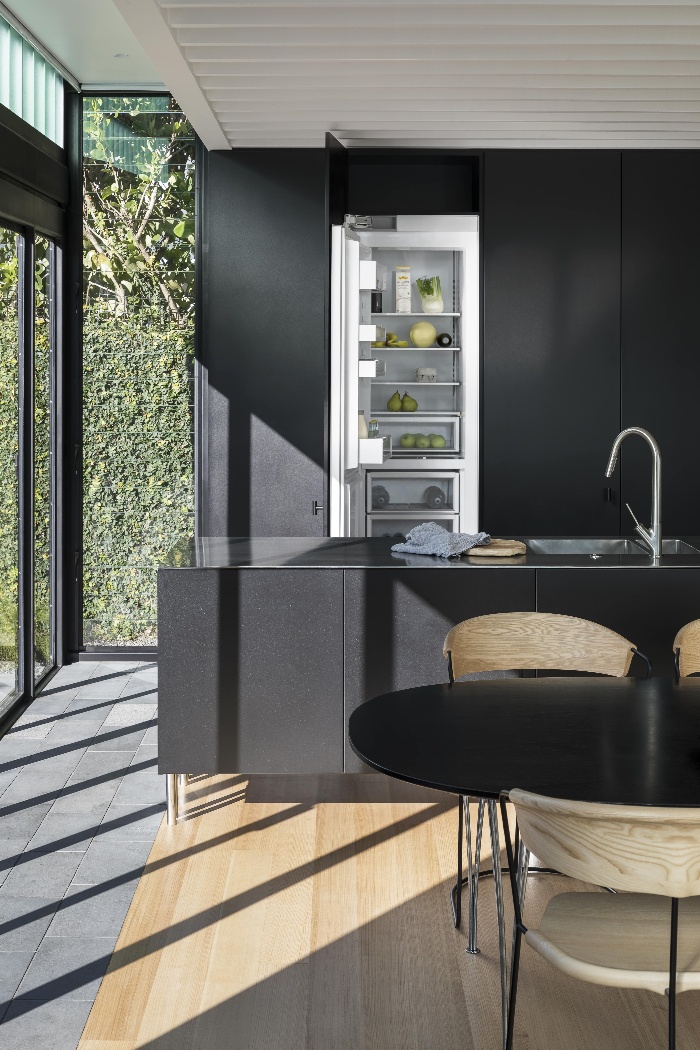 Another way to minimize a refrigerator's footprint is to make it tall and skinny. Column refrigerators take up less floor and counter space and are visually striking.
10. Pendant lights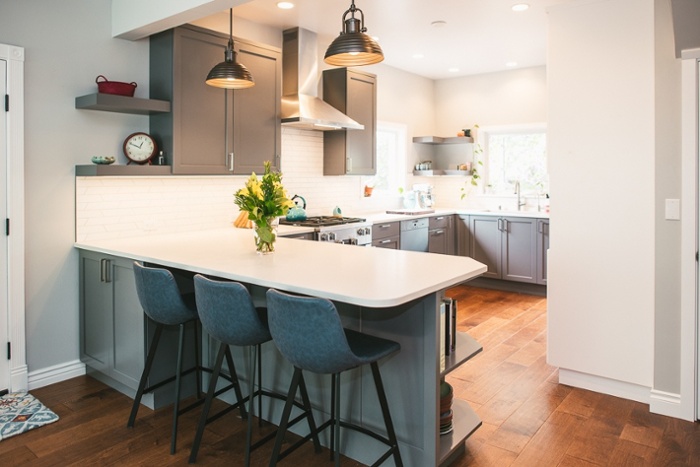 With the popularity of kitchen bars and islands, pendant lighting is a trend that continues to go strong into 2019. Look for bold designs that not only illuminate the space but add visual appeal and personality.
Planning a kitchen remodel?
There's more to creating a kitchen that you will love for years to come than durable buildings materials. Thoughtful design also plays a huge role in your long-term satisfaction. If you are contemplating a Seattle kitchen remodel, please feel free to reach out. My interior designer colleagues and I would be happy to answer your questions and share our ideas.
Guide to Hiring a Remodeler
This comprehensive guide walks you through all the steps of choosing who will design and build your project, vetting remodeling companies, and ensuring that you have the best experience.