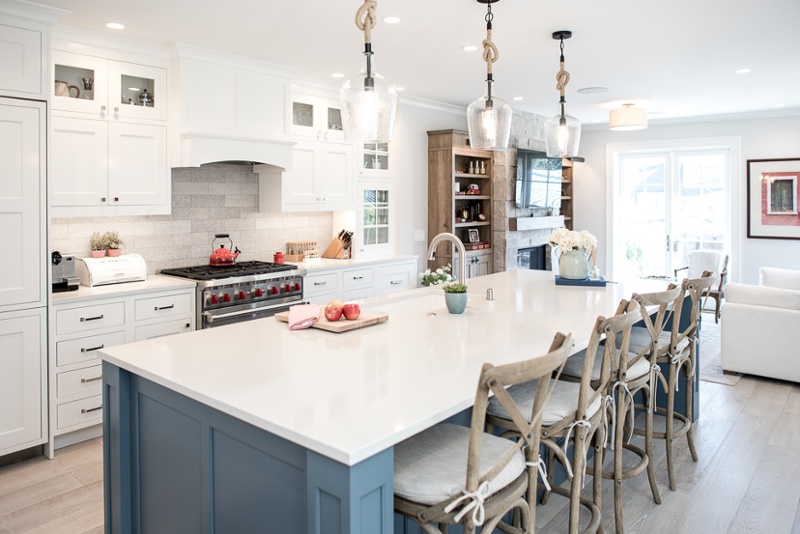 Islands have become an almost essential element of kitchen design. It's no wonder. They're a convenient place to prepare and serve food and are an ideal spot for people to gather while you're finishing some last minute meal prep. Island are popular because they allow you to be productive and socialize at the same time. But one aspect of designing the perfect kitchen island that is often overlooked is the lighting.
A thoughtful lighting design can transform your kitchen island from a barely functional space into the centerpiece of your kitchen. However, because kitchen islands are designed to serve several purposes at once, zeroing in on the proper lighting layout can be a challenge. Let's dive into the five main types of kitchen island lighting and the pros and cons of each. By the end of the article, you'll have the knowledge you need to avoid lighting mistakes that could make your beautiful kitchen island less usable.
1. Pendant lights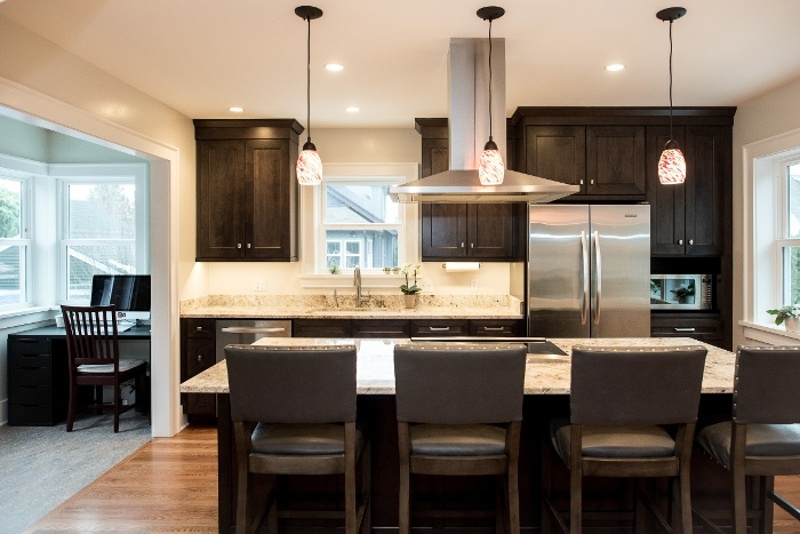 A pendant light (or lights) placed over the island can be the jewelry of the kitchen, an essential fixture that will help with your everyday tasks and set the mood. These lights are suspended from the ceiling by a chain, wire, or pole and are perfect for any directed task lighting. The style of these fixtures adds to the overall impression and charm of your kitchen. However, in choosing the right pendants for your kitchen island, it is important to make sure that these lights won't overwhelm the kitchen's look.
Pendant lights usually come in groups of three, or occasionally two for shorter islands. Some pendant sets are wired to a single wide base that requires just one junction box. For wider spacing and a much cleaner look, I recommend individually wired pendants that each have their own junction box (but are all on the same circuit).
In general, the higher your ceiling and the longer your kitchen island, the bigger your pendants can be. Don't be afraid to use pendants to make a statement, but be careful not to overwhelm the space. It is advisable to hang your pendants approximately 30-35 inches above the worktop surface for optimum task lighting.
2. Clear glass pendants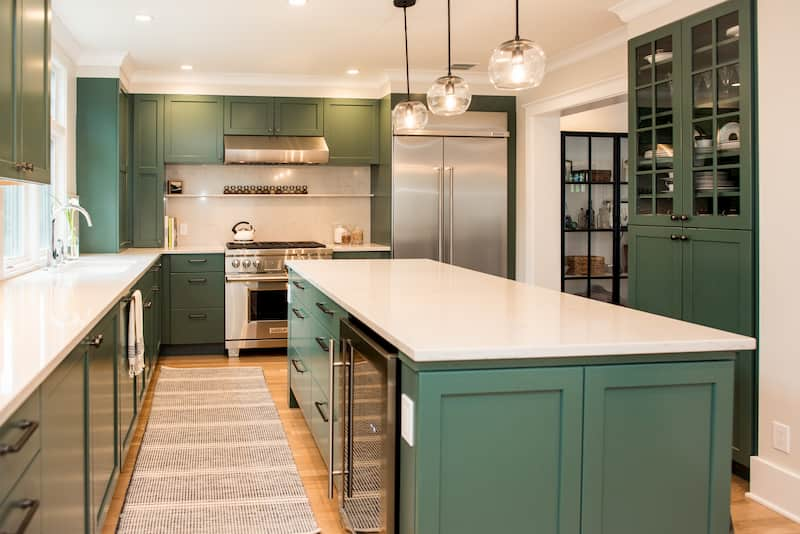 A style of pendant light fixture that has gotten very popular in recent years is the clear glass globe pendant or even bare-bulb pendant (often seen with vintage-style Edison bulbs). These ethereal fixtures can lend an elegant, airy look to your kitchen. Whereas traditional metal or frosted-glass pendants can obstruct sight lines in the kitchen, especially between the cook and those standing next to the island, clear glass pendants can almost fade into the background, making the space feel open and spacious.
The drawback of clear glass is the harshness of the light. Lighting designers have gotten around this by using low-wattage and dimmable bulbs. Edison bulbs are a great example with their low-lumen output. And it makes sense, these pendants are at eye level. You don't want to be looking directly into a super-bright light source. However, the low-lumen output means these lights are less effective at task lighting. They should be approached almost purely as decorative or ambiance lighting. If you opt for clear glass pendants over your island, be sure you have plenty of other lighting in the room, such as recessed lights.
3. Recessed lights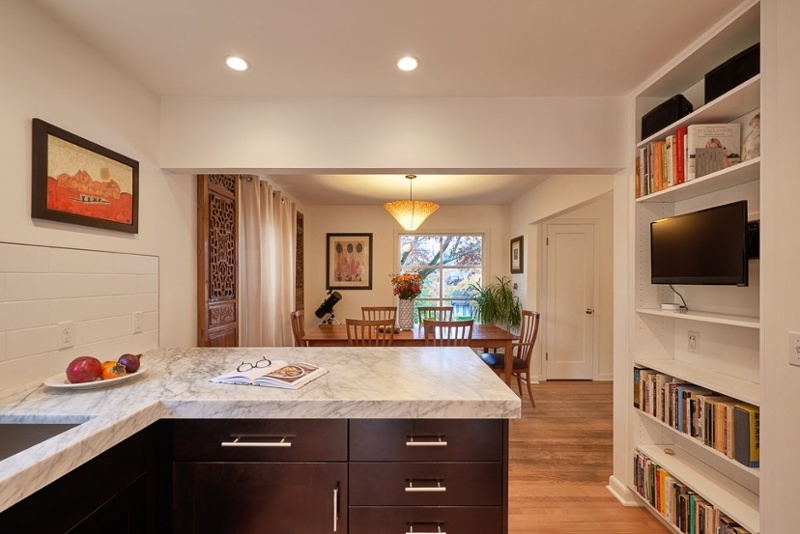 While pendants are the perfect way to add a focal point to your kitchen, that's not always what's desired. Some homeowners opt for the cleaner look of recessed can lights. Recessed lighting is ideal for homes with low ceilings. I also like them for smaller kitchens with attached islands because they lead to a more expansive feeling.
Recessed lights are also referred to as pot lights, can lights, or high hat lights. Most modern designs now have built-in LED lighting elements that are energy efficient and last longer than ordinary light bulbs. Choose the brand carefully. Higher-end models will have better color rendering and a more pleasing light. Be sure you like the color temperature and color rendering because the LED element is designed to last for many years, even a decade or more.
Also pay attention to how focused the light is. Some recessed lights act as spotlights, which are great for task lighting your island's countertop. Others produce a less-focused floodlight effect, which can be useful for general room lighting. If you have planned the placement of your recessed lights directly over the island, go for the spotlight option. If you are working with recessed lights that are in the general area of your island but not centered above it, you may have to choose a floodlight model.
4. Flush-mount and semi-flush lights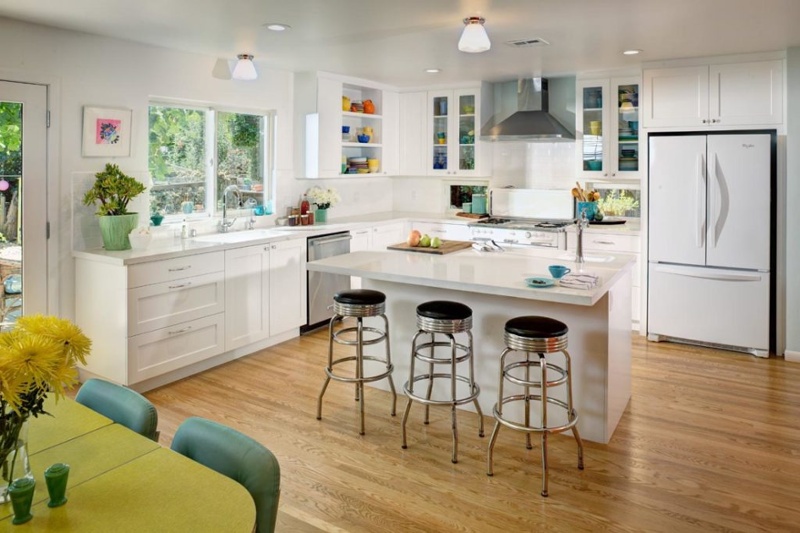 If you are having trouble choosing between a set of flamboyant pendant lights and discreet recessed lights, you should consider a flush-mount or semi-flush fixture. Unlike chandeliers or pendant lights, flush mount lights do not hang down dramatically from the ceiling on a chain or cord. I think these fixtures can look great in a smaller kitchen, especially one in which there are fewer lights installed, and the over-island fixtures are called upon to help light the entire room. Because flush-mount fixtures are mounted right up on the ceiling, they can throw a lot of light and have a wider, more diffuse focus than recessed lights. I recommend frosted or milk glass globes to ensure that the light is diffuse. The harsher light of a clear glass globe or bare bulbs could cast too many hard shadows.
Another benefit of flush-mount lighting is that it catches less dust, which means you don't have to clean them as often. The installation of this type of light is also relatively easy.
5. Chandeliers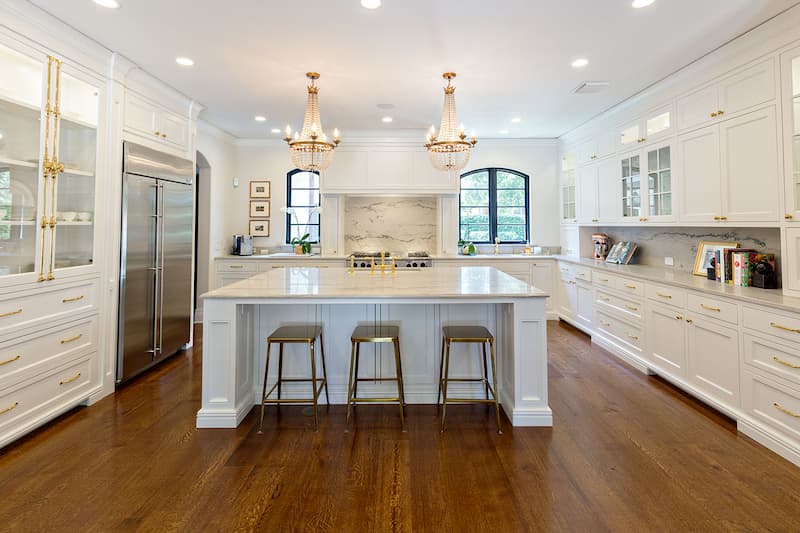 For a luxurious look, consider hanging a chandelier-style fixture or fixtures over your kitchen island in crystal or glass. These types of lights are often larger than pendant lights but still provide adequate lighting over your kitchen counter to make food preparation easier.
However, just like pendant lights and other hanging lights, make sure to take the ceiling height into consideration. Chandelier fixtures have the potential to break up the space, and they tend to work best in larger kitchens with high ceilings.
Ready to remodel?
Thinking about remodeling your Seattle home? We're a team of experienced designers and builders ready to tackle your next major remodeling project. We'll listen to your needs and help you create a custom design that will transform your space and elevate your home. We love incorporating details that really elevate the design and your enjoyment of your home. Contact us today to learn more. Let's get started!
Pin this article to remember it for later
Guide to Hiring a Remodeler
This comprehensive guide walks you through all the steps of choosing who will design and build your project, vetting remodeling companies, and ensuring that you have the best experience.