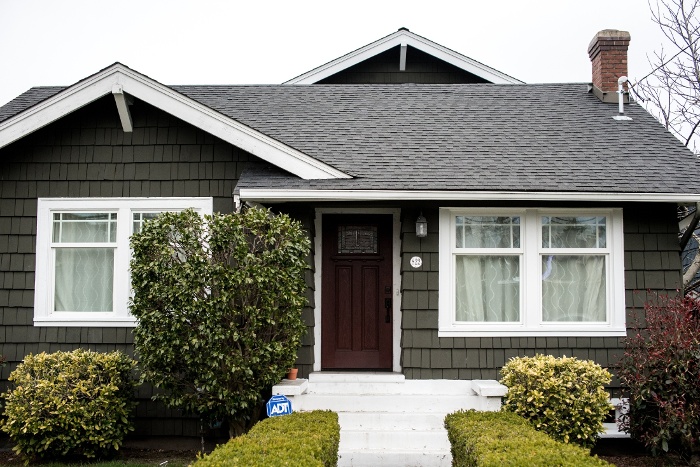 Don't let little exterior maintenance lapses turn into big, expensive problems. When it comes to the longevity of your home, and protecting your investment, repairing and maintaining are usually better options than replacing. Don't wait for something to break before you pay attention to your home.
Here are the top maintenance tasks for the exterior of your Seattle home.
1. Check exterior paint
Look for chipping or flaking and touch up your paint immediately. Always keep extra house paint on hand. You will likely need a ladder to carefully inspect the upper parts of your walls. Don't forget the trim. If you don't feel comfortable climbing, hiring a painter to inspect and touch up paint shouldn't cost much.
See also: A Primer on Paint
2. Trim back plants
Plants and shrubs growing along the perimeter of your house can add curb appeal, but they hold moisture and can lead to rot and pest problems in your siding and trim. Roots from larger shrubs can channel water toward your foundation and even crack the concrete. Take an hour every year to trim back close-growing foliage.
3. Clean your gutters
Gutters move water away from your house and are one of your first lines of defense in keeping your siding from rotting and your basement dry. Make sure they stay free of debris, such as leaves and pine needles, so that water can flow. Even if you don't have any overhanging trees, you still need to check them, as birds and other animals can fill them with debris over time. Installing gutter guards can help, but you still need to check and clean your gutters annually. Do it in the summer while it's nice and sunny. While you're at it, make sure your downspouts are intact and are channeling water away from your home.
4. Review your roof
Taking safety precautions, climb up on your roof and look for shingles that are broken, loose, or missing. Inspect and repair the flashing around dormers, chimneys, vents, and skylights.
See also: Roof Leaks 101: Find and Fix Drips in Your Seattle Home
5. Check your sprinklers
Make sure that your sprinklers aren't watering the side of your home. It can be easy to miss, especially if you've programmed your irrigation system to come on at night. A misdirected sprinkler head can wreak havoc on your siding and lead to serious rot issues, leaky basements, and other expensive damage.
See also: Wet Basements 101: How to Dry Out That Leaky Basement
6. Patch concrete cracks
Many concrete cracks—in your driveway, sidewalks, or garage—are relatively harmless, but you'll want to patch and seal them so water can't get in and freeze, making them worse. There are many premixed products on the market that make it an easy DIY job. Just be sure to follow the instructions carefully and prepare the surface correctly so your repair will last.
7. Inspect your foundation
Cracks in your foundation can also be repaired, but they may signal more serious problems. Take the time to inspect your foundation annually and call in professional help when needed.
See also: Foundation Problems 101
8. Make sure vents aren't blocked
Visually inspect all the vents on the exterior of your home. Remove lint buildup from your dryer vent outlet. Make sure that air intake and exhaust vents are free of debris from animals and insects and that flaps and baffles are operating properly.
9. Seal gaps
Look for cracks and gaps in your trim and siding, especially around doors and windows and at siding joints. Seal gaps with an exterior-grade caulk and paint to match your house.
10. Clear brush from electrical wires
Go outside on a windy day and make sure that your tree limbs aren't blowing into your electrical lines. If they are, contact an arborist at Seattle City Light.
11. Check your deck
Repair or replace loose boards and posts. Use a pressure washer to thoroughly clean the surface and add a coat of sealer if needed. The trick is to regularly add new coats so the sealer never gets to the point of failure.
12. Clean concrete
Moss, mildew, and other slippery things can build up on driveways and walks. It's a good idea to pressure wash your concrete at least once a year. Add a detergent formulated for mold and mildew to blast it away faster.
Starting a remodel
Maintaining your home is the first step, but you may be looking at changing and upgrading it as well. Our team here at CRD has decades of experience renovating older Seattle homes and will take care of issues caused by deferred maintenance in the process. If you are interested in discussing your unique situation, please don't hesitate to get in touch.
Note: We make no claims or warranties as to the completeness or accuracy of the information on this page. We encourage you to confirm all information you read here. Any action you take based on the information on this website is strictly at your own risk.
Guide to Hiring a Remodeler
This comprehensive guide walks you through all the steps of choosing who will design and build your project, vetting remodeling companies, and ensuring that you have the best experience.