Chevron to herringbone. Basket weave to Spanish bond.
Geometric patterns have always been a major component in architecture and interior design. Contemporary and modern design trends have consistently moved toward the order and rhythm found in geometric patterns. Gone are the days of ornate and busy patterns of flowers and roosters on kitchen wallpaper. Check out a few of our favorite kitchen backsplash design ideas, from classic to modern. Click on any of the illustrations to jump to the corresponding photo on our Pinterest Board.
MINI HERRINGBONE

Well, hello there mini herringbone! The small scale of this herringbone ceramic tile paired with the contrasting color detail is just enough to make a big impact.
Analagous Basketweave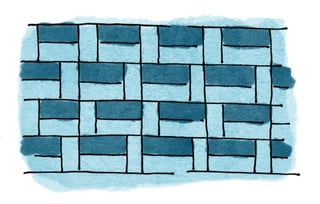 Bright and bold, these small tiles pack a punch with their analogous color scheme and combo staggered/basketweave pattern.
VARIED SIZE CERAMIC

This varied-size ceramic tile pattern does double-duty for us in Our Favorite Ways to Mix Metals. Check that Pinterest board out, too!
All in the Family
Modular tiles in the same family can be used together in a banded pattern like this while ensuring your grout lines match. For ease of installation and keeping future maintenance low, use the same type of tile (ceramic, porcleain, etc).
Pre-Cut Chevron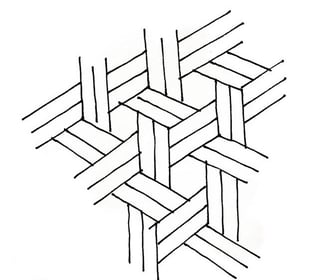 Pre-cut chevron tiles will save you a boat-load when it comes to install & waste! Remember that you'll be paying for each cut when considering a chevron pattern.
Classic Herringbone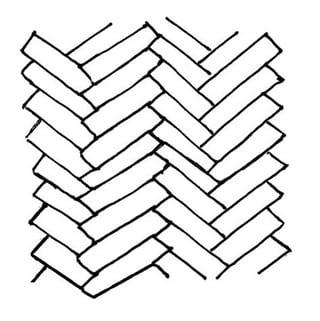 No list would be complete without the classic herringbone. To spice this baby up, consider a tile that has a handmade look or a slightly uneven surface texture.
Encaustic Cement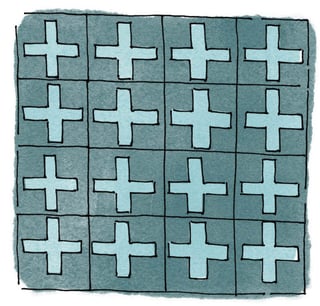 The fireplace is the perfect place for bold and beautiful encaustic—or cement—tiles. Since there is no exposure to water or cleaning chemicals, the colorful, matte surface will last forever.
Lantern Pattern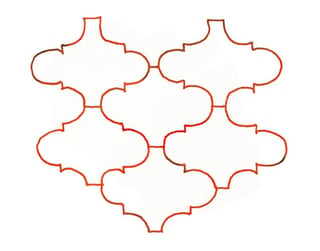 Look at this chipper and cheery tangerine grout! This is such a simple way to add so much style to a space and modernize the look of the traditional lantern shape. Grout can end up becoming an afterthought in a tile backsplash, but we're bringing lowly grout into the spotlight!
Patterned Penny Tile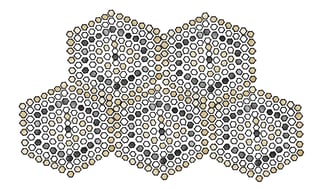 Super economical penny tiles can be installed with an infinite number of patterns and colors. You'll pay your installer a little more to place all those little tiles, but it's so worth it!
Mosaic Fish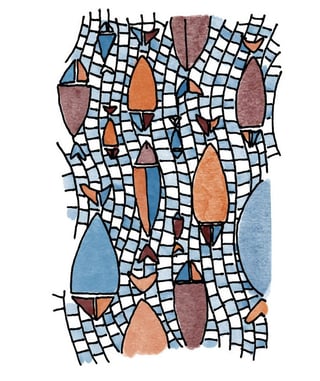 What can we say about these little glass mosaic fish? Okay, maybe not in your kitchen, but how about your lake house powder room? Or pool house? We say yes!
Simple Squares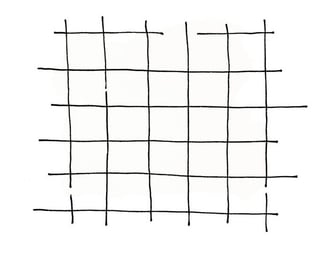 Le Corbusier said, "Less is more," and sometimes we agree. Try pairing the humble (and very economical) ceramic 4"x4" tile with dark grout for graphic drama.
Happy Scales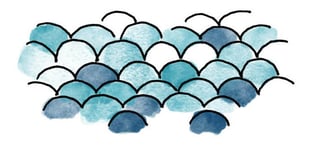 Can these tiles be any more happy? Gradient colors add a bit of whimsy to the simple fish scale shape. Can you see yourself looking at these babies everyday? We can!
3-D Boxes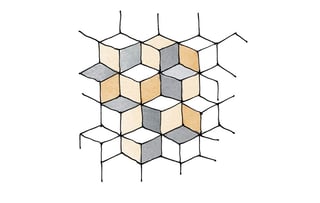 Just look at these gorgeous Italian tiles! The best part is that they won't break your tile budget.
What's your perfect pattern?
I hope you've enjoyed getting to know some of our favorite geometric kitchen backsplash tile ideas. As you can see, tile pattern possibilities are limited only by your imagination. Use them as a jumping off point to plan your own pattern.
My interior designer colleagues and I here at CRD love guiding clients through the process of selecting a kitchen tile backsplash, grout, and accessories for kitchen and bath remodels, big and small. There are just so many creative tile options! To learn more about our interior design and architectural services, give us a call at 206-782-6959 or fill out our online contact form.
See Our Favorite Geometric Tile Patterns on our Pinterest page.
Guide to Hiring a Remodeler
This comprehensive guide walks you through all the steps of choosing who will design and build your project, vetting remodeling companies, and ensuring that you have the best experience.