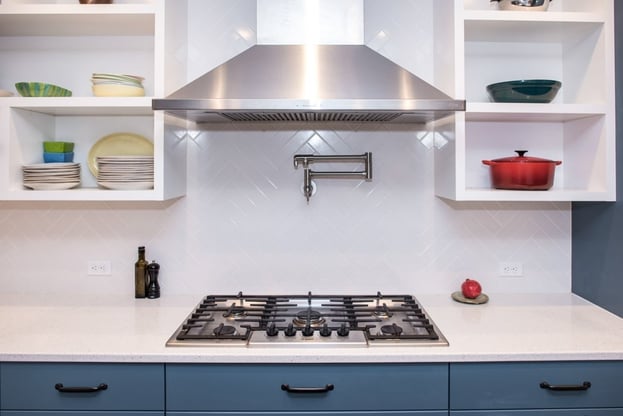 Here's a question we hear a lot here in the CRD design center: What's the difference between a natural stone slab and a manufactured countertop, like quartz? It's no wonder because almost every major remodel project, from a kitchen to a bath, requires the installation of new countertops. Read on to find out the key differences between natural and manufactured countertops so that you can decide what's right for you.
Natural Stone
We'll start with natural stone since, well, it's literally been around for millions of years. Huge blocks of granite, marble, slate, and other types of stone are quarried from the ground, cut, and sliced into slabs, and polished.
Manufactured Slabs
Manufactured quartz countertops are created in a factory by combining natural stone bits with pigments and binding it together with acrylic or polyester resins. Manufactured slabs can also be made with a porcelain-like material, such as Lapitec.
Here's how these two types of surfaces compare:
Color
Natural:

Variable. No two slabs are the same.

Manufactured: Color consistency throughout.
Durability
Natural: Granite can be very hard and durable. Other types of stone, like marble and soapstone, are softer and more prone to damage.
Manufactured:

More durable than natural stone but can still be damaged by impact and heat. Use a trivet under hot pans.
Porosity
Natural:

All natural stone is porous and must be sealed periodically to avoid staining.

Manufactured: Nonporous. Does not require sealing.
Cleaning
Natural: Easy to clean once sealed.
Manufactured: Very easy to clean. Just wipe down with soap and water.
Seams
Natural: Visible, especially on slabs with large patterning.
Manufactured: Can be very inconspicuous, especially between slabs of consistent color.
Which type of countertop is best?
Natural and manufactured slabs can each be an excellent choice. These days, more than 90% of our clients choose solid-surface quartz countertops because of the durability and easy maintenance. Manufactured stone has come a long way, and we offer hundreds of colors and patterns to choose from in our design center. Costs for high-quality manufactured and natural slabs are roughly comparable, but you will likely pay more for extremely unique natural slabs with lots of "movement," meaning unique patterns of crystals and color that seems to flow through the stone. If you want to make a bold statement, a natural slab would be a natural choice.
Want help choosing the right countertop material for your kitchen or bath? Feel free to get in touch. Our design team would be happy to answer your questions and tell you more about the design-build remodeling process.
I'll leave you with this excellent video from our friends at Pental Surfaces explaining more about the differences between natural and man-made stone.
Guide to Hiring a Remodeler
This comprehensive guide walks you through all the steps of choosing who will design and build your project, vetting remodeling companies, and ensuring that you have the best experience.