Your kitchen is probably the most used (and abused) room in your home. If you're planning an upgrade, build in these uncommonly durable materials that will make the heart of your home last and last . . . and look great doing it!
1. Quartz countertops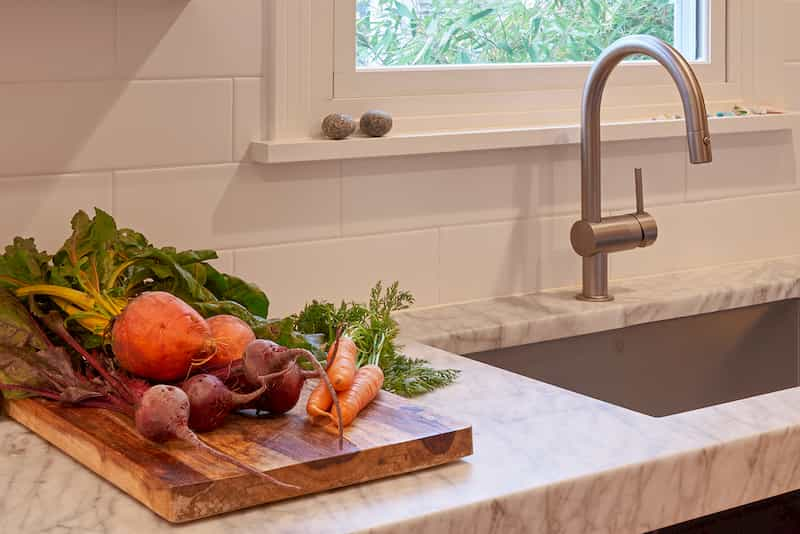 Let's start with the surface that takes the most hits, bangs, scrapes, scorches, and knife scrapes. There are plenty of beautiful countertop materials out there, from wooden butcher block to gorgeous quarried slabs of natural stone, but almost nothing performs better in the long term, day after day, without any fuss, than quartz. That's why almost 90% of our Seattle kitchen remodeling clients choose this amazing material. You can pick a pattern that is nearly indistinguishable from natural stone, or you can go with a more modern monochromatic look in virtually any shade. The great thing about quartz is that it never needs to be sealed, it resists scratching, heat, and acids, and it's super strong.
2. Marmoleum flooring
Made from linseed oil (which comes from the flax plant seed), limestone, wood flour, and jute, Marmoleum is eco-friendly and tough as nails. It comes in sheets and tiles, and there are endless colors and patterns to choose from. If you have kids and pets, you can't go wrong with this flooring material that just laughs at water, grit, and grime. Its inherent anti-static properties even make it repel dust, so it's easy to clean. A less eco-friendly, but just as durable, material is luxury vinyl tile (LVT), which can give you the look of hardwood planks. Both are affordable, durable options for your high-traffic kitchen.
3. Composite sinks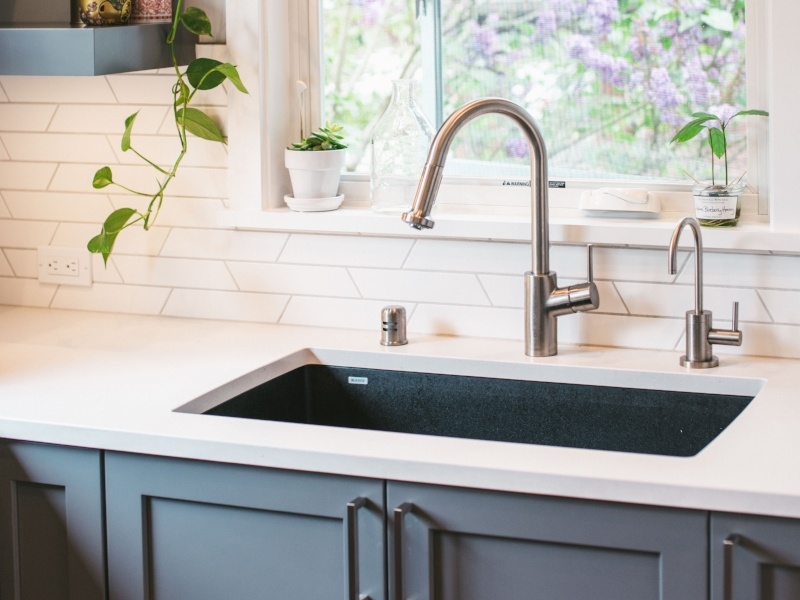 You may be wondering why we're not nominating stainless steel as our durable sink material of choice. While it's true that a solid stainless sink is virtually indestructible, it tends to harbor hard water stains, scratches, and food gunk. Larger stainless sinks, and ones made with thinner metal, can also flex and feel hollow. We're fans of a lesser-known alternative: the granite composite sink. These sinks made of manufactured stone feel as solid as a rock, and their nonporous surfaces are scratch-resistant and easy to clean. Plus, the darker-colored versions are like cloaking devices for dirt and bits of food. Yes, we would all like to believe we will keep that stainless or white enamel sink looking sparkling clean at all times, but composite sinks make daily cleaning, well, optional. We favor composite sinks from the German brand Blanco.
4. Durable cabinets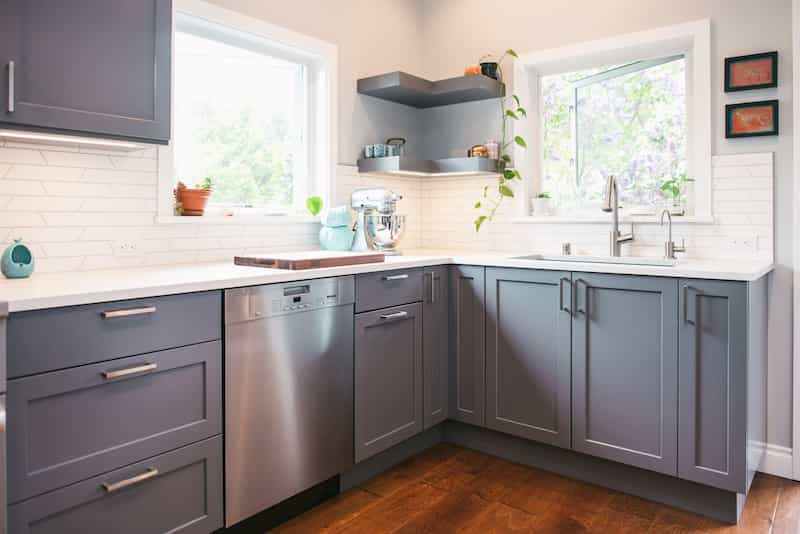 There are many factors that determine the quality and durability of a kitchen cabinet package, but a good start is to narrow your choices to semi-custom or custom cabinets. Ready-to-assemble (flat pack) and pre-made cabinets are certainly cheaper, but they tend to be lower quality and may not last. Most cabinets are made from some sort of engineered wood product, such as particleboard, MDF (a smoother, denser board), and plywood. These products are made to various levels of quality. The surface you see on the outside of the cabinet is often a hardwood veneer or a "thermofoil" or plastic surface made to resemble wood. All can be durable options. When comparing kitchen cabinetry brands, be sure to take a close look at the drawers. Tight dovetail joints are usually a good indication of a durable drawer. As with many purchases, you usually get what you pay for. We often install cabinets built by Bellmont (in Washington) and Crystal Cabinets (in Minnesota).
See also: Kitchen Cabinet Construction 101 [Home Style Choices]
5. Brass faucets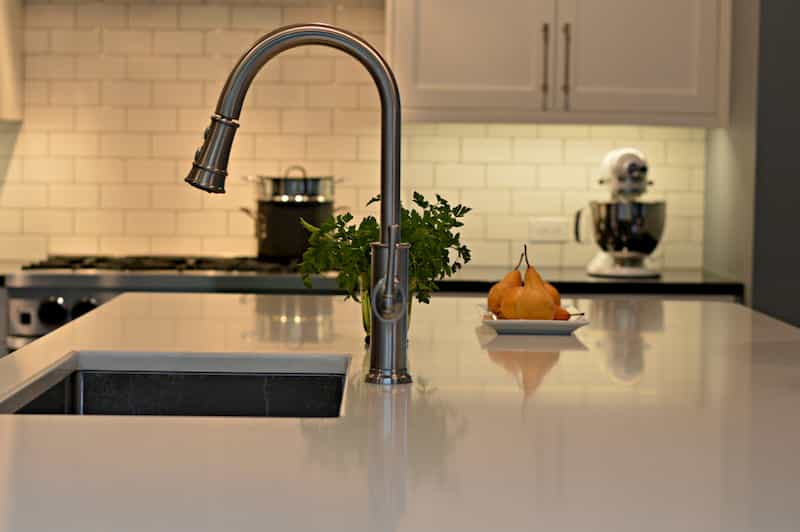 Your kitchen faucet gets a ton of use, so it must be able to take regular wear from handling and cleaning. Look for a faucet with a solid brass body, which lasts longer and stands up better to corrosion than other metals. (The body of the faucet is distinct from the metal finish, which can be chrome, stainless steel, bronze, etc.) Avoid faucets with cheap zinc-alloy bodies or, worse, plastic. They simply don't last. Pick a faucet with a "lifetime" satin finish that resists water spots and fingerprints. Save the polished chrome for the powder room. Another factor is the valve. Opt for a super-reliable ceramic disc valve instead of a cartridge valve that will wear out quickly.
Planning a kitchen remodel?
There's more to creating a kitchen that you will love for years to come than durable buildings materials. Thoughtful design also plays a huge role in your long-term satisfaction. If you are contemplating a Seattle kitchen remodel, please feel free to reach out. My interior designer colleagues and I would be happy to answer your questions and share our ideas.
Guide to Hiring a Remodeler
This comprehensive guide walks you through all the steps of choosing who will design and build your project, vetting remodeling companies, and ensuring that you have the best experience.