We ask a lot of our bathrooms. Not only do we expect them to look like a beautiful personal oasis, but they have to stand up to tons of abuse—steam from showers, heavy-duty cleaning products, and water everywhere. That's why it's important to choose your bathroom building materials wisely. Follow these tips for a bullet-proof bathroom that won't break the bank.
1. Quality cabinets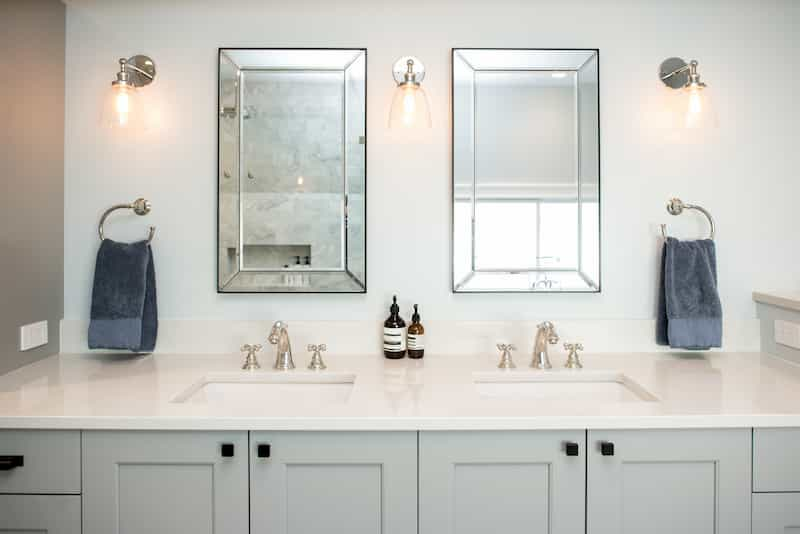 Cheap bathroom vanities abound. The big box stores and online retailers are chock full of trendy-looking bathroom cabinets, but here is one place to resist the temptation to save a few bucks. Cheap particle board tends to swell in moist environments, and thin laminate finishes begin to peel off. It can get so bad that the door hinges pull right out of the soft wood. In short, your budget bathroom cabinet ends up looking like a disaster after just a few short years. Stick to a reputable supplier of high-quality semi-custom cabinets that are built to last. Quality MDF cabinet boxes resist warping better than solid wood, and furniture-grade plywood is also an option. We often use Bellmont Cabinets (built right here in Washington) and Crystal Cabinets (built in Minnesota).
See also: Save or Splurge: Master Bathroom Remodel
2. Quartz countertops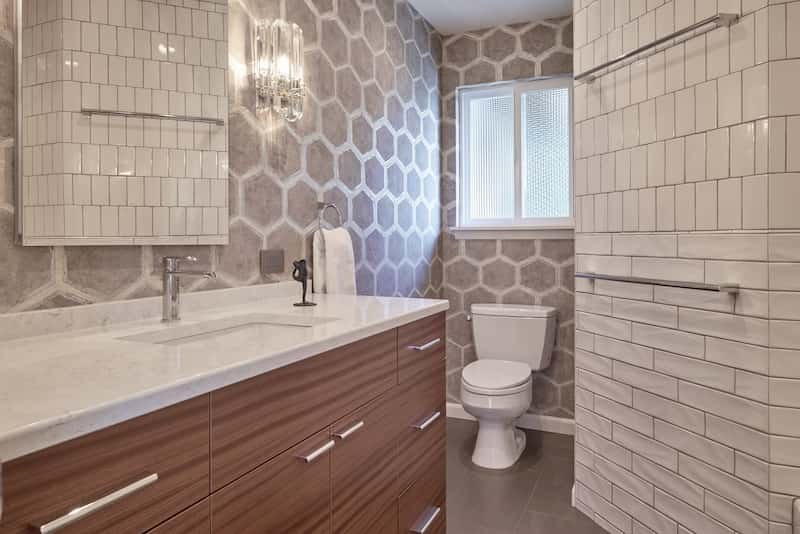 Bathroom countertops are another area worth investing in. Avoid inexpensive laminates over particle board, which are prone to the same moisture and swelling issues mentioned above and can be easily burned by a hot curling iron. We usually recommend solid quartz countertops. They are ultra durable, come in a wide array of colors, and never need sealing. Most clients choose quartz over natural stone in the bathroom because it is so low-maintenance and holds up well to harsh cleaning products. And because bathroom countertops can be relatively small, you can even save some money by shopping for quartz remnants.
See also: Pros & Cons: 11 Countertop Materials Compared
3. Glass shower dividers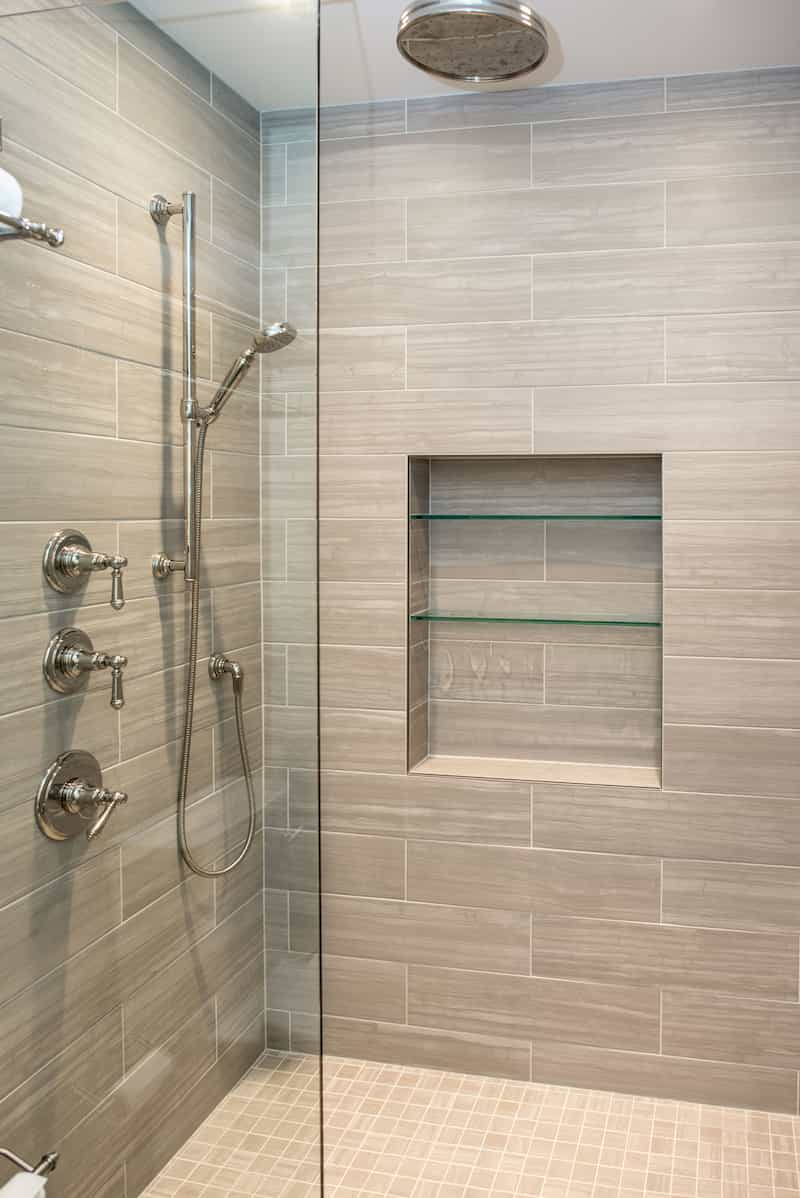 A sheet of beautiful tempered glass does wonders for a bathroom. It creates a wonderful open feeling and will last forever. (I'm sure you've experienced dreaded vinyl shower curtains, which are prone to mold and need to be replaced again and again because they're impossible to really clean.) Glass, on the other hand, can be quickly wiped down with a squeegee. Many of our clients choose Starphire glass, which is an ultra-clear product that doesn't have a green tinge, like normal tempered glass. We almost always recommend fixed panels or frame-less doors because they are not prone to derailing, and there are no tracks to harbor grossness.
See also: 7 Smart Steps to Bathroom Universal Design
4. Porcelain tile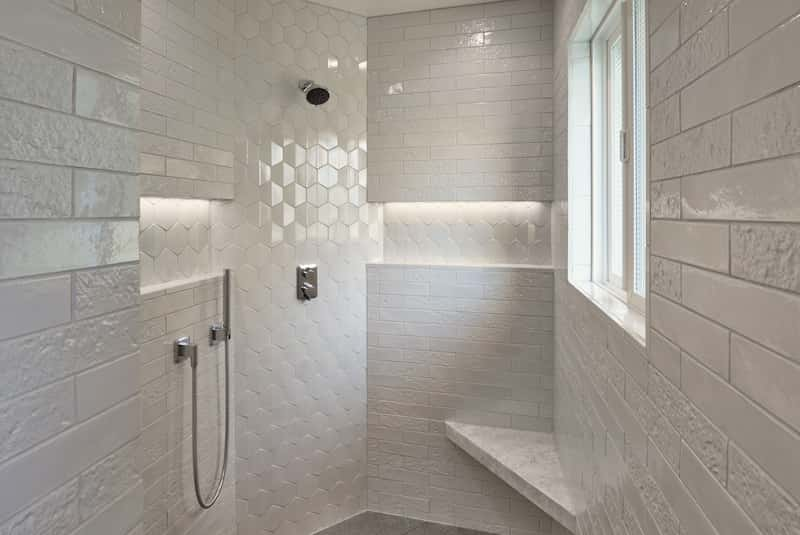 Glazed porcelain tile has been a bathroom mainstay for ages. That's because it's almost ideally suited for wet environments. The dense porcelain simply does not absorb water (0.5% porosity) and is virtually stain-proof. It can, however, be slightly more expensive than mass-produced ceramic tile, although the opposite is true when you start looking at handmade ceramic tiles, which are the priciest of all. Because porcelain is heaver and a bit harder to work with, installation can cost more, too. But the extra cost is worth it. Porcelain can be used for flooring, sink backsplashes, accent walls, wainscoting, and shower surrounds. If you choose tile flooring, make sure it's slip resistant. Ask for a stain-proof epoxy or urethane grout that doesn't need resealing.
For those who like the look of hardwood flooring, there are large-format porcelain tiles that closely mimic the look of wood planks but are much more resistant to water. We often install electric radiant heat systems under tile floors in bathrooms for a cozy feeling on your feet.
See also: 5 Secrets to Choosing Tile
5. Luxury vinyl tile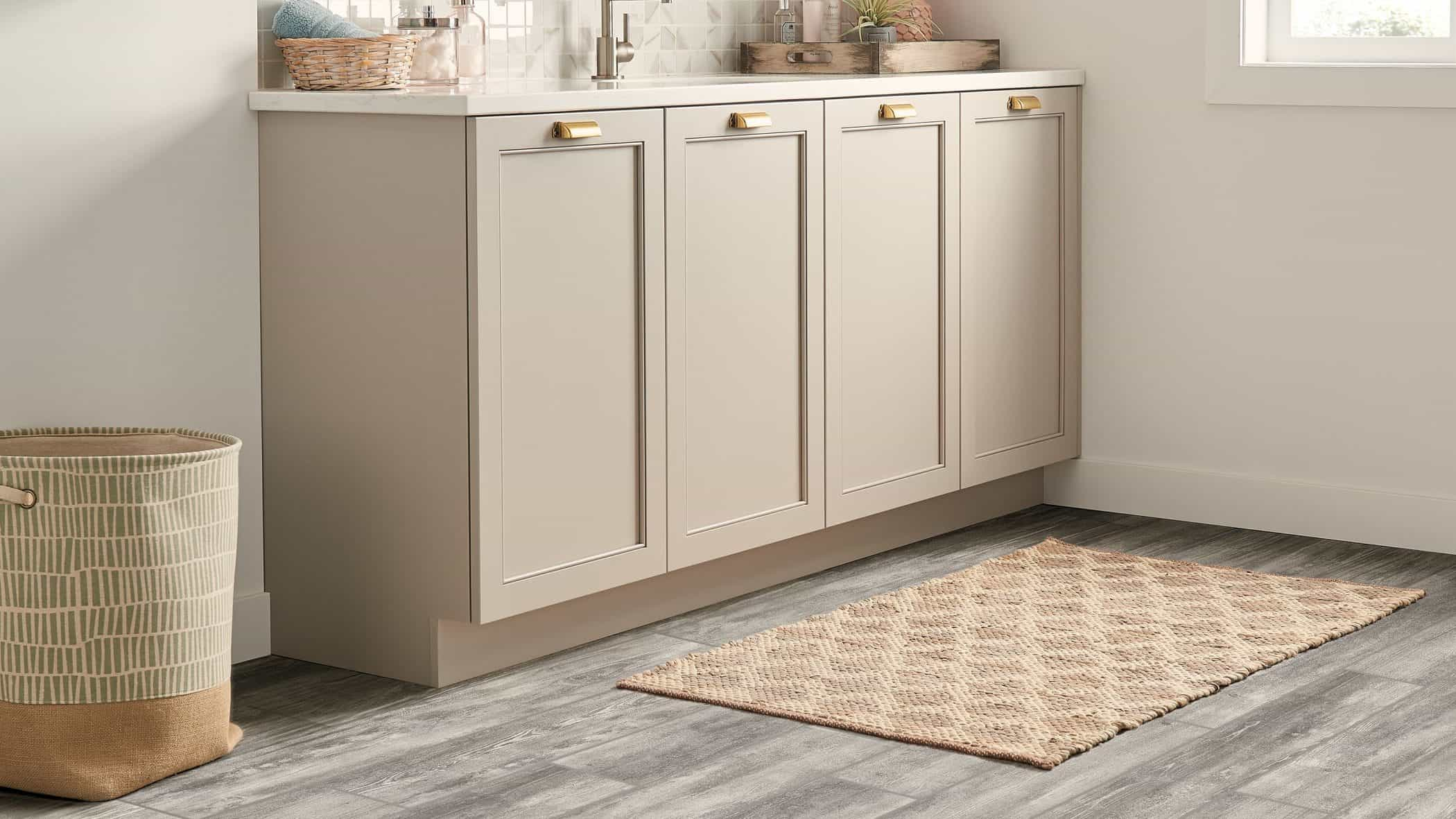 Image: Armstrong Flooring
I know, sheet vinyl flooring has been synonymous with cheap builder-grade interiors of the 1980s, but that's beginning to change as more and more homeowners embrace luxury vinyl tile (LVT). It looks so similar to wood planks that you may have walked on it without even knowing it. Some LVT styles lock together, and the material itself is waterproof. In the case of floor damage from a tub overflowing, you can remove the LVT, replace the subfloor, and reinstall the LVT. In the same scenario, tile would need to be busted out to fix the flood damage and then replaced with new. In case you can't tell, I really like LVT. It's warmer on the foot than tile and it can be installed over radiant heat, too. The colors, styles, and textures of LVT have come a long way and look great!
6. Wallpaper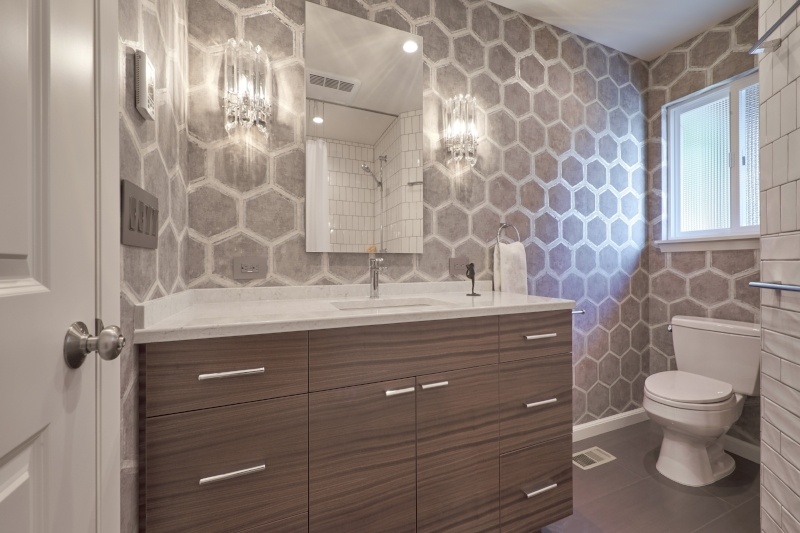 Yes, you read that right! Don't fear wallcoverings in bathrooms. Everyone thinks water and steam hurt wallcoverings, but you actually use water to install the material. True, if you have a poorly vented bathroom that holds moisture, the life of your wallcovering will be shorter, but so will that of everything else in the room. When installed correctly, wallcovering is an excellent way to enhance a bathroom. Just use common sense. When you use wallpaper, opt for a slightly taller backsplash to protect the area behind the sink from soaps, oils, and cleaners. Natural papers are fine, but a vinyl wallcovering is even more durable and can be easily cleaned.
7. Glossier paint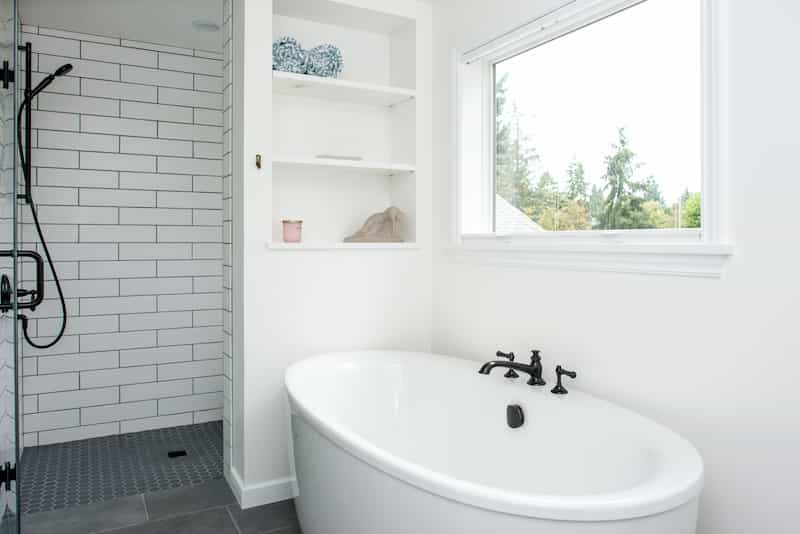 Choosing a nice semi-gloss paint is a simple, inexpensive way to keep your bathroom looking fresh. Moisture and residue from products like hairspray can be easily wiped away. Even so, good ventilation is still a must, or else you will get yellowish drip marks where water condenses on the walls. Gloss paint is easiest to clean, but the shiny look is a bit much for the walls. Use it on baseboard and stick to semi-gloss for the walls. Save the matte paint for bedrooms and other dryer parts of the house.
See also: A Primer on Paint
8. Panel-style shower enclosures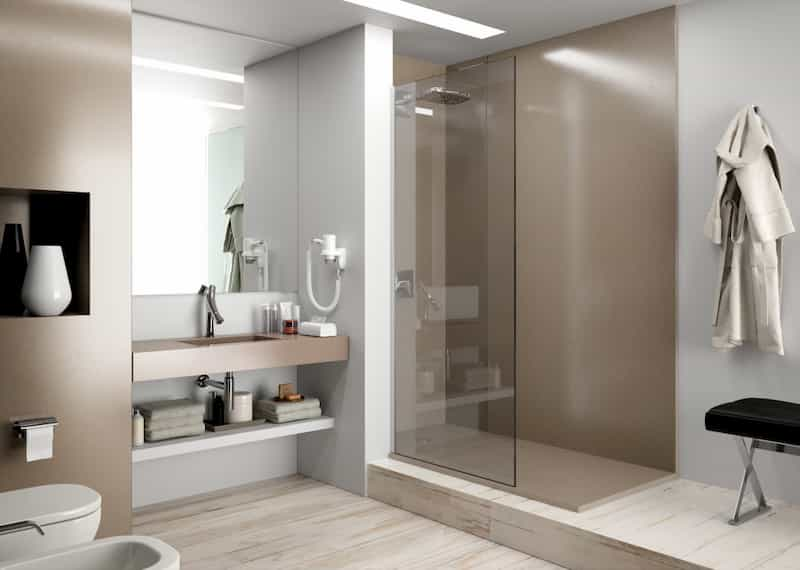 Image: Silestone
While porcelain tile is an excellent choice for your shower surround, it can get a bit pricey if you stray from the most basic options. If you want to save some money on installation, or want a smoother look, consider one of the solid-surface sheet materials available, such quartz or engineered marble. The drawback is that you will have to periodically re-caulk the seams to keep them waterproof. Avoid thin acrylic sheet products and one-piece fiberglass inserts, which are prone to scratching and, frankly, aren't very pretty to look at.
9. Cast iron tub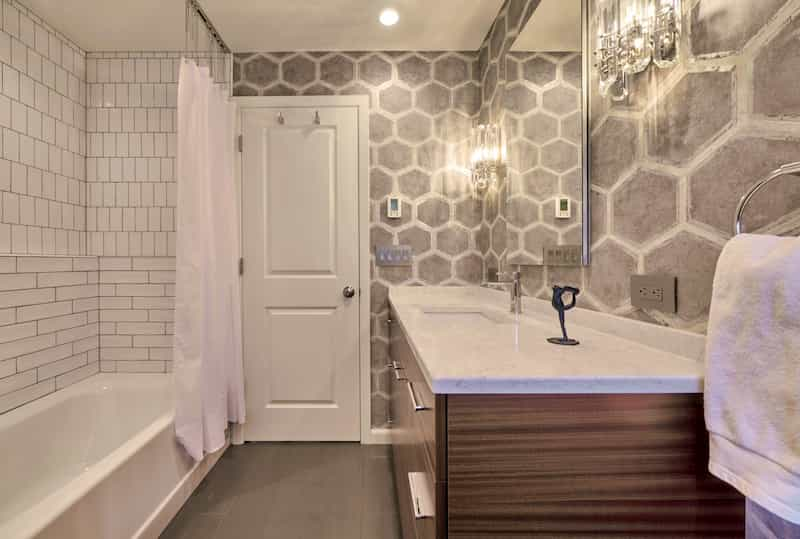 Many homeowners are opting for walk-in showers these days, but it's still good to have at least one tub in your home. We recommend cast iron tubs coated with porcelain enamel. They can weigh up to 500 pounds, which can complicate second-story installations, but they are extremely durable, hold heat well, and have a nice solid feel underfoot. Unlike enameled steel tubs, they are more resistant to chipping when struck by falling objects.
See also: Should I Replace My Bathtub with a Shower?
10. Wet bathroom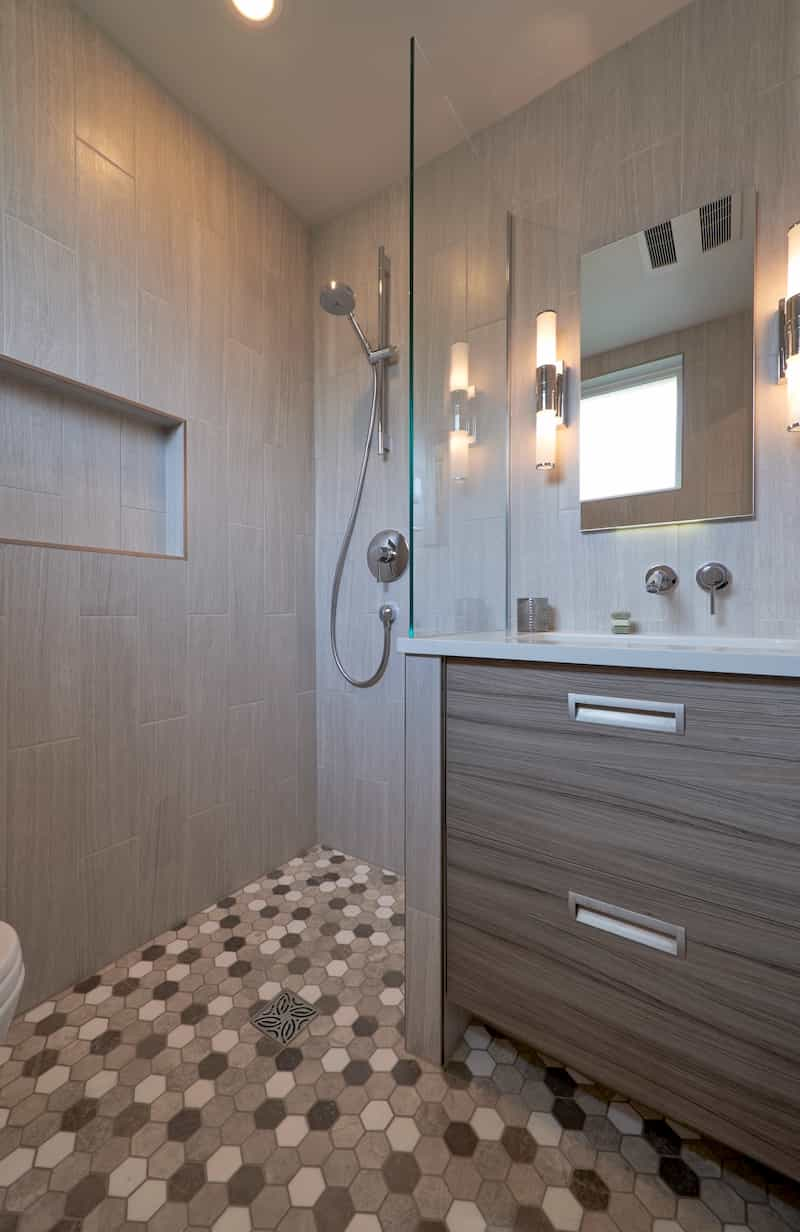 For the ultimate in durability, we recommend the wet bathroom concept. Simply put, a wet bath is a bathroom – sink, shower, and toilet – that is finished so that all surfaces can be wet or damp. Typically, a shower curtain or shower glass is needed to protect surfaces near a bathtub or shower, but not in a wet bath. Tile is used on all floor and wall surfaces, and the whole space is waterproofed by a professional tile installer. Wet baths allow for open, modern layouts without the need for shower curtains or glass doors. A side benefit is that they can be created from much smaller spaces. With Seattle bathrooms, space is often at a premium, and the wet bath concept can open up many possibilities.
See also: What Is a Wet Bathroom? [CRD]
Planning a bathroom remodel?
There's more to creating a bathroom that you will love for years to come than durable buildings materials. Thoughtful design also plays a huge role in your long-term satisfaction. If you are contemplating a Seattle bathroom remodel, please feel free to reach out. My interior designer colleagues and I would be happy to answer your questions and share our ideas.
Guide to Hiring a Remodeler
This comprehensive guide walks you through all the steps of choosing who will design and build your project, vetting remodeling companies, and ensuring that you have the best experience.