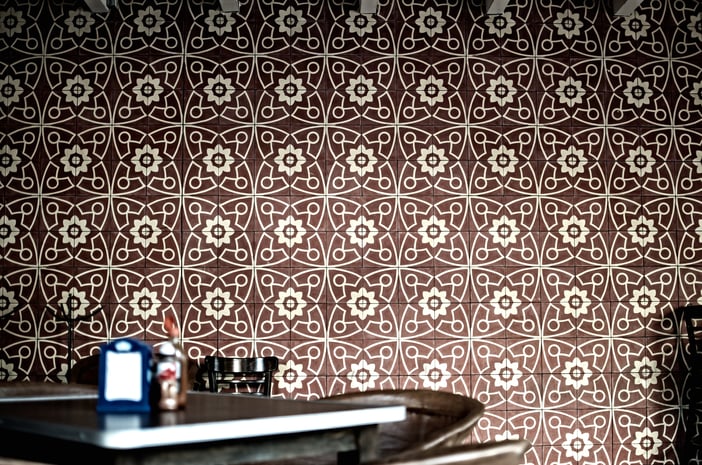 If you've been paying attention to pins and posts about interior design lately, you're sure to have seen cement tile in kitchens, baths, and every room in between. Also called encaustic tile, this boldly patterned material can certainly liven up your space, but there are some considerations before you hop on board this mutli-colored bandwagon. Here are the ins and outs, pros and cons of this 800-year-old material and my tips for how to use cement tiles in your home.
What is cement tile?
The history of this material dates back to the 13th Century and its creation involves things like "medieval enameling" and "beeswax paint," but let's skip ahead to modern day production techniques. Today, most encaustic tile is still made by hand. In essence, each square tile is a tightly compressed sandwich of three layers: a pigmented marble-and-portland-cement slurry that's poured into a patterned mold. (This is the decorative top layer.) A dusting of fine sand and cement comes next, and finally concrete, which forms the underside of the tile. Unlike porcelain or ceramic tile, cement tile is not fired in a kiln but is left to air dry until very hard. This excellent video from Mosaic del Sur shows the painstaking process of making gorgeous encaustic tile by hand:
The important takeaway is that the lovely surface color and pattern is a top coat over a thick body of cement. Cement tiles are often ½"-¾" thick and quite heavy, which you should consider when incorporating this material into your design.
Cement tile pros and cons
Are you still in love with the look of encaustic tile despite its unique characteristics? Here are my tips to help you determine if they are a good fit for your project:
Durability: The patterned topcoat is much less durable than a glazed ceramic or porcelain tile. The surface will age and weather over time, which can be a pro if that's the look you are going for. But if scratches, chips, and uneven color with ruin your day, this is not the tile for you. Also, keep in mind that higher-traffic areas will weather faster.
Maintenance: You have to be okay with the lifetime of maintenance required to keep your tiles looking their best. If you have cement tiles on a wall, like a fireplace or backsplash, no need to worry. But if you have these tiles on the shower floor, you'll need to buff and reseal them yearly. Check with the tile's manufacturer and your tile installer for recommended maintenance. See also: Maintenance Guide [Clé Tile]
Pattern and color: One of the biggest advantages is the seemingly endless array of patterns and colors coming out every year. From geometric black-and-white zigzags to vibrant tropical-colored floral patterns, there is a tile for every project. As you start to look for the perfect tile, make sure you keep in mind the rest of the materials in your space and err on the side of minimalism. After all, less is more. See also: How to Mix Metals in Your Design Project
Alternative materials: Did I scare you away from the cement tile craze? Don't worry, if the maintenance is just too high for you, there is a great alternative: porcelain "cement" tiles. Manufacturers are developing more lookalikes that feature many of the same colors and patterns but provide the excellent durability and low maintenance of porcelain. Another advantage: these tiles come in various sizes, unlike their 8" x 8" cement cousins.
See also: Cement Tiles We Love! [A CRD Pinterest Board]
If you are interested in incorporating cement tile (or a porcelain alternative) into your Seattle remodel, please feel free to get in touch. My fellow CRD interior designers and I would be happy to help you explore your options.
Guide to Hiring a Remodeler
This comprehensive guide walks you through all the steps of choosing who will design and build your project, vetting remodeling companies, and ensuring that you have the best experience.