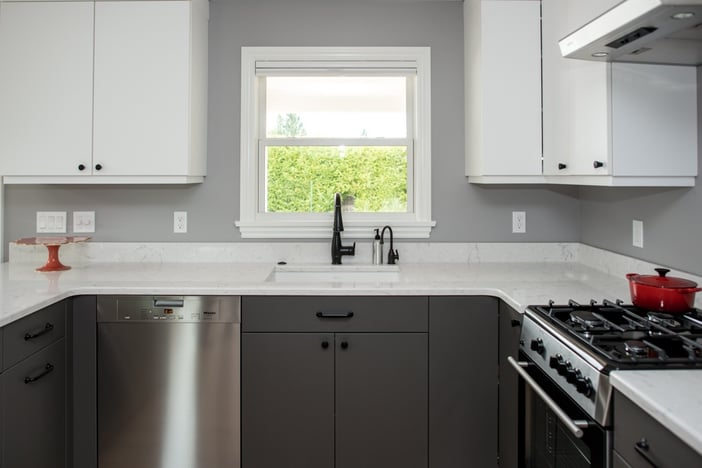 When it comes to redesigning your kitchen, choosing sparkling new appliances can seem like a lot of fun after making tougher decisions, like choosing the perfect new layout. But before you go appliance shopping, there are a few things you can keep in mind so you don't make any mistakes that will cost you money or lead to disappointment down the line. Here is what to consider before you head to the appliance showroom.
When to choose your appliances
If you are remodeling your kitchen, it's critical to choose your new kitchen appliances early in the design process. The same is true if you plan to keep any of your existing appliances; make sure to tell your designer. While it may be true that the sizing of most appliances is standardized, variations do exist, and the choices you make can have cascading effects through your entire kitchen design. For example, before beginning to plan your cabinet layout, your designer will need to know if you plan to use a standard range or a countertop unit with wall-mounted ovens.
Electric vs gas: the great fuel source debate
Choosing between gas and electric appliances is another high-level question that you will want to answer early in the design process. Converting from an electric range to gas is certainly possible, but you will want to add this significant expense into your budget calculations. (Count on paying about $10,000 to connect and plumb new gas service in Seattle.) Moreover, adding gas service to your home may lead you to convert other electric appliances you may have, such as your water heater, dryer, and furnace. We find many home chefs prefer the power and control of gas cooking, but electric induction cooking is gaining in popularity. This combines the benefits of gas with the convenience of electric and packs some added safety features.
See also: Gas vs Electric Appliances [Consumer Affairs]
Ranges, ovens, and cooktops: how to make the stove decision
If you haven't shopped for a stove for a while, you might be surprised by the number of options available to you these days. Here's a quick rundown on the different varieties of cooking appliances you can choose from:
Stove/cooktops: These are the burners you cook with. They can be part of a standalone countertop cooktop (with oven elsewhere) or part of a range (with oven included). They can be electric or gas. Electric units can be smoothtop ceramic glass with hidden heating elements (electric coils or induction units), or they can have exposed electric coils, which are difficult to clean and which we do not recommend. Traditional electric burners will stay hot even after you turn off the heat, which can burn food and fingers. Induction units heat faster and more efficiently and actually heat the pan itself rather than the cooktop surface. Gas units are measured by the BTUs they can put out, both on the upper and lower end of the scale. Professional-grade fast-heating gas stoves can crank out nearly 20,000 BTUs but still dial it back to 5,000 BTUs for low-heat simmering.
Ovens: These can be gas or electric, and they can stand alone as a one or two wall mounted units or be part of a range. Whereas many cooks prefer gas over electric cooktops, it tends to be the opposite for ovens. Electric ovens are known for more even and precise heat. That's why you'll see some higher-end ranges described as "dual fuel," meaning they have gas cooktops and electric ovens. Other oven features are available as well, such as convection fans, which are fans at the back of the oven that circulate the air. So-called European convection ovens include a heating element that surrounds the fan. All electric ovens have a heating element at the bottom, which can either be visible (not as desirable) or sealed. Various manufacturers now offer steam ovens, including reasonably priced wall-mounted units, that inject moisture into the cooking environment, which is a prized feature of bakers and serious foodies.
Ranges: Simply put, ranges are a cooking appliance that combines a cooktop with an oven into one unit. It's by far the most common configuration, and if you are shopping in the sub-$1,000 price range, it will probably be one of your only options. Freestanding ranges often have the cooktop controls on the back panel (not a very convenient spot, unless you want to keep them out of reach of kids). Slide-in ranges are a step up and have the knobs on the front. They slide into place, often with a slight lip over the countertop on either side, giving them more of a built-in look. Drop in ranges are just like slide-in ranges, but they have a piece of trim at the bottom that matches your cabinets. You can choose various oven configurations, such as double ovens (either in a conventional-size unit or in a wider unit).
See also: The Wall Oven Vs the Range [The Spruce]
Refrigerators
Of all the kitchen appliances, the humble refrigerator probably has received the most new bells and whistles in recent years. If you're willing to pay the price, it can be a lot of fun to explore fridges with WiFi connectivity, large screens on the door with internet access, built-in Keurig hot beverage servers and seltzer dispensers.
For most of us, a refrigerator's ergonomics, aesthetics, and energy efficiency are front of mind. Much of it boils down to personal preference: do you like the look of french doors, or do you prefer the ability to store bulkier items afforded by an over-under (or under-over) design? When it comes to efficiency, energy use can vary widely between units, even those with the Energy Star label, so compare the yellow annual Energy Guide stickers when comparing models. An easy way to spot an energy hog is to look for thinner-than normal doors, which usually indicate the manufacturer scrimped on the insulation.
Refrigerators can range from under $1,000 dollars up to $10,000+ for a built-in Sub-Zero paneled refrigerator. European luxury brands and counter-depth models can also come with a premium price tag. If your tastes tend toward the higher end of the spectrum, it's important to budget in your refrigerator decision early in the design process so you don't throw off your overall budget.
Some of the more high-tech upgrades these days can be found in the world of refrigeration. You'll not only be choosing the organization of the unit–French door, freezer over/under, freezer drawers, etc.--but also the connectivity (WiFi enabled with full internet access onscreen) and premium services (built-in Keurig & seltzer water). Appliances can be a big chunk of a new kitchen's cost, so it's best to make these selections early in order to keep on track with your budget. It's always easier to budget for a $7,000 refrigerator at the start of a project than trying to splurge on it later.
See also: 15 Luxury Kitchen Appliances Designers Will Be Talking about Next Year [Reviewed]
Microwaves
Microwaves may seem like they operate with futuristic cooking technology, but they actually are the kitchen appliance that's seen the fewest technological advancements in recent years, other than being turned into a drawer. My advice is to focus your attention on getting this often-used but not-very-beautiful appliance out of view. Generally, we guide our clients toward a built-in (or at least hidden) microwave. Medium to large kitchens can easily conceal a microwave drawer in an island or pantry, and countertop models are easily hidden behind cabinet doors. Please don't even think of mounting your microwave above your range; it's dangerous and gets in the way.
One higher-end feature to consider is a convection microwave, which combines a standard microwave cooking element with a convection fan that heats and circulates air. Food cooks quickly but comes out crisped or browned thanks to the flow of hot air. It's a great way to whip a quick dinner together after a long day of work and after-school activities. Plus, you avoid heating up your whole kitchen on hot Summer days.
See also: Buying a Microwave Oven [Good Housekeeping]
Dishwasher
The dishwasher sure has come a long way since its hand-powered start in 1886. First seen at the World's Fair and used only by restaurants, the dishwasher was widely used at home beginning in the 1950s. No longer powered by hand, dishwashers today feature adjustable-height racks that lift-up to make unloading easier and whisper-quiet wash cycles. Consider having your dishwasher "panelized" with a cabinet door panel on the its face instead of stainless steel.
Research is needed prior to buying a dishwasher as prices vary from $400 to $1,500 or more, depending on features. For appliance reviews, we like CNET which offers a wide variety of unbiased reviews for just about everything.
See also: Dishwasher Reviews [CNET]
What next?
I hope you found this overview of your kitchen appliance options helpful. If you have questions about appliance selection or remodeling the kitchen of your Seattle home, please feel free to get in touch. We are always delighted to help.
Guide to Hiring a Remodeler
This comprehensive guide walks you through all the steps of choosing who will design and build your project, vetting remodeling companies, and ensuring that you have the best experience.