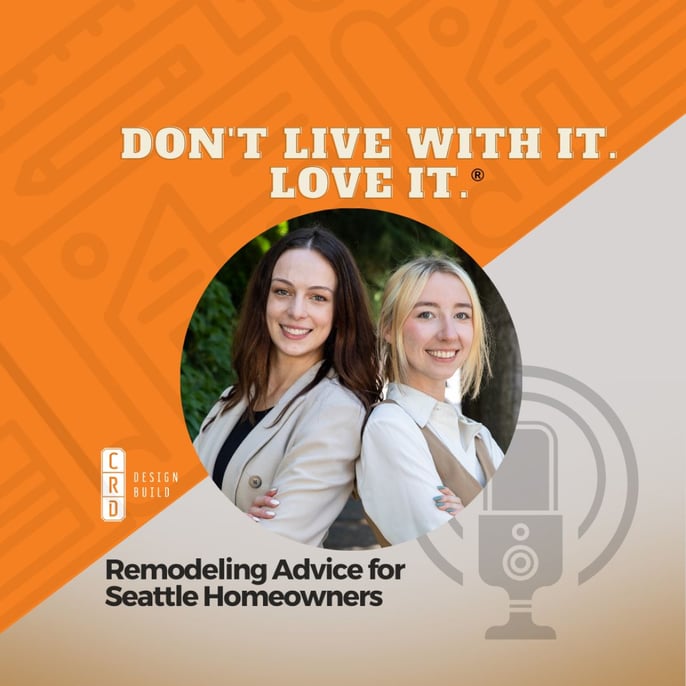 Why start a podcast?
As a residential remodeling company, our goal is to educate homeowners on everything surrounding remodeling. We like to share the amazing highs and the hard low points that come with a remodeling project of any size, from a simple bathroom refresh to a whole house renovation. Our motto "Don't live with it. Love it.®" has inspired us to share advice and knowledge surrounding remodeling with homeowners around the country in the form of a podcast. Podcasts are an easy way for homeowners to receive valuable information while they are performing other tasks such as driving, at work, cleaning around the house, or even on a walk. We wanted to reach a larger audience in an easier way than our standard blog posts.
We are covering a wide variety of topics like surviving construction, the do's and dont's of remodeling, design tips/trends, and more! We will also be going in-depth on our company, CRD Design Build so if you are a Seattle homeowner you will know how our process works and how to get started. If you do not live in Seattle, we will be sharing lots of valuable information that can be applicable to you like whether you should remodel before moving into your new home, kitchen design tips, and more!
Where to find Don't Live with It. Love it!

®
Don't Live with It. Love it!® is available where all podcasts are available, stream on over 50+ podcast directories. New episodes will be available every other Monday!
Find us on your favorite podcast streaming service - https://dontlivewithitloveit.buzzsprout.com/share
Starting a remodel with CRD
If you are a Seattle homeowner who is interested in discussing your next remodeling project, please don't hesitate to reach out to us!
Contact Us
Guide to Hiring a Remodeler
This comprehensive guide walks you through all the steps of choosing who will design and build your project, vetting remodeling companies, and ensuring that you have the best experience.