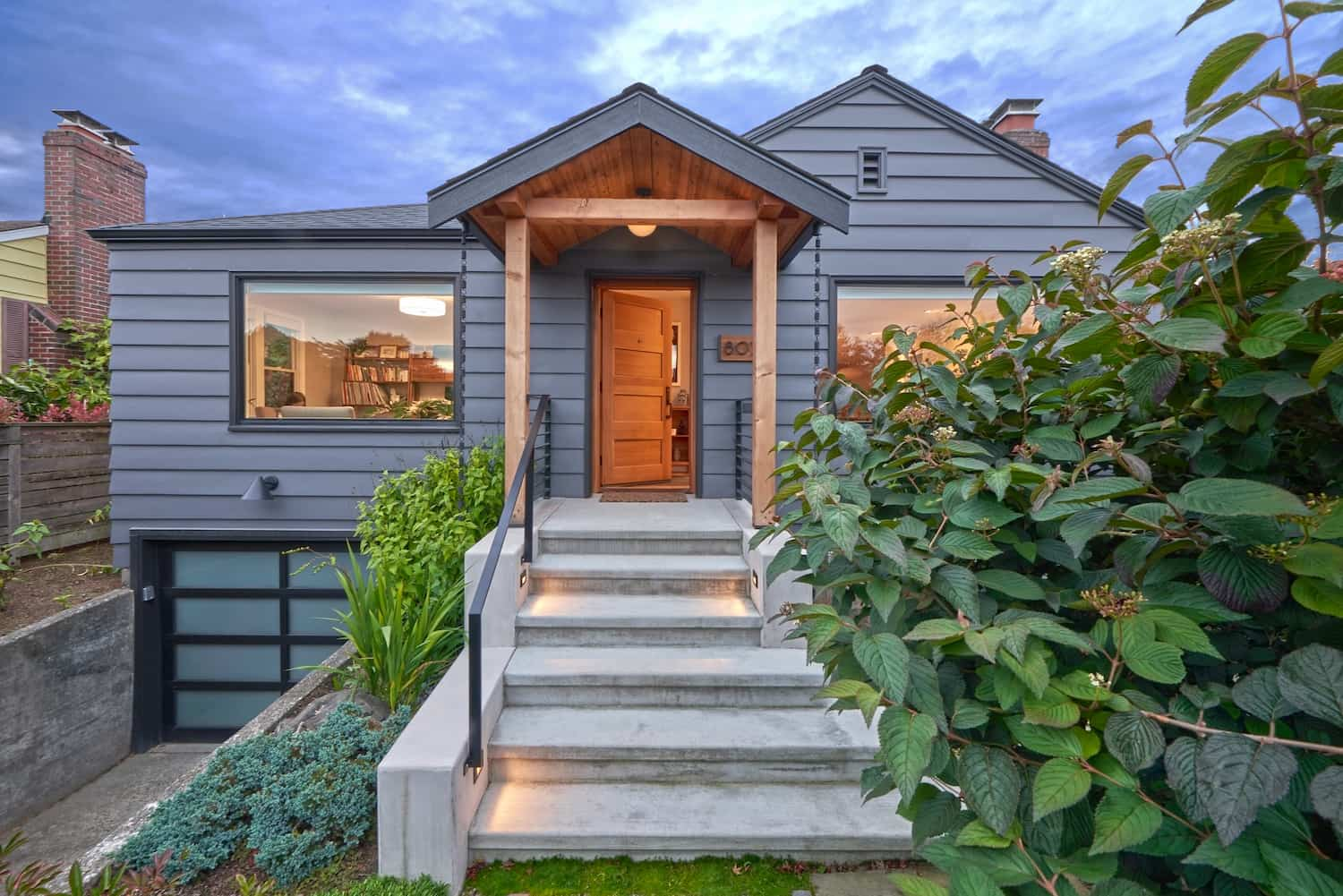 How often do you take a walk around the exterior of your house to look for things that might be broken or need some updating? Most homeowners can easily name a few things that need fixing inside their home, but might not know about the gutter falling off the side of their house or their outdoor faucets that broke due to frozen pipes.
Today we share go over how to help you identify and tackle common exterior home maintenance items, while also giving you ideas on how to upgrade these spaces with our Home Services department!
Start with an Overall Exterior Inspection
The first step in the process of identifying any exterior items that may need to be taken care of is to look at all the doors and windows inside your home. Think back to the last cold winter day, did it feel drafty? Or on a rainy day did you see any water on the window sill? These would be signs that you might need to replace or upgrade your doors that lead outside and/or some of your windows. If you have a fireplace, check it out to see if it feels drafty or if there are any gaps around the chimney to the outside.
After identifying any possible internal issues, walk around your house on the outside and look for any items that may be broken or just need some updating. Be sure to write down any items that need repairs or items you want to add, like a new garden area with raised beds and even a trellis, so you can contact our Home Services team to help!
1. Roof & Gutters
Roof
If you are able to, first look at your roof from the street to see if you see any obvious issues such as excessive debris, or broken shingles. Next, if you feel comfortable, and taking safety precautions, climb up on your roof and look for shingles that are broken, loose, or missing. Inspect to see if there is any flashing around dormers, chimneys, vents, and skylights.
See also: Roof Leaks 101: Find and Fix Drips in Your Seattle Home
Gutter
It is important to make sure they are secure to your facial boards to ensure they can properly protect your siding to keep it from rotting and help keep water from entering your basement. In order for them to work properly, make sure to clean debris, such as leaves and pine needles, so that water can flow. Even if you don't have any overhanging trees, you still need to check them, as birds and other animals can fill them with debris over time. Installing gutter guards can help, but you still need to check and clean your gutters annually. If you feel comfortable checking this yourself, it is always more enjoyable to do this in warm weather! While you're at it, make sure your downspouts are intact and are channeling water away from your foundation to avoid puddling.
2. Paint & Siding
Siding
Siding keeps your house dry and warm from rain, wind, snow, and other elements! Keeping your siding in good condition is just as important as keeping your roof in good shape. Siding can keep your home more energy efficient and save money as it will help ensure the heat stays in your home, or your home stays cool in warm weather. If your siding is not properly installed, it can lead to interior damage from water and moisture such as mold, wood rot, and other damage that can impact the structure of your home.
While maintaining your siding is important for protecting your home, it is also part of the aesthetics of your home. The first thing anyone notices about a home's exterior is the siding. If your siding is falling or peeling off it can make your home look run down from the outside, even if the interior is immaculate.
Paint
Although some might think paint on the exterior of your home is just for aesthetic reasons, it actually has some functional advantages as well. Paint can help protect your siding from different weather elements which can increase its lifespan. It is less expensive to repaint your home than to remove and replace all the siding. One way to know if you need to repaint is if the caulking is cracking. While practically paint is important, a fresh coat can add better curb appeal and potentially help sell the increase in home value to an appraiser.
3. Driveway
Many concrete cracks—in your driveway, sidewalks, or garage—are relatively harmless, but you'll want to patch and seal them so water can't get in and freeze, making them worse. There are many premixed products on the market that make it an easy DIY job. Just be sure to follow the instructions carefully and prepare the surface correctly so your repair will last.
Additionally, Moss, mildew, and other slippery things can build up on driveways and walks. It's a good idea to pressure wash your concrete at least once a year. Add a detergent formulated for mold and mildew to blast it away faster.
If you have multiple cracks or are just wanting a new driveway that looks nicer - reach out! We have given homeowners new driveways, and sometimes even new front steps that have upgraded the look of their homes.
5. Front or Back Entrances
Front or Back Steps
In Seattle, it is common to have a few steps and a small entrance area outside your front or back door. Since these are highly used areas, they wear over time and can lead to loose planks if they are wood or just old concrete that might have cracks as it settled or becomes slick with build-up over time. Our team is able to upgrade this area by replacing the old steps, or simply fixing them up and adding new railing to give it a new life!
Decks or Patios
For safety purposes, it is important to always have loose boards or posts repaired or replaced as soon as you notice the issue. One loose board or post might not seem like a big deal, but if there is one, there is typically always more that get loose soon after. Some older homes will have old wood railings that are starting to fail or posts that are not up to code with too large of spacing which can be an issue with children and pets around. If you are not sure if your deck requires some fixing, or a new deck completely, reach out to schedule a meeting with our team to see how we can help!
If you do get a new deck or just want a tip on how to maintain your deck, use a pressure washer to thoroughly clean the surface and add a coat of sealer if needed. The trick is to regularly add new coats so the sealer never gets to the point of failure.
6. Outdoor Faucets & Sprinkler System
Faucets
Outdoor faucets are convenient for watering plants, playing with your children in the summertime or even washing off your dog! Most of the time these only have a cold water option, and sometimes these faucets are located in less-than-ideal places around your home. Our team is able to move these faucets to a location that works best for your usage and even add a hot water option, which is great for those at-home car washes!
A good practice is to keep protective covers over your faucets from fall to springtime, especially in Seattle where we get freezing temperatures during nearly every season except summer. Even if you have a frost-free hose bit, you still will need to remove your hose from the faucet during freezing weather. It can be a real pain (and expensive) if these faucets freeze over which can lead to some pretty substantial problems.
Sprinkler
Also, make sure that your sprinklers aren't watering the side of your home. It can be easy to miss, especially if you've programmed your irrigation system to come on at night. Misdirected sprinkler heads can wreak havoc on your siding and lead to serious rot issues, leaky basements, and other expensive damage.
See also: Wet Basements 101: How to Dry Out That Leaky Basement
7. Exterior Outlets
Exterior outlets make life easier in many ways, from yard maintenance tools that need to be plugged in, to outdoor holiday décor, there are many reasons why having multiple exterior outlets comes in handy! Some older homes in Seattle will only have one or two outlets around the exterior of your home which may not be enough. Our team is able to add outlets to nearly any spot on the exterior of your home, especially for outdoor entertaining areas where you might want to plug in items for your outdoor kitchen, space heater, electric grill, and more! Another fun addition is adding outlets in your soffits for holiday lights.
8. Foundation
A foundation is what keeps your home standing and secure. Cracks in your foundation might indicate a serious problem, or they might be nothing serious that can be easily repaired. It is extremely important to have a professional inspect any cracks you are unsure about in your foundation to rule out any serious problems.
See also: Foundation Problems 101
9. Windows & Doors
Windows and doors are the bridge between the indoors and outdoors. As the connectors between the inside and outside, it is important to have these spaces on your annual home maintenance checklist because they likely will have issues over time.
Windows
Checking your windows to make sure they are in good working condition is a skill any homeowner should have to increase the lifespan and find any potential problems early. Always check the window panes for signs of cracking, this is typically the easiest potential issue to find since cracks are almost always obvious. Another sign of failing windows is if your double-pane windows start to fog. Next look at the rubber seals around the glass and the caulk around the outside of the window frame. These spots can lead to air leaks which are important to address. If you feel any air coming from outside but you are unable to identify where the air leak might be, this is when you should contact our team for help.
Doors
Air leaks can happen around exterior doors as well. For doors, you should check the threshold, which is the sloped piece at the bottom of your door that keeps drafts out. If your door doesn't have a threshold, it is highly likely that it will have some drafts. Look at the hinges, door handles, and any other parts of the doors that may let in air, or that may not be working properly. It is important that all aspects of your door works, for safety and for good energy efficiency!
10. Planters, Trellis, Gazebos & more!
While most of the items listed so far have been important in maintaining the structure and safety of your home, we want to make sure you love the outside of your home as much as the inside! One way to add some excitement to the outside of your home is by adding a gazebo and/or entertaining area. Having a nice place to sit and read a book on a warm day, or having a place to spend some time outside with your family.
Whether or not you have a green thumb, you might want an area to plant some flowers or even a garden for some vegetables, fruits, or herbs! Adding planters or trellis is a great way to add some plants to your backyard.
Starting a remodel
Maintaining your home is the first step, but you may be looking at changing and upgrading it as well. Our team here at CRD Design Build has over 40 years of experience renovating older Seattle homes and will take care of issues caused by deferred maintenance in the process. If you are interested in discussing your unique situation, please don't hesitate to get in touch.
Note: We make no claims or warranties as to the completeness or accuracy of the information on this page. We encourage you to confirm all information you read here. Any action you take based on the information on this website is strictly at your own risk
Guide to Hiring a Remodeler
This comprehensive guide walks you through all the steps of choosing who will design and build your project, vetting remodeling companies, and ensuring that you have the best experience.