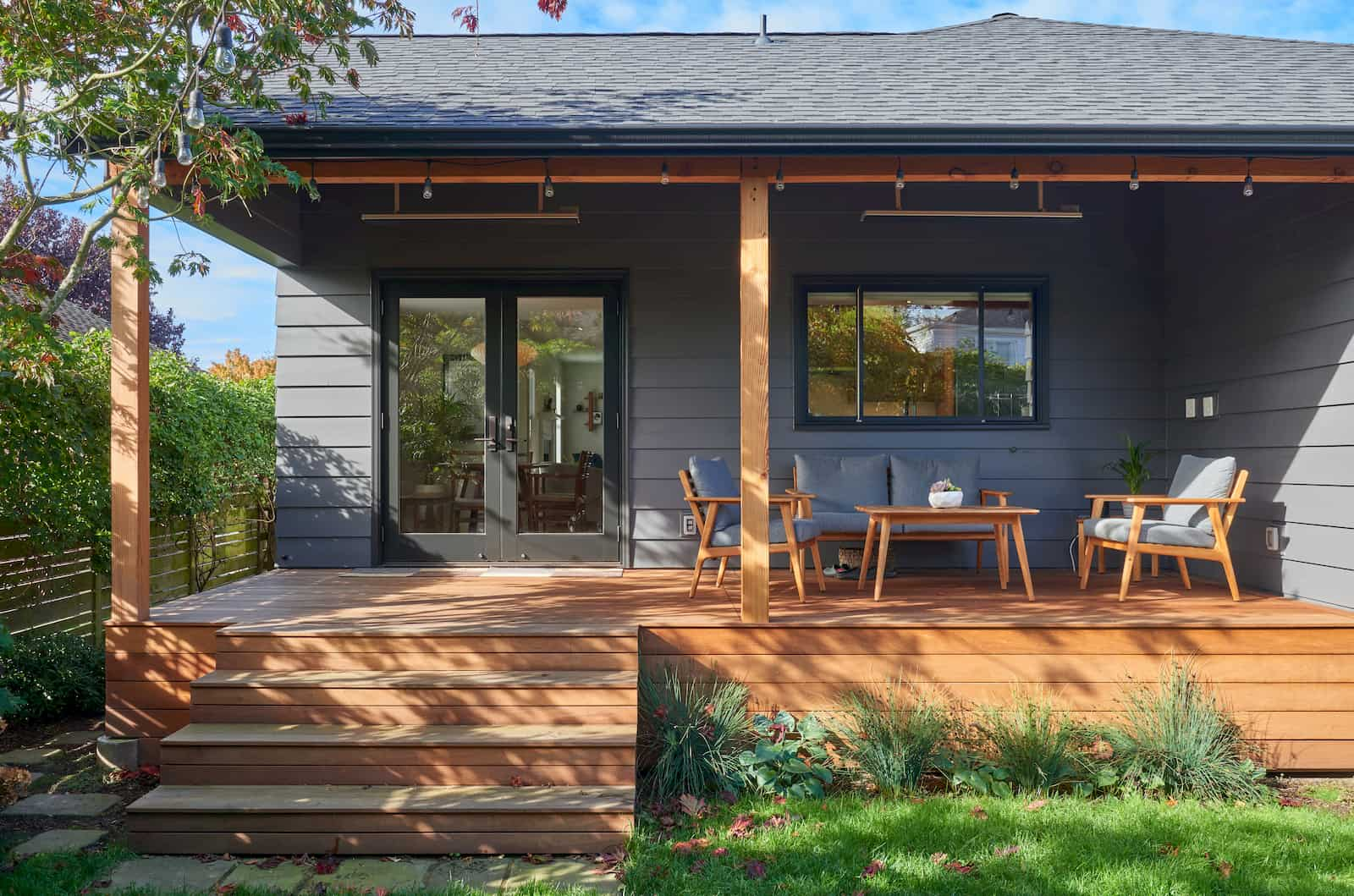 If you've had a deck for more than a couple of years, chances are it'll need some work - especially in the harsh Seattle weather. After all, it spends 365 days a year exposed to the elements.
You might be thinking that with the infamous rainy weather in the PNW putting money into your deck wouldn't be worth it but we are here to share some ideas that will create your dream deck and perfect outdoor living space!
Whether you are fixing it up for safety reasons or to add comfort to your existing deck, these deck remodel ideas will enhance your outdoor living space while making future upkeep low maintenance.
Update the Railing
Updating your deck railings can make a big difference and instantly make your deck look and feel nicer. There are many types of options when it comes to railing material, traditionally they are made out of metal or wood. Or, if you lean towards modern deck railing instead of a traditional style, then cable railings or glass are great options won't obstruct your view. We recommend choosing a railing based on your overall home style.
Safety Reasons to update your Deck railings
A few common reasons to update your railing due to safety are -
Unsteady railing

Warped wood

Rotting material

Missing or broken spindles
It is important your railing meets the code requirements for your safety and that of your family and friends. Older decks, especially ones that are made out of wood, do not stand up to the rain/snow forever. Even if you perform annual maintenance on your deck it will need to undergo a complete deck renovation at some point so it is important to stay ahead of it rather than putting it off and risking an injury, especially when it comes to fixing railings that guests and kids often lean on.
Extend Your Deck
Create a welcoming outdoor space by extending your deck. Depending on your current structure, you may be able to simply add another level to your deck, extend what is currently there, or it may require a complete renovation. By expanding and covering your simple outdoor deck you can turn it into a true extension of your home that you and your family will use year-round.
Expanding your deck allows for more items to be on your deck such as a fire pit, dining table, or even a hot tub! By having the extra space on your deck you can divide it up into different sections for activities like a dining area, relaxing lounge area, or whatever suits your family's needs best.
Adding stairs for backyard access
If your deck is located on your second level, consider adding stairs that go into your backyard. This is a way to extend your deck into your backyard for easier access.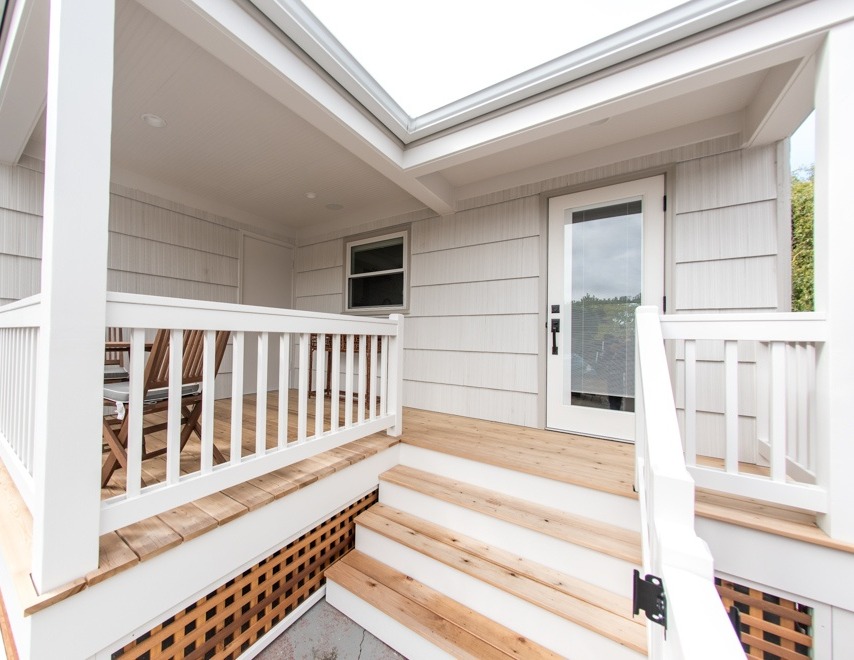 Adding a cover over your deck
One way to ensure your deck is utilized year-round is by adding shelter from a cover of some kind that will accommodate the different types of weather that may prevent you from wanting to use your outdoor space. Many outdoor decks on Seattle area homes go unused for most of the year due to the wet and gloomy weather. Even a partially covered deck could have more year-round use than an uncovered deck.
Screen in Your Deck
Bring your deck inside by screening in your deck. There are many ways to screen in your deck depending on how you want to use the space. You can essentially add an extension to your house by building full walls with windows or you could go for a more breezy room by just adding posts and having a screen or drape material. No matter which option you choose, this is a great way to enjoy the outside without being in the elements!
Install a Retractable Cover
A retractable cover is a nice way to get shade from the sun or be covered from the rain without being a permanent cover on your deck. This option works well for those with a smaller deck since you can choose when you have to have it covered or not. A retractable cover is installed onto your home, under your roof, and is low maintenance.
Build a Pergola
A pergola is typically a permanent fixture that provides coverage and adds to the aesthetic of your outdoor living space. Some pergolas are uncovered to allow for light to pass through so it only provides a minimal amount of shade. We recommend installing pergolas with a roof in Seattle due to the amount of rain we receive to ensure you are able to utilize your space all year.
Incorporate an Outdoor Kitchen with Your Deck Design
Who doesn't love a family BBQ on a summer day? In the summer your deck sees a lot of use, especially if you enjoy using a grill! Some may only grill during the summer because it is a hassle to take out your grill or other outdoor cooking appliances such as a Blackstone or Green Egg throughout the year when the weather isn't great. Our solution - create an outdoor kitchen that can be used year-round!
Outdoor kitchens are practical and add a new level of enjoyment to cooking! With an outdoor kitchen, you can have a dedicated space for all your appliances, extra storage, and counter space for prepping food. Imagine cooking in your outdoor kitchen while your family is hanging out in the yard or on the porch lounge nearby.
Paint or Re-stain your Deck Floor
If your deck is structurally sound but lackluster, you could refresh it by painting or staining your decking material.
Staining your wood deck is something that can be completed on a couple of sunny days. It is important to clear the surface of all debris and items before getting started. Once the initial stain is on, re-staining your wood deck every few years is an easy task that keeps both the deck and your home looking fresh.
Painting your wood deck is less common but is a fun way to add uniqueness to your home and express your personal style. A painted deck is easy to change every few years or to refresh. Keep in mind that a painted deck will likely fade quicker in the Seattle area due to all the rain unless it is completely covered.
Choose a Fun Color or Pattern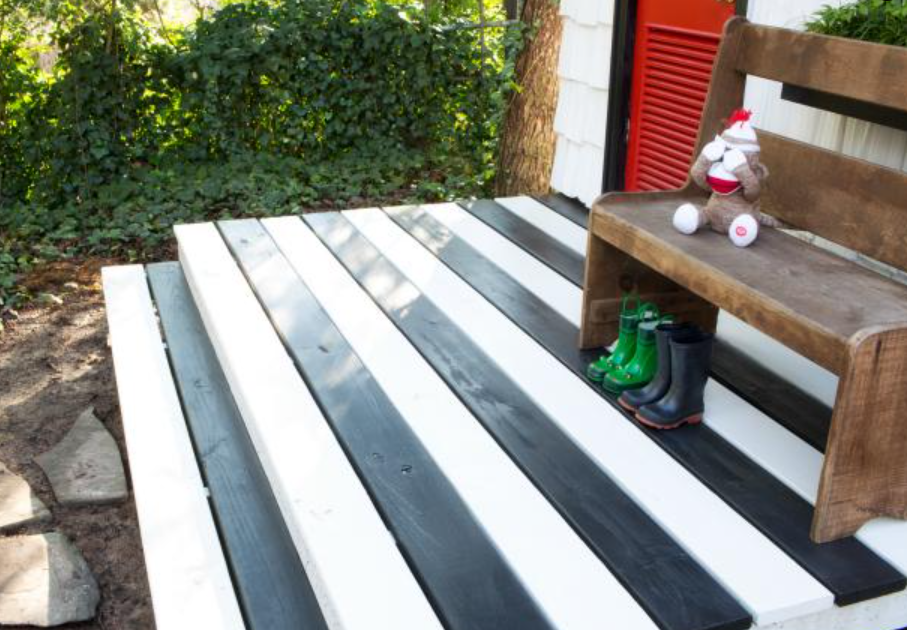 Creating a Dry Space Under Your Deck
It is important to maximize the space inside and outside your home. This applies especially to decks that are on a second story.
Under Deck storage
One way to maximize space is turning part of the space under your second-story or elevated deck into an outdoor room. This area is great for storing yard games, tools, bikes, toys, and more. Think of this area as a storage closet on the ground level that has easy access to your backyard.
additional Covered outdoor space
Increase your outdoor living space by utilizing the area under your deck as an additional covered outdoor space. If you have a deck that has large gaps or holes between the deck boards that makes the area under your deck unusable during the rain, consider adding a gutter system. This will prevent water from running through to the bottom and allows for you to have a covered porch.
Install Lighting
One way to spruce up your deck is to install lighting. Lighting not only looks great aesthetically but also serves a purpose. By adding lighting you are able to use your deck not only year-round but also during the night, especially during the winter when the sun sets before dinnertime!
Most houses have at least one wall light by your patio door. Updating this light to be a bright LED can help make sure there is plenty of light at the entrance point. If you want the lighting to be functional and aesthetic, we recommend string lights. String lights can go over a majority of the deck area which will brighten the whole deck. If you have a large deck, we recommend putting the string lights over the seating area at a minimum.
One way to add hidden light to your deck is to add strip lighting under the top of the railing. Or you can add lights on the deck railing posts. Both of these options are a great way to subtly illuminate your entire deck.
Deck Post Lights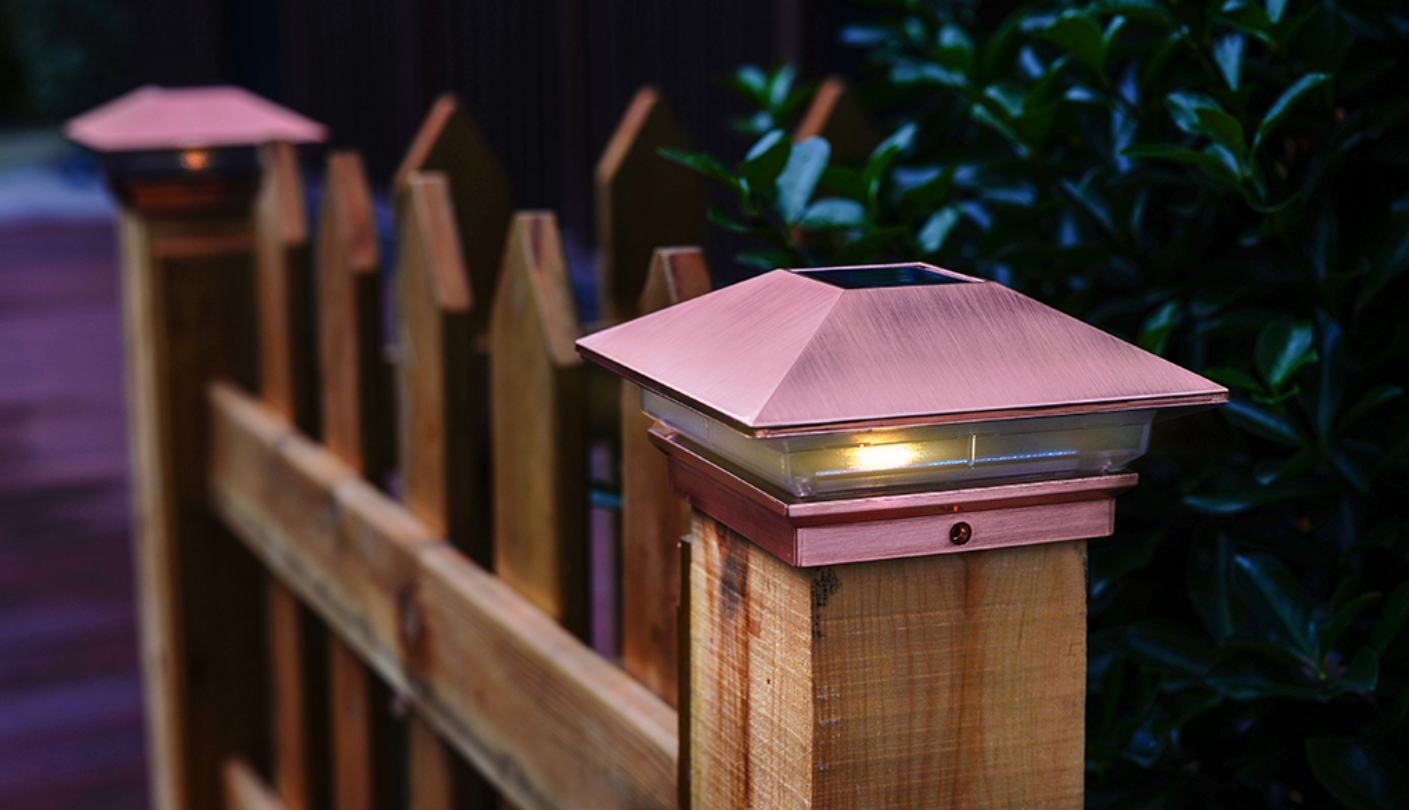 Install Gardening Items
If you have a green thumb, be sure to include gardening items on your deck design ideas list.
Install Trellis and Plant Flowering Vines
Adding a Trellis is a beautiful way to incorporate plants into your deck. Trellis helps plants grow vertically which can add some decoration to your deck without taking up much surface area.
BUILT-IN Benches and planters
Consider adding built-in benches and planters when you are coming up with your deck design ideas. Although decorating your deck with potted plants seems easier, it is nice to create a new space dedicated to gardening. Built-in planters can be used for a variety of plants and can help the plants stay contained. Also, incorporating an herb garden will enhance your indoor/outdoor cooking experience!
Updating for safety – does your current deck meet safety codes?
Does your deck feel wobbly or have rotten deck boards? If so, you should stop all usage of the deck and contact a company that can help. Our team at CRD can help by providing a complimentary home consult where they can perform a basic safety inspection. In the safety inspection, we can look at their footings or pier blocks to see if they are up to code requirements. For example, a lot of older decks are not sitting on supports large enough or are no longer centered on the footing.
Other safety issues that we commonly see that can be fixed are the framing spacing was originally too wide, the current railing spacing is very large or broken which is not safe for kids or pets, the existing stairs do not have enough stringer support, and the ledger not spaced off of the house, causing rot.
Create your dream deck with CRD
Our Home Services department can turn your deck into the outdoor living space of your dreams. Although a deck renovation project seems like a big undertaking, we make it easy! Our small project division can complete any or all of the above-mentioned updates to your deck in a timely manager. Contact us today to chat with our client development specialist about how we can work together to make your deck renovation come to life!
Guide to Hiring a Remodeler
This comprehensive guide walks you through all the steps of choosing who will design and build your project, vetting remodeling companies, and ensuring that you have the best experience.