Painted kitchen cabinets are a major interior design trend in in 2019. In reaction to years dominated by an all-white palette (and honey-stained oak before that), more and more homeowners are choosing to go bold. Many different tasteful kitchen cabinet colors are appearing, with dark, moody tones among the most popular. Designers are mixing and matching timeless kitchen cabinet colors for a unique look. We've chosen some of the most attractive trends in kitchen cabinet paint color for 2019.
Forever blue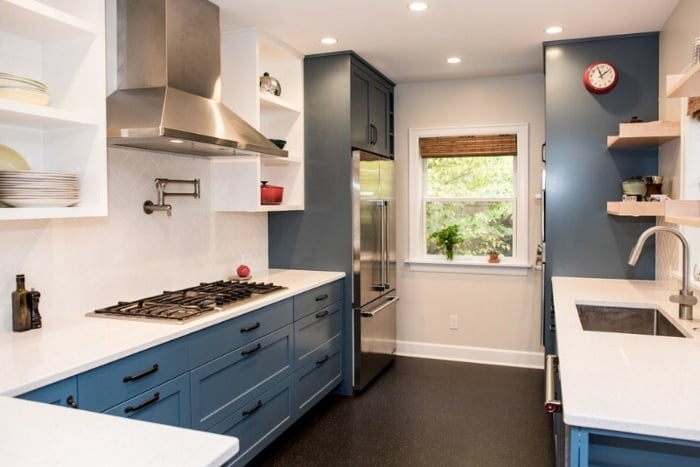 Ballard Kitchen and Basement | CRD Design Build

There is a reason that blue is a classic shade for kitchen cabinets. It provides great contrast with white or light-colored counter tops and shelves. It's bold but not overstated. Lighter blue cabinets make the kitchen feel fun and modern, while deep shades of navy blue give the space a sophisticated allure, especially when paired with matte brass cabinet hardware. Keep in mind that you might have to turn to custom shades to get the exact blue you are looking for.
See also: 7 Signs It's Time to Remodel Your Kitchen
Back in black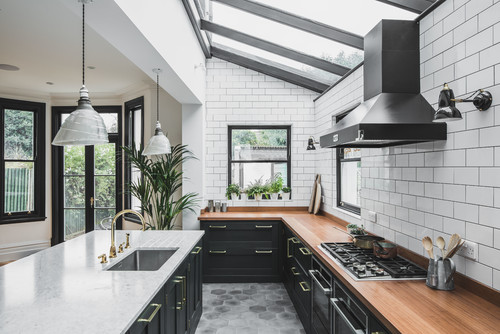 Black kitchen cabinetry makes a bold statement. If done well, the effect can be moody and dramatic, without being dark and dreary. Work with a skilled interior designer to pull together the right look. Mixing black cabinetry with lighter surfaces, such as counter tops and flooring, help keep things balanced. Carefully designed artificial and natural lighting is essential. The example above is a great use of bright and airy white tile, light gray floor tile, and white quartz counter top. The wood butcher block counter top sections add a natural touch and bring it all together.
Fade to gray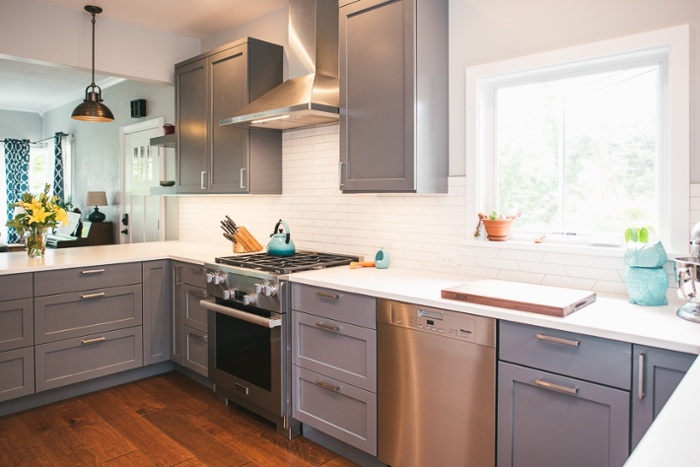 Ballard Kitchen | CRD Design Build
If black is too bold for your tastes, gray can lend the room a more subdued, calming feel. It goes well with a wide variety of colors and surfaces, so putting together a kitchen design palette featuring gray cabinets is a much more forgiving process than choosing black. For this reason, gray might be one of the most perfect kitchen cabinet colors. In the kitchen above, the gray cabinets provide great contrast with the white geometric tile back splash, white quartz counter tops, and wood floor, while keeping the overall look of the kitchen airy and bright.
Deep turquoise

Tired of the ubiquitous all-white kitchen? Deep, dark shades of turquoise, verging on black, are on trend for 2019. The above paint color is Black Knight from Benjamin Moore. It provides an elegant backdrop for the matte-finished brass hardware and walnut butcher block counter top on the island.
Hunter green

Hunter green can give a kitchen a stately, bespoke look. This color works best with classic kitchen cabinet designs that resemble fine furniture. The paint color used in the example above is Farrow & Ball's Studio Green, which looks gorgeous in this stately cabinet configuration. But, like deep turquoise, the paint's appearance depends on the light. A darker room will make these shades look almost black, while a brighter kitchen, flooded with artificial or natural light, will bring out the colorful pigments.
Tuxedo style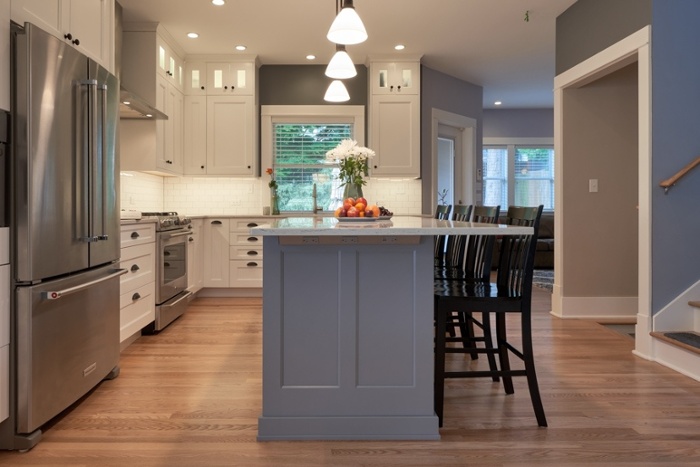 Second-Story Addition in Greenlake | CRD Design Build
So called tuxedo cabinets are another trend that is still going strong in 2019. This color scheme combines darker-painted lower or island cabinets with white or light-colored uppers. This approach allows the upper cabinets to blend into the walls and puts more focus on the lowers, making them look more like furniture. Tuxedo cabinets can make a kitchen with low ceilings look taller. And they are a great way to incorporate the clean look of white cabinets, while adding contrast and breaking up the potentially monotonous monochrome look.
Establish visual zones

The trend toward open kitchens continues, but with such expansive spaces, it's important to visually distinguish your cooking from your relaxing zones. Colored kitchen cabinets do a great job of setting your kitchen apart from the living area and making the space feel more intimate. Use cabinet color to contrast with the white walls of the rest of the room.
Planning a kitchen remodel?
Thoughtful design plays a huge role in creating a kitchen you will love for many years to come. If you are contemplating a Seattle kitchen remodel, please feel free to reach out. My interior designer colleagues and I would be happy to answer your questions and share our ideas.
Guide to Hiring a Remodeler
This comprehensive guide walks you through all the steps of choosing who will design and build your project, vetting remodeling companies, and ensuring that you have the best experience.