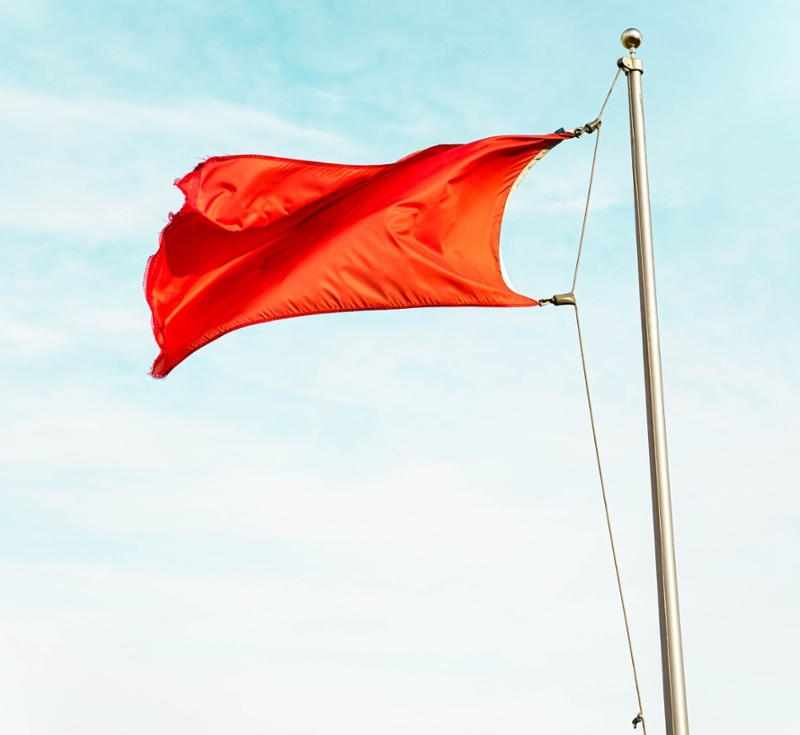 Like ads and word-of-mouth recommendations, an online search can point you in the right direction when it comes to finding a contractor. That's just the start. From a list of hundreds of area contractors, how do you identify the right one for the task? Which contractors are legitimate, and which are up to the job?
From underestimating your project to busting your budget, a lot can go wrong if you haven't fully vetted your contractor. Fortunately, it's possible to spot some red flags during the search itself. When hiring a contractor, it's important to learn how to become versed in the science of weeding out less-than-desirable contractors. You can do this by spotting red flags in your search results and the first couple of conversations with the contractor.
🚩 Red flag #1: The contractor asks to be paid in cash
Preferred payment type can be a red flag in almost any industry, but it's especially concerning in contracting services. If the preferred payment method is cash, pause and consider who you are dealing with. Sure, money is money, but in an economy that's going paperless, what's the benefit of a cash payment? Is there something deeper you need to be aware of?
Cash leaves less of a paper trail. It's hard to tax, and it's even harder for holding a contractor accountable. Credit, checks, or direct bank payments loop in a third party as witness to the entire transaction, and in contracting, that can be to your benefit.
That's not to say that a reputable contractor will not accept cash. Many do. But if a contractor makes that request, put up your radar. Ask if bank or credit card payments are an option, and if not, why. If you don't get a good answer, just move on.
🚩 Red flag #2: The contractor's quote is too good to be true
You want a contractor who is hungry for your business, but not one who will deliberately low-ball you to get your signature.
Before you begin the contractor search, do some back-of-the-napkin math to get an idea of what to expect. Consider the cost of materials, and factor in plenty for labor. If a contract bid comes in lower than your estimate, it's time to ask some additional questions. Start with a line-item estimate. Then ask the contractor what happens if expenses come in higher than expected: Who picks up the slack? Does it all fall on you?
Better yet, shop around for a contractor who offers a fixed-price bid.
🚩 Red flag #3: The contractor isn't following all the rules
Most contractors respect code enforcement. They'll say up front what permits are required and how much they'll cost. Others won't. Some even advertise this off the record as a perk of doing business with them.
Be extremely cautious about contractors who take shortcuts. Some will argue that a code violation will go unnoticed, so why bother with the red tape? The problem with that reasoning is that violations do get noticed sooner or later. And it's not the contractor left holding the bag. It's you. If the city doesn't catch you during construction, you will probably run into problems when you eventually sell your home. Buyers may ask to see signed-off permits for the work performed.
What's more, do you want to work with a contractor who skirts the rules in any capacity? If they're willing to scam code enforcement, what's stopping them from scamming you? What shortcuts are you not seeing that could compromise the integrity of the project? It's best to steer clear of any contractor who scoffs at the rules.
🚩 Red flag #4: No contract
No contract? No thanks!
It's baked right into the name: contractor. So why do business with one who offers services without a contract?
They'll argue that a contract boxes both of you in, potentially costing you more in the long run. While that might be the case, it's more likely that contract-free work will go over budget with unanticipated expenses and no accountability.
Depending on the scope of your project, forgoing a contract can be tempting. But know that it's a slippery slope. If it seems tedious to bring pen and paper into the mix, know that cleaning up a financial mess after the fact is far more cumbersome — not to mention costly.
🚩 Red flag #5: The up-front payment is too high
It can be. Prepayments boil down to trust. Some contractors require prepayments because the nature of their business leaves them more financially vulnerable to customers who don't pay up.
But know that you, too, must protect yourself. You want a trustworthy contractor, but you don't want to put yourself at risk. An exorbitant prepayment could rob you of control of the project.
A prepay requirement may also speak to the integrity of the contractor. Perhaps past projects have been subpar, and the contractor is taking his cut early. Perhaps it's an overly cautious approach — after all, not every prepayment request is unwarranted. A deposit for construction materials is reasonable. However, a high up-front payment should be enough of a red flag to motivate you to do a bit of homework.
🚩 Red flag #6: No references
A contractor with a history of success wants to brag, and rightfully so. As you hunt for a contractor online, bookmark the ones with case studies and successes prominently displayed on their websites. And look for specifics: Who was the customer? Where was the project? What was done, and was the customer satisfied with the cost?
Contractors worth their salt will have all of that information at the ready. They'll want to share it with you because a solid testimonial is invaluable.
As you're culling the list of search results, a contractor without readily available references can be ruled out pretty quickly. A lack of references says that the contractor doesn't have enough experience, or worse — that end results have been substandard.
In short, the search for a contractor could take you down many paths, but you can save quite a bit of time on the initial online search if you know which leads to avoid and which to follow. Remember that the guidance above should be taken within the context of your contractor needs. Regardless of the project, though, learning to spot red flags early will undoubtedly save you time and money in the long run.
---
Tiim McKenna is an account manager at CraftJack, which connects contractors with homeowners who are looking for assistance with home projects. McKenna works with contractors to find the best lead generation solutions for their businesses and offers helpful advice when needed.
Guide to Hiring a Remodeler
This comprehensive guide walks you through all the steps of choosing who will design and build your project, vetting remodeling companies, and ensuring that you have the best experience.