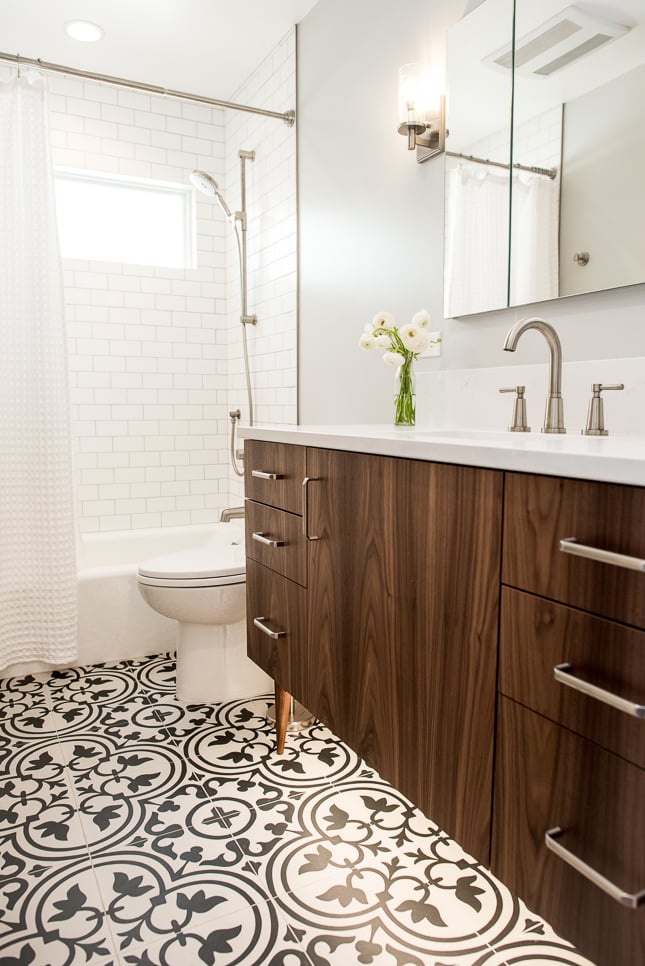 There comes a time in every bathroom's life that its colors fade, its tub goes out of style, and its decor needs some serious updating. If that's your bathroom, and the time has come to give it a major face-lift, this article is for you!
I'm going to tell you everything you can expect to encounter when a professional remodeling crew comes in and remodels your bathroom. I'll cover both the good and the bad so that you can be prepared and not feel overwhelmed during the remodeling process.
Why is an attractive, comfortable, modern bathroom so important?
We spend a lot of time in our bathrooms. Cleaning, preening, clipping, brushing, and, well, you know. (Some of us spend more time in bathrooms than others. No judgment!)
The truth is, a nice bathroom can make life more joyful and easier, too. Many of us start our day in the bathroom, getting ready for the trials and tribulations to come. (Some of us also try not to flinch at the reflection looking back.)
When you think about it, bathrooms are the second most intimate room in your home after the bedroom, and so having one that fits your style can be great. If you don't, the good news is that you can always upgrade your bathroom to be a beautiful space that perfectly fits your personality.
The bad news? The mess and the stress can be overwhelming. But if you choose the right remodeling professionals to work with, you can keep the stress and mess to an absolute minimum.
Let's take a closer look at how it's done.
See also: 10 Essential Bathroom Remodeling Tips
First steps
For all but the simplest of bathroom face-lifts, you will want to enlist the help of an experienced interior designer. You will sit down with this person and talk about what you want in your new bath, plus any ideas you might be thinking about and any anxiety you have about the whole process.
Choosing a designer who is also a good listener is key. Before sketching out a layout or even thinking about fixtures and finishes, your designer must gain a fairly deep understanding of what you want and what you dream about when you think of a perfect bathroom. Only then can your designer deliver something that satisfies and exceeds your expectations.
See also: Do I Need an Interior Designer for My Remodel?
Choosing patterns, colors, cabinets, and more
After you have shared your likes and dislikes with your designer, it will be time to start making design decisions. This can be either fun or stressful, depending on your interest in design.
If trying to match colors, choose styles, pick out a palette, and making dozens of other decisions sounds fun, then you're going to love this stage.
If, on the other hand, all those choices and colors and textures make you want to run and hide, that's okay. An experienced designer can make many of these decisions for you, or help narrow down your options and present just a few to choose from.
Your level of involvement in the design process is completely up to you.
One tip: Most designers can work within a wide range of styles, but things go smoother if you choose a designer whose work tends to match your personal style.
See also: Luxury Baths: Designing a Perfectly Indulgent Space
Picking a builder
Once your design is complete, you will need to start interviewing general contractors.
This can be the most stressful part of the process.
For many, this is the stage when the financial reality of the project sets in. While most designers and architects will make some attempt at cost estimation during the design phase, you won't have a very accurate idea of how much your project will cost to build until a contractor gives you an estimate or bid based on the plans.
For many homeowners, the initial estimates or bids come as a shock. It can often send you back to the drawing board, so to speak, to do some "value engineering," strategically changing the plans so that they are cheaper to build.
See also: Why Is Bathroom Remodeling So Expensive?
Fixed bid versus estimates
If you choose a contractor who offers fixed-price contracts, like CRD, then you will know how much the project will cost to build before any work begins. If, on the other hand, you opt for a contractor who merely gives an estimate at the start of the job, then the amount you pay when all is said and done could be much, much higher.
Design build versus designer + general contractor
When it comes to building, you have two main choices. You can hire once or twice.
If you hire an independent designer and then a general contractor, you may be in the dark about cost during the design phase, and you will have to vet and hire two companies that may not always communicate well with each other. (In fact, if anything goes wrong, the relationship can turn downright adversarial, with neither company wanting to accept the blame.)
If you hire a design-build firm, the same company will be responsible for both design and construction. Because your designer is in-house, you will have the benefit of accurate cost estimation throughout the design process.
I encourage you to read our Guide to Hiring a Remodeler for more insight into the different types of contracts you can choose from when completing a remodeling project. Each approach has its own pluses and negatives, and it pays to choose carefully.
See also: 8 Bathroom Design Blunders to Avoid
Construction begins
If you've made it this far—through design and choosing a contractor—you've already put the hardest part of your remodel behind you. Believe it or not, construction is actually the easiest phase for many homeowners.
At this stage, all your major design decisions have been made, and you have the perfect plan for your dream bathroom. Now it's just a matter of executing your plan.
Construction tip #1
Try to resist the temptation to change the design midway through construction. It will cost more and may put you behind schedule.
Construction tip #2
Don't put design decisions off if you can help it. You may be tempted to take a wait-and-see approach to choosing your bathroom fixtures, tile, or paint colors. It may seem that you will make better choices if you give yourself more time. But unless you have the vast majority of your materials chosen and ordered when construction begins, there is a very real risk that your contractor may call you in the middle of your workday, telling you that the plumber or the tiler arrived a few days ahead of schedule and that you need to finalize your choice of tub or shower tile now. You won't likely make your best decision under that kind of pressure.
See also: Design Inspiration for Your Bathroom Remodel
Demolition
Construction really begins with a little creative destruction. HGTV renovation shows always depict the homeowner taking a sledgehammer to their old bathroom. That's not how it plays out in real life. if you are working with a good remodeler, their experienced demolition team will park a dumpster in front of your home and very strategically remove old fixtures, tile, and drywall, carefully leaving any elements intact that will be reused in the new design or donated to the ReStore.
Demolition happens very quickly—usually in just a day for a small bathroom—and it can be kind of an emotional experience for some homeowners. Sure, you're excited about your new bathroom. But, you probably have some fond memories of your old bathroom: teaching your daughter how to brush her teeth or showing your son how to shave. It's the end of an era, but you'll make fabulous new memories in your new space!
See also: 10 Durable Bathroom Materials
The dreaded dust
No doubt you're familiar with everyday dust. It settles on everything that doesn't move in your home. It's annoying, but it can be easily dispatched with a feather duster or a vacuum.
But then there's construction dust.
Construction dust comes from things like:
Cutting drywall
Sawing plywood and studs
Sanding drywall mud
Mixing mortar and grout for tile
Drilling dozens of holes
Removing and replacing insulation
Sanding and painting trim and walls
And a whole lot more
Sawing and cutting drywall is the worst offender. The fine gypsum dust it creates is absolutely insidious, sifting into cracks, crevices, and other tiny spaces, leaving a layer on everything in your home.
That's why it is so important to choose a bathroom remodeling company that offers a dust-mitigation plan.
A professional bathroom remodeling company protects the rest of your home from dust using proven methods, such as plastic room-dividing walls and active negative-pressure systems with HEPA filtration.
After all, when your new bathroom is done, you don't want to spend the next month getting the dust out of everything in the house. Make sure to ask about dust protection before you sign on any bathroom renovation company's dotted line. If they don't offer a specific plan, think twice.
See also: 5 Questions to Ask Before Hiring a Remodeler
You're down one bathroom (Oh, the horror!)
The scariest part of bathroom remodeling for many people is imagining living without one of their bathrooms for a while.
If you live in a home with several people all vying for the use of the bathrooms (or, gulp, bathroom), losing that bathroom for a few weeks could cause a lot of extra stress for everyone.
If this sounds like your family, and you're getting ready for a bathroom remodel, the good news is that the time usually passes quickly.
If you have a big family or have a particularly busy schedule, you may have to plan out when each person in your household gets to use the remaining shower.
If you are remodeling the only bathroom in your home, you will have to make some less desirable accommodations. (Looking at you, Honeybucket and gym shower!) Or you may have to just move out of your home for a short period before your bathroom is back online.
Just remember, all this will pass quickly, and things will get back to normal soon.
Final walk-through
If you've hired a bathroom remodeler that is able to prioritize your project and work on it every day (rather than juggling lots of projects), then the construction phase should stay on schedule. The last step is to book a final walk-through with your builder.
This will be your opportunity to carefully inspect all the work that was done and make note of any small items that need to be addressed, possibly marking them with blue tape. Your builder will make a "punch list" to take care of before the job is considered complete.
At CRD, we schedule regular meetings with our clients to address any concerns as we go. The goal is to avoid a long punch list at the job's end so our clients can start enjoying their new bathroom right away.
In Closing
A bathroom remodel can really boost your enjoyment of your home and increase its value. After talking to dozens of clients who have created their dream baths, I don't think it's an exaggeration to say that a perfectly designed and well-executed new bathroom can be life-changing, or at least put a smile on your face every day.
If you'd like to discuss a potential bathroom remodeling or addition projects, we would love to talk. Please drop us a line to start the conversation.
Guide to Hiring a Remodeler
This comprehensive guide walks you through all the steps of choosing who will design and build your project, vetting remodeling companies, and ensuring that you have the best experience.