Have you ever thought about clichés? They're repeated because they so often have an element of truth. Here's a classic: the kitchen is the heart of the home. Why is that?
If you have teenage kids, they're coming to the kitchen to sniff out what you have in store for dinner. Or, if you're a young family, your kids need healthy foods and energizing snacks. There's only one place where that comes to fruition. If you're like me, you're hosting casual dinners with friends. Guess where those kick off?
Despite our comfy living room furniture and, if we're lucky, our cool outdoor patio space, the kitchen is always the place where life happens and the family gathers together.
Because your kitchen is such an integral part of your home, it makes sense to try to design it with your personal style in mind. Let's explore and compare some of the most popular kitchen styles out there today. I guarantee that if you start looking, you'll see some variation of these basic kitchen styles in almost any home you visit.
Traditional Kitchen Style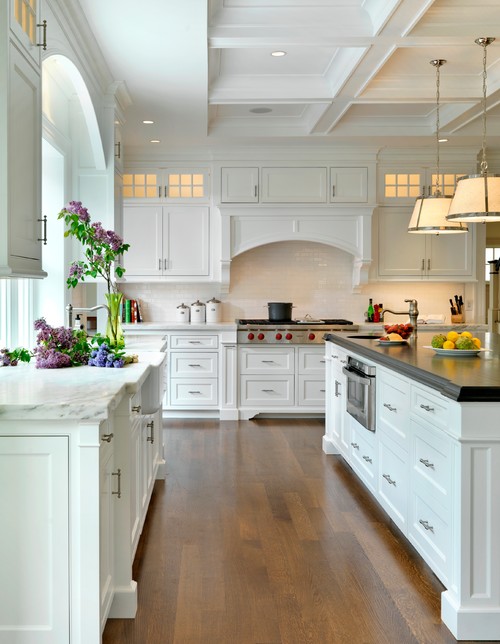 If you stand on tradition, not trends, then this classic kitchen style provides the perfect pairing for your lifestyle. Kitchens renovated in the traditional style tend to be popular with folks who own older homes (like Victorians) because they can match them to period details while creating a more functional space.
Traditional kitchens shine in neutral color tones. There's nothing bold or ostentatious about this style of kitchen. Given their ability to blend in with the rest of the house (mainly due to their neutral color palette), traditional-style kitchens are one of the most popular and enduring styles. Here, you're looking at delicate elements, like white marble countertops and white, cream, or wood cabinetry.
Mind you, these neutral palates aren't dull. Rather, they provide flexibility for every element. You can get your pop of color from a fresh bouquet of hydrangeas or your bold green window treatments. Traditional is, you guessed it, something that will never go out of style, providing a wonderful base for the rest of your home.
See also: How to Preserve Your Home's Original Character When Remodeling
Contemporary Kitchen Style

If a traditional kitchen doesn't sound like you, then you might be more at home on the opposite end of the spectrum, in a contemporary kitchen. Contemporary kitchen design isn't really a fixed style but, rather, an evolving one that incorporates the latest trends. It can also be used to describe a space that doesn't quite fit into any other design category.
You might find darker cabinetry offset by bold colors. The appliances are almost always stainless steel, but matte black and white are gaining ground.
Well thought-out-storage is important in contemporary kitchens because the design often incorporates open shelving and uncluttered countertops. Your lighting fixtures could be sculptural and futuristic LEDs or have a retro industrial feel. A dandelion chandelier wouldn't be out of place, nor would steel fixtures, or exposed wire pendants. Really, anything that is on trend goes.
At its best, the contemporary style is creative and beautiful and pushes boundaries in a good way. But be careful with this style, it doesn't have the benefit of being tested by time, and it takes more care to nail it, since it involves picking and choosing from a wide range of trendy styles.
See also: 2020 Kitchen Design Trends That Will Last
Transitional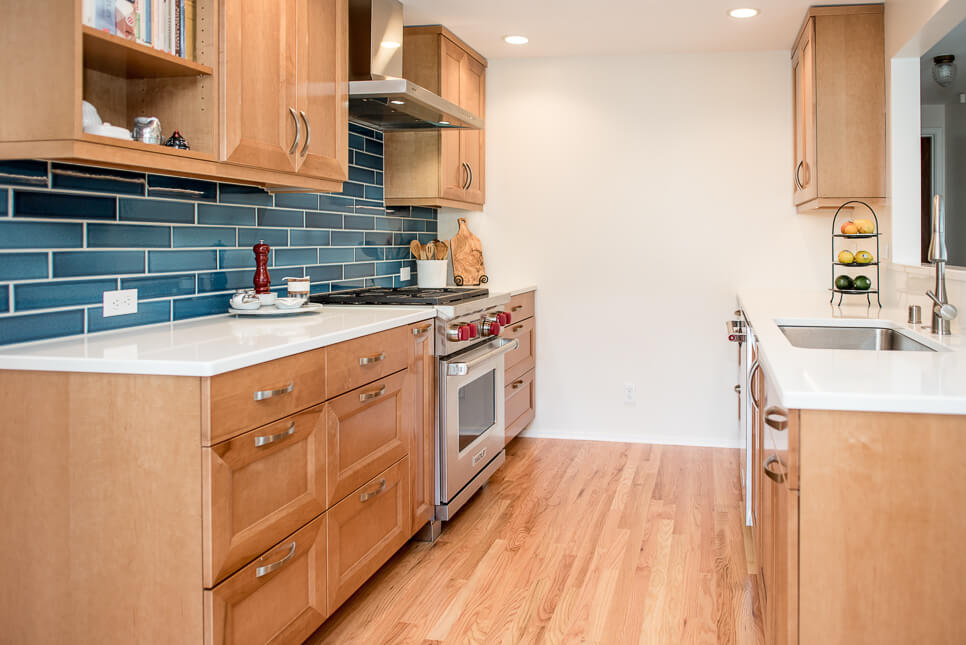 Photo by CRD Design Build
In the kitchen, we're allowed to have our cake and eat it, too. That's what the transitional kitchen design achieves. It weaves traditional and contemporary elements in perfect harmony. Here, you'll often see things like natural wood cabinets, paired with a contemporary element, such as glass tiles or stainless and industrial-style light fixtures.
Give a little head nod if you've ever lost time scrolling through photo galleries over on Houzz. I know I have. According to a 2019 study, they concluded that Transitional is the most popular style for modern-day kitchen remodeling.
See also: 7 Signs It's Time to Remodel Your Kitchen
Modern

Many consider the labels "modern" and "contemporary" to be synonymous. But, did you know they're quite distinct? While contemporary is loose-fitted and tied to changing trends, the modern style has roots dating back to World War I.
Here, you're looking at smooth, flat surfaces that are juxtaposed with sleek, geometric lines. This is the type of design that might showcase cabinets without handles or chairs made of plastic, not wood. Minimalism is key. Adornment is out, unless it also serves a utilitarian purpose.
Those who embrace this style of design aren't afraid of bold colors. But, instead of incorporating them into the bones of the kitchen, they might showcase a bright Bialetti espresso maker.
While relatively few kitchens are designed in pure modern style, it has had a far-reaching influence on other styles. Contemporary, transitional, and even modern farmhouse styles all owe a debt to this groundbreaking movement that questioned the fussiness and fanciness of what had come before it.
Modern Farmhouse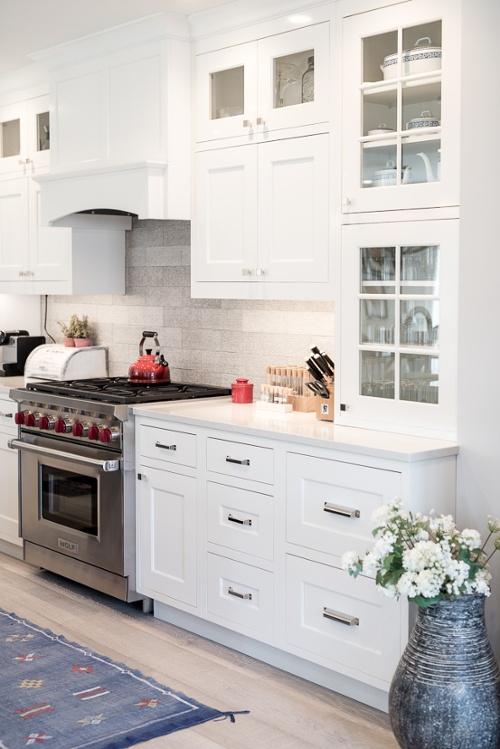 How about a little Chip and Joanna Gaines, anybody? One of my favorite new trends is the modern farmhouse style, even if it is a bit of an oxymoron. It takes an idealized vision of bucolic farm life and pairs it with clean lines that feel fresh and, well, modern.
Farmhouse kitchens start with a traditional-inspired style, complete with homey touches, but the decorative elements are dialed back a bit. The overall effect is bright and crisp, with a few rough edges for character. Don't be surprised if you see something like a gorgeous, antique hutch with distressed wood in these kitchens. Often, the hallmark feature of this style of kitchen is the farmhouse sink. It's a gorgeous, deep porcelain basin with a standout faucet. Bronze plumbing fixtures really seal the deal.
Craftsman

If you have a love for good, solid wood, then you're going to love the craftsman-style kitchen. This is a kitchen design that boasts bold, sturdy wooden cabinetry. It also features a lot of pleasing geometric lines.
The wood here can be a stained or painted. In craftsman kitchens, however, the wood should be dense and real. Some of the finest craftsman kitchens feature two tones of wood.
Painted cabinets can fit this aesthetic as well. Perhaps the upper cabinets are painted white while the lowers are painted olive green. Or maybe that olive green is paired with rich maple wood.
In a craftsman kitchen, the beauty is in the details and the obvious care that went into making them. It's a style that exudes integrity and permanence. Done right, a craftsman kitchen puts true artistry on display.
See also: 5 of the Most Durable Kitchen Materials
Cottage

Cottage-style kitchens are for those who love the farmhouse style and want more, more, more. These are super cozy, inviting kitchens. They're never big or fancy or minimalist. Rather, the emphasis is completely on comfort.
You might see soft gingham curtains, even touches of lace under the teapots, and heirloom pottery dabbled here and there.
Imagine your hair flowing in the breeze as you push open the top of your Dutch door to let your fresh apple pie cool. That's the kind of feel that a neutral, soft cottage kitchen is going for. In today's hectic world, making your kitchen a cozy nest shouldn't be frowned upon.
See also: Embrace Cottage Style in the Kitchen
Make Your Kitchen Your Own
There you have it! These are some of the most popular kitchen styles you'll see today. I hope you've enjoyed this little bit of kitchen remodel inspiration. Use these styles as a guide, but don't feel like you have to stick to just one. It's always okay to break the rules if you have a reason or even just a personal preference.
Whether you like the safety of a neutral palette or some funky flair, you can have it all in your kitchen. And why shouldn't you? It's the heart of the home for a reason. (Isn't it funny how we can purchase the most decadent furniture for our living room and, yet, when the family's all together, we're often gathering around the kitchen island while we snack on olives or chips and chat about our day? )
If you're ready to update the space where the whole family tends to gather, then I hope you'll give us a call today. Here at CRD Design Build, we have over 40 years' experience taking the typically cramped, boxed-in Seattle kitchen and turning it into an inviting space that suits the way you live.
No matter your style, my interior designer colleagues and I can work with you to create the kitchen design of your dreams and turn it into reality. Use our kitchen pricing guide to estimate a realistic price range for your project. And, when you're ready, reach out to begin the conversation.
Guide to Hiring a Remodeler
This comprehensive guide walks you through all the steps of choosing who will design and build your project, vetting remodeling companies, and ensuring that you have the best experience.