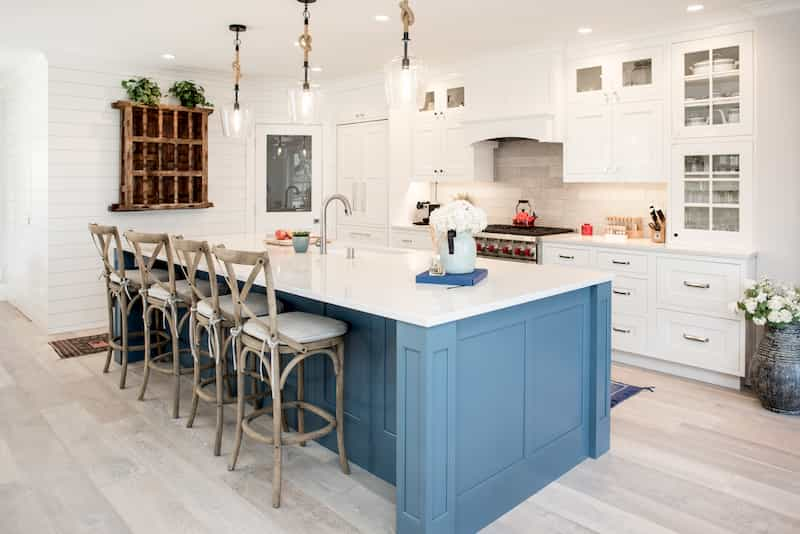 How much does it cost to remodel your kitchen, renovate your bathroom, or add on to your home in Seattle? These seem like straightforward questions, but getting clear answers can be a challenge for three main reasons.
Regional differences
The first hurdle is that construction costs vary throughout the country. What a friend tells you they paid to redo their kitchen in Phoenix will not be what you would pay in Seattle. Likewise, the figures you see on home renovation shows on TV often underestimate real-world costs.
Scope and style matter
The second challenge is that remodeling projects can vary greatly in scope and style. For instance, a kitchen remodel can range from a minor face-lift with low-budget materials to a major redesign with high-end materials. As a homeowner, you can choose to do the work yourself (the cheapest option), work with a handyman (a less expensive but potentially riskier approach), or opt for a full-service remodeling company with a support staff and a higher level of service.
Lack of transparency
The third challenge is that most remodeling companies don't disclose their pricing. At CRD, we began publishing our pricing guides in 2017 to help homeowners get a more accurate idea of project costs here in Seattle. The response has been overwhelmingly positive, so we have continued to update our pricing guides every year.
The 2019 Remodeling Cost vs. Value Report
Another helpful resource is the annual Remodeling Cost vs. Value Report. The 2019 report has been published, and it confirms what we have observed in the Seattle market, that remodeling costs are continuing to rise. This is a reflection of the rising cost of labor and materials nationwide, a trend that is even more acute in our booming metropolitan area.
The report is based on real-world building cost data from a company that provides detailed estimating services for remodelers. An interesting feature of the report is that it also estimates the percentage of the remodeling cost recouped when the homeowner goes to sell the home. The resale value data set is based on surveys of real estate professionals.
You can download the full report here, but let's take a look at some of the most pertinent findings.
Upscale versus midrange projects
The report offers price ranges for two basic levels of fit and finish: "upscale" and "midrange." We've found that the vast majority of Seattle homeowners embarking on a major custom remodel project opt for what the report calls the "upscale" level of finish, so we'll be examining those prices.
For example, an upscale kitchen would include stone countertops; whereas the midrange version would have plastic laminate. We almost never see clients install plastic laminate anymore because it usually doesn't make economic sense. We've found that stone or quartz countertops are now the expected minimum standard for new or remodeled kitchens. Much of the cost of remodeling is in the labor, and for most homeowners, it just wouldn't make sense in terms of resale value (and their own enjoyment of their home) to save a relatively small amount on cheaper materials.
The cost to remodel a kitchen in Seattle
The 2019 report estimates that it costs $145,658 to do major kitchen remodel in Seattle. This would be for an approximately 200-square-foot kitchen, with such features as stone countertops, white cabinets, tile backsplash, undermount sink, undercabinet lights, and a wall oven. This estimate falls in line with the pricing of two of our most common styles of kitchen remodel. Our pricing for a major kitchen remodel that preserves the existing basic layout starts at $125,000. For clients choosing to start completely from scratch with a new layout, pricing starts at $175,000.
How much will a new kitchen add to the resale value of your Seattle home?
The report estimates that you well get back 73.7% of your investment in a major kitchen remodel when you go to sell your home. So if you spent the estimated $145,658 on your kitchen remodel, you could expect that the selling price of your home would go up by $107,381.
The cost to remodel a bathroom in Seattle
Bathroom remodels are one of the most popular projects we see. The 2019 report estimates the cost of a bathroom remodel in Seattle to be $74,198. This includes a new layout and such "upscale" features as a freestanding tub, tile floor, and a double-sink vanity. Again, we find this pricing to be roughly in line with our own published price estimates. In our bathroom pricing guide, we estimate a bathroom remodel that keeps the existing basic layout to be $60,000 - $80,000. A bath that requires a total reconfiguration starts at $80,000, while a luxury spa-like bath (what we call "an oasis at home"), which might include a wall-hung toilet, custom built-in storage, and separate shower and soaking tub, starts at $100,000.
The study shows that a bathroom remodel adds significantly to the resale value of your Seattle home
The report estimates that in Seattle, you will recoup 79% of your investment in a new upscale bath when it comes time to sell your home. So if you invested $74,198, you could expect to add $58,593 to your home's selling price. For this reason, and because people love a comfortable, functional bath, we see many Seattle homeowners investing in bathroom remodeling projects.
The cost to add on to your Seattle home
Home additions can vary widely in price due to many factors, such whether you can build out or if you have to build up. In many cases, an addition triggers the need to re-engineer and seismically retrofit your existing walls. That said, the 2019 report estimates the cost of a master suite addition in Seattle to be $304,522. This is for what we in the industry sometimes call a bump-out or main-floor addition, meaning it is built at ground level on a crawl space foundation. If your lot is big enough and you are not limited by setbacks, this can be one of the least expensive ways to add onto your home. The figure cited in the report includes some "upscale" features, such as a gas fireplace, a walk-in closet, and a higher-end master bathroom.
At CRD, our main-floor master suite additions start at around $275,000 and include a new master bedroom, a walk-in closet, and a private bathroom. This cost is a bit less than the amount in the report, perhaps because it may not include luxury add-ons like the gas fireplace (although we would be happy to custom-design such features).
Another good choice for Seattle homes with smaller lots is the two-story addition. This "two-for-one" style of addition is popular because it allows you to add living or kitchen space on the first floor, with a new stairway accessing a new second-floor master suite. A two-story addition extends the footprint of your home, usually into your back yard, and can include a new back porch entryway, mudroom, and other amenities. Starting at $375,000, it can be a very cost-effective way to add space if your lot is large enough.
How a new addition affects the resale value of your Seattle home
The 2019 report estimates that an upscale master suite addition will retain 67.6% of its value when you eventually sell your home. In other words, if you invested $304,522 in the new master suite, you would get about $205,741 back. I imagine that the resale value of a two-story addition would be even higher since you would be adding double the square footage to your home than you would for just a main-floor addition.
Are you wondering about the cost to remodel in Seattle?
If you would like to set up an appointment to talk about your remodeling goals, please feel free to get in touch. All our work is custom designed and tailored to your unique preferences. The final bid will be driven by the finishes you select, your existing layout, and many other factors, and zeroing in on your fixed price starts with a conversation. I am always happy to answer your questions about remodeling costs and be of service in any way I can.
Guide to Hiring a Remodeler
This comprehensive guide walks you through all the steps of choosing who will design and build your project, vetting remodeling companies, and ensuring that you have the best experience.