So you're redesigning your kitchen. You've created a functional layout, chosen quality cabinets, and picked out the perfect tile for your backsplash. It's going to look fantastic! But, wait, where do you put the microwave?
Don't let microwave placement in the kitchen be an afterthought because it's much more likely to ruin your kitchen design that way. Instead, plan ahead and weigh your options so that it's as unobtrusive as possible.
America's love-hate relationship with the microwave
Microwaves are found in 90% of American kitchens. After all, they cook food quickly, can heat up a cup of tea in minutes, and are easy to use. The range of options and styles has exploded. Microwaves are available at a variety of price points, colors and sizes to match almost any budget or style. There are even portable microwaves.
Yet America's love affair with this small appliance is waning after its heyday in the 1980s. According to Quartz:
Microwave sales have fallen or remained flat every year for nearly a decade in the US. Unit sales have tumbled by 25% since 2000, and 40% since their peak, in 2004.
Americans are more health conscious these days, and there are numerous other kitchen gadgets competing for that precious counter space. Most microwaves are getting less use, and, as a result, they're lasting longer. Americans aren't getting rid of their microwaves yet, but they're replacing them in fewer numbers.
For most of us, a microwave is still a necessary piece of kitchen gear. We may not be cooking as much in it or zapping frozen meals anymore, but it's just hard to match the speed and convenience a microwave offers for reheating a plate of food or boiling a quick cup of water.
Choosing the best microwave for your kitchen often comes down to space and personal preference. Let's take a look at the different types of microwaves available.
See also: Kitchen Layout 101: The Work Triangle and Zones
Countertop microwaves . . . with a caveat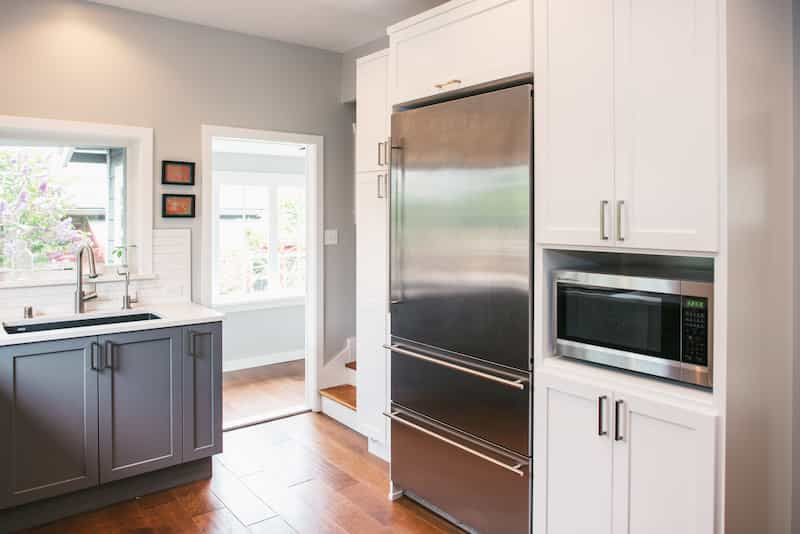 Countertop microwaves are often the most affordable, but they can take up precious space in a kitchen. For those with limited space, devoting two-foot section of countertop just isn't an option. While a countertop microwave is cheap, it may not be practical for your particular kitchen layout. If you are designing new kitchen cabinets, you can create a special nook with an electrical outlet to snugly fit a standard countertop microwave. This can be an affordable option that still saves counter space, and we often recommend it to clients who do not need or want a large and expensive built-in microwave.
Countertop Microwave Price: $40 - $1,700
Over-the-counter microwaves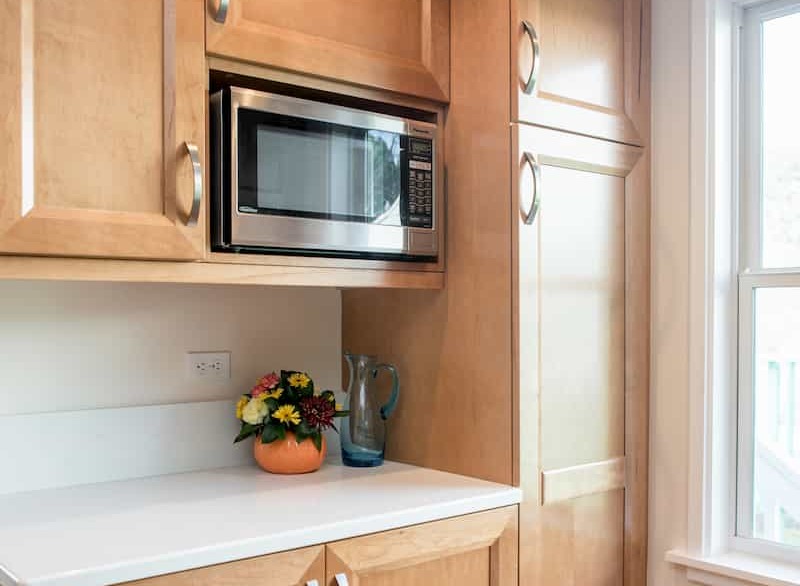 Attaching your microwave to the underside of a cabinet is a common setup, either by bolting it directly to the cabinet or creating a built-in nook for a standard countertop model. Over-the-counter microwaves are practical because they free up counter space, although there usually isn't much clearance between the counter and the bottom of the microwave. The height at which they are installed is ergonomic for most but can be an issue for shorter people. Because they require a properly located electrical outlet and may need a specially constructed cabinet box, they can be more expensive to install. It's no big deal if you are getting new cabinets as part of a kitchen renovation, but if you try to retrofit a built-in microwave, the cost may be more than the value you get out of it.
Over-the-Counter Microwave Price $260 - $390
Over-the-range microwaves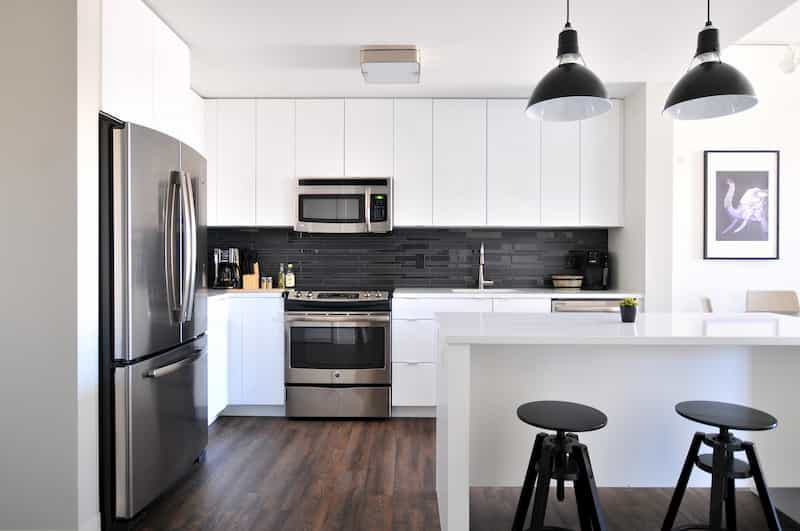 Another way to add a microwave to your kitchen is to have one installed over your stove, where your range hood would normally go. This may seem like a good place to tuck your microwave out of the way, but we almost always advise against it.
Reaching over a hot stove to access your microwave can be dangerous. Most over-the-range microwaves have some sort of built-in hood system, but these add to the cost of the microwave and are not nearly as powerful as a full hood. Many simply filter the air and reroute it back to your kitchen. This does nothing to remove moisture from the air, a critical task of a proper exhaust fan system.
Over-the-Range Microwave Price: $200 - $1,700
Microwave drawers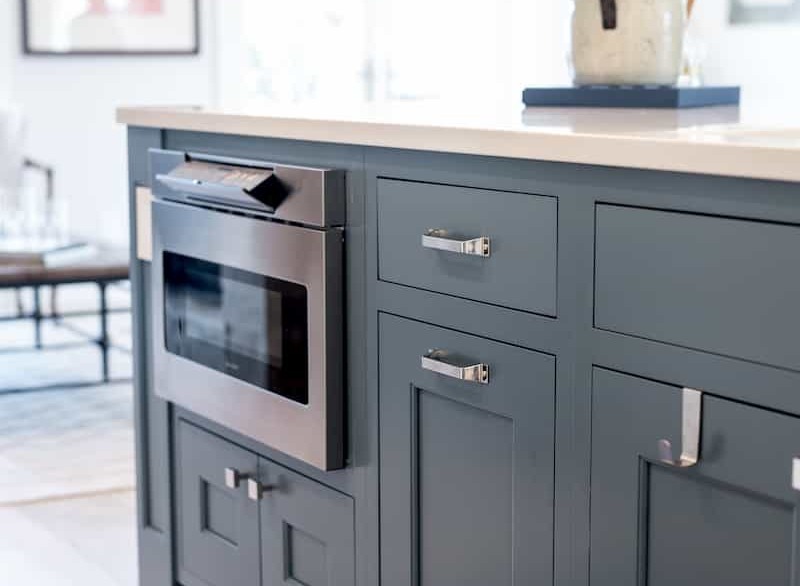 This slick design is incorporated into your lower cabinets or kitchen island and pulls out like a standard drawer. Some are even motorized and open on their own. It can be a great option for those in your home who are vertically challenged, and it preserves precious counter space. The main downside is that these units are pricey (upwards of $1,000), and they're much more difficult to retrofit. In addition, giving up that drawer space might be a deal breaker.
Drawer-Style Microwave Price: $950 - $1,800
Built-in microwaves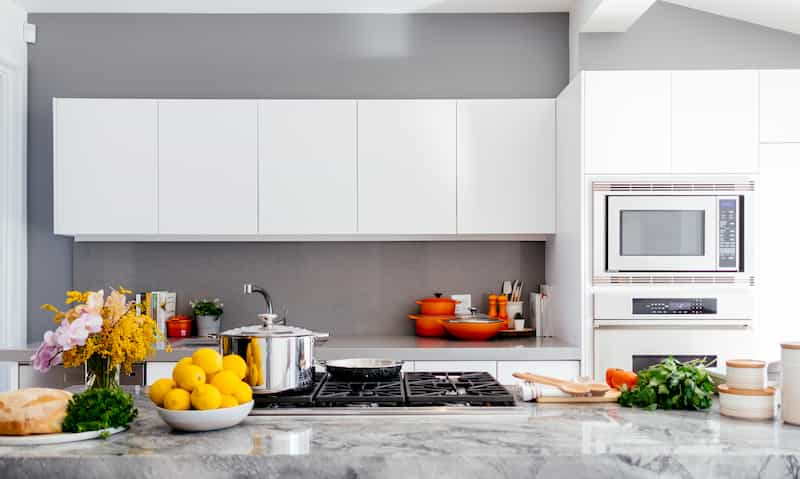 Similar to a drawer-style microwave, built-ins have a sleek design that's meant to blend in with the cabinetry and other appliances. Unlike drawer-style units, their doors open out, and they are usually mounted higher, often above a wall-mounted oven. In fact, many are designed to coordinate with the oven, which produces a very integrated look. As you can imagine, built-in units are on the higher end of the cost spectrum. If they are mounted at drawer height, taller people will have to stoop uncomfortably to use them.
Built-in Microwave Price: $260 - $2,700
Park your microwave in an appliance garage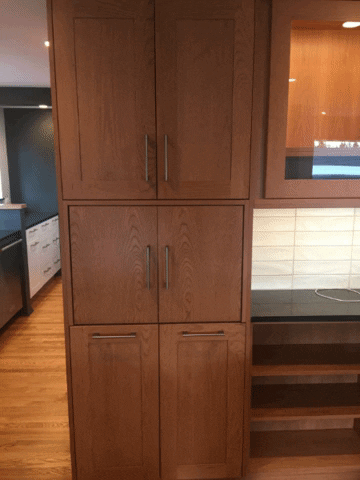 If you have a large enough kitchen, why not design an appliance garage and stick the micro in there? Designed as part of your cabinet package, this space features roll-up or swing-out doors that put microwaves, toasters, and other small appliances out of sight but within easy reach. This is a great option if you aren't a big microwave user and don't want to devote your precious kitchen cabinet space to a fancy built-in microwave or your counter space to a standard unit.
Ditch the microwave altogether
It's your kitchen. There's no rule that says you must have a microwave. As the interest of many Seattleites turns toward home-prepared meals and authentic flavors, we're seeing a trend toward ditching the microwave in favor of more specialized cooking appliances.
A popular choice is the steam oven, which roasts, steams, and reheats brilliantly. For many people, the steam oven can take the place of the microwave as the new kitchen workhorse, but it can also produce delicious, gourmet meals. (Trust me, once you see, and taste, a steam oven in action, you'll want one!)
Another microwave replacement is the humble toaster oven, which can reheat a plate of food in very little time and is also great for baking small batches of things in a hurry. (CRD's owner/production manager Michael has been known to bake a few cookies at a time in the toaster oven for a frequent after-dinner treat!)
There's also the speed oven, which was developed for the restaurant industry and has finally become more common with home chefs. The speed oven typically combines a high-wattage microwave with a convection oven. This combo offers the speed and convenience of a microwave with the crisp cooking and desirable flavor of an oven. It's a great choice if you have the space for a built-in but want something more versatile than just a microwave. Less expensive countertop models are also available now with electric toaster elements to give your food the crispiness you crave.
Finally, there are those extremely versatile appliances you already own that can cook anything. I'm talking about your stove and oven. Many home chefs find that they don't need any additional cooking gadgets and that the flavors come out much better cooking the old-fashioned way. My wife and I lived with just a range for years, until my in-laws visited and insisted on buying us a microwave.
A word about wattage and size
Microwaves come in different sizes as well as power levels, mostly ranging from about 600 to 1,200 watts. Obviously, the higher the wattage, the faster your bag of popcorn is going to pop and your Lean Cuisine is going to steam. For defrosting and lower power levels, most microwaves cycle on and off at full power. So called inverter technology lets them remain on constantly at a lower power level for more even cooking.
When picking out a microwave, size is a consideration. Now that most people are moving away from preparing entire meals in the microwave and use it more for convenient reheating, we recommend you choose the smallest footprint that will work for you. Don't waste space getting a 2-cubic-foot unit that's big enough to cook a Thanksgiving turkey when you only use the microwave to heat mugs of water for your chamomile tea. (Side note: Please don't ever cook a turkey in your microwave, even if it fits. Yuck!)
See also: 25 Genius Ways to Organize Your Small Kitchen
Planning a kitchen remodel?
Thoughtful design plays a huge role in creating a kitchen you will love for many years to come. If you are contemplating a Seattle kitchen remodel, please feel free to reach out. CRD's interior designers love solving tricky design problems, like where to put the microwave. They would be happy to answer your questions and share their ideas.
Guide to Hiring a Remodeler
This comprehensive guide walks you through all the steps of choosing who will design and build your project, vetting remodeling companies, and ensuring that you have the best experience.