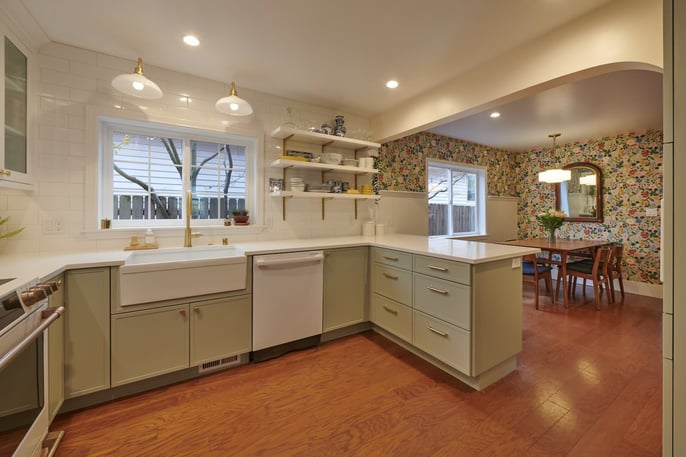 Our Home Services division is focused on smaller projects from simple handyman home updates, to pull & replace bathroom and kitchen updates, decks, and more! This division is focused on projects that can be permitted and completed quickly, without major design work.
How did Home Services get started?
CRD Design Build started as a traditional Design Build company that focused on large projects that required 4-6 months of design work and 3-6 months in construction. These projects are typically opening up walls to expand a kitchen or bathroom, adding a bump out or addition, converting a basement to an ADU, or adding a DADU to your backyard. While there has always been a need for large projects in Seattle, we found there was a blossoming market for smaller projects that can be completed much quicker than a typical Design-Build project. Also, we had returning clients who wanted some minor home updates that we previously did not perform.
Born from this need was Home Services. We hired Trevor Dodds, who has many years of experience in the remodeling industry and was the perfect fit to lead our new division. At the start, we had a smaller map range for this division, and as the demand grew we extended our service range to be the same as our Design Build division. Between our two divisions, CRD can handle almost all remodeling home projects, from a massive whole house renovation to some new floors, trim, paint, and everything in between!
Home Service Discovery Process
At CRD Design Build, all of our potential clients go through our Discovery Process. This process was designed to make sure that our clients feel confident we are a good fit, and also that we can turn your dream into a reality in a realistic and timely manner. We have every potential client submit a contact us form online that goes to our Client Development Specialist. Once your form is received, the following process starts -
Discovery Call - this is a phone call to go over your ideas for your project where you will receive a high-level estimate and more in-depth information about what it is like to work with us. From this call, depending on your project you will either go to a showroom tour or an in-home consult.
Showroom Tour - this is a Zoom meeting with our design manager that will take place if your project has a lot of design elements, like a kitchen or bathroom remodel. You will go over more of your ideas and learn about the design process.
Home Consult - this meeting will take place at your home with a couple of members of our Home Service team. During this time, you will get a more accurate estimate and a better idea of what is feasible within your space with your budget.
Want to learn more?
Home Service Recently Completed Projects
Home Services has been around for almost two years and has completed a variety of projects. While some projects are more straightforward, such as a bathroom or kitchen refresh, they have also done some general house updates that comprise of a few small updates bundled into one project. Here are some examples of projects that fall into this division -
House Updates such as new flooring, trim, and updated paint
Pull & Replace Kitchen
Pull & Replace Bathroom
New Back Deck
Built-in Shelves
New windows and doors
Here are some examples of various Home Service projects -
Home Service Kitchen Examples - scroll through the options below
Home Service Bathroom Examples - scroll through the options below
Starting a remodel with CRD
Enjoy the same level of CRD quality and exceptional service on smaller tasks, such as adding a deck, replacing your flooring, or refreshing your kitchen or bath. Contact us today to discuss any updates or repairs you'd like to make to your home.
Contact Us
Guide to Hiring a Remodeler
This comprehensive guide walks you through all the steps of choosing who will design and build your project, vetting remodeling companies, and ensuring that you have the best experience.