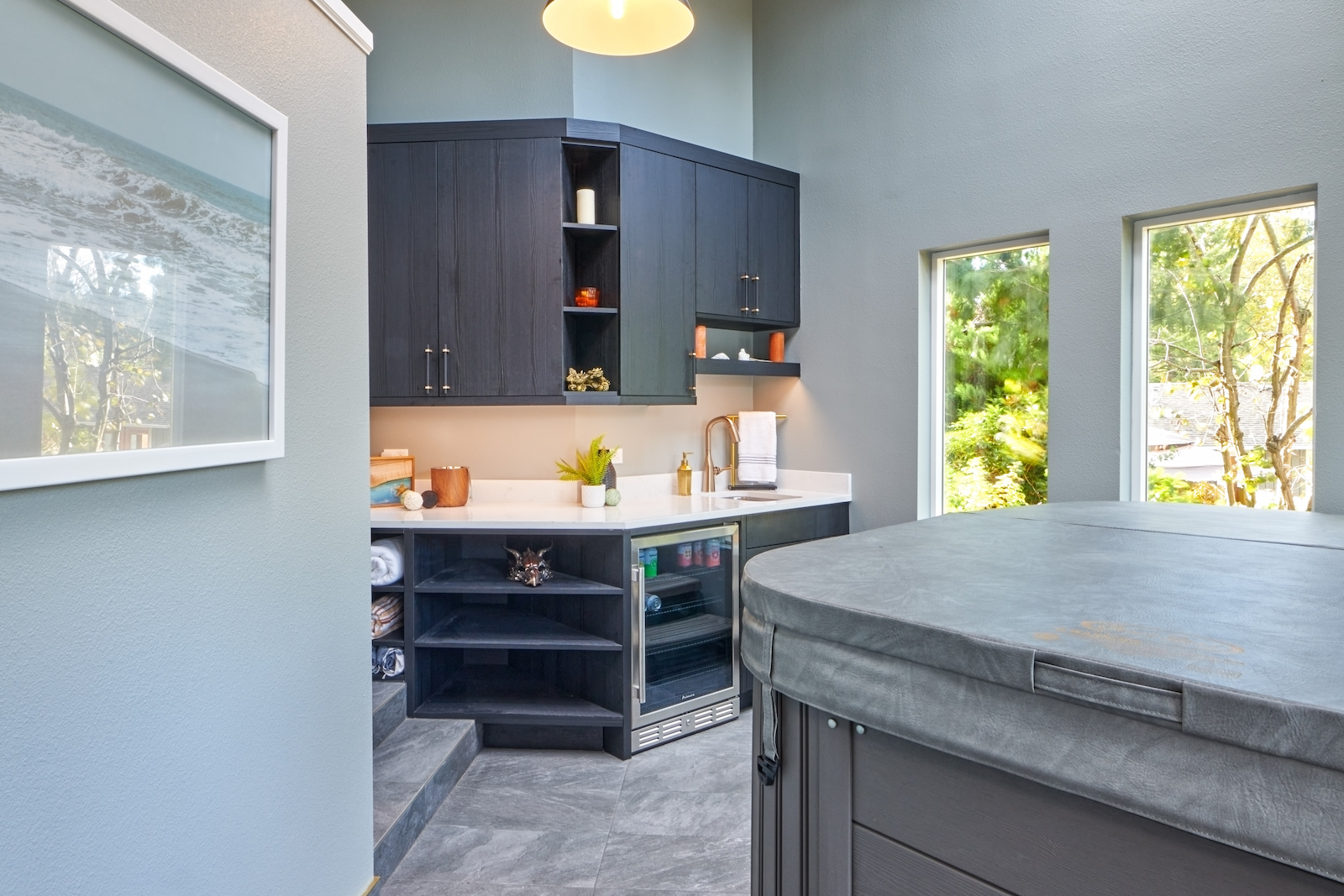 At the beginning of the year, we wrote about trends we saw in 2022 and our predictions for 2023. We are now halfway through the year and everyone is wondering how those predicted trends have held up. There are various reasons why people follow trends and want to know about their rise and fall or longevity. The main factor here with our clients and readers is that they either have, are, or want to remodel their home and most likely want to avoid incorporating a trend that will have a short shelf life.
To keep everyone up to date we sat down and talked about everything we've seen in recent publishing, our own client designs, and what type of projects most recently won awards to determine which trends are still holding up after 6 months on the shelf. So here are the 6 predictions and our updated opinions.
See also: Design Trends: Looking Back at 2022 and Predictions For 2023
2023 Trend Predictions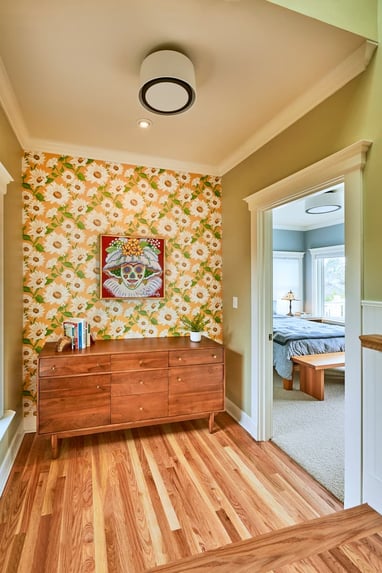 1. Pops of color or earthy tones
Earthy tones are still going strong! We are currently working on quite a few designs that incorporate greens, browns, and even shades of pink. We recently finished two beautiful bathrooms that included a dark green tile and mauvy pink wainscoting.
In the photo to the right, you'll see that this client's home had light-colored wood flooring and some earth-toned walls which paired nicely with the pop of yellow in the wallpaper. These pops of color are safe because they blend well with their surroundings and they also cover a small surface so they can be removed and replaced easily by the homeowner when their taste changes. To see more of this project check out - Whittier Heights Three-Story Addition.
Bold pops of color that we mentioned in our last blog like red appliances and navy blue cabinetry are slowly starting to see their way out as dark moody designs and muted color designs make their way in. All-in-all, we are just happy to see color stick around to off-set the all-white kitchens that many homeowners sought after in 2022.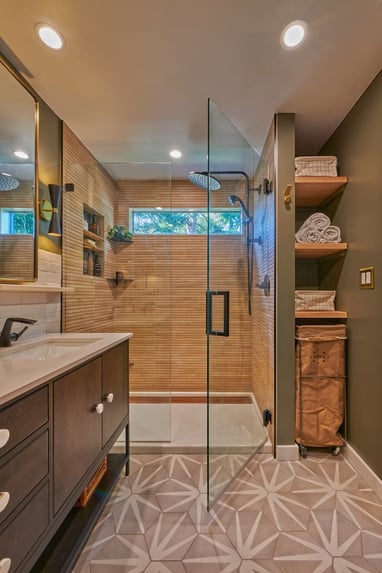 2. Natural materials
Natural materials are still holding up well in the same vein as earthy tones. Part of the, "bringing the outside in" trend we started to see emerge in the early days of the pandemic.
I think we can all agree that there's something healing about being surrounded by nature and living in a naturesque space. As the pandemic fades out of view there's still a focus on mental health and creating a safe and calming space at home that natural elements exceed in doing.
The photo to the left is a project we finished just a couple of months ago that features a porcelain tile with deep grooves to mimic wooden slats. Since a wooden surround in a shower wouldn't have the best longevity- this was our solution for creating a long-lasting nature-inspired shower. To see more of this project check out - N. Seattle Primary Bathroom.
It'll be interesting to see natural materials continue to have their time just like squeaky-clean-white spaces did before.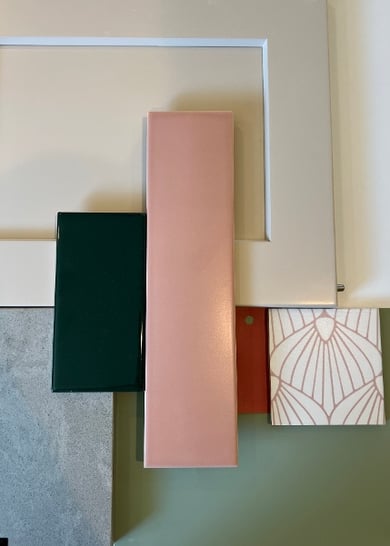 3. Personality-infused designs
Although we haven't designed many personality-infused projects this year, we're hearing a lot about them. Whether that's from prospective clients who dream of a forever home that fits all their needs and nurtures their unique hobbies and style, or seeing them published in magazines and in many other design-build companies' portfolios.
Our designers put together design palettes like the one pictured to the right not just for our clients but for fun all the time! Our current favorite theme is a cheeky pink and green combo that absolutely exudes personality. In our eyes, when you are surrounded by beautiful colors and unique décor your creativity will be boosted through the roof.
A few examples of personality-infused projects we've discussed recently include a basement remodel centered around a large D&D table, a tree house-inspired attic reading nook, and custom build cat shelves and ladders.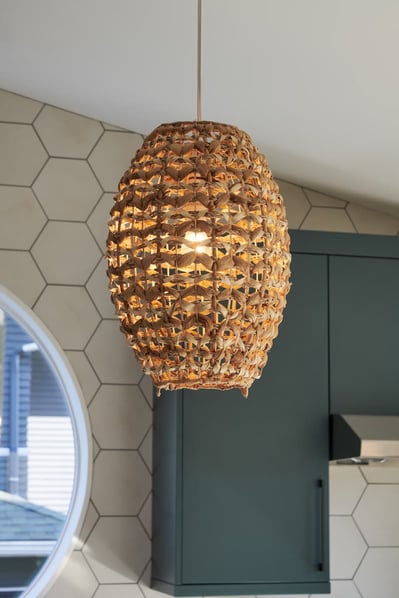 4. Texture
Like color and shape, texture is a necessary component to creating awe-inspiring interior design. In all forms of art, incorporating textural differences creates visual interest and can do many other things like alter light and shadow, or represent a certain mood.
The rise of texture in new residential spaces is still on the rise just not as fast as we previously expected. We still see a lot of clean lines and sleek surfaces.
Texture is best added in the details to not overwhelm the design. Lately, we have been seeing texture in light fixtures (like the one pictured to the left in the DADU we recently completed) flooring, furniture, and wallpapers. To see more of this project check out - Wallingford DADU.
Still today, most texture variety is added to spaces through furniture and décor. In the latter half of 2022 and still now, boucle fabric has started to peak, a recent example of how visual and tactile textures have come into play in recent trends.
5. Concrete floors
Concrete, which originally blew up with Brutalism, is still very popular in modern commercial spaces. This year we were expecting to see more concrete flooring incorporated into residential home designs.
While we do have a history of designing residential spaces with concrete floors (especially heated floors) there haven't been many recent designs here at CRD that incorporate this finish. The cost of concrete has also risen exponentially over the last two years which may be a contributing factor.
With the recent demand for biophilic interiors, many of these spaces involve concrete floors and natural wood finishes to complement a large collection of house plants. We are still seeing tons of concrete details incorporated in heavily architectural-influenced designs in larger, more luxurious homes capable of offering the natural lighting necessary to combat the brutalist feeling that comes with concrete spaces.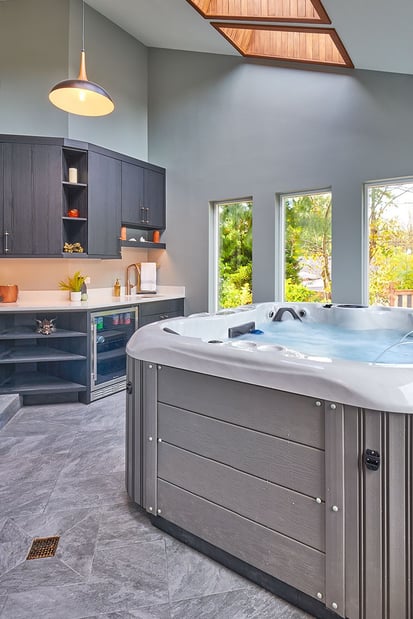 6. Wellness spaces
Though not included in our portfolio, many of our more private clients have included spaces like in-home saunas in their designs. There is still a huge demand for a wellness space at home.
A few more examples are indoor hot tubs or soaking tubs. outdoor living spaces with private soaking tubs or even exercise rooms with huge windows to let homeowners enjoy the scenery of the outdoors while hiding away from the chilly weather here in Seattle.
We continue to see a rising demand for steam showers, saunas, reading nooks, exercise rooms, soaking tubs, and lounge spaces. A wellness space could literally be a lounge chair set in front of floor-to-ceiling windows that face the backyard or a grand view if you have one.
The main point of a wellness space is to give your home the tools to help you either relax and unwind or practice a calming hobby like gardening or yoga. To check out more of the wellness space to the left, check out - Mountlake Terrace Primary Bathroom/Spa and Laundry Room.
Wrapping it all up
There are so many design ideas out there, and it can be tricky not to layer too much onto an interior design. You want your space to fit your personality but not be a mishmash of too many trends you saw online. My fellow interior designers and I are here to help you find the perfect design to enjoy for many, many years. To learn more about our interior design and architectural services, tell us about your project by filling out our contact form.
Guide to Hiring a Remodeler
This comprehensive guide walks you through all the steps of choosing who will design and build your project, vetting remodeling companies, and ensuring that you have the best experience.